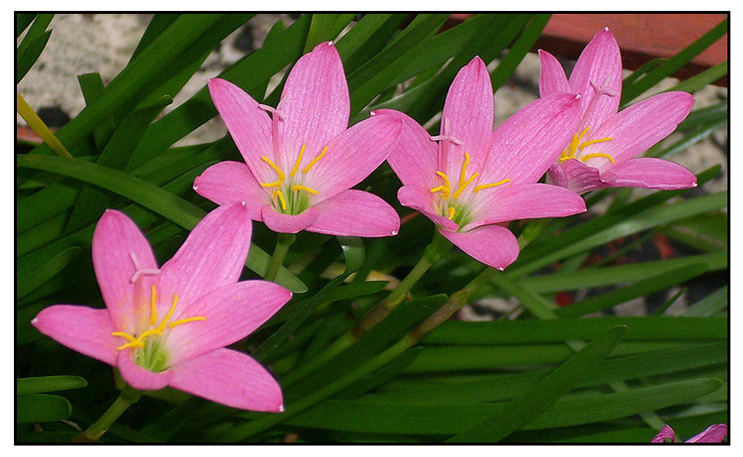 General info
Rain lily names derives from its characteristic for blooming only after heavy rains. Zephyranthes rosea literally comes from the Greek zephuros (an anemoi) and anthos (flower). Zephyros, the Greek personification of the west wind, is also associated with rainfall. The species name rosea comes from Latin for "rosy."   (6)
Botany
Zephyranthes rosea is a low-growing, stemless, rosette-like herb with tunicated, ovoid bulb. Leaves are grassy, shiny, linear, all basal, thick, flat, and fleshy. Scape is slightly compressed, erect, green, arising from the elongation of the bulb to flowering, slightly longer than the leaves, bearing a single flower. Perianth is pink to purple, tube is funnel-shaped, 4 centimeters long with six oblong lobes, 1 to 1.5 centimeters wide; the inner three are narrower than the somewhat spreading outer ones. Stamens are six, yellow-anthered, with filaments attached to the throat of the perianth tube. Filiform style extends into a 3-lobed stigma, towering above the stamens. Ovary is 3-celled and grows into a 3-valved capsule which is more of less globose.
Distribution
- Introduced into the Philippines, now widespread at low and medium altitudes.
- Cultivated as an ornamental plant.
- Naturalized to tropical America, Asia, Australia and some Pacific Islands.
Constituents
- Bulbs yield lycorine, galanthamine, epimaritidine, crinamine, haemanthamine, maritidine.
- Study yielded an alkaloid, (+)-epimaritinine. (see study below) (2)
Properties
- Toxicity: Bulbs of some Zephyranthes species contain various toxic alkaloids including lycorine and haemanthamine. They can cause vomiting, convulsions, and death to humans, livestock, and poultry. Although rain lily bulbs are considered to have low toxicity, homeowners must be aware of the poisonous potential of rain lily. (3)
Parts utilized
- Bulbs.

Uses
Folkloric
- No reported folkloric medicinal use in the Philippines.
- In China, used for treating breast cancer. (4)
- In India, bulb extracts of Z. rosea and Z. flava used for treatment of diabetes, ear and chest ailments, and viral infections. (4)

Studies
• Lectins / Agglutination Effect / Potential for Bacterial Typing: 102 plant extracts from 13 monocot families in Vietnam were screening for lectin activity. Zephyranthes rosea had an agglutinating effect on Staph aureus suggesting a potential for a classification scheme for bacterial typing. The tuber showed the highest lectin activity. (1)
• (+)-epimaritidine / Alkaloid: Study isolated (+)-epimaritidine, an alkaloid from Zephyranthes rosea. (+)-Epimaritidine comprises a missing link in the C-3 epimeric pairs of 5,10b-ethanophenanthridine alkaloids of the vittatine-haemanthamine type. (2)
Availability
- Wild-crafted.
- Ornamental cultivation.