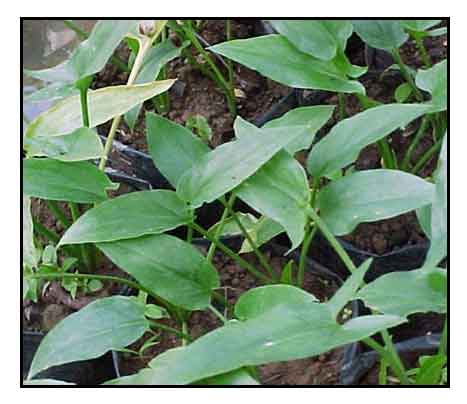 Botany
Typhonium flagelliforme is a tuberous, erect, small, and stemless herb that grows up to 30 centimeters in height. Tubers are whitish, 1 to 2 centimeters long. Leaves are variable, 5 to 25 by 0.5 to 18 centimeters. linear, lanceolate, elliptic or hastate. Petiole is green, 15 to 30 centimeters long. Inflorescence appears alongside leaves, with 5 to 20 centimeters peduncle Spathe is convolute at the base, green, ovoid, globose or depressed, 1.5 to 3.5 by 1.2 to 2 centimeters. Spadix is divided into four portions, terminated with a lemon yellow rodent tail-like appendix. Berries are pale greenish, two - or three-seeded. (2) (8)
Distribution
- Native to South East Asian countries southern India, Thailand, Bangladesh, Cambodia, Philippines, Myanmar, Sri Lanka, N. Australia.
- Found in disturbed wastelands and damp shady habitats; in shallow water by streams, water fields, and moist meadows.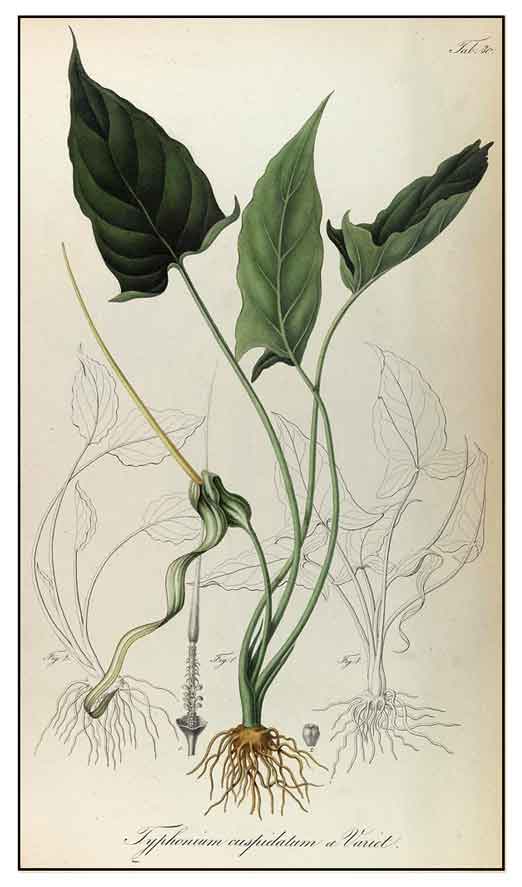 Constituents
- Alkaloids and flavonoids are the main phytochemical constituents, found in highest amounts in two to four month-old ex vitro plants. Other phytoconstituents are saturated fatty acids like ethyl esters of linoleic acid, hexadecanoic acid, octadecanoic acid, and 9,12-octadecanoic acid. Common alipathic acids identified were dodecane, tridecane, tetradecane, pentadecane, hexadecane, heptadecane, octadecane, nonadecane and eicosane. (2)
- High amounts of main phytochemical constituents were noted during the flowering process which started in two-month old plants and finished at the end of three months. (14)
- Phytoconstituents isolated from previous studies of T. flagelliforme include phenyltridecanoic acid, methyl 13-phenyltridecanoate, several aliphatic compounds (Choo et al., 2001), β-sitosterol, β-daucosterol and 1-O-β-glucopyranosyl-2- (hydroxyloctadecanoyl) amido-4,8-octadecadiene-1,3-diol (Huang et al., 2004).  (15)
- Study isolated a flavonoid glycoside from an ethyl acetate extract of leaves, identified as 6-glucosyl apigenin, isovitexin. (see study below) (20)
- Ethanol leaf extract yielded flavonoid, steroid, and tannin, with absence of alkaloid, saponin,and triterpenoid. (see study below) (22)
Properties
- Insects responsible for pollination of Rodent Tuber are gnats, specifically Moth Fliers (Diptera: Psychodidae).
- Studies have suggest anticancer, anti-leukemic, apoptotic, anti-tussive, anti-asthmatic, analgesic, anti-inflammatory, sedative, immunomodulatory, antioxidant, antibacterial, phytoremediative properties.

Parts used
Whole plant, tuber, leaves.

Uses
Edibility
- Leaves are wrapped in longan flesh and eaten raw.
Folkloric
- In the Philippines, used to stop bleeding.
- Traditionally used as treatment for cancer, including leukemia.
- Used as cough suppressant and treatment of asthma and respiratory ailments.
- Used for traumatic injuries and abscesses.

Studies
• Anticancer Activity / Breast Cancer Cell Line: Study evaluated the anticancer activity of crude extract of 1 to 6 month-old ex-vitro plantlets and one sample of in vitro plants of T. flagelliforme against MCF-7 human breast cancer cell lines. Extracts were found to active against MCF-7 with GI 50 values ranging from 6.2 to 57.5 µg/ml. Of the ex-vitro plants, two and four month-old plants showed highest phytoconstituent contents of alkaloids and flavonoids. (3)
• Anticancer / Human T4 Lymphoblastoid Cell Line: Study evaluated the in vitro cytotoxic effect of various extracts of leaves and tubers against human T4-lymphoblastoid cell line CEM-ss. Among eight extracts, dichlormethane and ethyl acetate extracts of tubers and leaves exhibited significant anti-proliferative effect. (4)
• Anti-Leukemic / Apoptosis on CEMss / Induced by Linoleic Acid Rich Fraction: / Tuber: Study evaluated the in-vitro anti-leukemic activity of dichloromethane extract/fraction 7 (DCM/F7) from T. flagelliforme tuber on hum T4-lymphoblastoid (CEMss) cell line. GC-MS analysis of DCM/F7 yielded linoleic acid, hexadecanoic acid and 9-hexadecanoic acid. Results showed an anti-leukemic effect with evidence of morphological features of cell death suggesting apoptosis. (5)
• Antitussive / Antiasthmatic / Analgesic / Anti-Inflammatory / Sedative: Study of water, alcohol, and ester extracts of T.. flagelliforme significantly relieved cough and eliminated expectoration, exhibited antiasthmatic, analgesic, anti-inflammatory, and sedative effects. Acute toxicity studies showed maximum tolerances of 720 g/kg water extract, 900 g/kg alcohol extract, and 3240 g/kg for the ester extract. (6)
• Immunomodulatory / Cyclophosphamide Induced Immunosuppression: Study evaluated the immunomodulatory effect of ethanol extract of T. flagelliforme in cyclophosphamide treated rats. Results showed reduced immunosuppresive effects on lymphocyte proliferation, increase in phagocytic activity of macrophages, increased immune system activities especially the proliferation of killer T cells and reduced suppressive effects on cytokines such as TNF-α and interleukin 1a. Results showed T. flagelliforme can reduce immunosuppressive effect caused by a chemotherapeutic agent. (7)
• Cytotoxicity: / Artemia Salina: Study evaluated the toxic activities of crude extracts and fractions of rodent tuber on Artemia salina larvae. Results showed the hexane extract of petioles to be most toxic to Artemia salina (LC50 = 762.08 µg/ml). Fraction 10 showed highest toxicity (LC50 381.07 µg/mL). Study indicated rodent tuber p;ant from Bogor is toxic to A. salina and further evaluation for cytotoxic activity is justified. (9)
• Anticancer: / Apoptosis: Study evaluated the in vitro antiproliferative activity of T. flagelliforme using MTT assay and identified active chemical constituents using a bioactivity guided study. Several fractions of hexane and dichlormethane extracts significantly , with IC50 <15 microg/ml inhibited the growth of NCI-H23 non-small cell lung carcinoma. Fraction D/F21 was not only less cytotoxic to non-tumorigenic cells, but also induced apoptosis to the cancer cell line. GC-MS analysis of D/F21 yielded hexadecanoic acid, 1-hexadeene, phytol, and a derivative of phytol. D/F21 is the active and cancer cell line specific fraction of T. flagelliforme.(10)
• Anticancer: / Pheophorbide and Andrographolie / MCF-7 Cancer Cell Culture: Study evaluated the in effect of combination of pheophorbide (T. flagelliforme) and andrographolide (Andrographis paniculata) on breast cancer cell culture of MCF-7. Results showed decrease in cell viability in all treatment groups compared to control group both in MCF-7 cells and HDF cells. The use of combination of pheophorbide and andrographolide showed anticancer effectiveness in MCF-7 breast cancer cell lines at 4µM pheophorbide and 24 µM andrographolide doses. .(11)
• Inhibition of Proliferation of MCF-7 Human Breast Cancer Cell Line / Tuber: Study compared the effectiveness of tuber and leaf extracts of T. flagelliforme in inhibiting the cell proliferation of MCF-7 breast cancer cell line. The DCM extract of tuber inhibited cell proliferation with IC50=63.08 µg/mL (p<0.001) and the DMC of leaves with IC50 68.65 µg/mL. The tuber extract showed better potential as inhibitor of proliferation of the breast cancer cell line compared to the leaf extract. (12)
• Mechanism in Leukemia / Apoptosis: In Malaysia, the plant is often used as alternative traditional remedy for cancer treatment, including leukemia. The book provides information regarding the cell death mechanism induced by the plant on leukemia. Linoleic acid rich fraction from tubers could potentially inhibit the proliferation of leukemic cells through the mitochondrial pathway and tuber extracts also repressed spleen leukemic tumor growth in WEHI-3 leukemia murine model, all via apoptosis. (13)
• Inhibition of COX-2 Expression of Colon Cancer Cell / Leaves: Study evaluated the inhibitory activity of T. flagelliforme leaf extract on cyclooxygenase-2 (COX-2) expression of colon cancer cells. In vitro anticancer activity was done by MTT assay on WiDr colon cancer cells. T. flagelliforme exhibited anticancer activity and induced apoptosis on WiDr cells through inhibition of CAX-2 expression with IC50 70 µg/mL. Results suggest a potential chemopreventive agent for colon cancer through COX-2 inhibition. (16)
• Antibacterial / Antioxidant / Leaves: Study evaluated the antibacterial and antioxidant activity of various extracts of leaves of T. flagelliforme. On agar diffusion study for antibacterial activity, the EA, n-butanol and water fraction showed activity against Bacillus subtilis and Pseudomonas aeruginosa. On antioxidant study bu DPPH, FTC and TBA, the ethyl acetate fraction was most active with IC50 56.32 ppm. (17)
• Effect on Immune System / Combination with Phyllanthus niruri: Studies have shown than T. flagelliforme and P. niruri have separately shown immunostimulatory activity. This study evaluated the effect of combined ethanolic extracts on the immune system in Sprague Dawley rats. Immunologic parameters measure were macrophage phagocytic activity, lymphocyte proliferation, and antibody titer. Results showed the combined extracts did not affect phagocytosis of macrophages and IgG production; however, there was an increase in proliferation of lymphocytes. (18)
• Phytoremediation Potential / Brilliant Blue: In vitro culture plants of Typhonium flagelliforme were able to decolorize a variety of dyes, including Malachite Green, Red HE 8B, Methyl Orange, Reactive Red 2, Brilliant Blue R, among others. Phytoremediation of BBR using T. flagelliforme was confirmed by HPLC and FTIS analysis. Other assays confirmed decolorization and detoxification. Phytotoxicity studies revealed the nontoxic nature of the metabolites of BBR. (19)
• Flavonoid Glycoside / Isovitexin / Antioxidant / Cytotoxicity / Leaves: Study isolated a flavonoid glycoside from an ethyl acetate extract of leaves, identified as 6-glucosyl apigenine, isovitexin. Isovitexin showed antioxidant activity by DPPH assay, with IC50 of 34.39 µg/mL and cytotoxic activity using BSLT with LC50 of 15.84 µg/mL. (20)
• Synergistic Antiproliferative and Anti-Angiogenic Activity / Leaves and Canine Natural and Recombinant IFNs: Study evaluated the synergistic effect on antiproliferation and anti-angiogenesis activities of combinations between T. flagelliforme leaves ethanol extract and canine natural and recombinant IFNs on tumor-derived cell lines. Results showed increase in anti-proliferation activity in combination of substances compared to singe exposure of each substance on all tested tumor-derived cell lines. There was a synergistic effect on antiproliferation and antiangiogenesis activities of the combination of T. flagelliforme and canine IFNs. Results suggest potential as alternative cancer treatment. (22)
Availability
- Wild-crafted.
- Supplements, capsules in the cybermarket.