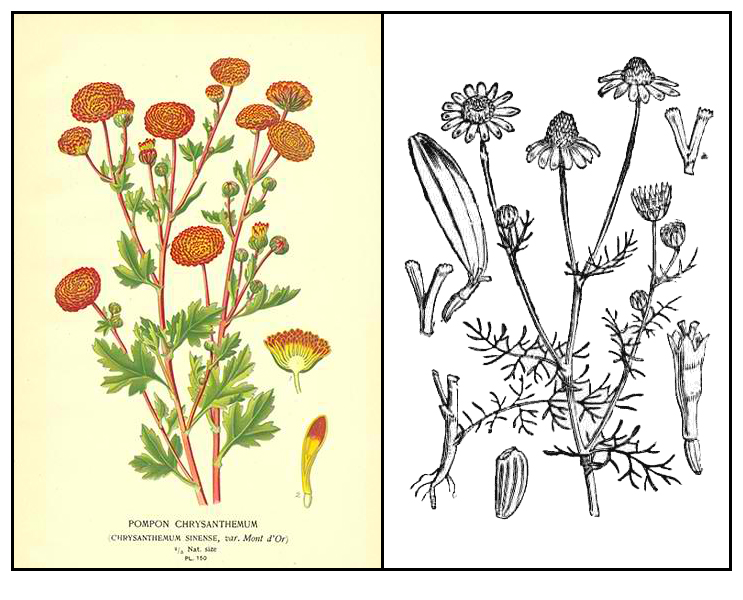 Factoid
- A stylized depiction of Chrysanthemum morifolium is used as the official emblem of the imperial family (Imperial Seal of Japan). (13)
Botany
Rosas de Japon is similar to manzanilla in botanical description, but usually taller. Flowering heads are white or variously colored in the Philippines, up to 10 centimeters or more in diameter, and composed of numerous rows of ray-flowers.
Distribution
- Cultivated for ornamental purposes.
- Grows especially well in Baguio.
- Native of China.

Constituents
- Flowers yield adenine 0.023 %, choline 0.017 %,, and traces of stachydrine.
- Leaves yield adenine 0.016 %, a trace of choline and stachydrine 0.006 %.
- Study yielded flavonoids, caffeoylquinic acid derivatives, phenolics and a monoterpenoid glucoside.
- Phytochemical screening of ethanol extracts of flowers yielded alkaloids, phenols, flavonoids, glycoside,and terpenoids; saponins and tannins were present only in the white flowers. (see study below) (12)

Properties
- Considered aromatic, cooling, anti-inflammatory, antibacterial, febrifuge, demulcent, hypotensive.
- The ordinary cultivated varieties is considered beneficial to the blood and circulation and to preserve vitality.
- Studies have suggest antioxidant, antimicrobial, antimelanogenic, antitumor, cardioprotective, vasorelaxant, neuroprotective, and xanthine oxidase inhibitory properties.

Parts used
Leaves and flowers.

Uses
Edibility
- The flower heads or petals are parboiled, served as salad with tofu and seasoned with vinegar or soy sauce. Also prepared as tempura, pickled, dried or added to soups. (14)
- Leaves are cooked; used as fritters. (14)
- Flowers and leaves used for making tea. For a sweeter and fragrant floral tea, only the petals are used. (14)
- For making tea, steep the flowers gently in hot water for no more than 10 minutes in a closed vessel, to preserve the essential oil.
Folkloric
- Plant is used like manzanilla.
- Decoction of leaves and flowers used for stomachache and as an enema.
- Flowers are prescribed for colds, headaches and inflamed eyes. For the same afflictions, pillows are filled with flowers and leaves.
- White variety considered especially useful in preserving hair from falling out or turning grey.
- Flowers soaked in wine, producing "chrysanthemum wine," is used for a variety of digestive, circulatory and nervous difficulties.
- Dew collected from the flowers is held in repute to preserve and restore vital functions.
- Decoction of flowers used for promotion of menses, as a wash for infected and cancerous sores, and as fomentation for enlarged glands.
- Mixed with Japanese honeysuckle for the treatment of hypertension.
- In traditional Chinese medicine, used for hypertension, angina, fevers, inflammation, and cancer.
- In East Asia, traditionally used for poor eye sight, dizziness, blurred vision, high cholesterol, high blood pressure, chronic inflammation.
- Leaf juice is smeared on wounds. (14)
Others
- Indoor plant: Used as indoor plant to help removed toxins and chemical vapours from the atmosphere, i.e., formaldehyde, benzene, and ammonia. (14)

Studies
• Xanthine Oxidase Inhibitors / Flowers: Study on the MeOH extract of flowers of C. sinense yielded a new flavone glucoside, acacetin 7- O-(3- O-acetyl- beta- D-glucopyranoside) together with 27 known compounds. Compounds displayed significant xanthine oxidase inhibitory activity in a concentration-dependent manner, greater than the allopurinol control. (1)
• Antioxidant: Study isolated two dicaffeoylquinic acids from C. morifolium which were found to show strong antioxidant activities in the DPPH radical and superoxide anion radical scavenging systems.
• Flavonoids / Volatiles: Study of flavonoids and volatiles in the C. morifolium Ramat flowers yielded 8 flavonoids and 58 volatiles. Luteolin-7-glucoside and quercitrin were the most abundant flavonoids accounting for 85.7% of the detected flavonoids. B-humulene was the most abundant volatile. The health benefits of C. morifolim may be related to the abundant flavonoids and volatiles. (2)
• Antimicrobial: Study of extracts of seven species of C. morifolium Ramat showed 9 of 21 extracts with antimicrobial activity against S aureus, while 3 had activity against methicillin resistant Staph aureus. (3)
• Toxicity Study: Study of CM extract in rats showed no toxicological changes in the acute toxicity and long-term toxicity studies and is considered to be safe in general to rats at limited dose level. The maximal tolerance dose estimated was greater than 15 g/kbw in rats. (4)
• Vasorelaxant Effect: Study showed the CME induces both endothelium-dependent and independent relaxation. (5)
• Neuroprotective: Study showed that CM possesses potent neuroprotective activity with a potential for application in neurodegenerative diseases such as Parkinson's diseases. (6)
• Neuroprotective Against Cerebral Ischemia/Reperfusion Injury:Study evaluating the neuroprotective effect of total flavones extracted from C. morifolium showed pretreatment with TFCM provided significant protection against cerebral ischemia/reperfusion injury in rats, at least in part, by its antioxidant action and consequent inhibition of mitochondrial swelling. (7)
• Bone Marrow Toxicity with Chrysanthemum Flower and Azathioprine: C. sinense is a known inhibitor of XO (xanthine oxidase) and its co-administration with azathioprine is likely to result in an increase in shunting of 6-MP to form 6-TGN metabolites which are incorporated into DNA resulting in decreased WBC replication/activation which can facilitate apoptosis of WBCs. (9)
• Antimelanogenic / Antioxidative / Photoprotective on UV-Irradiation Skin Damage: Study evaluated the possible synergistic effect between an aqueous extract of C. morifolium and peptide mixture of soy peptide and collagen peptide in UV (ultraviolet) irradiation-induced skin damage mouse model. Results showed an apparent photoprotective effect with synergistic antimelanogenic and antioxidative effects in UV-irradiated mice. (11)
• Comparative Antioxidant Activity of Flowers According to Color: Study evaluated extracts C. morifolium pink, yellow, and while flowers for antioxidant activity using DPPH assay. Results showed significant antioxidant activity with IC50 of 10.00 mg/ml, 11.00 mg/ml, and 40.00 mg/ml for white, pink, and yellow flower extracts, compared to ascorbic acid standard with 11.50 mg/ml. (see constituents above) (12)
• Antitumor Activity / Leaves: Study evaluated the antitumor potential of aqueous leaf extracts of ten different cultivars of Chrysanthemum morifolium using potato disc tumor assay. The Yellow coin cultivar exhibited maximum (69.85%) inhibition in the induction of tumors in the tumor assay. Results suggest a potential source for development of antitumor agents for humans. (15)
• Amelioration of Colitis / Modulation of Intestinal Microbiota / Polysaccharides: Study evaluated the effect of polysaccharides from C. morifolium on gut microbiota on an ulcerative colitis (UC) rat model. Results showed oral administration of Chrysanthemum polysaccharides could ameliorate ulcerative colitis by fostering beneficial intestinal flora growth, modulating the balance of intestinal microecology and restoring immune system. (16)
• Cardioprotective / Alleviation of Induced Cardiac Hypertrophy: Study evaluated the effect of polyphenol-rich C. morifolium extract on Sprague-Dawley rats with hypertension-induced by renovascular hypertension. Results suggest the extract may alleviate hypertensive cardiac hypertrophy from induced hypertension. The mechanism may be related to the reduction of blood pressure and amelioration of myocardial energy metabolism. The latter may be due to inhibition of HIF-α expression and subsequent modulation of PPARα-mediated CPT-1a, PDK-4, and GLUT-4 expressions. (17)
• Cardioprotective in Ischemia/Anoxia and Reperfusion/Reoxygenation: Study investigated the effect of C. morifolium on isolated heart and ventricular myocytes during ischemia/anoxia and reperfusion/ reoxygenation. The ischemia/reperfusion injury was induced by ligation of the left anterior descending coronary of isolated rat heart. Study suggests C. morifolium could protect the myocardium against injury induced by ischemiaa/reperfursion or anoxia/reoxygenation. The cardioprotection could be mediated by its vasorelaxation and antioxidation. (18)
Silver Nanoppartilces / Application in Clinical Ultrasound Gel: Study reports on an simple,eco-friendly green synthesis pf water-soluble silver nanoparticles treated with Chrysanthemum morifolium as reducing and stabilizing agent during synthesis. The AgNP had potent growth inhibitory bactericidal activity on Staphylococcus aureus and Escherichia and and could be applied as a clinical ultrasound gel with compliance of adverse effects, (19)
• Flavonoids / Antitumor: Study reports on an optimized extraction process for flavonoids from Chrysanthemum morifolium. The flavonoids were evaluated for inhibitory effect on human gastric cancer MKN45 cells using MTT assay. Results showed CM inhibited the proliferation of MKN45 cells in a dose- and time-dependent manner. The proportion of apoptotic cells increased in a dose-dependent manner. Study suggests flavonoids from C. morifolium exerted antitumor effects on MKN45, with potential as antitumor therapeutic for gastric cancer. (20)

Availability
Wild-crafted.
Herbs, granules, flower extracts in the cybermarket.