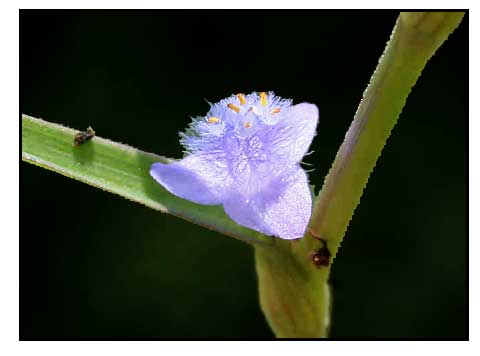 Botany
Sabilau is a succulent, slender, prostrate, somewhat branched, smooth herb. Stems are about 5 millimeters thick, 20 to 40 centimeters long, rooting at the nodes. Leaves are sessile, lanceolate, 4 to 11 centimeters long, 6 to 12 millimeters wide. Flowers are 3 to 6 in each leaf-axil, opening one at a time, with small bracteoles, and not imbricated. Calyx is pale-greenish. Corolla is bluish or purplish, with long-clawed petals; the limb 5 to 6 millimeters long. Capsules are long-beaked. Seeds are oblong, compressed or ventrally concave, brown, shining and shallowly pitted.
Distribution
- Commonly found from northern Luzon to Palawan and Mindanao, in most islands and provinces, In clearings, open places along streams, rice paddies, etc, at low and medium altitudes.
- Also occurs in India to China and through Malaya to Australia.
Properties
- Traditionally considered febrifuge, anti-inflammatory, and antiparasitic.

Parts used
Whole plant.

Uses
Edibility
- In India leaves cooked as vegetable for tympanitis.
Folkloric
- In the Malabar Coast, used as a remedy for tympanitis.
- External applications used in ascites and abscesses.
- Decoction of whole plant used in swellings above the abdomen.
- In India, roots and tubers used for fever and worms. Warm leaf juice used as ear drops to relieve eardrum inflammation.
Studies
• No studies found.

Availability
- Wild-crafted.