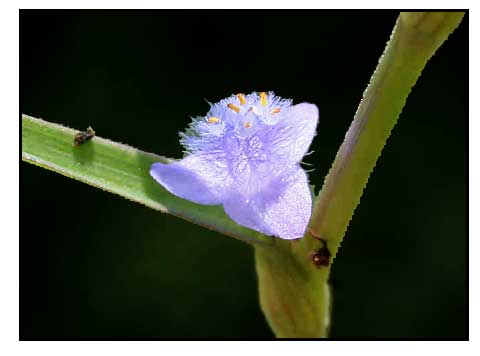 Botany
Sabilau is a succulent, slender, prostrate, somewhat branched, smooth herb. Stems are about 5 millimeters thick, 20 to 40 centimeters long, rooting at the nodes. Leaves are sessile, lanceolate, 4 to 11 centimeters long, 6 to 12 millimeters wide. Flowers are 3 to 6 in each leaf-axil, opening one at a time, with small bracteoles, and not imbricated. Calyx is pale-greenish. Corolla is bluish or purplish, with long-clawed petals; the limb 5 to 6 millimeters long. Capsules are long-beaked. Seeds are oblong, compressed or ventrally concave, brown, shining and shallowly pitted.
Distribution
- Commonly found from northern Luzon to Palawan and Mindanao, in most islands and provinces, In clearings, open places along streams, rice paddies, etc, at low and medium altitudes.
- Also occurs in India to China and through Malaya to Australia.
Properties
- Traditionally considered febrifuge, anti-inflammatory, and antiparasitic.
- Study has shown antifungal property.

Parts used
Whole plant.

Uses
Edibility
- In India leaves cooked as vegetable for tympanitis.
Folkloric
- In the Malabar Coast, used as a remedy for tympanitis.
- External applications used in ascites and abscesses.
- Used as abortifacient in combination with other plants.
- Decoction of whole plant used in swellings above the abdomen.
- In India, roots and tubers used for fever and worms. Warm leaf juice used as ear drops to relieve eardrum inflammation.
- Irulu tribes of Western Ghats, India, use leaves, raw or in decoction, for swelling. Used for chest pains in herbal combination with Alpinia galanga, Curculio orchids, Cleome monophylla and Terminalis bellerica.
Others
- Fodder: Used as food for pigs.
Studies
• Antifungal: Study evaluated different solvent extracts of dried whole plant of Cyanotis axillaris for antifungal activities against 12 opportunistic fungal strains. Hexane, ethyl acetate and methanol extracts showed significant antifungal activities. Highest antifungal activity was seen with the EA extract with zone of inhibition >30 mm against C. krusei.

Availability
- Wild-crafted.