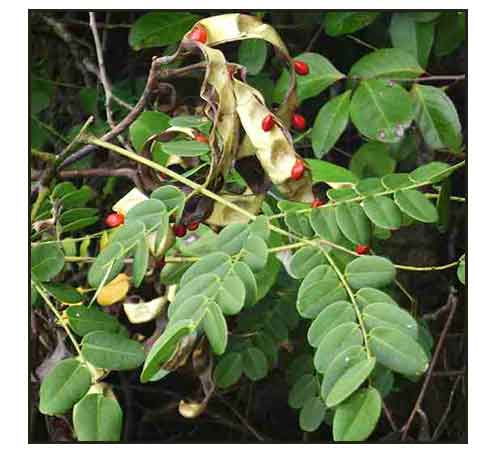 Botany
Saga-hutan is a deciduous, erect, large tree. Leaves are bipinnate. Pinnae are 8 to 12, opposite, short-stalked, 10 to 20 centimeters long. Leaflets are 12 to 18, oblong or elliptic-oblong, evenly alternate, short-stalked, and 2 to 3.5 centimeters long. Racemes are 5 to 15 centimeters long, simple from the axils of the leaves, panicled at the end of the branches. Flowers are fragrant. Calyx is small and bell-shaped with short teeth. Five petals are united at the base. Pods are linear, 15 to 21 centimeters long, curved and twisted when opening. Seeds are 10 to 12 in a pod, usually bright scarlet, shining, lenticular and compressed.
Distribution
- Cultivated in Manila as a shade tree.
- Introduced from India.
- Now pantropic.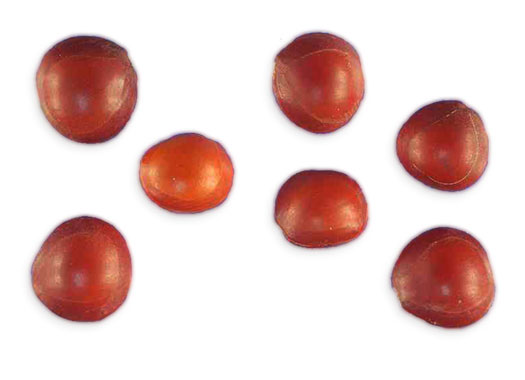 Constituents
- Phytochemical screening of bark yielded alkaloids, carbohydrates, glycosides, saponin, phytosterols, fixed oil and fats, phenolics and flavonoids.
- Methanolic seed extract yielded cardiac glycosides, tannins, flavonoids, essential oils, phlobatanins, and saponins. (see study below) (22)
Properties
- Seeds considered to have toxic properties; when cooked, edible and rich in fats and proteins.
- Leaves considered astringent.
- Roots considered emetic.
- Bark considered astringent, vulnerary, and aphrodisiac.
Parts used
Seeds, leaves, bark.

Uses
Edibility
- Seeds and leaves may be eaten.
- Although seeds have been reported to have toxic properties, used as a condiment in Malabar.
- Raw seeds are toxic but can be eaten when cooked. When cooked, easily digestible by humans and livestock, and are rich in fats and proteins.
- Leaves are edible when cooked.
- Flowers reportedly edible.
Folkloric
- Roots are used as an emetic.
- Decoction of leaves used for chronic rheumatism and gout; also useful for bowel hemorrhage and hematuria.
- Leaves are astringent and tonic; used for diarrhea and dysentery.
- Bark used in rheumatism, hematuria, ulcers, and gonorrhea.
- Seeds used for boils and inflammation.
- Powdered seeds used externally to hasten suppuration of boils.
- Powdered seeds also used for headaches.
- Seeds used for cholera; also used for general paralysis.
Others
- Decorative: Seeds used as beads for necklaces.
- Wood: Extremely hard, used for furniture making, boat building and firewood.
- Dye: Wood yields a red dye.
Studies
• Anti-Inflammatory / Analgesic / Seeds: Study evaluated a methanol extract of seeds of Adenanthera pavonina on animal models for analgesic and anti-inflammatory activities. Results showed significant (p<0.05) inhibition of carrageenan-induced paw edema in rat and acetic acid-induced vascular permeability in mice. Extract also showed dose-dependent and significant (p<0.05) analgesic activity in acetic acid- induced writhing in mice and inhibition of both early and late phases of the formalin-induced paw licking in mice. LD 50 of the extract was 1.36 g/kg. (2)
• Physiochemical Characterization of Seed Oil / Nutrient Assessment: Study showed the seeds of AP contain appreciable amounts of proteins, crude fat and minerals comparable to commonly consumed staples. Study suggests AP seeds represent a potential source of oil and protein that can alleviate shortages. (3)
• Blood Pressure Lowering Effect: Study showed Adenanthera pavonina seed extract has the potential to have a blood pressure lowering effect. Serum biochemistry changes suggest the extract has a tonic effect on kidneys and liver and may play a central role in drug metabolism. Absence of kidney, liver and testes lesions suggest the plant is safe for medicinal use. (4)
• Seed Oil and Emulsions: Study showed the seed oil to be rich in neutral lipids (86.2%) and low in polar lipids (13.8%). Unsaturated fatty acids were as high as 71%, the predominant FA showed to be linoleic, oleic and lignocerotic acids. Stigmasterol was the major steroid. Results indicate the possible applications of the oil in the pharmaceutical and medical fields as drug and cosmetic active ingredient carriers. (5)
• Antioxidant: Study showed the the stem- bark of AP showed significant antioxidant activity, presumably with more activity than a-tocopherol.
• Anthelmintic / Phytochemicals: Bark extracts were tested for anthelmintic activity against Pheretima posthuma and Ascardia galli. Phytochemical screening of bark yielded alkaloids, carbohydrates, glycosides, saponin, phytosterols, fixed oil and fats, phenolics and flavonoids. Results showed significant anthelmintic activity. (7)
• Robinetin : Study isolated robinetin as the predominant flavonoid in the root. Results confirmed the protective effects of Robinetin in reducing the severity of perioxidative damage. (11)
• Trypsin Inhibitor: Study isolated a trypsin inhibitor (ApTI) from A. pavonina seed and was tested for insect growth regulatory effect. Chronic ingestion resulted in significant reduction in larval survival. Results showed ApTI have a potential antimetabolic effect when ingested by A. kuehniella.(127)
• Antidiabetic / Hypolipidemic: Study of alcoholic and aqueous seed extracts in alloxan-induced diabetic rats produced favorable changes in the lipid profile of diabetic rats along with better glycemic control. (13)
• Protective Effect of Oil Emulsions: Study developed very stable formulations of submicron oil-in-water emulsions from AP. Results suggest nonionic surfactant/phospholipid-based emulsions containing the edible oil of AO has a potential as an alternative formulation matrix for pharmaceutical, nutritional or cosmetic applications. (14)
• Antibacterial: Study of different bark extracts were studied for antibacterial activity. The ethanolic and aqueous extracts showed the highest activity against the tested extracts - P. aeruginosa, B. subtilis, E. aerogenes, Staph epidermis, and Salmonella typhimurium. (16)
• Neuroprotective / Seed: Study of seed extract in neuropathic pain in streptozotocin-induced diabetic rats showed attenuation of development of diabetic neuropathy when compared to pregabalin. Results suggest a possible benefit in preventing progression of diabetic nephropathy. (17)
• Antibacterial Soap / Seed Oil: Extracted saga seed oil yielded three main components: Methyl Linoleate Natural, Ethyl Palmitate, and Butyl Stereate. An antibacterial soap prepared from the extracted oil compared with commercial antibacterial soap bacterial removal with handwashing. (18)
• Anticancer / Bark: Study evaluated a stem bark extract for antitumor activity on Dalton's ascitic lymphoma in male Swiss albino mice. Results demonstrated tumor inhibitory activity with increase in life span accompanied by reduction in WBC in treated mice. (19)
• Renal Protective / Reduction in Diabetic Neuropathy: Study evaluated an aqueous seed extract in streptozotocin-induced diabetic rats. Results showed reduced development of diabetic nephropathy in STZ-induced diabetic rats and can have a beneficial effect in reducing progression of diabetic nephropathy. (20)
• CNS Depressant Effect / Seed: Study evaluated a methanolic extract of A. pavonina for antidepressant effect in various animal models. The LD50 was found to be 1360 mg/kg. Results showed CNS depressant activity with significant dose related potentiation of phenobarbitone sleeping time in mice. It offered 80% protection against leptazol-induced convulsion in mice and a dose dependent reduction in spontaneous locomotor activity. There was significant reduction in acetic acid inducting writhing in mice and inhibition of increased paw size in carrageenan induced paw edema. (see constituents above) (22)
• Biosorption of Copper / Seeds: Study showed powdered Adenanthera pavonina seeds are efficient in biosorption of Cu (II) ions from aqueous solution. (23)
• Anti-Inflammatory / Antidiarrheal / Leaves: Study evaluated ethanolic extract of A. pavonina leaves in both acute and chronic inflammatory models and antidiarrheal model. Results showed anti-inflammatory activity on acute phase inflammation in carrageenan-induced paw edema and subacute model of cotton-pellet granuloma formation. The anti-inflammatory activity may be due to influence of beta-sitosterol and stigmasterol. An anti-diarrheal effect may be due to the inhibition of prostaglandin synthesis, evidenced by the delay in wet faeces formation. (24)
• Antinociceptive / Leaves: Study evaluated the antinociceptive activity of ethanol extract of leaves of A. pavonina using various nociceptive models induced thermally or chemically in mice, including hot plat and tail immersion test, acetic-acid induced writhing and glutamate- and formalin-induced licking tests. Results showed significant and dose-dependent anitinociceptive activities. The reversal effect of naloxone suggested central activity with the association of opioid receptors. Enhancement of writhing inhibitory activity by methylene blue (MB) suggests possible involvement of cGMP pathway in the mediation of antinociception. (25)
• Cytoprotective / Anti-Inflammatory / Kernel: Study evaluated the anti-inflammatory activity of kernel extracts of Adenanthera pavonina. Pretreatment with kernel extract suppressed nitric oxide, superoxide anion, cell death, nuclear fragmentation in lipopolysaccharide and H2O2 stimulated or induced macropahges in rats. Results suggest the extract suppresses intracellular peroxide production. (26)

Availability
Wild-crafted.