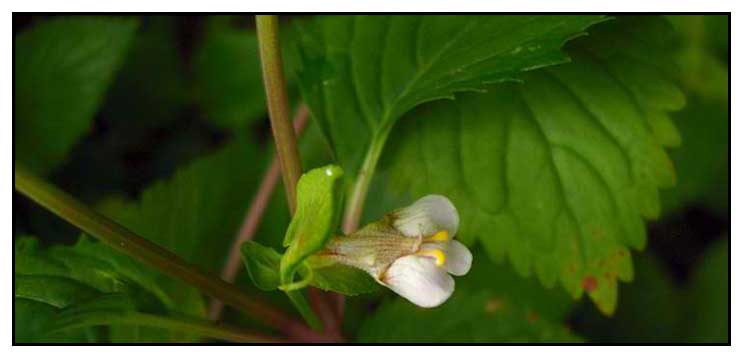 Botany
Sagai-uak is a smooth, prostrate herb. Branches are slender, straggling, 60 to 90 centimeters long, rooting at the lower nodes. Leaves are ovate, 3 to 6 centimeters long, 2 to 3 centimeters wide, pointed at both ends, and toothed at the margins. Flowers are crowded on short axillary and terminal racemes. Calyx in the flower is about 6 millimeters long, double that length in the fruit; its outer sepals are broadly ovate and heart-shaped. Corolla is dark reddish brown. Fruit is a capsules, ovate, flattened, 3 to 4 millimeters long, bivalved with several seeds. Spherical seeds are about 0.6 millimeter in diameter, with 8 oblong hollows.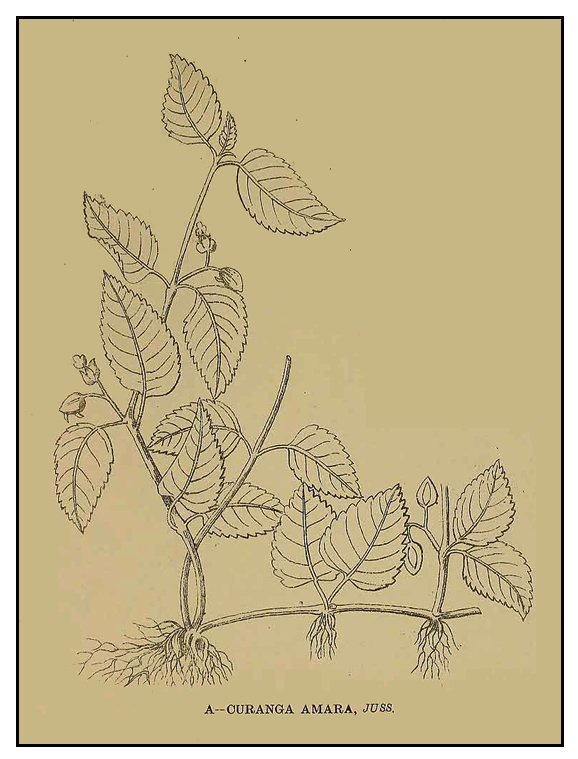 Distribution
- On forested slopes at low altitudes, ascending to 400 meters, rather rare and local.
- Found in Cagayan, Kalinga and Laguna Provinces in Luzon and in Zamboanga, Mindanao.
- Occurs in India to Indo-China and through Malaya to the Moluccas.
Constituents
- Plant yields an amorphous bitter glucoside, curangin, which is either nonpoisonous or only very slightly poisonous.
- Study isolated two triterpenoids: (1) picfeltarraenone I (3,11,22-trioxo-16alpha-hydroxy-(20S,24)-epoxy-cucurbit-5,23-diene) and (2) picfeltarraenin XI (3,11,22-trioxo-16alpha-hydroxy-(20S,24)-epoxy-cucurbit-5, 23-diene-2beta-O-beta-D-glucopyranoside). (11)
- Study isolated seven compounds: apigenin (1), apigenin-7-O-β-D-glucuronide (2), apigenin-7-O-α-L- rhamnopyranosyl(1→2)-β-D-glucuronide (3), rosmarinic acid (4), picfeltarraegenin Ⅳ (5), picfeltarraegenin X (6), and acteoside (7). (12)
- Study isolated three flavonoid glucoronides viz., 7-O-β-glucuronide, luteolin 7-O-β-glucuronide and apigenin 7-O-β-(2″-O-α-rhamnosyl)glucuronide. (2)
- Study of whole plant isolated a new cucurbitacin,  picfeltarraenone II (1), along with four known cucurbitacins, picfeltarraegenin I (2), picfeltarraenin IA (3), picfeltarraenin IB (4), and picfeltarraenin IV   (5). (17)
- Phytochemical screening of ethanol extract of leaves yielded secondary metabolites of alkaloids, flavonoids, glycosides, tannins, saponins, triterpenoids, and steroids. (see study below) (18)

Properties
- Plant, especially the fresh leaves, is very bitter.
- Considered aperient, febrifuge, diuretic, emmenagogue, sudorific.
- Curangine, an alkaloid derived from the plant, reported to have a marked febrifuge property.
- Studies suggest antimicrobial, antidiabetic, and complement inhibiting properties.

Parts used
Whole plant, leaves.

Uses
Folkloric
- In the Philippines, decoction of the plant is used as febrifuge, especially for malaria.
- The plant, masticated, decocted or infused, is used as stomachic and for irregular menstruation.
- Leaves are aperient; a stimulant to the intestines, sudorific, diuretic and emmenagogue.
- Leaves are used in the early stages of dropsy, in intermittent fevers, amenorrhea, arrested lochia, colic and lumbar pains.
- Sap or decoction of plant used as vermifuge in children.
- In the Moluccas, used as vermifuge, for tertian fever, as liver and bile stimulant. Also used for colic.
- Malays used it for its bitterness to whet the appetite.
- Juice given to provoke nausea.
- Decoction of leaves used for stomachache.
- Plant decoction used to increase appetite.
- Leaves applied to the head in cases of headache; cooling the head and allaying the pain.
- In Chinese medicine used as folk medicine for the treatment of herpes, infections, cancer, and inflammation. (14)
Studies
• Flavonoid Glucoronides: Study of a n-butanol extract yielded three flavonoid glucoronides: apigenin 7-O-β-glucuronide, luteolin 7-O-β-glucuronide and a new compound, apigenin 7-O-β-(2″-O-α-rhamnosyl)glucuronide, the latter one being a new compound. (2)
• New Cucurbitacin: Study yielded a new compound, 11, 24-dioxo-5, 21-diene-cucurbit-3alpha-O-beta-D-xylopyranosyl-16alpha-O-alpha-L-rhamnopyranoside (dehydrobryogenin glycoside). Hexanorcucurbitacin F, was obtained for the first time from Picria fel-terrae. (3)
• New Phenylethanoid Glycosides: Study searching for bioactive compounds from the whole plant yielded three new phenylethanoid glycosides, picreosides A-C, along with five known phenylethanoid glycosides: wiedemannioside, acteoside, acteoside isomer, cis-acteoside isomer, and cis-acteoside. (4)
• Complement-Inhibiting Cucurbitacin Glycosides: Study isolated four cucurbitacin glycosides: Picfeltarraenins 1A and 1B, picfeltarraenin IV, and a new compound picfeltarraenin VI. All showed activity as inhibitors of both the classical and alternative pathways of the complement system. (5)
• ß- Sitosterol / Anti-Diabetic Effect / Leaves: Study isolated ß-sitosterol from an n-hexane extract of leaves of Picria fel-terrae. The extract showed good antidiabetic effect, indicated by significant blood glucose lowering in alloxan induced diabetic mice. (7)
• Antimicrobial /Stem and Leaves: An in vitro study of a crude stem with leaf extract showed against five human pathogenic microorganisms showed effective activity against E. coli, Bacillus subtilis, Klebsiella sp., Staphylococcus aureus and Candida albicans. (8)
• Anthelmintic / Leaves: Study investigated the anthelmintic activity of leaf extract of Curanga fel-terrae against Pheretima posthuma. Results showed anthelmintic activity significantly more potent compared to standard albendazole. (13)
• Acetylcholinesterase Inhibitors: Study reports on the isolation of bioactive principles isolated from P. fel-terrae. An AChE inhibitory bioassay coupled HPLX of an EA extract yielded six compounds: picfeltarraenin IA (1), picfeltarraenin IB (2), picfeltarraenin IV (3), picfeltarraenin X (4), picfeltarraenin XI (5), and one unknown compound. (14)
• Anthelmintic: Study isolated fractions of plant extract against free-living nematode Caenorhabditis elegans and parasitic nematode Haemonchus contortus. Results showed a single fraction enriched for nematocidal activity killed ≥ 90% of C. elegans adults and inhibited motility of exsheathed L3 of H. contortus. (15)
• Diuretic / Leaves: Study evaluated the diuretic activity of various solvent extracts of leaves of Picria fel-terrae. An n-hexane extract showed better diuretic effect compared with other extracts with significant increase in urine volume at dose of 800 mg/kbw. There was increased sodium excretion by all extracts. (16)
• Antioxidant / Antiproliferative / T47D Cell Line: Study evaluated an ethyl acetate fraction of Picria fel-terrae for antioxidant activity and cytotoxicity effects in T47D cell line. The EAF showed anti-proliferative activity IC50 of 62.98 µg/ml. Antioxidant evaluation by DPPH assay showed an IC50 of 166.90 ± 0.10 µg/ml. (18)
• Relaxation Effect / Serotonin Contracted Rat Ileum / Leaves: Study of an ethanolic extract of P. fel-terrae leaves showed a relaxation effect on isolated rat ileum contracted by serotonin (5-HT). (see constituents above) (18)
• Effect on Adrenoreceptors, Histamine, and ACh Receptors / Leaves:Study evaluated the effect of an ethanolic extract of P. fel-terrae leaves on ß2-adrenoreceptors, histamine, and muscarinic-3 acetylcholine receptors in isolated guinea pig trachea. Results showed ethanolic extracts of leaves of P. fel-terrae possess stimulatory effect on ß2-adrenoreceptors, inhibitory effect on histamine and a relaxation effect on M3-ACh receptors. (19)
• Picfeltarraenin IA / Anti-Inflammatory / Airway Inflammation: Picfeltarraenin IA is extracted from the plant and has been used in traditional Chinese medicine as an acetylcholinesterase inhibitor. Study evaluated the effect of picfeltarraenin IA on respiratory inflammation via its effect on interleukin (IL)-8 and prostaglandin E2 (PGE2) production. The expression of COX2 in human pulmonary adenocarcinoma epithelial A549 cells in culture was also examined. Results showed IA downregulated LPS-induced COX2 expression, and inhibits IL-8 and PGE2 production in pulmonary epithelial cells. Results indicate IA regulates LPS-induced cytokine release in A549 cells via NF-kB pathway. (20)

Availability
Wild-crafted.