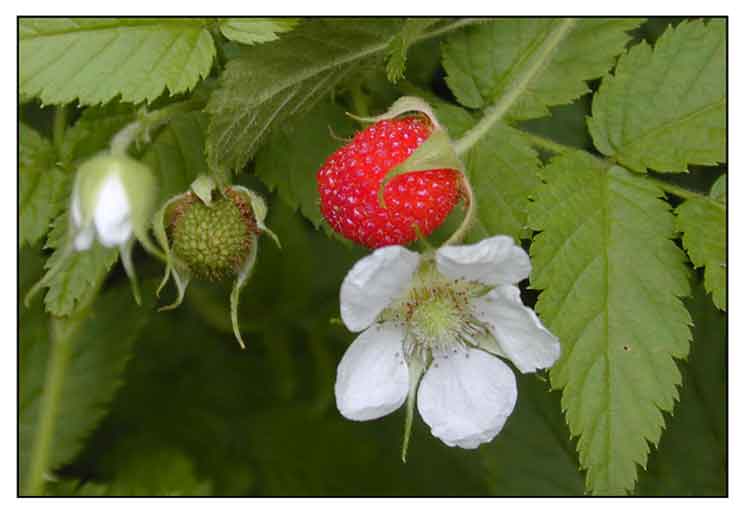 Botany
Sagmit is a spreading, low, spiny shrub, rarely exceeding a meter in height. Leaves are pinnate with 5 to 7 leaflets. Leaflets are smooth or hairy, with lobed margins, oblong-ovate or broadly lanceolate, and 2 to 7 centimeters in length. Flowers are borne upon slender, prickly, hairy, 3 to 5 centimeter-long stalks and arise from the uppermost leaf axils. Calyx is hairy. Petals are white, broadly oblong, and constricted toward the base. Berries are red, conically elongated, and 1.5 to 2 centimeters across.
Distribution
- In thickets and forests at medium and higher altitudes ascending in some places to 1,900 meters, throughout the Philippines.
- Also occurs in tropical to South Africa to Japan and Australia.
- Introduced into tropical America.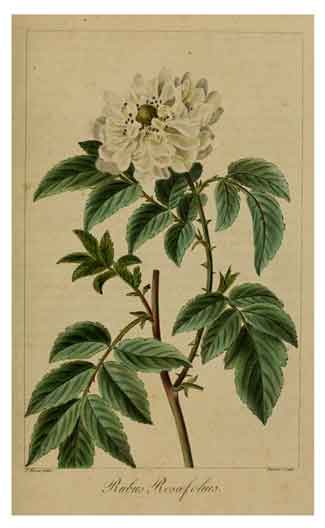 Constituents
- Ethyl acetate extract of fruit yielded eight compounds of the 19-α-hydroxyursane type viz. euscaphic acid (1), 1-ß-hydroxyeuscaphic acid (2), hyptatic acid (3),  19α-hydroxyasiatic acid (4), trachelosperogenin (5), 4-epi-nigaichigoside F1 (6), nigaichigoside F1 (7), and trachelosperoside B-1 (8). (see study below) (3)
- Chemical investigation of steam-volatile oil of shrub yielded pregeijere (2), ß-caryophyllene (3), humulene (4), dihydroagarofuran (5), and unidentified sesquiterpene ether, hedycaryol (6) and a novel epieudesmol rosifoliol (1). (16)
- Study of crude extract of fruit yielded secondary metabolites viz. phenolic compounds, alkaloids, steroids, and higher alcohols. (see study below) (13)
- Study evaluated two varieties (red and wine red) of R. rosifolius for anthocyanin, essential oil and polyphenol profiles. In both, dominant anthocyanins were pelargonidin-rhutinoside (17.2 mg/100 g FW) and cyanidin-3-glucoside (66.2 mg/100 g FW). Linalool and terpineol were the major constituents of the red variety EO. The red variety yielded higher phenolic compounds, caffeic acid and quercetin (1.85 and 0.73 mg/100g FW, respectively) compared to wine red variety (1.22 and 0.34 mg/100 g FW, respectively). Ellagic acid and ferulic acid were higher in the wine red variety (0.92 and 0.84 mg/100 g FW, respectively) compared to the red variety (0.15 and0.48 mg/100 g FW respectively). (see study below) (17)

Properties
- Leaves and fruit considered astringent.
- Leaves and roots are considered anodyne, astringent, and depurative.
- Considered anodyne, astringent, depurative and febrifuge.
- Studies have suggest antitumor, anti-inflammatory, analgesic, antioxidant, antimicrobial, anti-quorum sensing properties.

Parts used
Leaves, roots, stems, fruit.

Uses
Edibility
- Fruit is edible, juicy but rather insipid; eaten raw or cooked.
- Leaves are somewhat astringent; eaten raw or cooked.
- A recent botanical object of technological interest. It is being processed into jam and wine, and incorporated into a vinagrette for salad dressing.
Folkloric
- In the Philippines, decoction of roots given as expectorant.
- Syrup of fruit used as demulcent.
- Green fruit is astringent; decoction used as a gargle for angina.
- Decoction of leafy stems used for fevers.
- In Madagasar, decoction of leaves used for stomachache. (11)
- Australian aborigines use decoction of leaves for diarrhea. (12)
- In large quantities, fruit is laxative. (12)
Others
- Dye: A purple to blue dye is obtained from the fruit.

Studies
• Phytochemicals / Anti-Inflammatory / Anti-Tumor / LPO Inhibition: Study of ethyl acetate extract of the fruit yielded 8 compounds of the 19-a-hydroxyursane type. Hyptatic acid (3) and 4-epi-nigaichigoside F1 (6) exhibited growth inhibition specific to colon tumor cells by 56% and 40%, respectively. Compounds 1, 2 and 3 showed selective COX-1 enzyme inhibitory activity (13%, 25%, and 35%, respectively) at 25µg/ml. Four compounds, 2, 4, 6, and 7, inhibited lipid peroxidation by 62%, 60%, 68%, and 53%, respectively. (see constituents above) (3)
• Natural Preservative: Study evaluated Rubus rosaefolius extract for its efficiency as a natural preservative in base formulations. It was studied for its antimicrobial protection in emulsion and gel formulations. Results demonstrated R. rosaefolius extract reduced the bacterial inocula at the studied concentration in both formulations. The study of new natural substances with preservative properties provide a potential for application in pharmaceutical and cosmetic products while decreasing the concentration of synthetic preservatives. (4)
• Phytochemicals / Analgesic: Study evaluated various extracts from the aerial parts of Rubus rosaefolius. Results showed the hexane fraction and an isolated compound, 28-methoxytormentic acid, exhibited potent and dose-related analgesic activity in two models of pain in mice: writhing and formalin-induced pain. (6)
• Anthocyanin / Antioxidant / Anti-Inflammatory / Anticancer: Study evaluated three wild Jamaica-grown species: Rubus jamaicensis, Rubus rosifolius, and Rubus racemosus. The hexane extracts of Rubus spp. exhibited moderate COX inhibitory activity and the greatest potential to inhibit cancer cell growth (colon, breast, lung, and gastric human tumor cells). The high anthocyanin content of the fruits suggest a health benefit for a functional food. (9)
• Antimicrobial / Fruit: Study evaluated a crude methanolic extract of fruit of R. rosifolius for antimicrobial activity. It exhibited growth inhibition by disc diffusion assay on S. aureus, S. epidermis, S. typhi, P. aeruginosa, S. cerevisiae, C. albicans and Aspergillus oryzae. There was strong positive linear correlation between extract concentration and size of inhibition zone. Activity was attributed to phenolic compounds, anthraquinones, alkaloids and higher alcohols. (13)
• Antioxidant / Antimicrobial / Anti-Quorum Sensing: Study evaluated the antioxidant, antimicrobial, and quorum sensing inhibition of phenolic extract of wild strawberry, R. rosaefolius. Antioxidant evaluation showed elevated potential for ABTS and medium potential for DPPH method. The phenolic extract inhibited all test bacteria with MICs in the range of 491.90 - 1475.75 mg GAE/L. The phenolic extract inhibited all phenotypes typically regulated by quorum sensing in bacteria, including violacein production, swarming motility, and biofilm formation. (14)
• Antioxidant / Leaves: In a study of various extracts of dried leaves of R. rosifolius, antioxidant studies showed DPPH scavenging activity of n-hexane, EA, and ME with IC50s of >200, 29.67, and 5.17 ppm, respectively. Percent FRAP capacity were 73.51, 82.83, and 96.5, respectively. Total phenolic content of methanolic extract was 80.62 ± 21.6 mg GAE/g extract. Results showed the methanolic extract to have potent antioxidant properties and high total phenolic content. (15)
• Antimicrobial Activity Against Drug Resistant Pathogens / Fruits: Study of antimicrobial activity of fruit extracts against growth of drug resistant pathogens showed they were active against methicillin resistant S. aureus (MRSA), rifampicin resistant S. aureus (RRSA), wild-type S. aureus (WTSA) and vancomycin-resistant Enterococcus faecium (VREF). Activity was also reported against food-borne pathogens, including two strains of E. coli, L. monocytogenes, and Enterobacter aerogenes. (see constituents above) (17)
• Anthocyanin Compounds / Extraction / Fruit: Study reports on the extraction and simple characterization of anthocyanin compounds from R. rosifolius fruit. The dominant anthocyanin compound were of the pelargonidin type. Results suggest the anthocyanin compounds have potential an alternative as dyes in food that have acidic pH. (18)
• Antioxidant / Potential Chemopreventive: Study evaluated two R. rosifolius varieties (Red and Wine Red) for phytochemical constituents, impact on cytochrome P450 activities and antioxidant properties. Ellagic acid was the dominant phenolic analyzed. Euscaphic acid showed highest antioxidant activity (175.3 AE/100 mg FW). Pomolic acid demonstrated moderate inhibitory activity (IC50 of 9.4 µM) against carcinogen-activating CYP1B1 enzyme. Ellagic acid, quercetin and kaempferol contributed to CYP1B1 inhibitory activity of the methanol extracts, indicating potential for chemopreventive effects. (19)
Availability
Wild-crafted.