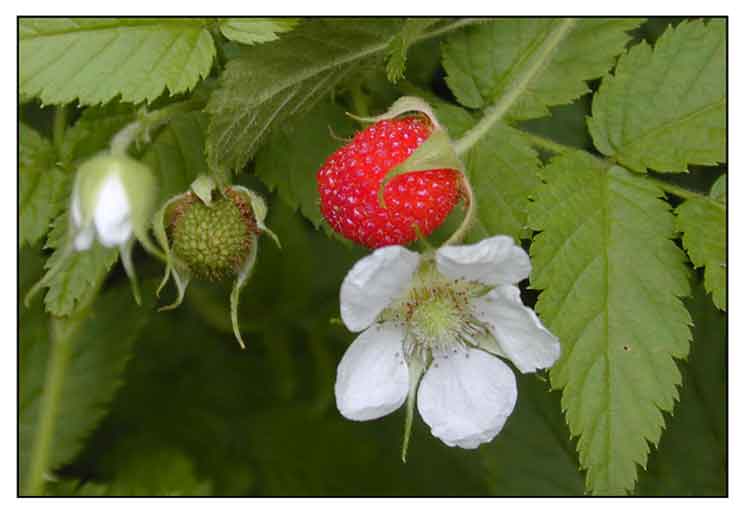 Botany
Sagmit is a spreading, low, spiny shrub, rarely exceeding a meter in height. Leaves are pinnate with 5 to 7 leaflets. Leaflets are smooth or hairy, with lobed margins, oblong-ovate or broadly lanceolate, and 2 to 7 centimeters in lenght. Flowers are borne upon slender, prickly, hairy, 3 to 5 centimeter-long stalks and arise from the uppermost leaf axils. Calyx is hairy. Petals are white, broadly oblong, and constricted toward the base. Berries are red, conically elongated, and 1.5 to 2 centimeters across.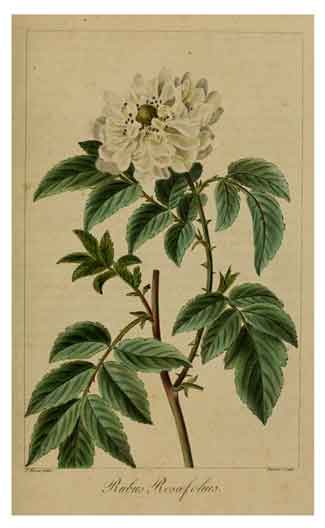 Distribution
- In thickets and forests at medium and higher altitudes ascending in some places to 1,900 meters, throughout the Philippines.
- Also occurs in tropical to South Africa to Japan and Australia.
- Introduced into tropical America.

Properties
- Leaves and fruit considered astringent.
- Leaves and roots are considered anodyne, astringent, and depurative.
- Considered anodyne, astringent, depurative and febrifuge.
- Studies have suggest antitumor, anti-inflammatory, analgesic, antioxidant properties.

Parts used
Leaves, roots, stems, fruit.

Uses
Edibility
- Fruit is edible, juicy but rather insipid; eaten raw or cooked.
- Leaves are somewhat astringent; eaten raw or cooked.
- A recent botanical object of technological interest. It is being processed into jam and wine, and incorporated into a vinagrette for salad dressing.
Folkloric
- In the Philippines decoction of roots given as expectorant.
- Syrup of fruit used as demulcent.
- Green fruit is astringent; decoction used as a gargle for angina.
- Decoction of leafy stems used for fevers.
- In Madagasar, decoction of leaves used for stomachache. (11)
- Australian aborigines use decoction of leaves for diarrhea. (12)
- In large quantities, fruit is laxative. (12)
Others
- Dye: A purple to blue dye is obtained from the fruit.

Studies
• Phytochemicals / Anti-Inflammatory / Anti-Tumor / LPO Inhibition: Study of ethyl acetate extract of the fruit yielded 8 compounds of the 19-a-hydroxyursane type. Compounds 3 and 6 exhibited growth inhibition specific to colon tumor cells. Compounds 1, 2 and 3 showed selective COX-1 enzyme inhibitory activity. Four compounds showed lipid peroxidation inhibition.
• Natural Preservative: Study evaluated Rubus rosaefolius extract for its efficiency as a natural preservative in base formulations. It was studied for its antimicrobial protection in emulsion and gel formulations. Results demonstrated R. rosaefolius extract reduced the bacterial inocula at the studied concentration in both formulations. The study of new natural substances with preservative properties provide a potential for application in pharmaceutical and cosmetic products while decreasing the concentration of synthetic preservatives. (4)
• Phytochemicals / Analgesic: Study evaluated various extracts from the aerial parts of Rubus rosaefolius. Results showed the hexane fraction and an isolated compound, 28-methoxytormentic acid, exhibited potent and dose-related analgesic activity in two models of pain in mice: writhing and formalin-induced pain. (6)
• Anthocyanin / Antioxidant / Anti-Inflammatory / Anticancer: Study evaluated three wild Jamaica-grown species: Rubus jamaicensis, Rubus rosifoius, and Rubus racemosus. The hexane extracts of Rubus spp. exhibited moderate COX inhibitory adtivity and the greatest potential to inhibit cancer cell growth (colon, breast, lung, and gastric human tumor cells). The high anthocyanin content of the fruits suggest a health benefit for a functional food. (9)
Availability
Wild-crafted.