Botany
Salago is a shrub with a tough bark, growing to a height of 1 to 3 meters. Leaves are opposite, ovate, 5 to 10 centimeters long, 3 to 4 centimeters wide, pointed at the apex, rounded at the base. Flowers are yellow, tubular, about 1.5 centimeters long, borne in small clusters. Fruit is subglobose, 5 to 8 millimeters thick, shining, and yellowish-red, containing a solitary large seed enclosed by a fleshy skin.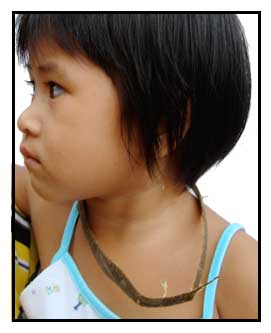 Distribution
- In thickets and primary or secondary forests, at low and medium altitudes in Bontoc, Benguet, Bulacan, Bataan, Rizal, Laguna, Batangas, and Sorsogon Provinces in Luzon, and in Negros and Mindanao.
- Also reported in Indonesia and Malaysia.
Parts utilized
Leaves, bark.
Constituents
- The leaves yield a volatile oil and resin.
- Studies have yielded glucosides, saponins, and the absence of alkaloids or cynogenetic substances.
Properties
- Leaves considered emeto-cathartic and laxative.
Uses
Folkloric
- Chewing and swallowing one or two leaves provide a laxative and purgative effect, three to four leaves result in drastic watery stools. Pills made from leaf extracts may be used in lieu of imported cathartic pills.
- Fresh bark or branches of the plant are tied about the neck for mumps and to relieve bronchial catarrh. (Photo Insert)
Others
• Fiber: Source of durable fiber. Stem can be made into ropes by pounding the wet bark; also used for making G-strings and tapis.
• Paper: Also used as fiber constituent to strengthen paper products. Fibers extracted from the bark are used in the manufacture of high grade paper used in bank notes, cheques, and specialty papers requiring strength and durability. Four species of its genus known for its quality fibers are: small leaf salago (W. indica), lance leaf (W. lanceolata), large leaf salago (W. meyeniana) and round leaf salago (W. ovata). (3)

Studies
• Chemotaxonomy: Study divides the species into two groups based on morphological characteristics: length of petioles, leaves and shape of the fruit with no differences in sex, location and location time. (1)
• Cathartic Effects: Therapeutic cathartic effects were set between one to four leaves. Effects were intensified in two to three hours, subsiding in 10 to 16 hours. Undesirable side effects of abdominal pain and tenesmus were not significantly mitigated by therapeutic doses of belladona. (4)

Availability
Wildcrafted.