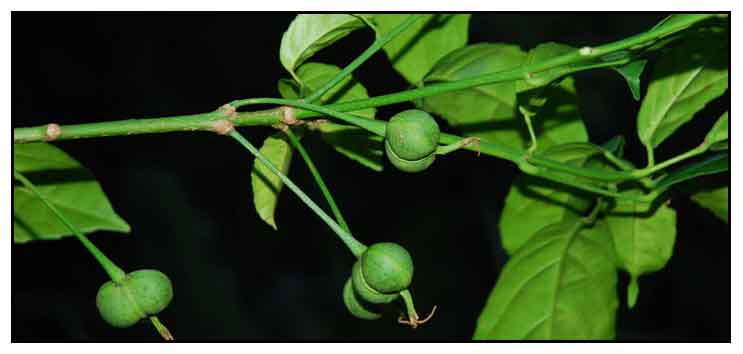 Botany
Saligao is a large shrub or tree. Bark Is smooth to slightly fissured. Leaves are alternate or subopposite, oblong, about 12 centimeters long, and 5 centimeters wide. Flowers are solitary or few in a cluster, borne on the axils of the leaves. Fruit is somewhat rounded, about 3 centimeters in diameter.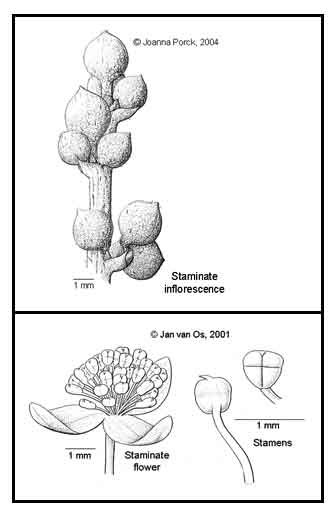 Distribution
- In forests at low and medium altitudes in most or all provinces from northern Luzon to Palawan and Mindanao.
- Also occurs in India and Ceylon through Malaya to New Guinea.
Constituents
- Essential oil of leaves yielded 10 constituents accounting for 92.60% of the total oil. Major constituents were ethyl linoleolate (32.12 %), hexadecanoic acid (26.77 %), trans-phytol (24.64 %) and iso- phytol (4.80 %). (See studies below) (4)
Properties
- Plant reported to be poisonous.
- Considered abortifacient, analgesic, antipyretic, diaphoretic, stomachic.

Parts used
Bark, seeds, leaves.

Uses
Folkloric
- Decoction of leaves will produce abortion.
- Decoction of bark, taken internally, used as stomachic.
- Seeds reported to be effective for constipation.

Studies
• Phytochemicals: Study of the leaves isolated two flavone glycosides, acacetin-7-O-b-D-glucopyranoside and diosmetin-7-O-b-D-glucopyranoside, a phenylpropanoid glycoside, plus p-propenylphenol-b-D-glucopyranoside, a linear diterpene, trans-phytol, and a lanostane triterpene, (24S)-24-methyl-5a-lanosta-9(11),25-dien-3b-ol. (1)
• Clerodane: Study isolated a polyoxygenated clerodane, spiciflorin, and also a glucoside of anol (2), columbin, scopoletin, 3,3',4-O-trimethylellagic acid, acetylaleuritolic acid, common triterpenes and phenols. (2)
• Essential Oil / Leaves / Antioxidant / Antibacterial / Cytotoxicity: Essential oil from leaves yielded ten constituents accounting for 92.6% of the total oil. (See constituents above) The oil showed non-cytotoxic effects against Vero cells. It exhibited anti-cancer activity against three human cancer cell lines (KB-oral cavity cancer, MCF7-Breast Cancer, and NCI-H187-Small Cell Lung Cancer. It showed antibacterial activity against Staphylococcus aureus and Pseudomonas aeruginosa. It also exhibited significant antioxidant activity. (4)
Availability
Wild-crafted.