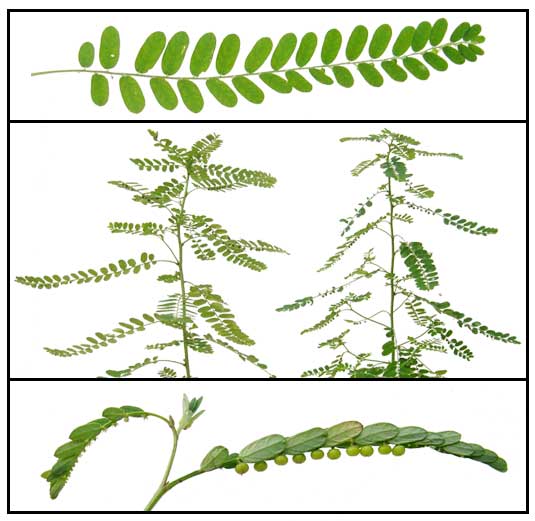 Gen info
- Phyllanthus is the largest genus in the flowering plant family Phyllanthaceae. Estimates on the number of species int he genus vary widely, from 750 to 1200 Diversity of growth forms include annual and perennial herbs, shrubs, climbers, floating aquatics, and pachycaulous 4succulents. It has one of the widest range of pollen types of any seed plant genus. (64)
- Phyllanthus species express a specific type of growth called "phyllanthoid branching" in which vertical stems bear deciduous, floriferous (flower-bearing), plagiotropic (horizontal or oblique) stems. (64)
- The genus was first described by Carl Linnaeus in 1759.
- Chanca piedra is Spanish for "stone breaker," used by indigenous peoples of the Amazon as an effective remedy for the treatment of gallstones and kidney stones.
Botany
Sampasampalukan is an erect, branching, slender, smooth herb growing 50 to 60 centimeters high. Leaves are small and oblong, alternate and often imbricated, oblong to elliptic-oblong, 5 to 8 millimeters long, rather pale beneath, and on very short stalks. Flowers are axillary and solitary, pale green or white, about 0.5 millimeter long. Capsules are smooth, rounded or somewhat flattened, 1.5 to 2 millimeters in diameter.
Distribution
- A common roadside and garden weed throughout the Philippines.
- Now pantropic, probably introduced into the New World.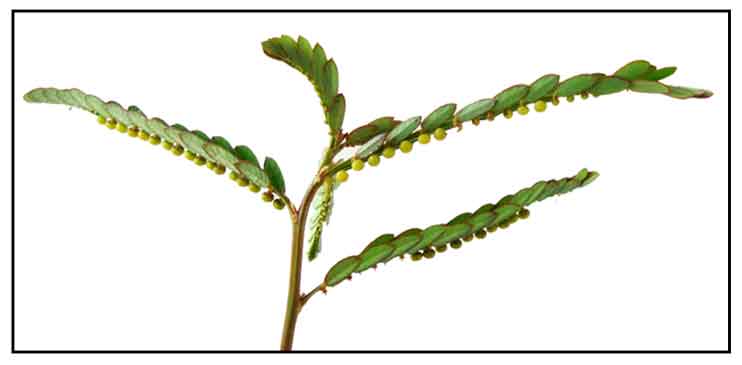 Constituents
- Plant has yielded various phytochemicals: flavonoids, alkaloids, terpenoids, lignans, polyphenols, tannins, coumarins, and saponins.      (28)
- Plant yields phyllanthin, previously identified as pseudo-chiratan. It crystallizes in colorless needles or flakes, with an intensely bitter taste, almost insoluble in water but easily soluble in alcohol, petroleum ether, ether, chloroform, benzene, and glacial acetic acid.
- From the leaves, phyllanthin and hypophyllanthin, lignans niranthin, nirtetralin and phyltetralin.
- Plant yields a considerable amount of potash.
- Chloroform leaf extract yielded alkaloids, tannins, saponins, terpenoids, and steroids, with an absence of phlobatannins, flavanoids, and glycosides. Active compounds phyllanthin and hypophyllanthin have been isolated from the leaves. (61)
Properties
- Astringent, cholagogue, diuretic, emmenagogue, febrifuge, stomachic, laxative, obstruent.
- Considered antiviral, antilithiatic, anthelmintic.
- Bark is considered purgative.
- In Ayurvedic medicine, considered hepatoprotective, antiviral, antibacterial, analgesic, antispasmodic, and antidiabetic.
- Studies have showed anti-hepatotoxic, antilithic, anti-hypertensive, anti-HIV and anti-hepatitis B properties. (28)
- Medicinal properties of Phyllanthus urinaria are the same as those of Phyllanthus niruri. (Q)
Parts used
Whole plant, root, fruit, leaves.

Uses
Folkloric
- Decoction of entire plant used as tonic for the stomach.
- Bitter fruit used for tubercular ulcers, wounds, sores, scabies, and ringworm.
- Used for kidney stones and gallstones.
- Fresh root used as remedy for jaundice.
- Used as emmenagogue and febrifuge.
- Also used for genitourinary problems: renal colic, cystitis, prostate problems, jaundice, constipation, dyspepsia, gonorrhea.
- Young leaves used for fevers.
- Chewing of fresh leaves used for hiccups.
- Used for baths in newborns.
- Decoction used for coughs in infants.
- Infusion of root and leaves used as tonic and cold, taken cold in repeated doses.
- In Santo Domingo and Puerto Rico, bitter decoction of leaves and roots used for intermittent fevers.
- Infusion of young shoots and leaves given for dysentery.
- Salted poultice of leaves used for scabby affections; without salt, applied to bruises and wounds; and made with rice water, poultice lessens edematous swellings and ulcers.
- As a Tamil galactagogue, root bruised with a little water and administered with milk.
- In Indo-China, used as diuretic, depurant, and antisyphilitic.
- In the Konkan rubbed down with rice-water and used as a remedy for menorrhagia.
- In La Reunion, used for blenorrhagia, dropsy, and diarrhea.
- In Haiti, decoction of roots and leaves used for stomachaches.
- In the Gold Coast and India, pounded leaves used for gonorrhea.
- In Sind, roots, leaves, and young shoots are much employed in gonorrhea and other genito-urinary affections.
- Bark used as purgative.
- Milky juice applied to offensive sores.
- In Unani medicine, used for sores and chronic dysentery; fruits used for tubercular ulcers, sores, scabies and ringworm.
- In Ayurveda, used for asthma, bronchitis, leprosy, anemia hiccups and as diuretic.
- In different parts of India, used for snake bites.
- In South America, used to treat excess uric acid.
Others
- Dye: In India, decoction of leaves and stem used for dyeing cotton black.
- Fish poison: From the phyllanthin, plant is used as fish poison.

Studies
• Antiviral / Anti-Hepatitis B: (1) Studies of extracts have shown marked anti-hepatitis B surface antigen activity possibly through inhibition of viral genetic material. (2) A study reports P niruri has profound effects in vitro on HBsAg, on woodchuck hepatitis virus surface antigen (WHsAg) and on the DNA of both viruses and in vivo on the replication of WHV (woodchuck hepatitis virus) and in some controlled studies, it appeared to eliminate WHV from carriers.
• Hypolipidemic: Studies have demonstrated lipid-lowering effects in triton and cholesterol fed hyperlipidemic rats
• Anti-diabetic: (1) Studies have shown potential anti-diabetic action of PN. (2) Study of aqueous extract of the plant yielded alkaloids, flavonoids and saponins. Administration of aqueous extracts in mice showed a significant decrease in blood glucose with a significant effect in controlling the loss of body weight. Results showed a hypoglycemic effect in diabetic rats with no evidence of hepatotoxicity.
• Anti-malarial: Extract studies of Phyllanthus niruri showed inhibitory activity of Plasmodium falcifarum.
• Calculi dissolution: Although test did not show prevention of further growth, PN modified the shape and texture of the stone into a more fragile form which may help in elimination and dissolution.
• Platelet Aggregation Inhibition: Methyl brevifolincarboxylate, isolated from PN, was found to have inhibitory effects on platelet aggregation. (5)
• Hepatoprotective / Nimesulide Induced Toxicity: Study showed PN to possess hepatoprotective activity against nimesulide-induced liver toxicity, probably through an antioxidant defense mechanism. Another study demonstrated a protein fraction of PN to be protective against acetaminophen hepatotoxicity by increasing antioxidative defense.(6) Study evaluated an aqueous extract of P. niruri on hepatocurative effects from nimesuline (NIM) induced oxidative stress in vivo. NIM administration caused significant depletion of SOD, CAT, and GSH along with increased lipid peroxidation. Treatment with PN rapidly restored most of the NIM-induced oxidative changes, along with supporting histological studies. PN also showed scavenging of free radicals. (46)
• Calcium Oxalate Crystal Growth and Aggregation Inhibition: Study showed an inhibitory effect of P niruri extract on CaOx crystal growth and aggregation in human urine, suggesting an interference with the early stages of stone formation and presents an alternative form of treatment and / or prevention of urolithiasis. (11)
• Antihyperuricemic Effect: Study showed the methanol extract of P niruri and its lignans were able to reverse the plasma uric acid of hyperuricemic animals. The effect could be through its uricosuric action and partly through xanthine oxidase inhibition. The antihyperuricemic effect of the lignans was attributed to their uricosuric action. A methanol extract of leaves showed dose-dependent oral antihyperuricemic activity in potassium oxonate- and uric acid-induced hyperuricemic rats. (12)
• Acute Toxicity Study / Leaves / Aerial Parts: Study of aqueous leaf extract was done in female Sprague-Dawley rats to illicit evidence of toxicity. No toxicity was observed at various levels of testing. The LD50 of the aqueous extract is >5000 mg/KBW. (15)
• Effects of HIV Replication: P. niruri has shown marked inhibitory effect on hepatitis B virus. Study investigated the anti-HIV effects of an alkaloidal extract of P. niruri in human cell lines. Results showed the extract exhibited a sensitive inhibitory response on cytopathic effects induced by strains of HIV on human MT-4 cells in the tested concentrations. (16)
• Antihyperuricemic / Lignans / Phyllanthin: A methanol extract of leaves showed dose-dependent oral antihyperuricemic activity in potassium oxonate- and uric acid-induced hyperiuricemic rats. Fraction purification yielded four lignans -- phyllanthin, hypophyllanthin, phyltetralin and niranthin. Phyllanthin showed the highest dose-dependent antihyperuricemic effect. (17)
• Antifertility: Study of aqueous extract of Phyllanthus niruri in Male albino rats showed dose-dependent antifertility effects, with reduction in fructose level of the seminal fluid, decreased sperm motility, sperm count and sperm viability. (18)
• Gastroprotective: Study was done for gastroprotective activity of P. niruri leaf extract against ethanol-induced gastric mucosal injury in Wistar rats. Results showed promotion of ulcer protection with comparative decreases in ulcer areas, inhibition or reduction of edema and leukocyte infiltration of the submucosa. (19)
• Anti-Tumor / Chemopreventive / DMBA-Induced Papillomagenesis: Study in male Swiss albino mice evaluated the anti-tumor activity of a hydro-alcoholic extract of whole plant on two stage process of skin carcinogenesis induced by topical application of DMBA. Results showed significant anti-tumor activity, with significant reduction in tumor incidence, tumor yield, tumor burden and cumulative number of papillomas.
(20)
• Antidiabetic: Study evaluated the antidiabetic potential of methanol extract of aerial parts in normal and alloxan-induced diabetic rats. Results showed dose related reduction of fasting blood sugar with suppression of postprandial rise of sugar after a heavy glucose meal in normoglycemic rats. Results suggest the extract of aerial parts has great potential as anti-diabetic remedy. (21)
• Attenuation of Chlorpyrifos-evoked Erythrocyte Fragility and Lipoperoxidative Changes: Study of methanolic extract in Wistar rats showed protective effect from CPF-induced increased in erythrocyte fragility and lipoperoxidative changes, probably due to its flavonoid contents' antioxidant activity. (22)
• Antioxidant / Hepatoprotective / Kidney and Testes Effects: Study evaluated the effects of aqueous extracts of P. niruri on liver, kidney, and testes of CCl4-induced hepatotoxic rats. Results showed P. niruri has antioxidant and hepatoprotective activity associated with deleterious effects on kidney and testes. (23)
• Diuretic: An aqueous extract was studied for diuretic activity in albino rats. Results showed significant increase in volume of urine and excretion of sodium, potassium and chloride. (24)
• Hepatoprotective Against Thioacetamide-Induced Liver Cirrhosis: Study evaluated the protective role of PN extract against liver cirrhosis induced by TAA in rats. Results showed progression of liver cirrhosis induced by TAA in rats can be intervened using the P. niruri extract, with effects comparable to silymarin. (25)
• Hepatoprotective Against Alcohol and Other Hepatotoxicants: Study showed a hepatoprotective effect against alcohol and several hepatotoxicants. PN can potentially inhibit the transcription of pro-inflammatory cytokines (TNF-α) produced by kupffer cells. The hepatoprotective effect is attributed to bioactive compounds such as lignans, alkaloids, terpenoids,and tannins, especially phyllanthin and hypophyllanthin, quercetrin, astragalin, gallic acid, elagic acid and corilagin.
• Antimicrobial: Extracts of leaf, stem, root, and fruit were evaluated for antimicrobial activity. Ethanol, water, n-butanol extracts of leaf, stem and fruit parts were found to be effective against most of the human pathogenic microorganisms. (27)
• Anti-Lithiatic / Leaves: In vitro study evaluated various extract for anti-urolithiatic effect with two standard drugs, Neeri and Cystone as control. Results showed the water extract of leaves to have anti-urolithiatic effect, equal to cystone in dissolving the exiting calcium oxalate crystals. A methanol extract was second in anti-lithiatic activity. (29)
• NSPN in Acute Tonsillopharyngitis: A comparative, parallel, randomized, double-blind, placebo-controlled study examined the clinical effectiveness of NSPN extract containing Nigella sativa and Phyllanthus niruri extracts. Study found the NSPN to be safe and well tolerated in acute tonsillopharyngitis patients, with significant benefits as compared to placebo. (30)
• Analgesic / Antipyretic: Study evaluated aqueous and ethanolic extracts of P. niruri for analgesic and antipyretic effect using the Tail Immersion Model and Brewer's Yeast Induced Pyrexia Model respectively. The extracts showed better analgesic and antipyretic potential when compared to standard drugs. (31)
• Lipid Lowering: Study showed break-stone herb extract significantly lowered lipid levels of VLDL and LDL in experimental cholesterol-fed hyperlipemic rats. (32)
• Antibacterial: Study evaluated various extracts of whole plant, stem, leaf, roots of P. niruri for antibacterial activity against six pathogenic organisms viz. K. pneumonia, E. coli, P. aeruginosa, S. aureus, S. typhi, and P. mirabilis. Results showed significant antibacterial properties. The whole plant extract showed the most activity against the test bacteria. Staphylococcus aureus was the most susceptible to the ethanolic extracts. (33)
• Wound Healing / Leaves: Study evaluated the would healing activity of P. niruri leaves extract in experimentally wounded adult male Sprague Dawley rats. Results showed dressing with Phyllanthus niruri extracts, as topical application on wounds, enhanced wound healing process significantly. (34)
• Anti-Cataract Potential / Galactose Induced Cataractogenesis: Study evaluated the anti-cataract effect of phyllanthus niruri both in vivo and in vitro galactose induced cataract. PN significantly delayed the onset and progression of cataract in vivo. Lenses treated with PN 880 µg/mL concentration showed higher levels of glutathione (GSH) and decreased levels of polyols in vitro. (35)
• Antimetastatic and Apoptotic Effects: Study evaluated the antimetastatic potential of Phyllanthus niruri, P. urinaria, P. watsonii, and P. amarus on lung and breast cancer carcinoma cells. The plant extracts were shown to inhibit MCF-7 (breast carcinoma) and A549 (lung carcinoma) cells growth with IC50 values ranging from 50-180 µg/ml and 65-470 µg/ml for methanolic and aqueous extracts, respectively. Phyllanthus extracts were showed to effectively reduce invasion, migration, and adhesion of both MCF-7 and A549 cells in a dose dependent manner. Phyllanthus showed to be capable of inducing apoptosis in conjunction with its antimetastatic action. The antimetastatic effects is mostly associated to the presence of polyphenol compounds in its extracts. (36)
• Non-Genotoxic: Study evaluated the genotoxic, antigenotoxic, and cytotoxic activities of P. niruri extract in bone marrow of rats. Results suggest P. niruri extract showed no genotoxic, antigenotoxic, and cytotoxic activities under experimental conditions. (38)
• Hypoglycemic Effect: Treatment with P. niruri showed remarkable and significant decrease in blood glucose (p<0.05) compared with control NIDDM patients. Use of capsulated dry powder (250 mg/tab) of P. niruri for 2 months showed no side effects. (39) Study showed the ethanolic extract of whole plant of Phyllanthus niruri, leaves and fruits of Solanum xanthocarpum and fruits of Solanum melogena may be useful in the treatment and management of diabetes mellitus. (41)
• Hematologic Effect: Study evaluated the hematological effects of administering Ipomoea batatas and Phyllanthus niruri in the ICR mice. Results showed P. niruri can increase RBC, hematocrit, and hemoglobin. There were no significant effects noted on WBC count, absolute granulocyte, lymphocyte, and monocyte counts, and platelet counts. Study suggests the effect of I. batatas and P. niruri on different hematologic parameters are due to folic acid and iron which are integral components in the production of RBC and hemoglobin. (40)
• Acute Oral Toxicity Study: Study evaluated the acute oral toxicity (LD50) of aqueous extract of P. niruri in Swiss albino mice with regards biochemical and cyto-architectural alterations in the kidney. LD50 was 2590.984 mg/kbw. There was observed elevation of serum level of urea at higher doses, with histological alteration at doses higher than 2500 mg/kbw. Results suggest P. niruri may have toxic effects at high doses and should be ingested with precautions. (42)
• Immunomodulatory / Tuberculosis Patients / Leaves: Study observed the potential role of P. niruri in inducing immune cells activity in TB patients by in vitro approach. P. niruri aqueous extract induced dose dependent proliferation of PBMCs, increased NO release, and improved macrophages phagocytic activity. Results suggest a potential role of P. niruri as immunomodulator adjuvant therapy for TB patients. (43)
• Antiplatelet Aggregation / Anticancer / Antiplasmodial: Study of crude extracts of P. niruri showed potency as antiplasmodial, anticancer, and as antiplatelet agent. Inhibition of Plasmodium falciparum growth was methanol > water > ethanol > chloroform > hexane, with IC50s of 1.6, 9.6, 25, and 141 µg/ml, respectively. Anticancer testing showed significant cytotoxic effect on human Caucasian large cell lung cancer carcinoma (COR-L23), human acute T-lymphoblastic leukemia (MOLT4) and human caucasian chronic myelogenous leukemia (K562), with the methanol extract showing highest cytotoxicity, with low IC50 for all cell lines tested. Four compounds from the methanol extract exhibited potency in preventing in-vitro platelet aggregation induced by ADP. Compound 2, corilagin, altered G-protein signaling pathway by impeding Gq-protein cascade. The interaction between the activated integrin and related ligands resulted in the inhibition of further amplification of platelet aggregation. (44)
• Antioxidant / Diabetic Oxidative Stress / Leaves: Study evaluated the phytoconstituents and in vitro antioxidant activity of P. niruri aqueous extract of leaf and its effect on oxidative stress and antioxidant enzyme levels in diabetic rat kidney. The aqueous leaf extract prevented the increase in amount of lipid peroxidation (LPO) product, MDA, and diminution of SOD, CAT, and GPx activity levels in the kidney of diabetic rats. The leaf extract exhibited in vitro antioxidant activity with IC50 lower than ascorbic acid. Results suggest the leaf extract protects the kidney from oxidative stress induced by diabetes. (45)
• Phyllanthin / Anticandidal / Antioxidant: Phyllanthin is one of the active lignan isolated from  P. niruri. In the study, phyllanthin exhibited very high antioxidant property with low IC50 of 7.5 µmol/mL. Phyllanthin also showed significant growth inhibition of Candida albicans. A 250 µl/L concentration showed the highest rate of inhibition. (47)
• Antioxidant / Hepatoprotective / Leaves and Fruits: Methanolic and aqueous extracts of fruits and leaves of P. niruri showed inhibition of lipid peroxidation (LPO), scavenging of DPPH radical and inhibition of reactive oxygen species (ROS) in vitro. Results showed antioxidant activity by in vivo inhibition of carbon tetrachloride (CCl4)-induced formation of lipid peroxides in the liver of rats pretreated with P. niruri extracts. (48)
• Analgesic / Leaves: Study evaluated a methanol extract of leaves for analgesic action using hot plate test in mice and analges meter pressure-induced method in rats. The leaf extract exhibited significant (p<0.05) analgesic effect in both methods. (49)
• Hypocholesterolemic Effect in a Diabetic Mice Model: Study showed diabetic mice treated with P. niruri extract showed significantly lower values of total cholesterol (-26.5%; p<0.001) and triglycerides (-55.6%; p<0.001). (50)
• Protective Against Aflatoxin Toxicity / Leaves: Aflatoxin is an environmental toxicant which frequently contaminates foodstuffs. Study evaluated the possible ameliorative effects of P. niruri on aflatoxins induced serological and biochemical changes in liver of rats. Administration of P. niruri lowered the level of lipid peroxidation and enhanced the antioxidant status of animals. Results suggest reduction in hepatotoxicity. P. niruri was found safe and successful in counteracting and protecting against aflatoxin toxicity. (51)
• Genotoxicity / Cytotoxicity / Toxicological Study: Study evaluated the geno-, cyto-, and overall toxicity of ethanolic extract of P. niruri whole plant administered to laboratory rats by gavage. Results showed the extract is not cytotoxic or genotoxic, and generally non-toxic on subchronic administration. (52)
• Anti-Inflammatory / Anti-Ulcer / Leaves: Study evaluated a methanolic extract of leaves for anti-inflammatory and anti-ulcer activity. Results showed anti-inflammatory activity with significantly (p<0.01) decreased carrageenan-induced paw edema. The extract also showed good protective effect against ethanol-acid induced gastric mucosal injury in rats, with significant regeneration of mucosal layer and prevention of formation of hemorrhage and edema. (53)
• Immunostimulatory Effect / Leaves: Study evaluated an aqueous leaf extract of P. niruri for immunostimulating properties on neutrophil activation and antibody response of Oreochromis mossambicus. Results indicate the aqueous leaf extract has potential for use as immunostimulant and disease-protective property. It can be used as routine feed supplement to activate the immune system of farmed fishes or as an adjuvant to enhance efficacy of vaccines. (54)
• Immunomodulatory Flavonoid / Antioxidant: Study evaluated the radical scavenging and immunomodulatory properties of flavonoid isolated from P. niruri. The flavonoids showed dose-dependent enhancement in activity in DPPH and hydroxyl radical scavenging assays. By MTT assay, the isolated flavonoid exhibited in vitro growth stimulatory effect on isolated normal lymphocytes. (55)
• Antihypertensive / Leaves: Study evaluated the effects of aqueous extract of leaves of P. niruri on STZ-induced diabetes in spontaneously hypertensive rats. Results showed attenuation of blood glucose in all treatment groups with a significant decrease in Mean Arterial Blood Pressure. Results support the traditional use of PN for treatment of diabetes and arterial hypertension, and suggests a potential beneficial effect in patients with co-existing diabetic hypertension. The aqueous extract may also protect organs from injury or damage due to high blood pressure. (56)
• Immunomodulator in Infectious Diseases: Review focused on clinical evidences demonstrating benefits of P. niruri with its immunomodulatory properties for the treatment of various infectious diseases. P. niruri as immunomodulator has been evaluated in various clinical trials for treatment of chronic hepatitis B, primary tuberculosis, vaginitis, and varicella-zoster infection. In these, P. niruri has shown capacity to modulate and activate the immune system. Studies suggest a potential for the herb to have a place in the management of infectious diseases in the formal clinical setting. (57)
• Hepatoprotective / Alkaloid Fraction / Galactosamine Induced Hepatitis: Study of an alkaloid fraction activity of Phyllanthus niruri showed hepatoprotective effect in galactosamine induced hepatitis in rats. (58)
• Suppression of Hepatitis C Viral Load: Study investigated the therapeutic potential of P. niruri extracts as alternative treatment for HCV. Phytochemicals extracted from dried plant material were applied to HCV-infected cell lines to determine effect on viral load and cell toxicity. Results showed significant decrease in the number of viral copies per cell with no significant toxicity. Results suggest different extracts may exhibited different kinetics and different mechanisms of actions. Study suggests potential for the development of novel treatments and alternative drug options for HCV patients. (59)
• Wound Healing / Anti-Ulcer / Aerial Parts: Study evaluated the wound healing and antiulcer properties of extract of aerial parts in experimental wound and ulcer models in rodents. On excision and dead space wound models, the extract significantly (p<0.05) reduced wound diameter and reduced epithelialization time of excised wounds. In indomethacin-, ethanol acid- and cold restraint stress-induced ulcer models, the extract significantly (p<0.05) inhibited development of induced ulcers. (60)
• HIV-1 Reverse Transcriptase Inhibitory: An aqueous extract of Phyllanthus niruri inhibited human immunodeficiency virus type-1 reverse transcriptase (HIV-1-RT). Inhibitor was identified as repandusinic acid A monosodium salt (RA). RA (2.5µM) inhibited up to 90% of HIV-1 specific p24 antigen production in a Clone H9 cell system. (62)
• Antimalarial / Plasmodium berghei / Whole Plant: Study evaluated ethanolic, dichlormethane and lyophilized extracts of whole plant of Phyllanthus niruri for antimalarial activity against Plasmodium berghei ANKA in mice. No toxic effect was observed in mice treated orally with any of the extracts at a single dose of 500 mg/kbw or with the same dose given twice weekly for 4 weeks. No lesions were observed grossly or histopathologically. At 200 mg/kg, ethanolic and dichlormethane extracts produced significant chemosuppression of parasitaemia (>60%). The ethanolic extract reduced parasitaemia by 73%. (63)
• Antitumor / Corilagin: Study isolated antitumor components by bioguided fractionation and chromatographic methods from ethyl acetate fraction of P. niruri, which were identified as ethyl brevifolincarboxylate and corilagin. Cell cytotoxicity assays showed corilagin has broad-spectrum antitumor activity, with better antitumor potential, and lower toxicity in normal cells. Results suggest corilagin is the major antitumor component of P niruri. (64)

Availability
- Wild-crafted.
- Tablets, capsules, powders, extracts in the cybermarket.