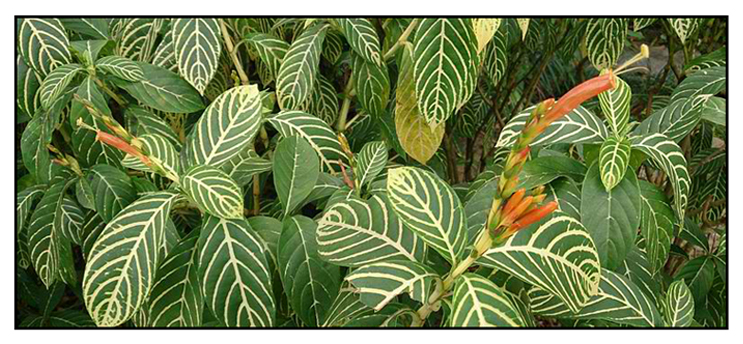 Gen info
- Genus Sanchezia is named after John Sanchez, a 19th century professor of botany in Cadiz, Spain; specosa is from Latin speciosus, meaning showy or beautiful.i

Botany
Sanchezia is a small, semi-woody erect evergreen shrub growing 1.3 to 2.4 meters. Stems are smooth bright green to purple. Leaves are large, up to 26 centimeters in length, opposite, lanceolate. Blade is green, with well defined yellow or ivory veins. Flowers are yellow, tubular, with red bracts, about 5 centimeters long, and borne in terminal spikes of 6 to 10. Fruits are oblong capsules with 6 to 8 circular, compressed seeds.
Distribution
- Introduced.
- Popular ornamental plant in the Philippines.
- Native to Peru and Ecuador.
Constituents
- Phytochemical screening of leaves yielded alkaloids, glycosides, flavonoids, triterpenoids, carbohydrates, steroids, phenolic compounds, saponins, and tannins. (see study below) (4)
- Study of ethanolic extract of leaves yielded 4 compounds: quercetin 3-O-α-l-rhamnopyranosid (quercitrin) (1), quercetin 3-O-β-d-galactopyranosid (hyperosid) (2), sitosterol-3-O-β-D-glucopyranosid (daucosterol) (3), and 3-methyl-1H-benz[f]indole-4,9-dione (4). (see study below) (5)
- Study of root and bark yielded the presence of alkaloids, glycosides, steroids, terpenoids, and tannins. (see study below) (7)
Properties
- Studies suggest antioxidant, anticancer, antibacterial, antifungal, insecticidal, anti-inflammatory properties.

Parts used
Roots.

Uses
Folkloric
- No reported folkloric medicinal use in the Philippines.
- In Thailand, roots used to treat impotence and increase sexual desire.

Studies
• Anti-Cancer / MCF-7 Human Breast Cancer Cell Line / Antioxidant / Leaves: Study evaluated a methanolic fraction of S. speciosa leaves for cytotoxicity on MCF-7 human breast cancer, SK-MEL-5 human malignant melanoma and human umbilical vein endothelial cells, HUVEC cells. Results showed highest activity on MCF-7 and moderate toxicity towards SK-MEL-5. The methanol extract also exhibited significant antioxidant activity, comparable to standard drug quercetin. (2)
• Antibacterial / Antifungal / Insecticidal: Study evaluated various fractions of S. speciosa for antimicrobial and insecticidal activities of S. speciosa. Among the fractions, the chloroform fraction was the best extractive for antibacterial and antifungal properties. Findings also showed insecticidal activity against Tribolium castaneum. (3)
• Cytotoxicity: The n-hexane and ethyl acetate soluble fractionates of leaves extract showed significant cytotoxic activities to brine shrimp lethality bioassay, with standard drug vincristine sulfate as positive control. (see constituents above) (4)
• Antioxidant / Anti-Inflammatory / Leaves: Study isolated four compounds from the ethanol extract of S. speciosa leaf. Antioxidant activities were in the order of Compound 2>C1>C4>C3. Compound 2 showed an IC50 of 20.83 ± 1.29 µg/ml for radical scavenging activity. On anti-inflammatory evaluation, order of activity was Compound 4>C3>C2>C1, with compound showing strongest inhibition with IC50 of 193.70 ± 5.24 µg/ml. (see constituents above) (5) Study of ethanol extract of leaves isolated four compounds. At 1.5 g/kbw dose of leaf extract, there was significant reduction of paw edema induced by Carrageenan. (6)
• Cytotoxicity on Human Epithelial Cervical Cancer (HeLa) Cell Line / Roots and Bark: A dichlormethane extract of root showed substantial cytotoxic activity (IC50 2.528±0.31 µg/mL) in brine shrimp lethality assay and MTT cell proliferation inhibition on HeLa cell line with IC50 of 26.7±0.72 µg/mL. Results suggest S. speciosa root extract possess significant cytotoxic potential i brine shrimp and MTT bioassay. (see constituents above) (7)
Availability
Wild-crafted.