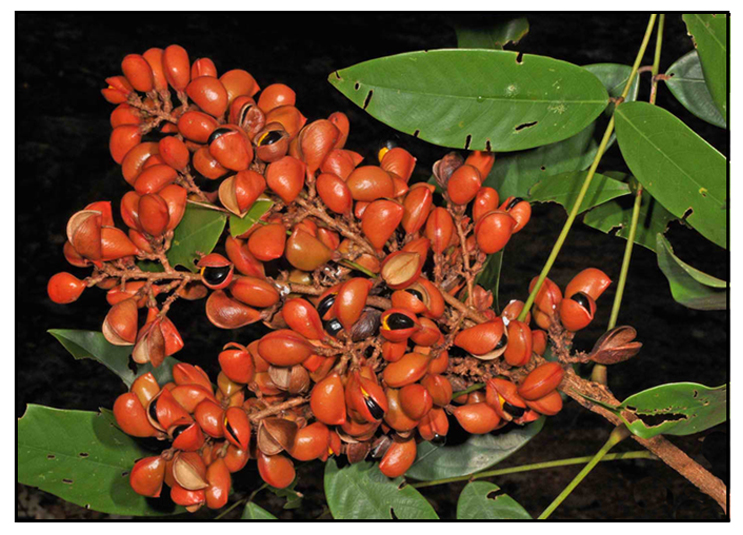 Etymology
Connarus semidecandrus derives from the Greek word konaros (a spring tree) and from the Latin words semi (half), deka (ten) and andro (male).
Botany
Sandalino is a scandent, woody vine, reaching a height of 2 to 6 meters, smooth except for the inflorescence. Leaves are 25 to 30 centimeters long. Leaflets are 5 to 7, oblong, 8 to 15 centimeters long, and pointed at both ends. Panicles are borne in the upper axils, 10 to 20 centimeters long. Flowers are numerous, yellowish-white, fragrant, and about 7 millimeters long. Pod is red, obovoid, 2 to 3 centimeters long, somewhat curved and compressed, and short stalked.
Distribution
- In thickets and forests at low and medium altitudes from northern Luzon southward to Panay and Negros.
- Also found in Burma, Malaysia, and Indonesia.
Constituents
- Phytochemical screening yielded the presence of tannin, terpenoids, saponins, flavonoids, alkaloids, and anthraquinones in various plant parts. (7)
- Bergenin, an isocoumarin compound, and homorapanone, a quinone compound, have been isolated from the stem of C. semidecandrus. (8)
- In a study for antioxidant vitamins, young leaves of Connarus semidecandrus yielded vitamin C 87.64 ± 0.47, ß-carotene 5.54 ± 0.07, and vitamin E 0.45 ± 0.01. (see study below) (9)

Parts used
Roots.

Parts used
Roots, leaves, stems.

Uses
Folkloric
- Decoction of fresh and dried roots taken internally for amenorrhea and as a uterine tonic
- Decoction of leaves used for constipation. (2)
- Root decoction used for colic. (3)
- In Thailand, roots used for tetanus and boils. (4) Leaf decoction used for chest pains; root used for fever; leaf and stem used as laxative and anthelmintic.
- In Malaysia, roots used to treat fever.
- In Andaman and Nicobar Islands, India, root decoction used for colic. (8)
Studies
• Antipyretic / Antinociceptive / Bergenin / Stem: Study evaluated the methanol extract of stem of C. semidecandrus and its constituent, bergenin, for nociceptive activity using writhing, hot plate and formalin testing in mice and antipyretic activity in yeast induced fever in rats. Results showed dose dependent antinociceptive activity by acetic acid testing; bergenin produced a less pronounced effect than the extract. The extract also significant attenuated fever induced by yeast in rats. (5)
• High Antioxidant Vitamins: In an HPLC study of 30 edible indigenous Thai plants for antioxidant vitamins, the top five plants were Sauropus androgynus, Sesbania grandiflora, Moringa oleifera, Momordica charantia and Connarus semidecandrus. (see constituents above) (9)
Availability
Wild-crafted.