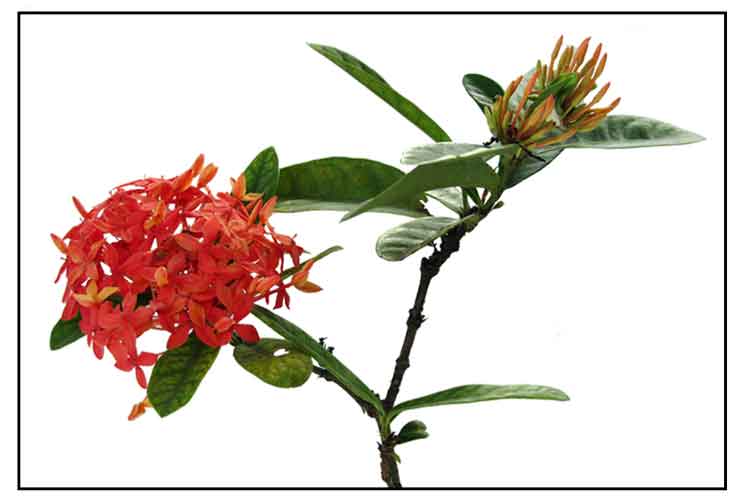 Gen info
There are about 500 species in the genus Ixora. A few are in cultivation. There are numerous cultivars differing in flower color (yellow, pink, orange) and plant size. Several cultivars are dwarfs, under 3 feet. Other noteworthy ornamental santans: santan puti (Ixora finlaysoniana Wall), a shrub 2-4 m high, with white fragrant flowers; and Philippine santan (Ixora philippinensis Merr), a shrub or small tree, with white to pink flowers.

Botany
Santan is an erect and smooth ornamental shrub, growing to a height of 2 to 3 meters. Leaves are stalkless or on very short stalks, oblong, 5 to 9 centimeters long, heart-shaped or rounded at the base and blunt-tipped. Flowers are many, pink or red, and borne in terminal, stalkless or shortly stalked, hairy cymes. Calyx teeth are short and pointed. Corolla-tube is slender, 2.5 centimeters long; lobes are spreading and oblong, about half the length of the tube. Fruit is reddish, almost round, about 5 millimeters in diameter.
Distribution
- Cultivated for ornamental purposes.
- Nowhere established in the Philippines.
- Native of India.
- Now pantropic.
Constituents
- Root contains an aromatic acrid oil, tannin, fatty acids, and a white crystalline substance.
- Leaves yield flavonols kaemferol and quercetin, proanthocyanidins and phenolic acids and ferulic acids.
- Flowers contain cyanidin and flavonoids, and a coloring material related to quercitin.
- Flowers yielded tannins, lupeol, fatty acids, ß-sitosterols, cycloartenol esters and flavonoids.
- Preliminary phytochemical screening yielded alkaloids, carbohydrates, flavonoids, glycosides, tannins, resins, saponins, triterpenoids and steroids. Roots yielded six phytoconstituents, viz. 9, 12- octadecadienoic acid, di-n-octyl phthalate, β- amyrin, kaempferol-7-o-glucoside, kaempferitrin and quercitrin. (31)
- Plant yields lupeol, ursolic acid, oleanolic acid, sitosterol, rutin, lecocyanadin, anthocyanins, proanthocyanidins, glycosides of kaempferol and quercetin. (45)
- Hexane extract of flowers yielded a mixture of α- and ß-amyrin. (47)
- Phytochemical screening of flower extracts yielded tannins and phenols in the methanol extract and tannins, phenols, flavonoid, and terpenoids in the ethyl acetate extract.

Properties
- Considered internally sedative, stomachic, tonic, antiseptic, cholagogue; externally, astringent and antiseptic.
- Stimulates gastric secretions.
- Flowers considered cytotoxic, hepatoprotective, antimicrobial.
- Studies have showed hepatoprotective, chemoprotective, antimicrobial, antioxidant, antinociceptive, anti-inflammatory, wound healing, analgesic, anti-mutagenic, antitumor activities.
Parts utilized
Leaves, roots, stems and flowers

Uses
Folkloric
- In the Philippines, root decoction used as sedative in the treatment of nausea, hiccups, and loss of appetite.
- Used for dysenteric diarrhea and associated colic pains.
- Flowers used for dysentery and leucorrhea.
- Poulticed fresh leaves and stems for sprains, eczema, boils and contusions.
- Diluted tincture of roots for mouthwash and gargles for sore throat.
- Flower decoction used for hypertension, amenorrhea and irregular menstruation, hemoptysis, catarrhal bronchitis.
- Decoction of leaves for wounds and skin ulcers.
- In Bengal, roots are used for dysentery.
- In Bombay, flowers used for dysentery.
- Flowers and bark used for blood-shot eyes.
- Root, ground into pulp, mixed with water and pepper, or as tincture, used for diarrhea and dysentery.
- Externally, powdered roots moistened with a little water on a piece of lint is applied to sores and chronic ulcers.
- In Indo-China, root decoction used to clarify the urine.
- In India and Sri Lanka, the fruits are eaten and the flowers used as flavoring.
- In India, flowers are ingredient to Ayurvedic cancer formulations. (47)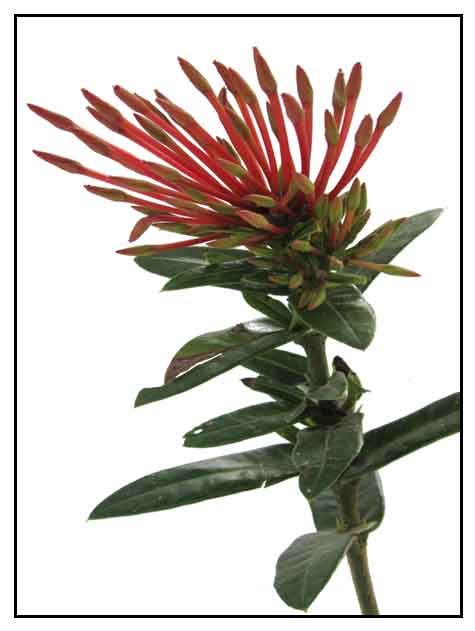 Studies
• Wound healing / Flowers: Alcoholic extract of IC showed increase in granuloma tissue weight, tensile strength and glycosaminoglycan content. The prohealing activity was attributed to increased collagen deposition, alignment and maturation. (1)
• Antimicrobial: Extract studies of EC for antimicrobial activity showed the ethyl fraction to be more active than the methanol fraction. (2)
• Antioxidant: Phytochemical screening showed the flower extract to possess flavonoids, steroids, tannin. IC showed strong reducing power and total antioxidant capacity. (3)
• Pharmacologic evaluation / Electroconvulsive Protective: Evaluation showed that IC has protective property against electroconvulsions, anti-inflammatory and hemostatic properties. (4)
• Hepatoprotective / Flowers: Extract of IC flowers showed significant hepatoprotective effect against paracetamol overdose-induced hepatotoxicity in rats. (5)
• Chemoprotective / Modulatory / Flowers: Ixora chinensis flower fraction showed chemoprotective effects on cyclophosphamide-induced toxicity in mice. (6)
• Chemoprotective / Cisplatin-Induced Toxicity: Active fraction from Ixora coccinea flowers prevented a decrease in body weight, hemoglobin levels and WBC counts of mice treated with cisplastin with significant prolongation of life span of cisplatin-treated mice. (14)
• Antinociceptive : Study showed the aqueous leaf extract of IC possesses considerable antinociceptive activity mediated centrally via a dopaminergic mechanism. In addition, the antioxidant activity may play a role in inducing antinociception. The dopaminergic and antioxidative activities may arise from alkaloid and flavonoid constituents, respectively. (7)
• Anti-Inflammatory / Anti-mitotic / Lupeol / Leaves: Lupeol, isolated from the leaves of IC, was shown to have anti-inflammatory activity in carrageenan induced paw edema in rats. Anti-mitotic activity was also noted in a preliminary cytotoxic study. No toxicity was observed for lupeol up to a dose level of 600 mg/kbw. (8)
• Cytotoxic / Antitumor / Flowers: Study of the active fraction of Ixora coccinea flowers showed greater activity on ascitic tumors than solid tumors. It had no toxicity to normal lymphocytes but was toxic to lymphocytes from leukemic patients. (9)
• Anti-Inflammatory / Leaves: Study of the aqueous leaf extract of Ixora coccinea showed strong antihistamine and antioxidant activity that can account for its anti-inflammatory potential. In addition, the inhibition of prostaglandins and bradykinins may play a role in its anti-inflammatory effect. (10)
• Anti-Ulcer / Leaves: Study of the fresh leaf extract of Ixora coccinea was found to possess potent anti-ulcerogenic property and could be a potential therapeutic agent against ulcer disease. (11)
• Antidiarrheal / Leaves: Study of aqueous extract of leaves of Ixora coccinea showed significant inhibitory activity against castor-oil induced enteropooling in rats. There was significant reduction in gastrointestinal motility by the charcoal meal test. (12)
• Bioactive Peptides / Anticancer / Platelet-Aggregation Inhibition: Study of methanol extract of Ixora coccinea yielded ixorapeptide I and ixorapeptide II, in addition to 28 other known compounds. Compound 1 exhibited selective potency against Hep3B liver cancer cell line. Compound 2 showed superoxide anion generation and elastase release. Kaempferol and luteolin from the plant showed inhibition of collagen-induced platelet aggregation. (13)
• Anthelmintic / Roots: Study evaluated the anthelmintic activity of different extracts of Ixora coccinea roots on earthworm Pheretima posthuma. Results showed good anthelmintic activity with the chloroform extract showing better activity than petroleum ether, ethyl acetate and methanol extracts. Albendazole was used as standard. (15)
• Antidiarrheal / Flowers: Study evaluated the antidiarrheal effect of an aqueous extract of I. coccinea in experimental models of diarrhea in albino Wistar rats. The plant extract showed significant (p<0.001) inhibitory activity against castor oil induced diarrhea and castor oil induced enteropooling in rats. There was significant reduction in gastrointestinal motility in the charcoal meal test. (16)
• Anti-asthmatic / Leaves: Study of an hydroalcoholic leaf extract in ovalalbumin-induced asthmatic rat model showed anti-asthmatic activity suppressing airway inflammation and airway hyperactivity. It also showed inhibitory effect on immediate allergic reactions probably mediated by reducing the release of mediators such as histamine from mast cells. (17)
• Cardioprotective / Doxorubicin-Induced Toxicity: Study of a methanolic extract of leaves showed dose-dependent cardioprotection against doxorubicin-induced toxicity. The cardioprotection was attributed to to antioxidant properties. (19)
• Anti-Inflammatory / Leaves: Study of a methanolic leaf extract showed dose-dependent anti-inflammatory activity probably mediated via inhibition of NO production, phagocytic cell infiltration, anti-histamine effect, scavenging of free radicals, membrane stabilizing activity and lipid peroxidation. (20)
• Wound Healing / Antibacterial: Study of an root extracts showed pronounced wound healing and antibacterial activity. It is proposed the external application of the extract prevented microbes from invading the wound. An aqueous extract showed moderate inhibition against all bacterial strains tested. (21)
• Anti-Tyrosinase / Antioxidant / Cosmetic Applications: Study evaluated different parts of Ixora coccinea in various solvents for antityrosinase and antioxidant activities. A methanolic extract of bark exhibited the highest inhibition of DPPH when compared to flowers and leaves. The antioxidant potential of leaves and flowers were comparable to the bark. Results suggest Ixora coccinea is a potential source of ingredients for cosmetic products. (22)
• Anxiolytic: Study evaluated the anxiolytic activity of Ixora coccinea extract using an Elevated plus maze model and Hole board test. The ethanolic extract showed significant (P <0.01) anxiolytic effect in a dose-dependent manner when compared with standard dose of diazepam. (23)
• Analgesic / Anti-Inflammatory / Flowers: Study showed all flower extracts tested with significant analgesic and anti-inflammatory activities. Results suggest the plant can be developed as a good hepatoprotective, anti-inflammatory and analgesic agent. (24)
• Wound Healing / Anti-Inflammatory / Flowers: Study showed an Ixora coccinea methanol extract to have potent antimicrobial and antioxidant properties, with significant fibroblast proliferation. The ME stimulated the fibroblast growth factor and Smad mediated collagen production in wound tissue. (25)
• Analgesic / Anti-Inflammatory / Antipyretic / Leaves: Study showed an ethanolic extract of leaves with analgesic, anti-inflammatory, and antipyretic activities. Phytochemical screening yielded flavonoids, tannins, and triterpenes. (26)
• Anti-Leishmanial / Leaves: Study evaluated the in vitro antileishmanial activity of leaves from Ixora coccinea. Both ethyl acetate and methanol extracts markedly inhibited growth of L. donovani promastigotes in vitro in a dose-dependent manner. (27)
• Anti-Diabetic / Hypolipdemic: Study evaluated the hypoglycemic and hypolipidemic activity of aqueous extracts of leaves in alloxan induced diabetic albino rats. Results showed significant reduction (p<0.01) in blood glucose levels and serum lipid profile levels. (28)
• Querceitrin / Antioxidant / Leaves: Quercitrin isolated from air-dried leaves of Ixora coccinea showed potency in scavenging DPPH free radicals and nitric oxide free radicals with very low IC50 values. (29)
• Antibacterial / Leaves: Study evaluated the antimicrobial activities of leaf extracts of Ixora coccinea and Commelina benghalensis against various Gram-negative (E. coli, P. aeruginosa, S. typhi) and Gram-positive organisms (S. aureus). Hexane and chloroform extracts exhibited comparable antimicrobial activity with the standard. (30) Study evaluated leaf extracts of different colored varieties of Ixora coccinea against drug resistant pathogenic bacterial. An ethyl acetate extract of all varieties showed significant concentration-dependent antibacterial activity, especially against Gram-negative bacteria. (32)
• Antifungal / Leaf Extract: Study evaluated a crude leaf extract for antifungal potential against Botrytis cinerea. A diethyl ether fraction yielded bioactive phytochemicals with potential as ecofriendly alternative to control the spread of Botrytis cinerea. (33)
• Antimicrobial / Flowers: Study evaluated various extracts of Ixora coccinea flowers for antibacterial activity. An ethanol extract showed greater concentration-dependent activity than methanol and distilled water extracts, and greater activity Gram-negative bacteria than Gram-positive bacteria. (34)
• Natural Indicator in Acid Base Titration / Flowers: Study reported on the use of Ixora coccinea flower extract as an acid base indicator in different types of acid base titrations. Results showed the use of I. coccinea to be very useful, economical, simple, and accurate for said titration. (35)
• Anthocyanin / Colorant / Flowers: Study reports on a simple and efficient microwave oven extraction for maximum yield of colorant from Ixora coccinea flowers. Results provide information to tap its potential as a colorant in acidic foods or cosmetics. (36)
• Silver Nanoparticles / Antitumor / Antimicrobial / Flowers: Study reports on the synthesis of silver nanoparticles using aqueous extract of Ixora coccinea flowers. The synthesized nanoparticles showed inhibitory zones to bacterial cultures (Pseudomonas putida, E. coli, S. aureus, K. pneumonia and B. subtilis).The biologically synthesized nanoparticles showed potent anti-proliferative activity against Colo205 cell line, which is less cytotoxicity than the positive control, Etoposide. (37)
• Zinc Oxide Nanoparticles / Leaves: Study reports on the inexpensive, convenient, and ecofriendly synthesis of nanostructured zinc oxide particles using zinc acetate and I. coccinea leaf extract. The ZnOx nanoparticles presents varied potential applications in biomedical, cosmetic, biotechnology, drug delivery, water remediation, among others. (54)
• Extraction of Natural Colorant / Flowers: Study reports on the use of an extract isolated from the flower petals of Ixora coccinea aqueous and methanol extracts as a natural dye for cotton fabric coloration. (38)
• Comparative Antibacterial Activity / Flower Colors: Study evaluated the comparative antibacterial activity of Ixora coccinea plants with red, orange, pink, and white flowers against tested bacteria E. coli, S. aureus, B. subtilis, K. pneumonia. Both methanolic and aqueous extracts of all four types of flowers exhibited considerable antibacterial activity against the test bacteria. Methanolic extracts of red and pink flowers showed high antibacterial activity while orange flowers showed moderate activity and white flowered showed low activity. Methanolic extracts showed higher inhibitory effects than aqueous extracts. (39)
• Comparative Free Radical Scavenging Activity / Leaf Extracts: In a study of free radical scavenging activity of chloroform, methanolic, and aqueous leaf extracts by DPPH free radical, NO, OH radical scavenging assay, reductive ability and total antioxidant activity, the methanol extract showed better scavenging and antioxidant property. (40)
• Lipid Lowering / Leaves: Study of coccinea leaf extracts in Triton-X100 induced hyperlipidemia in rats showed a significant decrease in plasma lipid levels. Results suggest potent lipid lowering and antioxidant properties suggesting a cardioprotective and antiatherosclerotic role. (41)
• Immunomodulatory / Flowers: Study investigated the immunomodulatory potential of a methanolic extract of flowers of I. coccinea in rats through cell mediated and humoral immunity responses. Findings showed a significant increase in neutrophil adhesion and a significant increase in phagocytic index. Results demonstrated a profound immunostimulant activity in a male albino rat model. The activity may be attributed to the presence of flavonoids, alkaloids, steroids, and tannin compounds. (42)
• Antibacterial / Acne / Leaves and Flowers: Study investigated the antibacterial effectiveness of Santan against Propionibacterium acnes that cause pimples. Results showed the antibacterial efficacy of Santan was less than commercialized antibacterial. (43)
• Anti-Inflammatory / Antioxidant / Roots: Study evaluated the anti-inflammatory potential of an ethanolic extract of Ixora coccinea roots. In carrageenan induced paw edema all extracts caused a significant (p<0.05 to 0.001) and marked reduction (28-59%) in paw edema. Cotton pellet granuloma testing showed marked inhibition (36.1%) of granuloma weight. Extract also showed promising dose-dependent antioxidant activity compared to Butylated hydroxyl toluene (BHT) which may account for it anti-inflammatory potential, together with inhibition of prostaglandins and bradykinins. (46)
• Anti-Tumor: Flowers have shown antitumor activity in murine models. Inhibition of tumor growth and increased life span were noted in Dalton's lymphoma and Erhlich ascites carcinoma-bearing mice. (Latha et al) Ixorapeptide I from I. coccinea exhibited cytotoxicity against Hep3B liver tumor cell line. (Lee Cl et al) (47)
• Analgesic / CNS Depressant Activity: Study of chloroform solvent extracts of Ixora coccinea in Swiss albino mice showed good CNS depressant (open field and hole cross method) and analgesic (acetic acid induced pain method) properties All results were statistically significant (p<0.001). (48)
• CNS Depressant Activity: Neurophamacological studies of n-hexane and methanol extracts of leaves showed slight CNS depressant activities. The aqueous extracts of shoots showed the most potent CNS depressant activity. (49)
• Antibacterial / Leaves: Study evaluated the antibacterial property of various solvents of leaves of Tecoma stans, Ixora coccinea, and Aerva lanata against drug-resistant cattle pathogenic bacteria, Streptococcus sp. and Pseudomonas aeruginosa. All bacterial strains were found to be sensitive to most of the solvents. I. coccinea had maximum antibacterial potential against Streptococcus sp. and significant zone of inhibition against Pseudomonas aeruginosa. Results suggest a potential for livestock pharmaceutical applications. (50)
• Copper Oxide Nanoparticles / Leaves: Study reports on a new simple and eco-friendly synthesis of copper oxide nanoparticles using Ixora coccinea leaves. Results suggest a potential for large scale commercial production. (51)
• Antioxidant Activity / Flower: Study evaluated the total phenolic content and antioxidant capacities of edible flower tea drinks. Ixora coccinea exhibited a high level of TPC (total phenolic content) and high FRAP value. (52)
• Antioxidant / Cytotoxicity / Flowers: Study evaluated flower extracts for phytochemicals. Study showed EAE and ME possessed antioxidant activity. EAE exhibited potent cytotoxic activity on human cancer cell line, HeLa, and suggests a potential for the treatment of cancer. (see constituents above)   (53)
• Hepatoprotective / Antoxidant: Study evaluated the protective effects of three herbal ethanolic extracts (roots of Ixora coccinea and Rhinocanthus nasuta and whole plant of Spilanthes ciliata) on aflatoxin B1 (AFB1)-intoxicated livers of albino male Wistar rats. Results showed pre-treatment with the ethanolic extracts prior to AFB1 provided significant protection against toxin-induced liver damage as evidenced by lowering of serum enzymes and enhanced hepatic reduced GSH status. The three extracts exhibited significant antilipid peroxidant effects in vitro. (55)

Availability
- Wild-crafted.
- Common garden cultivation.