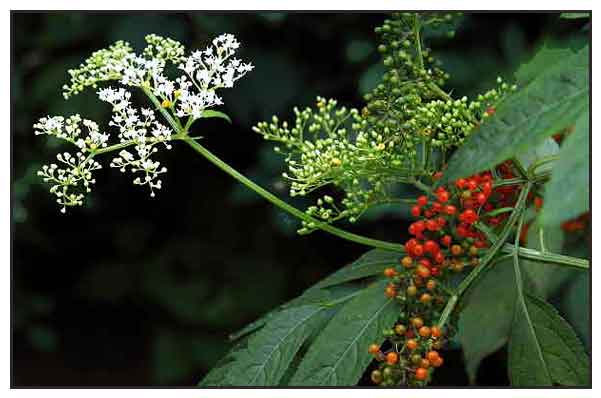 Gen info
Sambucus is a genus with 5 to 30 species of shrubs or small trees. Formerly in the honeysuckle family, Caprifoliaceae,it was reclassified and placed into the moschatel family, Adoxaceae. Two of the species are herbaceous. Sauko is sometimes called the "bridal bouquet."
Botany
Sauko is a shrub or small, widely spreading tree up to 4 meters in height. Leaves have 3 to 8 pairs of opposite leaflets and a terminal leaflet. Leaflets are thin, oblong-lanceolate, 5 to 20 centimeters long, 1.3 to 5 centimeters wide, pointed at both ends, toothed on the margins. Flowers are small, cream-white, on terminal clusters (compound umbels), 15 to 30 centimeters wide.

Distribution
- In primary forests, chiefly at medium altitudes, ascending to 2,000 meters.
- Also occurs in old clearing, damp thickets, etc.
- In most or all provinces of Luzon, Mindoro, Catanduanes, Leyte, Negros, Panay, Mindanao.
- Also found in India to China and Malaya.
Constituents
- Roots reported to contain chlorogen acid.
- Study yielded flavonoids, phenolics, and alkaloids.
- Study on Sambucus chinensis yielded 5 compounds: beta-sitosterol, oleanolic acid, ursolic acid, kaempferol-3-O-beta-D-(6-O-acetylglucopyranosid)-7-O-beta-D-glucopyranoside, and kaempferol-3-O-beta-D-glucopyranosid-7-O-beta-D-glucopyranoside. (10)
- A study of four elderberry species and eight hybrid yielded 19 different anthocyanins using HPLC-MS. The prevalent anthocyanin in S.javaniva hybrids was identified cyanin-3(E)-p-coumaryl-sambubioside-5-glucoside. The highest content of total analyzed anthocyanin (TAA) was determined in berries of the interspecific hybrid S. javanica x S. racemosa, followed by S. nigra, (S. javanica x S. nigra) x cv. Black Beauty, and (S. javanica x S. nigra) x S. cerulea. (12)
Properties
- Crushed twigs and leaves are rather foetid.
- Acidic-tasting, neutral-natured.
- Depurative, diuretic, discutient, emetic, alterative, emollient, purgative, rubefacient.
- Root antirheumatic, antiphlogistic, soothes muscles and invigorates circulation.
- Stem and leaves sudoforic and diuretic.

Parts used
· Roots, leaves, and stem.
· May be collected throughout the year.
· Rinse, macerate, sun-dry.

Uses
Edible
- Fruits, raw or cooked.
- Flowers, raw or cooked.
- Leaves and young stems, cooked.
- Roots, cooked.
Folkloric
· In Mindanao the plant is considered a remedy for fatigue.
· Leaves and roots used for diseases of the bones, rheumatic complaints, pains and paresthesias. Boil leaves, bark, berries and flowers (40 g) to a pint of boiling water; drink the tea twice daily. Also used for coughs, tonsillitis, asthma.
· Decoction of fruit used for injuries, skin diseases and swellings.
· In Indo-China used as depurative, diuretic and purgative.
· Poultice of leaves, berries and flowers can be applied to aching parts; also, for breast swelling
· Rheumatic muscular and bone pains, sprains: use 30 to 60 gms dried roots in decoction.
· Nephritis-edema, beriberi edema: use 12 to 25 gms drug material from entire plant in decoction.
· Pruritus: use decoction of entire plant applied as external wash.
· In China, decoction used for hepatitis, infectious diarrhea and tonsillitis.
· Leaves, stems and roots used for treatment of wounds.
· In Indonesia, used to relieve pain, reduce swelling and improve the circulation. Used for beri-beri, jaundice, chronic rheumatism.
- In Malaysia, leaves are crushed with water and applied on inflamed parts to reduce pain and inflammation. (11)
Toxicity concerns
: Although no toxicity has been reported for this species, some members of the genus have reported toxicity with leaves, seeds, stems and roots, attributed to a cyanide producing glycoside. Ingested in sufficient amounts, a toxic build up of cyanide may occur. Fruits of other species have been reported to cause stomach upsets. Any toxin the fruit might contain is likely of low toxicity destroyed with cooking.
Studies
• Shuodiao / Hepatoma and Pancreatic Cancer Combination Medication: 5-9% constituent of a medicine preparation being studied for hepatoma and pancreatic cancer, derived from the young branches and leaves of the Chinese plant Shuodiao. (4)
• Chemical Constituents: Study of S. chinensis isolated 5 compounds: beta-sitosterol, oleanolic acid, ursolic acid,kaempferol-3-O-beta-D-(6-O-acetylglucopyranosid)-7-O-beta-D-glucopyranoside, and kaempferol-3-O-beta-D-glucopyranosid-7-O-beta-D-glucopyranoside. (6)
• Hepatoprotective: Extraction of S. chinensis by 75% alcohol showed very significant protective effect on mice against acute hepatic injury induced by carbon tetrachloride. (7)

Availability
Wild-crafted.
Ornamental cultivation.