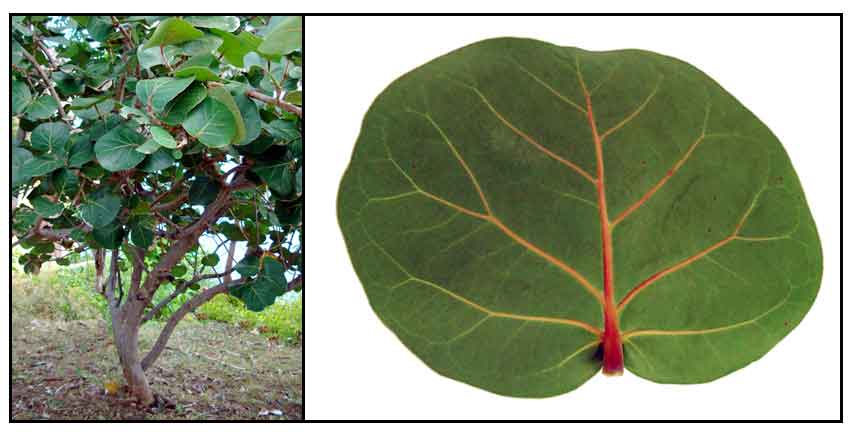 Gen info
- In 1696 the first botanical names were assigned for the plant: Prunus maritima racemosa, "maritime grape-cluster Prunus" by Hans Sloane, and Uvifera littorea, "grape-bearer of the shore", both names reflecting the European idea of "sea-grape". In 1753, Linnaeus assigned the plant to Polygonum uvifera, and finally in 1762 reassigned to Coccoloba uvifera by Patrick Brown. (21)
- The genus name Coccoloba derives from the Greek word kokkolobis, a kind of grape, literally, "berry pod". The specific epithet uvifera derives from Latin, meaning 'fruiting in clusters, resembling grapes'.
Botany
Sea grape is a sprawling bush or small tree, growing to a maximum height of 8 meters. Bark is smooth and yellowish. Leaves are alternate, short-petioled, large, leathery, glossy, dark green, broadly bean-shaped, with wavy margins, up to 15 centimeters long, with a reddish-colored primary vein extending from the base. Flowers are in terminal racemes, small, white and slightly fragrant, with five petals and eight stamens. Fruits are pear-shaped, reddish purple and green-dotted, 1.5 centimeters long, with a single hard seed, clustered in pendulous branches.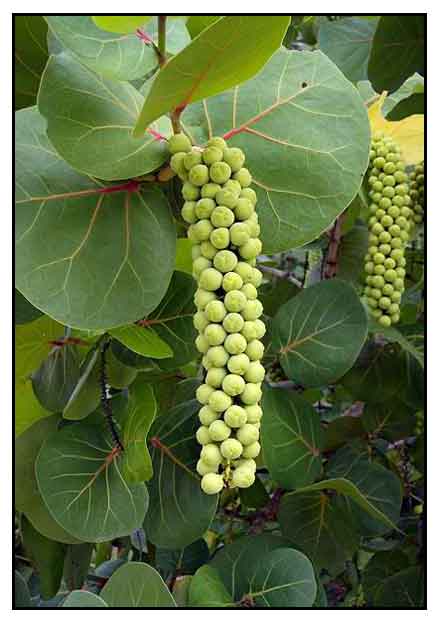 Distribution
- Introduced to the Philippines in the 1940s.
- Salt tolerant, planted near beaches edges.
- Ornamental distribution in parks and gardens.
- In Hawaii, planted as a seashore windbreaker.
- Native to the Florida, Bahamas, West Indies, South America and Mexico.
Constituents
- Methanolic extract of seeds yielded flavonoids, saponins, polyphenols, and tannins.
- Bark of stem, branches, and roots are rich in tannins.
- Nutrient composition of fruit (g/100g) showed a fat content of 1.82 ± 0.27 g, crude fiber 3.34 g ± 0.46 g/100g, carbohydrates 86.59 ± 0.59 g/100g. (see study below) (8)
- Phytochemical screening of hydroalcoholic extract of roots yielded alkaloids, flavonoids, tannins, and saponins. Leaves showed total phenols of 247.78±9.6 mg GA/g, tannins 231.80±13 mg GA/g, and flavonoids 58±4.1 mg R/g. (see study below) (14)
- Shade-dried leaves of C. uvifera yielded emodin, chrysophanol, physcion, rhein, royleanone, α-amyrin and ß-sitosterol. (15)
- LCMS/MS analysis of methanolic extract of fruits yielded cyanidine, delphinidine, malvidin, and petunidin. (see study below) (16)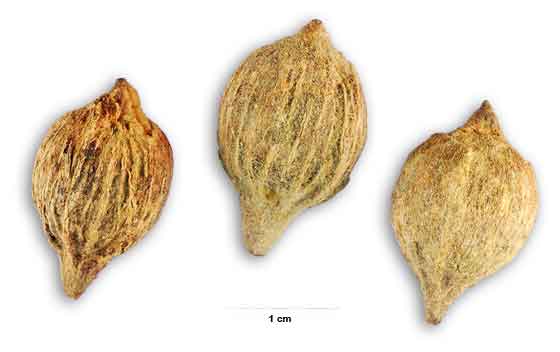 Properties
- Astringent, antidiarrheal, antidysentery.
- Studies suggest antibacterial, antifungal, photoprotective, glucose lowering, antimutagenic, antiproliferative, antioxidant, anticholinesterase properties.

Parts utilized
Leaves, bark, roots, fruit.

Uses
Edibility
- Fruit is edible, eaten off the tree or made into jams, jellies and wine.
- Flowers yield abundant nectar, the honey of good quality, light amber in color, and spicy.
- Leaves used for brewing tea.
Folkloric
- No reported folkloric medicinal use in the Philippines.
- In other countries, juice and decoction of wood, bark and roots are used to treat dysentery, hemorrhages, venereal disease.
- Applied externally for rashes and skin afflictions.
- Leaf decoction drunk to lower blood sugar.
- Decoction of leaves used to treat asthma, hoarseness and to wash wounds.
- Astringent roots and bark used in traditional medicine of Puerto Rico and the Caribbean.
- In the Dominican Republic, decoction of leaves used for menopausal symptoms, diarrhea, tumors, anemia, skin irritations, asthma. (7)
- In the Yucatan, alcohol added to tea made from bark of sea grape is taken for ulcers. (9)
- In French Guiana, astringent juice from whole plant, known as "Jamaica kino", used to treat diarrhea and dysentery. Decoction of stem used for intestinal disorders. Stems of Anacardium occidentale mixed with barks of Coccoloba uvifera, Mangifera indica, and Cocos nucifera for curing dysentery. (10)
Others
- Dye: Cut bark yields an astringent red sap, once used for tanning and dyeing.
- Fuel: Wood is used for charcoal and firewood.
- Furniture: Used in turning, inlay work, and cabinetry.
- Agroforestry: Used as dune stabilizer and protective habitat for small animals.

Studies
• Phytochemical: Studies show the chemical composition of Coccoloba uvifera as: α-Amyrin (antitumor, cytotoxic), chrysophanol (antiseptic, bactericidal, cathartic, hemostat, purgative), emodin (anti-aggregant, anti-inflammatory, antitumor, antiulcer, immunosuppressive, viricide), physcion (antiseptic, cathartic, purgative), rhein (anticarcinomic, antitumor, fungicide), royleanone, beta-sitosterol (hypoglycemic, hypolipidemic, hypocholesterolemic, hepatoprotective).
• Glucose Lowering: Case studies have shown glucose lowering effect with daily ingestion of tea brewed from Coccoloba uvifera leaves. There is concern for lowering the blood sugar too much, especially with concurrent use of pharmaceutical hypoglycemics.
• Preparation of Leaf Extract: Preparation of leaf extract is done by immersing coccoloba uvifera leaves in water, heating the water to boiling for about 4 hours. This brewing time must be just enough to dissolve the compound from the leaves. The active compounds are resistant to the low gastric pH and high temperatures.
• The preferred embodiment is a ratio of 4 green leaves to every 3.8 liters of water.
• Alternatively, leaf extract can be done by drying the c. uvifera leaves and dehydrating the pulp into a tea. In a preferred embodiment, 15 cc of the tea is dissolved in 3.8 liters of water before ingestion.
• Other forms of delivery may be through tablets, capsules, powders, seasoning.
• A distinct advantage of the leaf extract is its oral route and its resistance to the digestive processes of the stomach. (Patent Storm/Site no longer in operation) (2)
• Photoprotective / UV-Stimulated Melanocytes / Antioxidant: Study evaluated the potential photoprotective effects of Coccoloba uvifera extract in UV-stimulated melanocytes. Results showed antioxidant and anti-tyrosinase activities, and also inhibited the production of interleukin-1a and TNF-α and α--MSH in melanocytes subjected to UV radiation. (3)
• Antibacterial / Antifungal / Phytochemicals: Study yielded flavonoids, saponins, polyphenols and tannins. Ethanolic and methanol extracts inhibited the growth of E coli and P aeruginosa and showed antifungal activity against C albicans, Fusarium oxysporum and F. decencellulare.
• Seed Constituents with Biologic Activity / Antimicrobial: A partition with EtOAc of the methanolic extract yielded a brown precipitate that inhibited growth of E. coli and Pseudomonas aeruginosa, and showed antifungal activity against C. albicans, Fusarium oxysporum and F. decencellulare. Further fractionated, the solid yielded a tannic compound (gallic acid), an organic acid (hexenedioic acid) and a benzopyran (1,3,4,6,7,8–hexahydro-4,6,6,8,8,8-hexamethylcyclopenta-2-benzopyran) from the bioactive fractions. (4)
• Antioxidant / Fruit: Study evaluated the fruit of Coccoloba uvifera for in vitro antioxidant capacity using various assays (DPPH and TEAC). Results showed free radical scavenging and antioxidant properties which may be due to the presence of phytochemicals in the fruit such as anthocyanins, ascorbic acid, phenolic compounds, and flavonoids. Total flavonoid fruit content was comparable to apple (7.0 mg/100g), black currant (6.8 mg/100 g) and elderberry (10.5 mg GAE/100g). (8)
• Antioxidant / Leaves: In a study of 110 crude ethanol and water extracts from 52 plant species, Coccoloba uvifera leaves was one of five that showed effective DPPH radical scavenging activity with EC50 of 3.08 ± 1.01 µg/mL. (13)
• Antidiabetic / Antioxidant / Leaves: Study evaluated hydroalcoholic extracts of Coccoloba uvifera leaves and Waltheria indica roots for antioxidant properties and hypoglycemic activity. Results showed both plant extracts induced significant reduction of hyperglycemia. The extracts also exhibited inhibition of erythrocyte hemolysis induced by AAPH in a dose dependent manner and antioxidant activity comparable to that of reference drug BTH (Butylated Hydroxy Toluene). (14)
• Anti-Inflammatory / Antioxidant / Berries: Crude sea grape berry extracts exhibited significant anti-inflammatory and antioxidant activity in vitro at a concentration of 250 µg/ml. Crude methanolic extract showed COX-2 selectivity similar to standard Vioxx. Lipid peroxidation inhibition of the hexane, ethyl acetate and methanolic extracts were 80%, 45%, and 77%, respectively. The antioxidant activities of the three extracts were comparable to commercially available antioxidant, butylated hydroxytoluene, butylated hydroxyanisole, and tert-butylhydroquinone. (see constituents above) (16)
• Antimutagenic / Antiproliferative / Antioxidant / Leaves: Study evaluated the biological potential of 11 fractions from Coccoloba uvifera leaf hexane extract using invitro tests. Fractions 4, 6, 8, and 9 showed antimutagenic activity against sodium azide strain TA 100. Fraction 11 showed antiproliferative activity with IC50 of 24 ± 9 µg/mL in HCT 116 cells. Fractions with highest activity were analyzed by HPLC-MS and yielded lupeol, acacetin, and ß-sitosterol. (17)
• Antimutagenic / Antiproliferative / Encapsulated Extract: Study evaluated the antimutagenic and antiproliferative properties of C. uvifera extract encapsulated in nanofibers made with biopolymers gelatin (G)/high grade polymerization agave fructans (HDPAF). The extract did not show a mutagenic effect on Ames test. The MTT assay showed antiproliferative effect at concentrations of 50 and 100 µg/mL of extract. Results suggest the extract loaded in nanofibers conserves its antimutagenic and antiproliferative properties. (18)
• Wood Bio-Fungicidal / Antibacterial / Leaves: Study evaluated various leaf extract for antibacterial and antifungal activities. HPLC analysis identified phenolic and flavonoid compounds in the extracts. Phenolic compounds benzoic, ellagic, gallic, and o-coumaric acids were main compounds in ethanol, acetone and aqueous extracts. Flavonoids rutin, myricetin and quercetin were identified in the extracts. Results suggest the extracts can be used as environmentally friendly bioagents. (19)
• Anticholinesterase Activity / Leaves: Study evaluated the anti-cholinesterase activity of three Malaysian plant methanol leaf extracts in vitro (Coccoloba uvifera stems, Mimusops elengi leaves, Syzygium aquem leaves). All the plants showed good anti-acetylcholinesterase (AChE) and butyrylcholinesterase (BuChE) activities in vitro, with IC50s ranging from 3.67-16.04 and 5.6-13.95 µg/mL, respectively. (20)

Availability
- Wildcrafted.
- Seeds in the cybermarket.