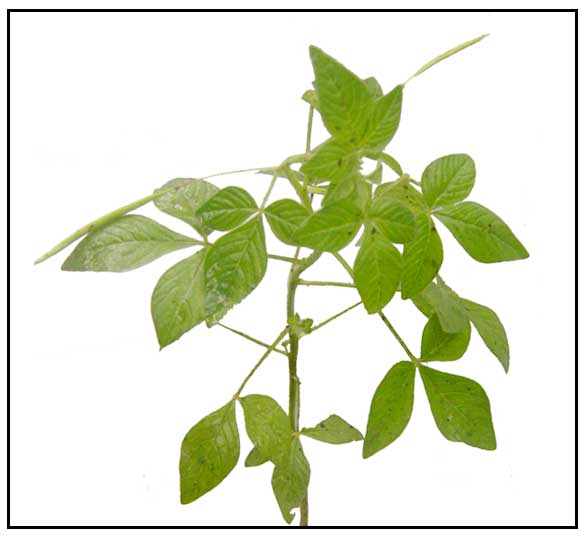 Botany
Seru walai is plant with spreading and prostrate branches. Leaves are divided in 3 leaflets. Flowers are small, violet-blue, 5 millimeters long, borne on long stalks from the leaf axil of the flowering stems. Fruit is cylindrical and curved, about 5 centimeters long, with numerous round, reddish-brown to black seeds, 1.5 millimeters diameter with barred surfaces.
Distribution
- Recently introduced.
- Now aggressively spreading on waysides, farmlands and gardens.
- Considered an invasive weed.
Constituents
- Phytochemical studies showed the presence of tannins, flavonoids and cardiac glycosides; alkaloids, steroids, pentose and reducing sugars. source
- Phytoochemical screening of leaves yielded tannins, saponins, glycoside, alkaloids, and flavonoid. (see study below) (15)
- Phytochemical screening of leaf and stem ethyl acetate extracts yielded glycoside (L), tannins (LS), flavonoids (L), alkaloids (L), essential oil (LS). (see study below) (17)
- Phytochemical screening of seed flour yielded alkaloids, steroids, pentose, reducing sugars, tannins, flavonoids, and cardiac glucosides. Seeds yielded carbohydrates 74.43%, fats 7.20%, and proteins 11.73%. Major minerals of the defatted seed flour were potassium 39.00 ppm, sodium 23.00 ppm, calcium 18.00 ppm, zinc 0.013 ppm.(18)

Properties
- Considered abortifacient, stimulant, antiscorbutic, anthelmintic, vesicant, carminative, anticonvulsant.
- Studies have suggested diuretic, antibacterial, laxative, analgesic, anti-inflammatory, antipyretic, antioxidant, anti-neuroinflammatory, wound healing, antidiabetic, antimalarial, immune boosting, anticonvulsant, hypocholesterolemic properties.
Parts utilized
Roots and leaves.
Uses
Edibility
- In Nigeria, used as vegetable by pregnant and breast feeding mothers. (25)
- In India, tender leaves eaten as 'sag.'
Folkloric
- Reported abortifacient use.
- Traditionally used in treatment of paralysis, epilepsy, spasms, pain, and skin diseases. (12)
- In Cameroon, plant is used by traditional healers for treatment of malaria. (16)
- In Nigeria, leaves used by expectant or breast feeding mothers for hormonal balance. Also used for ear inflammation and as anthelmintic and carminative. (25)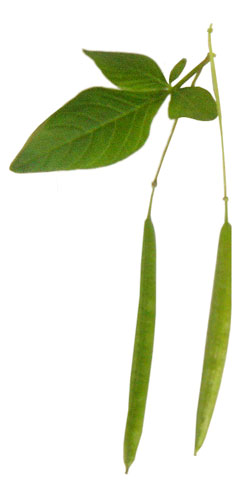 Studies
• Diuretic / Antibacterial: Study of crude aqueous extract showed CR to possess significant dose-dependent diuretic activity and concentration dependent antibacterial activity against gram positive and gram negative bacteria. (1)
• Diuretic / Laxative: Study of CR showed significant diuretic effect and well as dose-dependent laxative effect. (2)
• Analgesic / Antipyretic / Anti-Inflammatory: Study of ethanolic extract showed significant analgesic, anti-inflammatory and antipyretic activity. (3) Study of methanol extract of CR roots showed significant analgesic, anti-inflammatory and antipyretic activity, suppressing paw edema induced by s in rats compared with aspirin, (6)
• Nutritional Composition: Flour from the seeds of Cleome rutidosperma revealed alkaloids, steroids, pentose and reducing sugars. It also contained tannins, flavonoids and cardiac glycosides. The major mineral contents were potassium, sodium and calcium. The seeds are potential sources of carbohydrate, fats, protein, and micro- and macrominierals, a potential use as human food or incorporation into livestock feed. (4)
• Analgesic / Locomotor Activity Effect : Crude methanol, chloroform and petroleum ether extracts of Cleome rutidosperma all showed significant analgesic and depressed locomotor activity compared to control treatment with morphine treatment, aspirin and chlorpromazine. (5)
• Antimicrobial: Study of an ethanolc extract and various fractions of C. rutidosperma showed antimicrobial activity against tested strains of microorganisms. The activity of the mother extract was potentiated by fractionation; highest activity was seen with the diethyl ether fractions. (8)
• Anti-Neuroinflammatory: Study evaluated the anti-neuroinflammatory activities of ethanol extracts of C. rutidosperma and Euphorbia thymifolia using LPS-stimulated microglial cell line BV2. CR and ET suppressed BV2 activation, downregulated iNOS and COX-2 expression and inhibited NO overproduction without affecting cell viability. Results suggest CR and ET possess anti-neuroinflammatory activities by inhibiting pro-inflammatory mediator expression and production, upregulating HO-1, GCLM and NQO1, blocking NF-kN and modulating JNK signaling pathways. (9)
• Wound Healing / Roots: Study evaluated various extracts of C. rutidosperma roots for wound healing activities in rats using excision and incision wound models. Results showed methanol and aqueous extracts with faster rate of wound healing compared with other extracts. (10)
• Antidiabetic Effect / Leaves: Study evaluated the effect of oral administration of aqueous extract of leaves of C. rutidosperma and Senecio biafrae roots on blood glucose, biochemical parameters, lipid profile, antioxidant enzymes and hepatic glucose regulating enzymes on STZ-induced diabetic rats. The aqueous extracts of both plants produced significant (p<0.05) decreased in blood glucose, TC, LDL, triacylglycerols, creatinine, BUN, and various other marker enzymes. There was acceleration of hepatic glucokinase activity and inhibition of gluconeogenesis enzymatic activity. Comparatively, CR aqueous extract of leaves showed better activities than SB extract of roots. (11) Study evaluated the hypoglycemic and antihyperglycemic effect of methanol extract of leaves of C. rutidosperma in alloxan induced diabetic Wistar rats. Results showed an antihyperglycemic effect with more rapid onset of action and better glycemic control compared to glibenclamide. (21)
• Comparative Antoxidant Activity: Study evaluated the antioxidant activity of water and ethanol extracts of aerial parts of C. rutidosperma. Both extracts showed significant antioxidant activity in DPPH, NO, and OH radical induced in-vitro assay methods. Both extracts showed promising free radical scavenging of DPPH in a concentration dependent manner up to 250 µg/ml, with the ethanol extract showing more activity than the aqueous extract. (12)
• Antinociceptive Activity: Study evaluated the anti-nociceptive properties of methanol extract from C. rutidosperma in-vivo using thermal (hot plate test and tail flick test) and chemical (formalin induced licking test and writhing test by acetic acid) methods in mice and rats. The results suggest both peripheral and central mechanisms. (13) Study evaluated the analgesic effect of ethanolic extract of C. rutidosperma leaves using Swiss albino mice by Eddy's hot plate method and Formalin test method. Results showed significant reduction in paw licking and paw jumping response. (14)
• Immune Boosting / Lipid Effects / Synergism with Costus afer / Leaves: Study evaluated the effect of combined ethanolic leaf extract of Costus afer and Cleome rutidosperma on hematological and serum lipid parameters. Results suggest the combined leaf extract could be used in boosting the immune system, along with its beneficial effects of serum cholesterol concentration. (15)
• Antimalarial / Plasmodium falcifarum / Aerial Parts: Study evaluated an ethanolic extract of aerial parts of Cleome rutidosperma for in-vitro antiplasmodial activity against chloroquine sensitive (CQS) D10 strain of Plasmodium falcifarum. Results showed moderate activity against P. falcifarum CQS D10 with IC50 of 34.4 µg/mL. The diethyl ether fraction showed more potency with good antiplasmodial activity (IC50 8.1 µg/ml). Study suggests the activity may be due to the presence terpenoids or flavonoids. (16)
• Antibacterial / Bioenhancing Activity / Leaves: Study of en ethyl acetate soxhlet extract of Cleome rutidosperma showed antibacterial and bioenhancing properties against clinically isolated multiple drug resistant (MDR) strains. (17)
• Antidiabetic Fraction: An earlier study of an aqueous crude extract of C. rutidosperma showed anti-hyperglycemic activity. This bioassay guided fractionation sought to identify the potent antihyperglycemic fraction from the aqueous extract. A methanol fractions significantly (p<0.05) reduced blood glucose more than other fractions. (19)
• CNS Anti-Depressant Activity: In-vivo study of Cleome rutidosperma extract in mice models using open field, hole cross, and thiopental sodium induced sleeping time tests. showed promising central nervous system depressant effect. (20)
• Antioxidant / Antibacterial / Anticancer / Leaves: Study evaluated various leaf extracts of Cleome. rutiidosperma for antioxidant, antibacterial and anticancer activities using in vitro methods. A ME showed 12 mm zone of inhibition against B. cereus and E coli, while an EA extract showed 10 mm against S. aureus and 12 mm against S. typhi. A ME also exhibited significant antioxidant activity by DPPH assay and anticancer activities. (22)
• Hypoglycemic / Roots: Study evaluated the hypoglycemic effect of an ethanolic extract of roots of Cleome rutidosperma in alloxan induced hyperglycemic rats. The root extract caused significant reduction in blood glucose in a dose dependent manner. (23)
• Anticonvulsant Activity / Aerial Parts: Study evaluated the anticonvulsant activity of ethanol, petroleum ether, diethyl ether, ethyl acetate, and n-butanol extracts of aerial parts of Cleome rutidosperma in strychnine induced tonic convulsion in Swiss albino mice. All extracts reduced convulsion in mice except the ethanol extract. The diethyl ether extract showed significant (p<0.01) anticonvulsant activity compared to other extracts. (24)
• Phytochemical Screening / Alkaloid Content: Qualitative analysis yielded alkaloids, tannin, saponin, steroid, and cardiac glycoside. Of ten medicinal plants screened, C. rutidosperma showed the lowest yield of alkaloid (0.32%) and highest yield of tannin (15.25%). (25)
• Toxicity Studies / Aerial Parts: Study evaluated the safety profile of ethanol extract of Cleome rutidosperma aerial parts by acute and sub-chronic toxicity studies in female Sprague-Dawley rats. A dose of 2000 mg/kbw was given as a single dose by oral gavage. A single dose of 400 mg/kbw was administered daily for 28 days. No toxicity was observed at levels administered. The LD50 of the aqueous extract is >2000 mg/kbw. (26)

Availability
Wildcrafted.