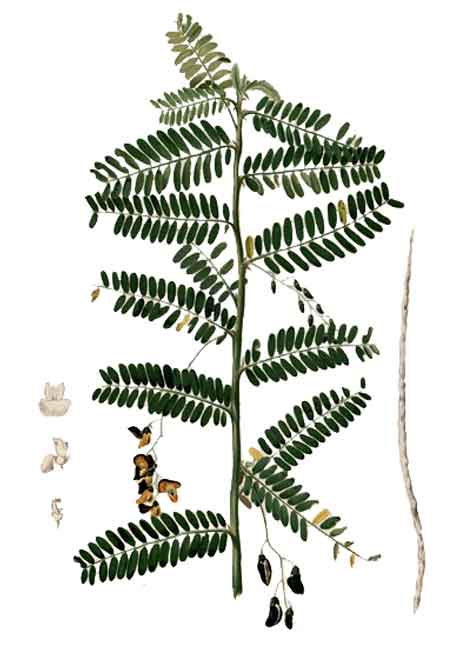 Botany
Sesban is an erect, branched, stout, shrubby plant, 2 to 3 meters in height. Leaves are 10 to 20 centimeters long, with 9 to 20 pairs of leaflets. Leaflets are oblong, 2 to 3 centimeters long. Flowers are few, yellow, about 1.5 centimeters long, borne on axillary racemes about 10 centimeters in length. Pods are subcylindric or somewhat flattened, slightly twisted, pendulous, about 20 centimeters long, 3 millimeters wide, and depressed between the seeds.
Distribution
- Only in Manila.
- Introduced.
- Found in the tropics of both hemispheres.
Constituents
- Seed contains fat, 4.8%; albuminoids, 33.7%; carbohydrates, 18.2%; cellulose, 28.3%; and ash, 4.2%.
- Leaves rich in saponins.
- Leaves yield a high crude protein content, 25 to 30%; a little tannin and other polyphenolics.
- Phytochemical analysis of seeds yielded oleanolic acid, stigmastane-5.24(28)-diene- 3β-O-β-D-galactopyranoside and galactomannan (Das et al., 2011). Extracts yield high amounts of phenols flavonoids, and anthocyanins (Kathiresh et al., 2012). Pods and leaves yield campesterol and ß-sitosterol. Flowers yield cyanidin and delphinidin glucosides. Pollen and pollen tubes yield alpha-ketoglutaric, oxaloacetic and pyruvic acids (Padhhare et al., 2011). (17)
- Phytochemical analysis of methanol and ethanol extracts of stem and roots yielded alkaloids, carbohydrates, proteins, phytosterol, phenol, flavonoids, fixed oil and gum. Leaf extract yielded alkaloids, carbohydrates, protein, phytosterols, flavonols and fixed oil. (see study below) (20)
Properties
- Leaves considered purgative, demulcent, maturant, anthelmintic and anti-inflammatory.
- Seeds considered stimulant, emmenagogue, astringent.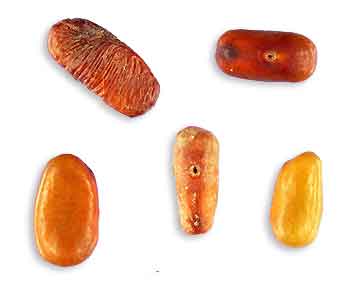 Parts used
Leaves, seeds.

Uses
Edibility
- In Ethiopia, flowers reportedly used in stews and omelets, as decorative or festive ingredients.
- Pods are reportedly edible.
Folkloric
- Poultice of leaves promote suppuration of boils and abscesses and absorption of hydrocoele and inflammatory rheumatic swellings.
-In Decca, juice of fresh leaves used as anthelmintic.
- Seeds used for diarrhea and excessive menstrual flow; also for reducing splenic enlargement.
- Ointment used for itches and various skin eruptions.
- Juice of bark also used for skin eruptions and itching.
- Bruised roots made into paste, applied to scorpion stings.
- In India, used to relieve rheumatic pains. Roots used for inflammation, fever, ulcers, leucoderma and diabetes.
- In Ethiopia used for phytoremediation, anti-inflammatory, antioxidant, livestock feed, antimicrobial, abortifacient, and antifertility agent. Leaves and young twigs used for milk production enhancement. (17)
- In Tanzania, used to treat sore throat, gonorrhea, syphilis, spasmodic fits in children and jaundice during pregnancy. (18)
- In Thai traditional medicine, the herb is used as a sleeping aid. (see study below) (22)
Others
- Wood: Popular for firewood and charcoal production.
- Forage: Sesban tree has a high level of foliage nitrogen and is an excellent supplement to protein-poor roughage. Leaves and tender branches are high in protein, with 20 to 25% crude protein, easily digestible by ruminants. (17)
- Veterinary: Leaves and young twigs used for milk production enhancement. Supplementation of ration reported to improve reproductive performance in sheep.(17)
- Fiber: S. seesban is used for making ropes and fishnets; also has potential for pulpwood production. (19)

Studies
• Anthelmintic: The anthelmintic activity of aqueous extracts from 14 plants species from 7 families in the Sudanese flora was evaluated using the free living nematode, Caenorhabditis elegans as test organism. Extracts of Balanites aegyptica and Sesbania sesban were the most effective (LC50 0.8 and 8.0 mg/mL respectively. (1) Study evaluated the hydroalcoholic and aqueous leaf extract of Sesbania sesban against Moneizia expansa and Paramphistomes. Both extracts were found effective against the two organisms, but the hydroalcoholic extract was more effective than the aqueous extract. (21)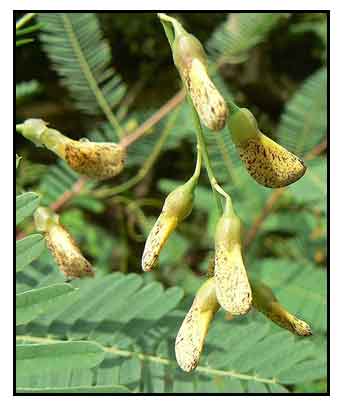 • Anti-Inflammatory / Saponins: Study showed the topical formulation of crude saponins extract showed significant anti-inflammatory activity, comparable to the activity of the reference drug, diclofenac. (2) Crude saponin extract showed significant anti-inflammatory activity in in vivo and in vitro models. Effect may be contributed to by the crude saponin with its triterpenoid and steroidal moiety which protect inflammatory mediators. (18)
• Anti-Inflammatory: Results showed high NO (nitrous oxide) level in S. grandiflora and S. sesban extracts may suppress initial stages of immune response in carrageenan and adjuvant injection models probably through inhibition of iNOS expression through a feedback inhibition mechanism. (5)
• Fertility Control of Female: Study of the effect of Sesbania sesban seed powder on female albino rats showed inhibition of ovarian function, change of uterine structure and prevention of implantation with 100% control of fertility. (3)
• Spermicidal: Oleanolic acid 3-B-D-gluccuronide (OAG), an active principle isolated from the root extracts of Sesbania sesban exhibited significant dose-dependent spermicidal activity. (4)
• Anti-Diabetic / Hypolipidemic: Study of aqueous extracts of leaves in STZ-induced diabetic rats showed significant increase in serum insulin and HDL levels and decrease in blood glucose, glycosylated hemoglobin, total cholesterol and triglycerides when compared to glibenclamide. (6)
• Increased Lactation / Growth Rate: Study concluded that supplementation of S. sesban during lactation improved milk yield of ewes and growth rate of lambs. (7)
• Diabetic Renoprotective: Study showed an aqueous extract of S. sesban leaves reduced the development of diabetic nephropathy in STZ-induced diabetic rats. The extract reduced proteinuria, albuminuria, lipid and glycated hemoglobin deposition. (8)
• Nutritive Value of Leaves: Study of leaves showed a high crude protein content, 25 to 30%, and is a useful source of protein for ruminant diets and a source of supplement fodder for livestock. (9)
• Antimicrobial / Cytotoxic/ Bark: Study evaluated extracts of bark for antimicrobial activity and cytotoxic activity. Results showed zones of inhibition against most of the test bacteria and fungi. The extracts showed various degrees of cytotoxicity on brine shrimp lethality bioassay. (12)
• Saponins / Anti-Inflammatory: Study evaluated the anti-inflammatory activity of crude saponin from Sesbania sesban. Diosgenin and oleanolic acid were isolated from the saponin fraction. The crude saponin extract showed significant activity in in vitro and in vitro animal models. Findings show the crude saponin contains triterpenoid and steroidal moiety which may contribute to the anti-inflammatory activity. (13)
• Neuroprotective / Diabetic Neuropathy Attenuation: Study evaluated the attenuating effect of S. sesban aqueous extract of leaves in STZ-induced diabetic rats. The extract significantly increased tail flick latency, reduced superoxide anion and total calcium levels. Results suggest attenuation of diabetic neuropathy in STZ-induced diabetic rats and may be beneficial in preventing the progression of diabetic neuropathy. (14)
• Hypoglycemic / Lipid Effects / Roots: Study evaluated various doses of petroleum ether extract of roots on normal and STZ-induced diabetes in mice. All doses caused a marked decrease of FBS in STZ-induced diabetic mice, with decrease in cholesterol, triglycerides, increase in insulin, HDL cholesterol and total protein level. (15)
• Antinociceptive: Study evaluated the various extracts of the wood of the plant for antinociceptive activity. Petroleum ether, chloroform, and ethyl acetate extracts showed significant and dose-dependent antinociceptive activity in the hot plate and acetic acid-induced writhing tests in mice. The antinociceptive activity was blocked by naloxone, suggesting involvement of opioid receptors. (16)
• Mosquito Repellant: Washing bodies of animals with water extract is reported to protect against mosquito bites (Vadivel et al., 2012). Leaf decoction used for cattle drench to repel tsetse fly. (17)
• Antimicrobial / Stems: In an in vitro biologic screening of methanol extract of stem against ten bacterial species and five fungal species, results showed highly significant antimicrobial activity against Erwinia amylovora and E. coli, with complete inhibition of fungi Curvularia lunata and Fusarium oxysporum. (20)
• Melatonin / Sleeping Aid: In a Thai study of seven edible herbs used as sleeping aid, melatonin was found in six of the seven herbs. Sesbania sesban yielded 8.7 ng/g dry sample weight. In comparison, P nigrum yielded 1092.7 ng/g of dry sample weight. (22)
• Antioxidant / Leaves: An ethanol extract of leaves showed dose dependent DPPH scavenging activity , with the reducing capacity increasing with increased concentration. (24)
Availability
Wild-crafted.