Botany
Silisian is an erect, branched, annual, glandular, hairy and slightly rank-smelling herb, growing to a height of 0.3 to 1 meter. Leaf has 3 to 5 leaflets, oblong to oblong-ovate, 1 to 3 centimeters long. Flowers are in leafy, terminal racemes with the pedicels. Petals are yellow, narrowly obovate, 7 to 8 millimeters long. Capsule is cylindric, 4 to 7 centimeters long, 3 to 4 millimeters in diameter, striate, glandular-hairy, and narrowed above.
Distribution
- A common weed at low and medium altitude, in settled areas throughout the Philippines.
- Pantropic.
Constituents
- Phytochemical screening yielded flavonoids, tannins, saponins, and alkaloids.
- Plant yields a powerful and volatile principle, with a smell similar to mustard, considered antiseptic and antispasmodic.
- The seed contains a volatile oil, acting as vermifuge.
- Seeds contain 26% oil yielding 18% on expeller crushing, with a fatty acid profile of palmitic 10.6%, stearic 4.9%, oleic 14.4% and linoleic 68.6%.
- Study isolated coumarinolignoid cleomiscosins A, B, and C. (See study below)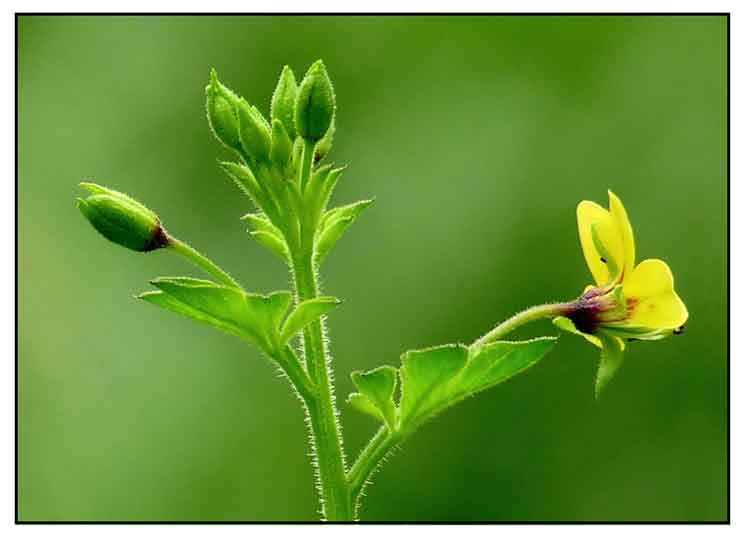 Properties
- Antiseptic, stimulant, vermifuge, astringent and spasmodic.
- Analgesic, antimicrobial, antidiarrheal, antipyretic, hepatoprotective, hypolipidemic, and anti-ulcer.
- Roots are antiscorbutic.


Parts utilized
Leaves, roots and seeds.

Uses
Edible
- Leaves and young shoots cooked as vegetable.
- Leaves eaten in salad, fermented in Mindanao and the Visayas.
- Pungent seeds can be pickled or used as mustard substitute in curries.
- Juice of plant used as condiment.
- Seeds yield an oil that can be used for cooking.
Folkloric
- In the Philippines, roots, leaves and seeds used as substitute for mustard cures in which a revulsive is needed.
- Powdered roots, leaves and seeds, mixed with sugar, as antihelminthic.
- Whole plant used as folk remedy for wounds, ulcers, inflammations and skin infections.
- Infusion of seeds, roots and leaves used as maggot cleanser for nonhealing ulcers.
- Bruised plant used as counter-irritant for blisters.
- Juice of leaves used for earaches.
- Leaf poultice used for headaches and deafness.
- Seed decoction used for abdominal complaints.
- In India, mixed with oil, used for purulent ear discharges.
- In

Africa

, used as vermifuge.
- In Australia, aborigines use the leaves for headaches.
- Leaves applied to boil to prevent formation of pus.
- In Indo-China, roots used as stimulant and anti-scorbutic.
- In the U.S., roots used as vermifuge.
- In Ceylon roots and seeds used as cardiac stimulant.
- Seeds used as carminative, anthelmintic, and rubefacient.
- Infusion of seeds used locally to kill maggots in unhealthy sores.
- Seeds used for fevers and diarrhea; also as remedy for infantile convulsions.
- In Guam, seeds used in decoction for abdominal complaints; in poultice form, as rubefacient.
- In Grenada, decoction of leaves used to treat colds and fevers.
- In Ayurveda, used as stomachic, laxative, diuretic, anthelmintic, and for skin diseases, itching, ulcers, leprosy, and malarial fevers.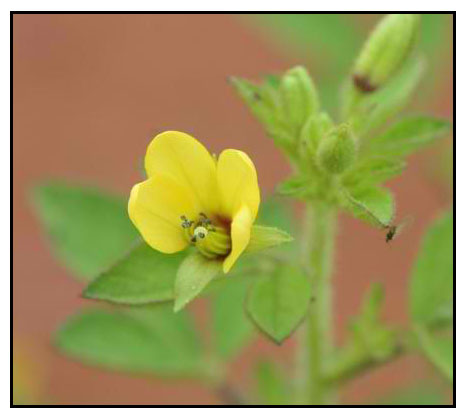 Studies
• Seed oil: Composition and Characteristics of Cleome icosandra L. Seed Oil: Study showed seeds yield 26% oil with a high amount of unsaturated acids- oleic and linoleic acid which polymerizes during storage, suggesting exploitation of the oil for industrial use. (1)
• Anti-larvicidal: Acetone extracts of A conyzoides, Cleome icosandra, T erectes, and T procumbens showed growth inhibitory and juvenile hormone mimicking activity to treated larvae of C. quinquefasciatus. (5)
• Cembrane Acids: Study yielded two new unsaturated cembrane acids from Cleome viscosa. (2)
• Analgesic / Anesthetic: Study of aqueous extract of seeds of C viscosa showed it to be non-toxic with significant analgesic activity in mice and local anesthetic activity in guinea-pigs.
• Antibacterial: Study showed at concentration of 50% and 75%, gatas-gatas and silisian exhibit intermediate inhibitory effect against Shigella dysenteriae. (7)
• Antibacterial: Crude methanolic extract showed in vitro antibacterial activity against Staphylococcus saprophyticus, Shigella sonnie, Salmonella typhi, Vibrio cholera, Strep epidermis, Shigella flexneri and Staph aureus.
• Anthelminthic / Seeds: Study of crude alcohol and aqueous extracts of seeds of C. viscosa against Pheritima posthuma and Ascardia galli showed significant dose-dependent anthelmintic activity. (8)
Comparative study of Cleoma viscosa and C. burmanni for anthelmintic potential against Indian earthworm • • Anthelminthic / Comparative Study: Pheritima posthuma showed both to exhibit significant anthelmintic activity. The methanol extract of C. viscosa at 2000 ug/ml was the most effective treatment dose. (18)
• Antioxidant: Study of selected Unani plant extracts, seven, including C. icosandra, showed moderate antioxidant activity. Three, including C. icosandra, showed potentially significant oxidative damage preventive activity and radical scavenging activity. (9)
• Analgesic: Mice study of methanol extract showed promising analgesic activity in all methods of testing used: acid-induced writhing, tail flick, tail clip, and tail immersion. (12)
• Otitis Media / Antibacterial: C. viscosa showed broad spectrum antimicrobial activity towards otitis media pathogens. (13)
• Antitumor: Study of a methanolic extract of Cleome viscosa in Swiss albino mice against Erlich ascites carcinoma exhibited antitumor activity, with the extract treatment bringing back all the abnormal parameters of tumor bearing animals to normal. (14)
• Psychopharmacological Effect: Study of a methanol extract of the entire plant in rats and mice showed significant psychopharmacological activity, with reduction in spontaneous activity, decrease in exploratory behavioral pattern, reduction in muscle relaxant by rotarod, a significant lowering of body temperature, with potentiation of phenobarbitone-induced sleeping time. (15)
• Wound Healing: Study of leaves and whole plant of C. viscosa on experimentally induced excision wound model in rats showed the methanolic extract to possess significant wound healing activity. (16)
• Coumarinolignoids / Modulation of Inflammatory Mediators: Study in female Swiss albino mice of coumarinolignoid cleomiscosins A, B, and C isolated from the plant showed inhibition of pro-inflammatory mediators (IL-6, TNF- a, and NO) and enhanced the production of anti-inflammatory mediators in a dose-dependent manner. (17)
• Hepatoprotective: Study of ethanolic extract of seeds on paracetamol-treated albino rats showed significant hepatoprotective effect evidenced by histopath studies on the liver. The standard drug was silymarin. (19)
• Analgesic / Antiemetic / Fixed Oil from Seeds: Study in mice of fixed oil from seeds of C. viscosa using the acetic acid induced writhing test (intraperitoneally) and chick emetic model (oral) showed significant analgesic and antiemetic activities. (20)
• Antinociceptive / Antibacterial / Cytotoxic: Study of methanol extract of dried leaves in animal models produced: (1) significant writhing inhibition in acetic acid-induced writhing in mice, (2) prominent cytotoxic activity against brine shrimp Artemia salina, and (3) significant in vitro antibacterial activity against Staph saprophyticus, Shigella sonnie, S. typhi, Vibrio cholera, S. epidermis and Staph aureus.(21)
• Antifibrotic Effect / CCl4-induced Liver Fibrosis: Study of an ethanolic extract of the whole plant in CCl4-induced fibrosis in rats showed an antifibrotic effect evidenced by biochemical parameters. (22)
• Antimicrobial: Study evaluated methanolic extracts against pathogenic bacteria (B. subtilis, S. aureus, E. coli and P. aeruginosa) and fungi (Aspergillus niger, Candida albicans). Results showed significant antimicrobial activity in a dose-dependent manner. (24)

Availability
Wild-crafted.