Botany
Silverleaf is a dense evergreen shrub from 2 to 5 feet tall, occasionally reaching 8 feet in height, with is leaves covered with stellate, silvery hairs and bright pink-lavender, bilateraly symmetrical flowers borne singly in crowded leaf axils. Leaves are silver gray to greenish, soft to touch, up to 1 1/4 inches long or less, tapering gradually to the base, with rounded tip, and smooth margins. Flowers are violet to purple, sometimes pink, bell-shaped, about 1 inch in length and width. Fruit is a small capsule. (2)
Note:
• Sage attribution has erroneously been given to silverleaf—Texas sage, purple sage, Silverado sage. It is not a true sage but a leucophyllum and a member of the Scrophylariaceae family. It lacks the square stems and aroma of typical sage. It is more closely related to snapdragons. (7)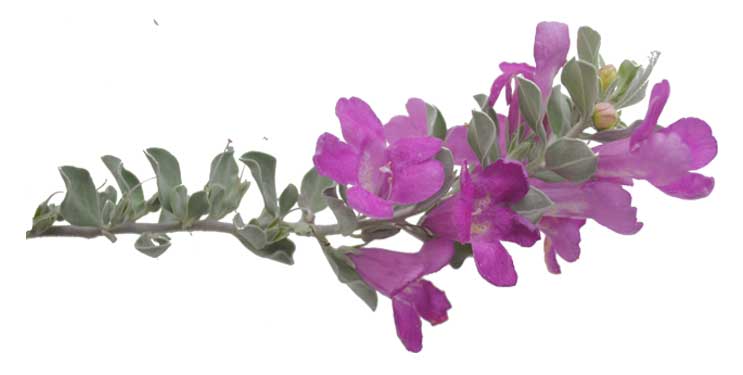 Distribution
- Introduced.
- Widely cultivated in Florida and Southeast Asia.
- Popular as ornamental and hedge plant.
Constituents
- Contain high amounts of C, with a high C/N ratio.
- Study on leaves yielded: (macro-nutrients) K 0.8 ± 0.10 mg/g-1 dw, Mg 2.69 ± 0.28 mg/g, P 13.69 ± 3.10, C 14.6 %. N 49.97 ±0.04 %, C:N 2.25 ±0.27; (micronutrients) Cu 6.45 ±0.79 µgg-1 dw, Fe 118.12 ± 15.44 µgg-1 dw, Zn 27.23 ± 3.79 µgg-1 dw.
Properties
- Called Barometer Bush because flowers bloom magnificently after rains due to humidity and soil moisture.
- Studies suggest antimicrobial, antituberculous, cytotoxic, hepatoprotective properties.

Parts used
Leaves.

Uses
Edibility
- Dried leaves and flowers can be brewed into an herbal tea. It has been reported to have mildly sedative effects.
Folkloric
- No known medicinal use in the Philippines.
- In northeast Mexico, used for bronchitis and lung complaints, including tuberculosis, diarrhea, liver, fever, and jaundice.
- Decoction of leaves used as tea for treating lung congestion, bronchitis, chills, and fever associated with colds.

Studies
• Hepatoprotective / Aerial Parts: Study evaluated the hepatoprotective efficacy of L. frutescens aerial parts in a model of hepatotoxicity induced by carbon tetrachloride in wistar albino rats. Results showed significant decrease in ALT and AST, less pronouced destruction of liver architecture. Results suggest the methanol extract of aeria parts could be an important source of hepatoprotective compounds. (3)
• Antimicrobial / Cytotoxicity: In a study of five medicinal plants for potential antimicrobial activity, methanol extract of leaves of L. frutescens showed antimicrobial activity against Staphylococcus aures and Escherichia coli with MIC of 25.0 and 27.1 µg.ml, respectively. In the bioassay with Artemia salina, only the extract of L. frutescnes showed toxicity with DL50 of 196.7 µg/ml. (4)
• Antituberculosis Activity / Roots and Leaves: In a study of 14 plants used in northeast Mexico for potential antimicrobial activity, methanol based extracts of roots and leaves showed significant antimicrobial activity against drug-resistant strain of Mycobacterium tuberculosis, with a minimal inhibitory concentrtion (MIC) of 62.5 and 125 microg/mL. (5)
• Leubethanol / Serrulatane-Type Diterpene / Anti-Tuberculosis: Bioactivity-guided fractionation of methanolic extract of root bark of L. frutescens isolated and identified leubethanol, a new serrulatne-type diterpene with activity against both multi-drug resistant and drug-sensitive strains of virulent Mycobacterium tuberculosis. (6)
Availability
- Wild-crafted.
- Herbal teas and supplements in the cybermarket.