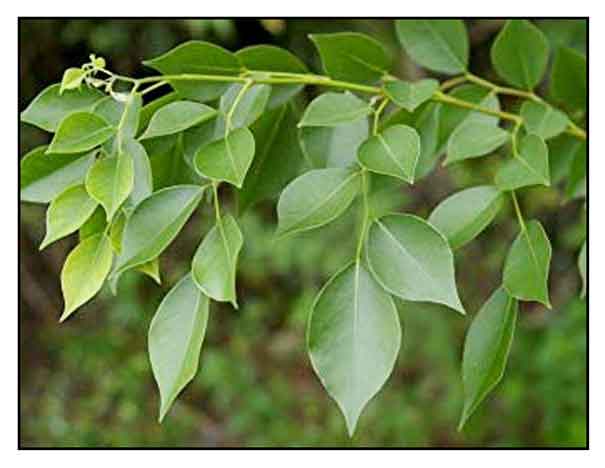 Botany
Sissoo is a fast-growing, medium to large deciduous tree that can grow a maximum height of 25 meters, often with a crooked trunk. Bark is thin, gray. longitudinally furrowed, and downcast twigs. Leaves are leathery , alternate, pinnately compound, acuminate, about 15 centimeters long. Flowers are whitish or pink, fragrant, nearly sessile, up to 1.5 centimeters long, in dense clusters 5-10 centimeters in length. Pods are oblong, flat, thin,, light brown, 4 to 8 centimeters long and 1 centimeters wide, containing 1 to 5 flat bean-shaped seeds 8 to 10 millimeters long. (3)
Distribution
- Introduced.
- Cultivated.
- Native to India, Malaysia, Pakistan, Bangladesh.

Constituents
- Study of ethanolic extract of back showed presence of carbohydrates, proteins, amino acids, phenolic compounds and flavanoids. (see study below) (5)
- Studies have yielded Isoflavone-O-glycoside, Biochanin A, tectorigenin, 7, 4 dimethyl tectorigenin and 7-O- methyl tectorigenin, Mesoinisitol, 7-O- methyl tectorigenin and 4'-rhamnoglucoside, Isocaviumin, tectorigenin, dalbergin, caviunin and tannins, Dalberginone, Dalbergia, methyl Dalbergia and dalbergichromene, Dalbergin, nordalberginones, dalbergichromene, fixed oil and essential oils.
- Heartwood yields dalbergiphenol, delbergenone, dalbergin, methyl dalbergin. Leaves yield biochanin A, tectorigenin. Stem bark yields isotectorigenin. Ethanol extract of bark contains carbohydrates, proteins, amino acids, phenolic compounds, and flavanoids. (13)
Properties
- Leaves considered antipyretic, analgesic, anthelmintic.
- Studies have suggest anti-inflammatory, anthelmintic, antioxidant, antidiarrheal, memory enhancing, anti-termite, anti-spermatogenic, wound healing, adsorbent, anti-osteoporosis, sunscreening, DNA protective, gastroprotective properties.
Parts used
Leaves, bark, wood, leaf juice.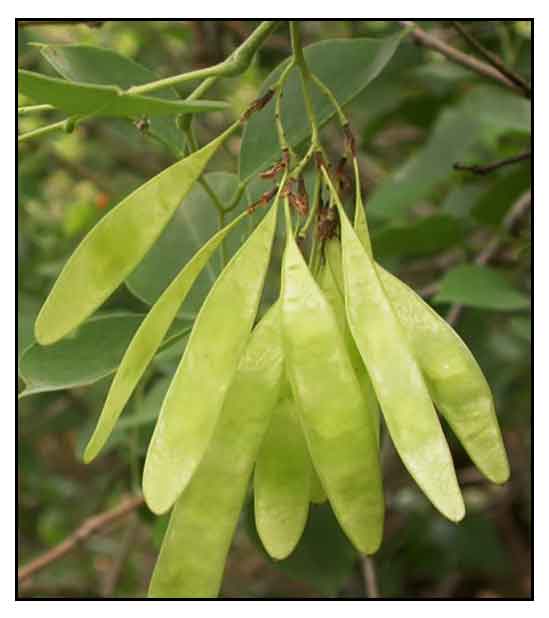 Uses
Folkloric
- No reported medicinal use in the Philippines.
- Leaf juice used for eye ailments.
- Used for the treatment of obesity, vitiligo, fever, ulcers, intestinal parasites.
- Wood and bark used for scabies, burning urination, boils, syphilis, leprosy, leucorderma, skin ailments, blood disorders, among others. Leaf extracts used to treat sore throats, heart problems, dysentery. (6)
- In Ayurveda, woody bark paste used as anthelmintic, antipuretic and analgesic. Bark and wood used as aphrodisiac, abortifacient, expectorant anthelmintic, antipyretic, antidysenteric, and used for leucoderma and diseases of the blood. (7)
- Decoction of leaves used for treatment of gonorrhea, menorrhagia, boils and acne. (7)
Others
- Larval food: Sissoo is the larval food plant of the black rajah, Charaxes solon. (3)
- Wood: It is the best known economic timber species of the rosewood genus. The heartwood is durable and very resistant to fungi, while the sapwood is readily attacked by termites and borrers. It is among the finest cabinet and veneer timbers. Used in the production of percussion instruments; also used for making plywood, agricultural tools, flooring, brentwood, and for turning. (3)
- Fuel: Wood has excellent calorific value for both sapwood and heartwood, 4.908 kcal/kg and 5,181 kcal/kg, respectively. It has excellent coppicing ability. Also, makes excellent charcoal. (3)
- Toothbrush: Slender tree twigs are chewed as toothbrush, and then split as a tongue cleaner. (3)
Studies
• Antinociceptive / Leaves: Study evaluated methanol extract of leaves of D. sissoo using chemical and heat induced pain models such as hot plate, tail immersion, acetic-acid induced writhing, formalin, glutamate, and cinnamaldehyde test models in mice. Results showed potent and dose-dependent antinociceptive activity in all chemical and heat-induced mice models (p<0.001). Findings indicate involvement of both peripheral and central nociceptive mechanisms. (4)
• Antinociceptive a/ Bark: Study evaluated the antinociceptive activity of an ethanolic extract of bark of D. sissoo using tail flick method on Wistar rats. Results showed significant and dose-dependent anticociceptive activity (p<0.01). Activity was attributed to flavanoids. Acute toxicity study showed no toxicity up to 3000 mg/kbw. (see constituents above) (5)
• Anti-Termite / Heartwood: Study of crude extract of Dalbergia sissoo heartwood showed anti-termite activity and can be used as alternative to synthetic pesticides. (6)
• Anti-Osteoporosis / Anti-Inflammatory / Leaves: Study evaluated standardized extract of leaves of D. sissoo for anti-osteoporotic activity in animal models of postmenopausal osteoporosis (PMO) using DXA, biochemical markers, and effect on clinical profile. Results showed anti-osteoporotic and anti-inflammatory activities as indicated by decline in circulating TNF-α along with reduction in ALP. Non-decline in BMD index in the majority confirmed the anti-osteoporotic activity. (8)
• Sawdust as Adsorbent for Nickel Ions: Sawdust of Dalbergia sissoo, a byproduct of sawmills, was found to be a promising adsorbent for the removal of nickel ions from aqueous solution. (9)
• Healing of Long Bone Fracture / Leaves / Clinical Study: Single arm, pilot study evaluated the safety and efficacy of a standardized extract of D. sissoo leaves in patients with long bone fracture. Treatment resulted in fading of fracture line and restored functional mobility. At the end of the study (week 8) fractures were healed. No clinically significant adverse events were reported. (11)
• Gastroprotective / Antiulcer / Diclofenac-Induced Gastric Damage / Stem Bark: Study evaluated the antiulcer effect of D. sissoo methanol extract of stem bark against diclofenac sodium induced ulceration in rat. Parameters measured were gastric juice volume, pH, free acidity, and total acidity. Results showed potential gastroprotective activity probably due to its antioxidant and cytoprotective ability. (12)
• Sunscreening Potential / DNA Nick Prevention: Study evaluated methanolic extracts of leaves, fruits, and bark for photoprotective and DNA protective potential in vitro. TPC, TFC, antioxidant activity and SPF (sun protection factor) were found to be high in the three extracts. Dose dependent protection of DNA was observed. Phytol, lupeol, squalene, palmitic acid and phytosterol were key constituents. Results suggest exploration of methanol extract as photoprotective and DNA protective agents. (14)
• Antidiarrheal / Leaves: Study evaluated the protective effect of ethanol extract of leaves of D. sissoo against experimentally induced diarrhea and peristalsis in mice. Results showed significant reduction of fecal output in castor oil- and MgSO4 induced diarrhea and significant reduction of diarrheal episodes, delayed onset of diarrhea. Results were comparable to standard loperamide. Both extract and atropine sulphate significantly reduced peristaltic activity of charcoal meal and barium sulphate milk in mice. Phytochemical analysis yielded carbohydrates, phenolics, glycosides, and flavonoids. The LD50 was greater than 2000 mg/kg orally. (15)
• Anti-Spermatogenic / Stem Bark: Study evaluated an ethanol extract of stem bark for anti-spermatogenic activity. In vitro study obtained semen from 15 healthy fertile men aged 25-35. Results showed a dose dependent and time dependent effect on sperm motility and sperm viability. In vivo studies in on male Swiss albino mice showed a significant decrease in weight of testis and epididymis, with a significant decrease in sperm motility and sperm count in the epididymis. The effect was attributed to the presence of an immobilizing factor that reduced sperm motility by disruption of the membrane architecture of the sperm cell. (Vasudeva and Vats, 2011) (16)
• Rapid Fracture Healing / Leaves: Study evaluated the fracture healing properties of ethanolic extract of D. sissoo leaves in a drill hole injury model in Sprague Dawley rats. Results showed significant increase in bone volume fraction, trabecular thickness, trabecular number, and connectivity density and decreased trabecular separation in bone. Extract also induced expression of osteogenic genes. The EE improved fracture healing much earlier than normal healing process as assessed by increased callus volumes and mineralized nodule formation. (17)
• Anthelmintic / Leaves: Study evaluated different extracts of D. sissoo leaves for in vitro anthelmintic potency using Indian earthworms, Pheretima posthuma. A carbon tetrachloride extract demonstrated highly potent anthelmintic activity compared to other extracts. Petroleum ether, benzene and ethanol. extracts showed anthelmintic activity comparable to standard Piperazine citrate. (18)
• Memory Enhancing / Leaves: Study evaluated the learning and memory enhancing activity of ethanolic leaf extract of B. sissoo in mice. Scopolamine treated mice were used as negative control. The ethanol leaf extract significantly enhanced the learning and memory activities against scopolamine induced dementia and significantly decreased acetylcholinesterase level in brain of test animals. Memory enhanced activity as evidenced by learning and retrieval was attributed to cholinergic facilitatory effect in animals. The memory enhancing action was qualitatively comparable wit that of piracetam. (19)
• Mechanisms of Action in Infectious Diarrhea / Leaves: Study evaluated the effect of a decoction of dried leaves of D. sissoo to define possible mechanisms of action on aspects of pathogenicity i.e., colonization to intestinal epithelial cells and production/action of enterotoxins. The decoction showed no antibacterial, antiprotozoal, and antiviral activity. It reduced the production and the binding of CT (cholera toxin) and bacterial adherence and invasion Results suggest it has no antimicrobial activity but has antidiarrheal property by its effect on bacterial virulence. (20)
• Chalcone / Anti-Inflammatory / Antimicrobial / Leaves: Bio-assay guided fractionation isolated a chalcone [(E)-3-(3,4-dihydroxyphenyl)-1-(2,3,4-trihydroxyphenyl) prop-2-en-1-one] or okanin from extracts of leaves. Okanin exhibited good antibacterial activity towards various pathogens like gram positive M. luteus and S. aureus and gram negative bacteria E. coli, R. plnaticola and Acinetobacter. On evaluation of anti-inflammatory activity, the methanolic extract showed maximum activity on carrageenan induced rat paw edema. (21)
Availability
- Wild-crafted.
- Herbal teas, supplements, seeds in the cybermarket.