Gen info
- The genus name Sapindus derives from the Latin sapo ,meaning soap, and indicus. meaning Indian. The specific epithet saponaria derives from Lain saponis, meaning soap-like, referring to the soapy substance coming from the fleshy seeds. (11)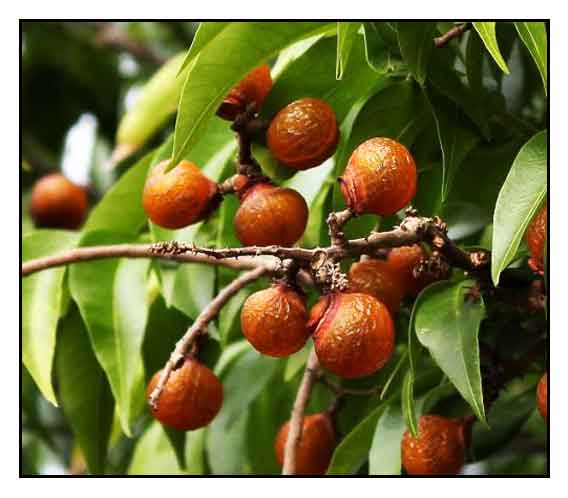 Botany
Sapindus saponaria is a small to medium-sized deciduous tree growing to a height of 30 to 40 feet tall. Bark is rough and gray. Leaves are green, thick and leathery, linear or lanceolate, alternate, odd-pinnately compound, 12 inches long with each leaflet 4 inches long, with smooth or undulate margins, uneven tips and uneven wedge-shaped bases. Flowers are small, white or creamy, in 10-inch long panicles. Fruits are in large, pyramidal clusters at the end of branches, round, 0.5 to 1 inch long, fleshy, shiny, orange-brown, usually less than an inch long. translucent and wrinkled when fully mature, containing a single black seed, about 1/3 inch diameter.
Distribution
- Introduced.
- Widespread in tropical America from northern Mexico to Brazil and Argentina and throughout the West Indies, Puerto Rico and the Virgin Islands.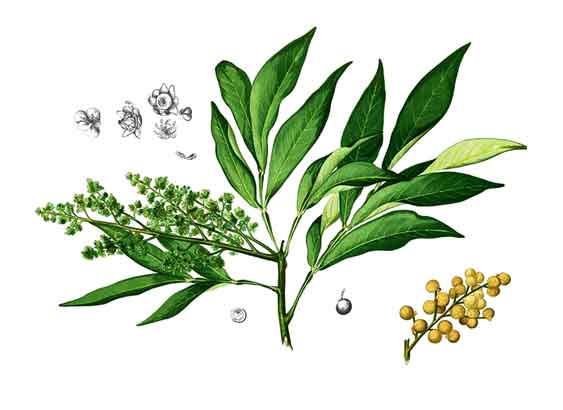 Constituents
- A rich source of saponins.
- Saponins are naturally occurring surface active glycosides. consisting of a sugar moiety usually containing glucose, galactose, glucuronic acid, xylose, rhamnose or methyl-pentose, linked to a hydrophobic aglycone (sapogenin). In water, saponins produce abundant and persistent suds. (8)
- Soapberry saponins contains in various parts. The fruit pericarp contains monodesmosidic triterpene and bisdesmosidic sesquiterpene saponins, which forms soap when shaken in water.(10)
- Seed oil study showed a yield of 42.58% (w/w) and identified 7 fatty acids, 57.60% unsaturated and 42.40% saturated. with oleic acid as the most abundant (52.45%). ( see study below) (5)
- Study of apolar extracts of seeds have yielded flavonoids, lipids, and steroids. (8)
- Methanol extract of fruits of Sapindus saponaria isolated a monodesmosidic acetylated saponin (1) and a mixture of two monodesmosidic saponins (2) and (3). (see study below) (12)
- Study of dried pericarp fraction by column chromatography and silica gel separation yielded two pure triterpene acetylated saponins: 3-O-(4-acetyl-beta-D-xylopyranosyl)-(1->3)-alpha-L-rhamnopyranosyl-(1->2)-alpha-L-arabinopyranosyl-hederagenin (1) and 3-O-(3,4-di-acetyl-beta-D-xylopyranosyl)-(1->3)-alpha-L-rhamnopyranosyl-(1->2)-alpha-L-arabynopyranosyl-hederagenin (2). (see study below) (14)
- Quantitative analysis of aqueous and acetone extracts yielded alkaloids 180.19 µg/ml and 170.29 extract, flavonoids 198.48 19 and 165.53 µg/ml, phenols 85.37 and 98.78 µg/ml., steroids 68.75 µg/ml (acetone extract only) and saponins 157.32 and 140.52 µg/ml, respectively. (17)
- Study of fruit compounds (Murgu & Rodrigues Filho) reported the main glycosides were saponins (SAP) derived from triterpenes hederagenin and oleanolic acid and oligoglycosides from acyclic sesquiterpnene oligoglycosides (ASOGs). The amount of SAPs accumulated during fruit maturation, while ASOGs sharply increased after three months. (18)
- Chromatographic separation of extract of aerial parts isolated and identified stigmasterol, oleanolic acid, luteolin, luteolin 8-C-ß-glucoside (orientin), luteolin 6-C-ß-glucoside (isoorientin), luteolin 7-O-ß-glucuronide, and rutin. (see study below) (20)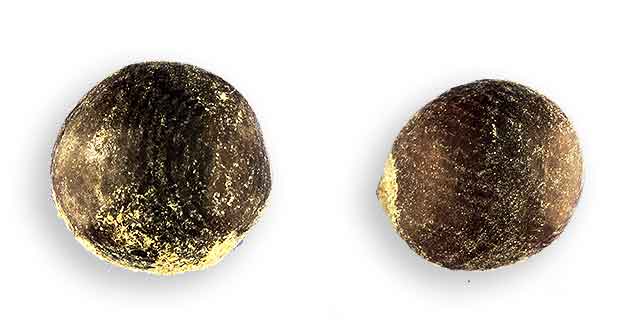 Properties
- Caution: Seeds are poisonous, and caution is advised that tree's be planted or place where it is not accessible to children. Fruit reported poisonous and can cause skin rashes.
- Root and stem bark considered astringent, bitter and tonic. Fruit considered diuretic. (6)
- Studies have suggest antifungal, antimicrobial, molluscicidal, antioxidant, antileishmanial, antifungal, insecticidal, larvicidal, antitumor, genotoxic, anti-snake venom, spermicidal, anti-Trichomonas properties.

Parts used
Fruit, bark. root, leaves..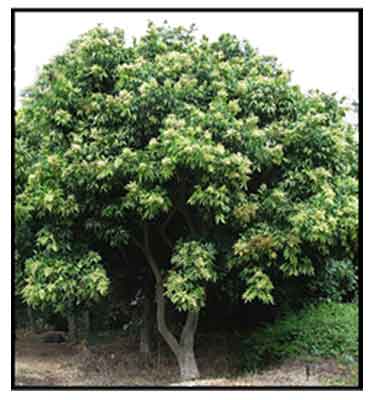 Uses
Edibility
- Caution: Fruits and seeds reportedly toxic.
Folkloric
- In Brazil, fruit used for treatment of ulcers and external wounds..(8)
- In Brazilian folk medicine, bark, fruit, and root are used as anxiolytic, astringent, diuretic, and expectorant. Also used as blood depurative, tonic, and antitussive. Leaves are used to neutralize bleeding. (13) Fruit used in treatment of ulcers, external wounds, and inflammation.
- In the tropics, tree is used as soap for cleaning procedures and for treatment of skin lesions caused by fungi. (10)
- Others
- Crafts: Seeds made into buttons, rosaries, and necklaces; in Hawai'i, jet black seeds strung in lei. Wood splits made into baskets.
- Poison: Seeds are toxic, used as fish poison. Seeds and fruits contain up to 30% emulsifying saponins. to be poisonous . Foliage toxic to livestock.
- Soap: Cut-up fruit soaked in water produces soapy suds. Husks used to wash wool and silk with rejuvenating results. Fruit also used as soap and hair shampoo. (6) The foaming properties of the bark were first recognized by indigenous peoples of Chile who used it as detergent for washing their clothes and hair. (10) In America, Brazil, and India, fruits are traditionally used to manufacture soap and as clothing detergent. (10) Becoming increasingly popular as a natural and economical source of soap. While it takes about 10 years to reach fruit-baring stage, it is an easy tree to germinate.
- Insecticide: Crushed seeds used as insecticide. (see study below-19) (6)
- Fiber: Inner bark yields a fiber used for making rope. (6)
- Wood: Wood hard and heavy, but not durable when exposed. Used for construction, making small items, boxes, toys, etc. (6)

Studies
• Antifungal / Resistant Human Vaginal Candida Species: Study evaluated the in vivo antifungal activity of hydroalcoholic extract and n-BuOH extract of S. saponaria against azole-susceptible and resistant human vaginal Candida spp. Results showed in vitro inhibitory and fungicidal activity against all isolates. MIC and MFC values were higher against C. glabrata isolates No cytotoxic action was observed with either extract. (3)
• Changes in Candida albicans Protein Profile Changes in Response to Butanolic Extract" Study evaluated the changes in protein abundance of C. albicans after exposure to MIC- and sub-MIC of a butanolic extract of S. saponaria using a combination of 2D-PAGE and MALDI-TOF M S. Results showed antifungal induced changes in protein abundance of C. albicans. The responsive proteins may represent potential targets for the development of novel therapeutic agents against the pathogenic fungus. (4)
• Seed Oil Potential as Biofuel: Seed oil study showed a yield of 42.58% (w/w) and identified 7 fatty acids, 57.60% unsaturated and 42.40% saturated. with oleic acid as the most abundant (52.45%). Study. Physiochemical properties of the oil showed good results for its use as biofuel. (5)
• Larvicidal Against Cattle Tick / Stem Peel: Study evaluated the larvicidal potential of crude ethanol extract of soapberry Sapindus saponaria stem peel on cattle tick Boophilus microplus. Mortality was observed after 48 hours. Lethal concentration values were LC50 of 1,258 ppm and :C99 of 6,360 ppm. (5)
• Antifungal Effect Against Papaya Antracnose / Leaf: Chemical fungicides provide a primary means of fungal infection control in fruits and vegetables in postharvest. Study evaluated hydroethanolic extracts of soapberry leavers for inhibitory activity against the fungus Colletotrichum gloeosporioides, the causal agent of anthracnose in papaya fruits. In vivo treatment with 100 mg/ml extract prevented the development of anthracnose symptoms in fresh papaya fruits, preventing mycelial growth and preventing appearance of anthracnose symptoms. Results suggest the potential of the extract as a natural fungicide and as an alternative measure for disease control in papaya fruits. (9)
• Molluscicidal / Saponins from Pericarp: Methanol extract of fruits of Sapindus saponaria isolated a monodesmosidic acetylated saponin (1) and a mixture of two monodesmosidic saponins (2) and (3). The compounds showed molluscicidal activity (LC100/24h pf 5-10 ppm) against the snail Blomphalaria glabrata, one of the intermediate hosts of schistosomiasis. (12)
• Antibacterial / Endophytic Fungi: Study evaluated crude extracts of fungal endophytes isolated from S. saponaria against five pathogenic bacteria The endophytic extracts showed promising antibacterial activity. since all of them inhibited the growth of at least one of the tested bacteria. One extracted metabolite from lineage G2 20 (Cochliobolus intermedius) showed activity against all of the bacterial tested. Results showed S. saponaria isolates possess biotechnological potential for control of pathogenic bacteria tested in vitro. (13)
• Antifungal / Vulvovaginal Candidiasis / Saponins / Dried Pericarp: Study evaluated dried pericarp extracts of Sapindus saponaria fruits for antifungal activity against clinical isolates of yeasts Candida albicans and C. non-albicans from vaginal secretions of women with vulvovaginal candidiasis. Four clinical isolates of C. albicans and isolates of C. parapsilosis, C. glabrata, C. tropicalis, and strain of C. albicans ATCC 90028 were used. The hydroalcoholic extract showed strong activity against C. parapsilosis. The n-BuOH extract and one fraction showed strong activity against all isolates tested. Isolated saponins showed strong activity against C. parapsilosis. (see constituents above) (14)
• Rhizosphere Bacteriome: Rhizosphere is a highly diverse microbial habitat with respect to both diversity of species and size of the community. Study evaluated the rhizosphere microbiome of the medicinal plant S, saponaria using pyrosequencing to estimate the number of bacterial species present in different environments. Results showed the rhizosphere associated with S. saponaria was highly diverse with groups of bacteria important for soil management, which can be further exploited for agricultural and biotechnological purposes. (15)
• Genotoxicity / Mutagenic / Seed: Study evaluated the in vitro cytotoxicity profile of protein extract of S. saponaria and the protein potentially involved in biological effects such as collagen hydrolysis and inhibition of viral proteases. Seed protein extracts at 100 µg/mL concentration presented cytotoxicity and mutagenicity in a bacterial model mostly when exposed to exogenous metabolic system and causing cytotoxic and genotoxic effects in HepG2 cells. Purification and partial characterization of a serine protease (43kDa) and a cysteine protease inhibitor (32.8 Da) from the protein extract corroborate the idea for biologic use of the plant as insecticide and larvicide, although it shows cytotoxic, mutagenic and genotoxic effects. Results provide supportive data for potential use of seeds as pharmacological and biotechnological agents and development of new drugs. (19)
• Antitumor / Antimicrobial / Aerial Parts: Study evaluated the hydromethanolic extract of aerial parts for antimicrobial activity and growth inhibitory capacity on different human tumor cell lines. The extract showed significant antimicrobial activity on all tested bacterial and fungal species. Best activity was against Bacillus cereus ad Staphylococcus aureus and all three Penicillium species. Extract also showed cytotoxicity against human colon (HCT-15), cervical (HeLa), breast (MCF-7), and lung (NCI-H460) carcinoma cell lines. HeLa was most susceptible of the tumor cell lines. Results suggest potential source for novel antitumor and antimicrobial agents. (see constituents above) (20)
• Antioxidant / Antibacterial Against Dental Pathogens / Seeds: Study evaluated seed kernek ethanolic extract for antioxidant capacity and antibacterial activity on common dental pathogens. DPPH assay showed IC50 of 0.04 mg/ml for seed kernel extract, compared to BHT 0.014 mg/ml and ascorbic acid 0.027 mg/ml. In ABTS radical scavenging assay, seed extract showed IC50 of 0.012 mg/ml compared to BHT 0.018 mg/ml. Antibacterial activity using agar well diffusion method at 200 mg/mL showed most effective activity was against Streptococcus salivarius (23 mm) and lowest against S. sanguinis (9mm.) Results validate its traditional used in treatment of dental diseases. (21)
• Anti-Leishmaniasis / Hederagenin Derivatives: Study reports on the synthesis of 3 new amide derivatives of hederagenin, along with 57 other derivatives of hederagenin. Some derivatives (3, 4, 44, 49 and 52) showed activity at micromolar level and low cytotoxicity against BCM and HepG2 cells. Hederagenin derivatives 3, 3, 44, and 49 (IC50s 9.7, 12, 11, and 2 µM, respectively) prevented proliferation of intracellular amastigote forms of L infantum, and their higher selectivity index and low toxicity compared to commercial (potassium antimonyl tartrate trihydrate IC50 80 µM) make the compounds promising candidates for treatment of leishmaniasis. (22)
• Anti-HIV / Peels: Study evaluated the anti-HIV-1 activity of S. saponaria peels extracts (methanol 80%, ethyl acetate, n-butanol, and aqueous) using syncytia formation assay. The methanol extract was most active as anti-HIV agent with therapeutic index (TI) value higher than 10.89. (23)
• Anti-Snake Venom / Callus: Study evaluated the anti-snake venom properties of callus of Sapindus saponaria. Anti-ophidian activities were analyzed toward Bothrops jararacussu, B. mooheni, B. alternates, and Crotalus durissus terrificus venoms and isolated myotoxins and phospholipase A2 (PLA2). Fractions A1, A2, and extract in MeOH:H2O (9:1) significantly inhibited the toxic and pharmacological activities induced by snake venoms and toxins. Extracts and fractions partially inhibited lethal, clotting, phospholipase, edema-inducing, hemorrhagic and myotoxic activities. TPC profiles of the crude extracts showed ß-sitosterol and stigmasterol as main compounds. Stigmasterol exhibited inhibitory effects on enzymatic and myotoxic activities of PLA2. Results showed anti-ophidian activity, which can be used as adjuvant to serum therapy or as supplement with a rich source of enzyme inhibitors. (24)
• Antileishmanial Activity / Fruit Pericarp: Study evaluated the antileishmanial activity and mechanism of action of extract and fractions of S. saponaria fruit pericarps. The OGSA (acyclic sesquiterpene oligoglycosides) fraction did not show hemolytic activity. It showed antileishmanial activity, induced morphological and ultrastructural alterations in promastigote forms, several changes to protozoa cells, including mitochondrial depolarization and early phosphatidylserine exposure, suggesting a possible apoptotic induction. (25)
• Photoprotective / Antioxidant / Antiglycation / Antiacne / Fruits: Study evaluated crude extract (CESs) and triterpene saponin fraction (TSSs) of Sapindus saponaria for photoprotective, antioxidant, antiglycation and antiacne potential. CESs and TSSs exhibited varying antioxidant activity by DPPH, FRAP, TBARS, and O2-radical scavenging tests. Both exhibited antiglycation activity comparable to bovine serum albumin tested with aminoguanidine. CESs and TSSs showed inhibition of AGE (advanced glycation end products) formation (34.48 and 61.85%, respectively). Antiacne activity against Cutibacterium acnes showed MIC equal to MBC (CESs 36.11 and TSSs 18.34 µg/mL). Both CESs and TSSs showed sun protection factors of 8.89 and 14.89, respectively. (26)
• Spermicidal / Anti-Trichomonas vaginalis Activity: Study evaluated the spermicidal and anti-Trichomonas activity of S. saponaria extracts (water-ethanol:WE, butanolic:BE, and purified sample of saponins:SP) and its effect on Lactobacillus acidophilus. WE, BE and SP immobilized spermatozoa at MEC of 2.5 gram% for extracts and 1.25 gram/% for SP. Compounds were effective against Trichomonas vaginais with MICs of 0.156 for WE and BE, and 0.078 mg/mL for SP against a clinical strain. All concentrations showed not reduction of L. acidophilus growth. (27)
• Antiulcer / Leaves and Fruits: Study evaluated the antiulcer activity of leaves and fruits of Sapindus saponaria orally administered to rats after pylorus ligation, using parameters of gastric secretion (volume, pH, and acidity). Results showed reduction of volume and concentration of hydrochloric acid, along with a significant reduction of lesion index in acute assays. Results suggest antiulcer potential.       (28)
• Onychomycosis / Topical Antifungal for Human Nails / Pericarp: Study evaluated a hydroalcoholic extract of S. saponaria pericarps for topical antifungal medicine for onychomycosis. Activity was measured against three dermatophyte fungi isolated from onychomycosis: Trichophyton rubrum, T. mentagrophytes, and T. interdigitale. The extract showed low cytotoxicity in human cells. It was able to permeate and reach full thickness of the nail in one hour without the aid of facilitating vehicles, and remained for at least 24 hours. Results suggested potential for treatment of onychomycosis. (29)
• Cytotoxicity / Apoptotic Activity / Hepatocellular Carcinoma / Pericarp: Study evaluated the anticancer activity of S. saponaria pericarp extract and fractions on hepatocarcinoma cell lines HepG2 and Huh-7. Extract and fractions significantly inhibited cell viability in a time- and concentration-dependent manner. Morphological exam showed signs of apoptosis i.e., chromatin condensation, nuclear fragmentation, and formation of apoptotic bodies and degraded DNA bands. Cell cycle phase arrest was observed in G0/G1 phase. Results suggest the extract possess antiproliferative activity against hepatocellular cell lines HepG2 and Huh-7. (30)
Availability
Wild-crafted.
Extracts in the cybermarket.