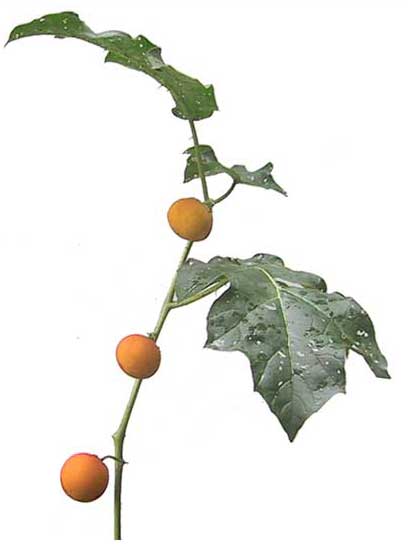 Gen info
Taxon confusion: There has been confusion as to what species the original Solanum sodomeum of Carl Linnaeus referred to. Most recently, it was identified as Solanum ferox. A number of invalid taxa has been applied to the devil's apple: Solanum astrophorum Jan, S. hermannii Dunal, S. mccannii Santapau, S. sodomeum L (disputed), S. sodomeum var. hermannii Dunal, S. sodomeum var. mediterraneum Dunal, S. undatum.
Botany
Solanum sodomeum is a hairy and spiny shrub, growing to a height of 1.5 meters. Leaves are ovate, dark green with 2-3 serrate lobes. Flowers are violet. Fruit is orange, globose, up to 3 cm and many-seeded.
Distribution
- Native to the Mediterranean.
- Cultivated in Baguio and Manila gardens.
- Propagated by seeds.
Constituents
- GC-MS study showedmature fruits possess higher total lipid content (17%) characterized by polyunsaturated fatty acids (53.87%), represented mainly by linoleic acid (53.11%).
- Mature and immature fruits showed similar yields of essential oil, o.45% and o.43%, respectively. Tetrahydro-naphthalene (41.79%) was the major EO at immature stage, and dihydrocoumarin pentane ( (18.27%), hexadecanoic acid (17.43%) and 2-undecanone (13.20%) in mature fruitis. (see study below) (5)
- Study of fresh berries isolated two new pyrrole alkaloids, solsodomine A and B. (see stuby below) (9)
Properties
- Fruit is deemed poisonous..
- Studies have suggest antimycobacterial, anticancer, hypotensive, antiproliferative properties.

Uses
Folkloric
- No known folkloric medicinal use in the Philippines.
- Used for cystitis, dermatitis, ringworn, pleurisy, sorethroat, toothaches and infertility.
- In the Congo, used for hypertension.
- In the Easter Cape, South Africa, poultice of fruit and leaves in oil or fat applied to skin rashes. (3)
- In Paraguay, used for its diuretic and antihypertensive properties.

Caution !
Livestock / Pasture Nightshades:Since 1900s, reports of chronic and crippling arthritis in livestock in Brazil, USA, Australia and other places, associated with arteriosclerosis, hypercalcemic, osteopetrosis and early death have identified the culprits as belonging to the Solanacea family (Nightshade family), including S malacoxylon and S sodomeum, C diurnum and N veitchii. Solanaceae which contain cholinesterase inhibiting glycoalkaloids and steroids and its vitamin D3 metabolite and other unknown factors and deficiencies may cumulatively cause the disabling arthrtic condition.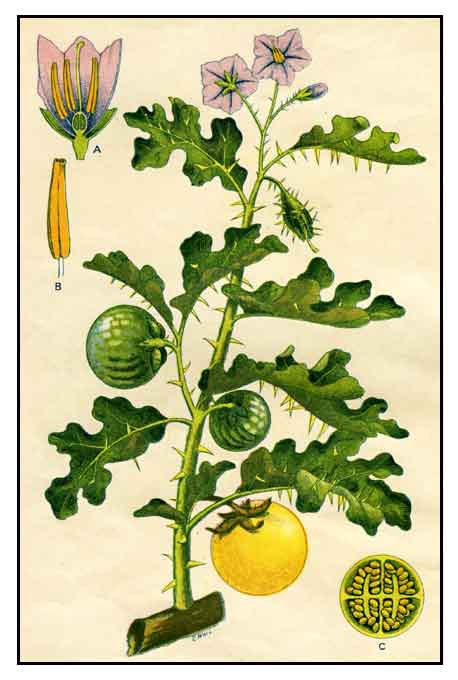 Studies
• Hypotensive / Cardiovascular Effects: Extract from the plant has been reported to exert hypotensive effects in rats. Nuatigenosido, isolated as one of the prospective active compounds, was shown to lower blood pressure and augment the contractile force in the right atrium. (4)
• Antibacterial / Antioxidant / Essential Oil / Fruits: Study evaluated the antioxidant properties of essential oil and vegetal oil using DPPH scavenging and reducing power assay. Results showed the EO had better antioxidant properties, but vegetal oils showed better results in the reducing power assay. Antibacterial activity of essential oil was assessed using disc diffusion assay for resistance in human pathogenic bacteria. The essential oil of mature fruits showed activity against bacterial strains (see constituents above) (5)
• Glycoalkaloids / Treatment for Skin Cancer / Cream Formulation: A cream formulation containing glycoalkaloids purified from Solanum sodomaeum is effective for the treatment of malignant human skin tumors: basal cell carcinomas (BCCs), squamous cell carcinomas (SCCs) and benign tumores like keratoses and keratoacanthomas. There were no adverse effects on liver, kidney and hematopoietic systems suring the treatment. There were no adverse histological or clinical effects on normal skin treated with the formulation. (6)
• Insecticidal / Fruit Peel: Study evaluated the effect of four extract of Solanum sodomeum fruit peel against Schistocera gregaria fifth instar larvae feeding on lettuce soaked with extracts. Results showed decrease in food consumption, attributed to repulsive and antifeedant effect of the plant. Both survival and development were affected. (7)
• Antiproliferative / HL60 / Steroidal Glycoside / Underground Parts: Study isolated a new steroidal glycoside from underground parts of Solanum sodomaeum, along with seven known steroidal glycosides. Five of the compounds exhibited antiproliferative activity against humn promyelocytic leukemia (HL60) cells, with stronger activity than cisplatin. (8)
• Solsodomine A / Antimycobacterial / Fresh Berries: Study of fresh berries isolated two pyrrole alkaloids, solsodomine A and B. Solsodomine A showed activity against Mycobacterium intracellulare. (9)

Availability
Cultivated.