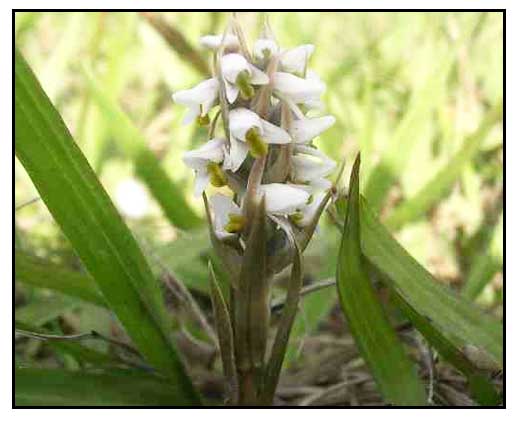 Botany
Zeuxine strateumatica is a terrestrial orchid. Stem is 5 to 30 centimeters tall, erect, smooth, and leafy at the top. Leaves are 2.5 to 5 centimeters long, with the margins usually recurved. Spike is 1.5 to 5 centimeters long, and densely flowered. Flowers are white, yellow, or very pale rose. Sepals are oblong, obtuse, and membranous. Petals are oblong and obtuse. Lip is yellow, equalling the sepals, cymbiform, contracted into a short, pubescent, claw-bearing, hammer-headed terminal lobe or 2 small lobes. Column is short and the rostellum short. Anther is ovate, and the pollinia pyriform. Capsule is about 7 millimeters long, and ellipsoid.
Distribution
- In forests at low altitudes in the Misamis and Agusan Provinces in Mindanao.
- Occurs in Afghanistan, India, Ceylon, the Malay Peninsula, China, Assam, Japan, Java and Amboina.

Uses
Folkloric
In India and Bangladesh, plant is used as a salep.
Tubers and pseudobulbs used as restorative.

Availability
Wild-crafted.