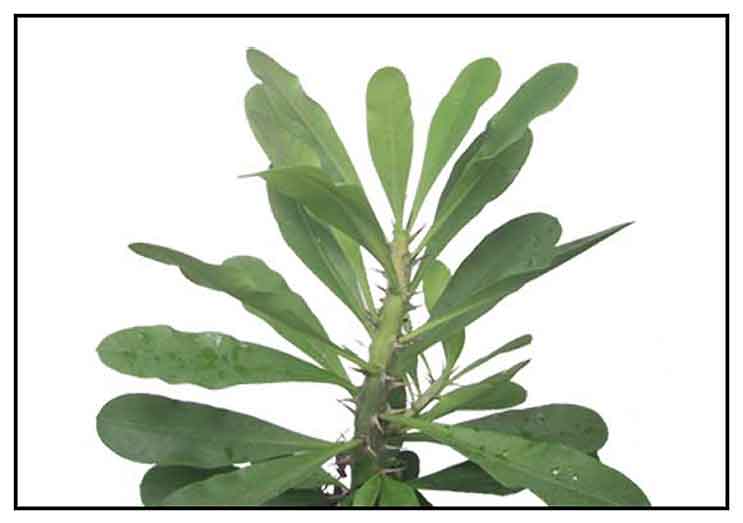 Botany
Soro-soro is an erect, shrubby, branched, fleshy, cactus-like plant growing to 2 to 4 meters. Trunk and older branches are grayish and cylindric; medium branches slightly twisted and stout, fleshy, 4- or 5-angled or winged, the younger ones usually 3-winged, the wings lobulate, with a pair of stout, sharp, 2- to 4-millimeter long spines rising from the thickened bases of each leaf or petiole-scar. Leaves, arising from the sides of wings towards the end of the branches, are fleshy, oblong-obovate, 5 to 15 centimeters long; in young plants, longer pointed or blunt at the tip. Cymes are short, solitary in the sinuses, and usually of 3 involucres. Involucres are green or pale yellow, about 6 millimeters in diameter, with the lobes fimbriate.

Distribution
- Cultivated in gardens as a hedge plant.
- Nowhere spontaneous.
- Also occurs in India to Malaya.
Constituents
- Studies have yielded euphorbon, resin, gun caoutchouc, malate of calcium, among others.
- Phytochemical studies have yielded triterpenes like nerifolione, cycloartenol, euphol, euphorbiol, nerifoliene, taraxerol, b-amyrin among others.
- Fresh latex yields 10.95% solid with 18.32% total resinous matter, and 24.50% and 16.23% of total diterpene and triterpene respectively.
- Phytochemicals yielded steroidal saponin, reducing sugar, tannins, flavonoids in the crude extract.

Properties
- Considered purgative, rubefacient, expectorant.
- Leaves considered diuretic.
- Root is considered antiseptic.
- Latex considered purgative, diuretic, vermifuge and antiasthma.
- Studies have reported cytotoxic, antiarthritic, anti-inflammatory, wound healing and immunomodulatory properties.

Parts used
- Leaves, roots and latex.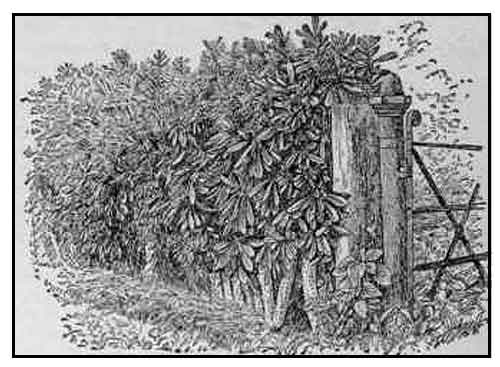 Uses
Folkloric
- Roots have been used for snake bites.
- Fluid from roasted leaves used for earache.
- The milky juice used for asthma, cough, earache. Also, used as an insecticide.
- Mixed with Margosa oil and applied to limbs in rheumatism.
- Tumeric powder mixed with the juice applied to piles. Thread steeped in the same mixture used for ligaturing external hemorrhoids.
- Milky juice used internally as purgative; rubefacient, externally. Applied to glandular swellings to prevent suppuration.
- Externally, applied to sores, cysts, warts, and calluses.
- Used as a drastic purgative.
- For internal use: decoction or infusion of 10 grams for 1 liter of water, 2-3 cups daily.
- Juice of leaves used for spasmodic asthma.
- Leaves used as diuretic.
- In India, used for bronchitis, tumors, leukoderma, piles, inflammation, fever, earaches, anemia and ulcers.
- In Malaya, used for earache.
- In French Guiana, leaves are heated, squeezed, and the salted sap used for wheezing in babies, colds and stomach upsets. Also used for infected nails, fevers, coughs and diabetes in NW Guyana.
- In Ayurveda, whole plant, leaf and roots used for abdominal complaints, bronchitis, tumors, splenic enlargement, coughs and colds.

Studies
• Anesthetic Activity: Both the alcoholic and aqueous extracts from the fresh stem of E nerifolia revealed significant anesthetic activity on intradermal wheal in guinea-pig and foot-withdrawal reflex in frog. (1)
• Radioprotective / Cytotoxic: Study isolated Euphol from the triterpenoidal sapogenin fraction of E nerifolia leaf which exerted moderate antioxidant activity with highly significant reduction of gamma radiation-induced chromosomal aberrations. It also showed cytotoxic activity on melanoma cell lines. Results provide scientific basis for claimed anticarcinogenic use. (2)
• Wound Healing: In a research for wound healing drugs, E nerifolia was one of the Ayurvedic medicinal plants from Ayurvedic medicinal plants found to be effective in animal models. (3)
• Wound Healing / Latex: Aqueous extract of latex of E. nerifolia in surgically produced cutaneous wounds in guinea pig exhibited a facilitation of the healing process as evidenced by an increase in tensile strength, DNA content, epithelization and angiogenesis. (7)
• Triterpene: Study isolated a new triterpene from the leaves and stems of Euphorbia nerifolia – glut-5(10)-en-1-one. (4)
• Antifungal: Study on the antifungal activity of ethanolic extracts of medicinal plants against Fusarium oxysporum showed various extracts with inhibition of mycelial growth. However, the bark of E nerifolia exhibited absolute toxicity against the test fungus. (5)
• Dermal Irritant / Anti-Inflammatory: The presence of polycyclic diterpene esters in Euphorbia plants sap makes it highly irritant and corrosive causing skin burning, a property that discourages it use despite its many therapeutic potentials. Study of topical latex showed anti-inflammatory activity attributed to the presence of triterpenes euphol, nerifoliol, and cycloartenol. (8)
• Chemoprotective Against Liver Carcinogenesis: In a study of DENA-induced liver cancer in mice, EN extract significantly restored the antioxidant enzyme level in the liver and exhibited significant dose-dependent protective effect against DENA induced liver toxicity, mainly attributed to the antioxidant property of the extract. (9)
• Free Radical Scavenging / Antioxidant: Study of ethanolic extract of leaves showed EN 0ssesses antioxidant properties and could serve as free radical inhibitors or scavengers. (10)
• Psychopharmacological Effects: Leaf extract of EN significantly reduced apomorphine-induced stereotype in mice, devoid of cataleptic effect, suggesting a specific dopaminergic receptor modulating activity. Results indicated anti-anxiety, anti-psychotic, and anticonvulsant activity of the leaf extract in mice and rats. Phytochemicals yielded steroidal saponin, reducing sugar, tannins, flavonoids in the crude extract. (11)
• Hepatoprotective: Study of a saponin fraction isolated from the leaf of E. neriifolia on CCl4-induced hepatotoxicity in rat showed hepatoprotection comparable to silymarin. (12)
• Renoprotective: Study evaluated the tissue protective effect of an isolated flavonoid and hydroalcoholic extract of E. neriifolia leaves against N-nitrosodiethylamine (DENA) induced renal carcinoma in albino mice. Results showed highest renal-protective activity among all the pretreatment groups. (15)
• Diuretic : Study evaluated the diuretic effect of a leaf extract of Soro-soro. Results showed a diuretic effect, more effective with higher concentrations, and more significant than control Diuspec. (16)
Availability
Wild-crafted.