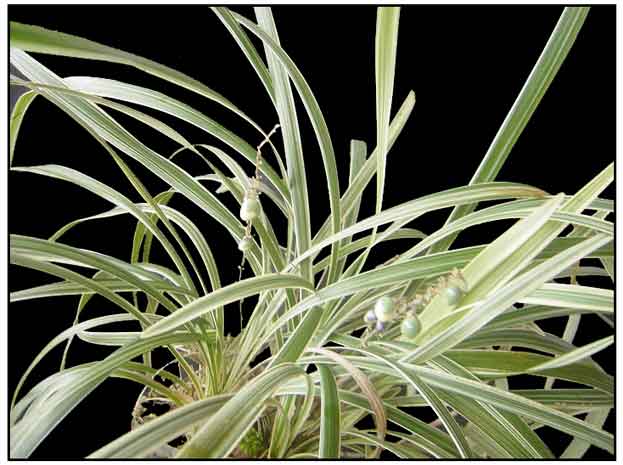 Etymology
- Chlorophytum derives from the Greek words chloros meaning yellow-green, and phyton meaning plant. The specific epithet comosum refers to the leaves, from the Greek word kome, a tuft of hairs, relating to the leaves arranges in a rosette. (5)

Botany
Chlorophytum comosum is tufted grass-like perennial herb growing to a height of 60 centimeters. Leaves are narrow-linear, blunt at the tip, up to 2 cm wide, recurved, glossy, solid green. The variegated form may be pale green with white longitudinal stripes. Flowering racemes are long, pendulous.
Flowers are white, up to 20 centimeters. Fruit is a 3-angled capsule with 3 to 5 black, flat and shiny seeds.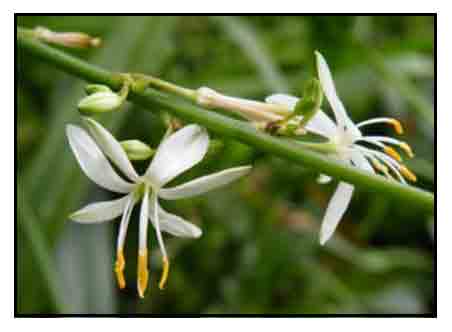 Distribution
- Recently introduced to the Philippines.
- Suited for use as ground-cover.
- Propagated by division of rhizomes and from plantlets.
- Native to South Africa, where it is effective in steep embankments to combat soil erosion. (5)
Constituents
• Study isolated three new spirostanol pentaglycosides and four known saponins.
• Major phytochemicals from the plants are steroidal saponins, proteins and carbohydrates.
• Root tubers have yielded three sapogenins (gitogenin, hecogenin and tigogenin) and saponins (gitonin and desgalactotigonin). (6)
• Nutrition analysis showed the ash value at 10.38% , fat 2%, protein 4.6%, phytic acid 4.7 mg/g, phenolic compounds 1.4 mg/g, fat value 2%, iron 1.89 mg/g, zinc 0.76 mg/g, sodium 4 mg/g, potassium 4.3 mg/g. (12)

Properties
• Studies have suggest antitumor, antiproliferative, indoor air-purifying, phytoremediative, burn wound healing properties.
Parts utilized
Roots
Uses
Edibility
• Roots are reportedly edible.
Folkloric
• No reported folkloric use in the Philippines.
• In Chinese traditional medicine, used for treating bronchitis, fractures and burns.
• In Africa, used by the Nguni to protect pregnant mothers. It is used as an indoor plant, as a charm to protect the mother and child. Roots are dipped in a water bowl and drunk by mothers daily to protect the infant. Infusion is given to young babies as purgative. (5)

Studies
• Steroidal Saponins / Antitumor-Promoter Activity: Study isolated three new spirostanol pentaglycosides and four known saponins. The saponins were examined for inhibitory activity on tumor promoter-induced phospholipid metabolism of HeLa cells. (1)
• Antiproliferative: The antiproliferative effects of a n-butanol extract from C comosum was tested in vitro against four human cell lines. Results showed the extract to have antiproliferative effects and apoptosis in human cell lines. (2) Plant extracts have exhibited potential antiproliferative effect against HeLa (human cervical adenocarcinoma), CCRF-HSB-2 (human T-cell leukemia), HL-60 (human promyelocytic leukemia) and U037 (human monocytic tumor) cell lines. (6)
• Indoor Air Purifier: According to a NASA study, spider plants absorb 96 percent of carbon monoxide in a controlled environment within a 24-hour period, making it one of the most effective air purifier in its research. (3)
• Hepatoprotective / Enzymatic Hydrolyzate: Study evaluated the influence of enzymatic hydrolyzate of C. comosum on experimental toxic liver damage induced by CCl4 in rats. Results showed the enzymatic hydrolyzate exhibited significant hepatoprotective properties by reduction of the inflammatory process and positive effect on liver regeneration as evidenced by differences in the mitotic, necrotic, apoptotic index and proliferation rate. Liver of treated rats showed a higher level of adaptation and regenerative capacity. (7)
• Phytoremediation of Particulate Matter from Indoor Air: Study evaluated the ability of spider plants to take up particulate matter (PM), one of the harmful pollutants to man, in the indoor air five rooms of varied activities. Spider plants accumulated PM of both categories (water washable and trapped in waxes) and in all three size fractions. The amount of PM accumulate on aluminum plates was always significantly lower than that accumulated on plant leaves, suggesting more than simple gravity was at work in PM accumulation in leaf blades. (8)
• Influence on Intestinal Microflora / Leaves: Study evaluated the effect of C. comosum extract of leaves on some of the main representatives of intestine microflora of rats. Feeding of the hydroalcohoic extract of leaves showed no effect on the number of representatives of Bifidobacterium spp. Lactobacillus spp. during free reception or with induced dysbiosis. However it promoted moderate stimulation of E. coli with normal enzymatic activity and reduction of Candida spp. Results suggest the CC extracts has potential in cases of dysbacteriosis associated with lack of E. coli, as well as for reduction of high number of Candida spp. (10)
• Burn Wound Healing / Roots: Study evaluated the effectiveness of spider plant root extract in treating third degree kin burns and compared it with Silver sulfadiazine. Based on measured parameters, spider plant root ointment and silver sulfadiazine showed no significant difference. E. coli and P. aeruginosa both showed partial sensitivity. Spider plant root showed epithelialization and granulation on the 9th and tissue fibrosis on the 13th day. The prepared spider plant root ointment showed potential as new treatment for skin burns. (11)
Availability
Wild-crafted.