Common names confusion
• Amaranthus dubius: Red spinach or Chinese spinach.
• Atripex hortensis: Mountain spinach or French spinach.
• Basella alba: Malabar spinach or red vine spinach, creeping spinach, or climbing spinach.
• Beta vulgaris: Chard, spinach beet, silverbeet, perpetual spinach.
• Cleome serrulata: Navajo spinach.
• Cleome bonus-henricus: Lincolnshire spinach.
• Ipomoea aquatica: Water spinach, river spinach, or Chinese spinach.
• Rumex acetosa: Spinach dock.
• Spinacia oleracea: Common spinach.
• Tetragonia tetragonioides: New Zealand spinach, sea spinach.
• Wild spinach: Common names to many plants with edible leaves.
• Others: Morogo or African spinach. (12)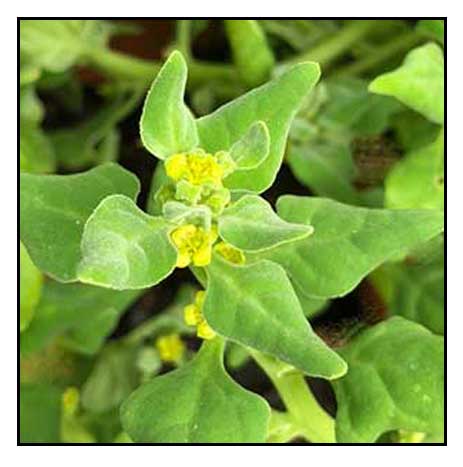 Botany
New Zealand spinach is an annual, spreading herb growing to 50 centimeters high. Stems are mat-forming, spreading 40 to 140 centimeters. Leaves are succulent, triangular to oval in shape, 3 to 6 centimeters long and 2.5 to 4.5 centimeters wide, with a truncate base. Flowers are small and yellowish green, ovate to half-orbiculate. Stamens are clustered or scattered. Fruits are turbinate, 8 to 12 millimeters, with 4 to 6 horns. Seeds are smooth.
Distribution
- Recent introduction to the Philippines.
- Extensively cultivated in the Baguio area.
Constituents
- Excellent source of vitamin C, E, K and nitrates.
- Contains saponins, including oxalic acid.
- Shoots contain much saponin.
- Nutrient analysis of raw spinach per 100 g:
(Proximates) water 94.00 g, energy 14 kcal, protein 1.5 g, total lipid (fat) 0.20 g, carbohydrate by difference 2.50 g, total dietary fiber 1.5 g, total sugars 0.29 g; (Minerals) calcium 58 mg, iron 0.80 mg, magnesium 39 mg, phosphorus 28 mg, potassium 130 mg, sodium 130 mg, zinc 0.38 mg; (Vitamins) vitamin C (total ascorbic acid) 30.0 mg, thiamin 0.040 mg, riboflavin 0.130 mg, niacin 0.500 mg, vitamin B6 0.304 mg, folate DFE 15 µg, vitamin A 4400 IU, vitamin E (alpha tocopheral) 1.42 mg, vitamin K 337.0 µg; (Lipids) total saturated fatty acids 0.032 g, total monosaturated FA 0.005 g, total polyunsaturated FA 0.084 g.   (8)
- Study of water and 50% ethanol extracts for phenolic content yielded 3.29 mg/g and 4.14 mg/g, respectively. (see study below) (19)
- Study isolated eleven antioxidant compounds, including five lignin amides from aerial parts using DPPH radical scavenging assay-guided purification viz. methyl linoleate (1), methyl coumarate (2), methyl ferulate (3), 1-O-stearoyl-3-O-β-D-galactopyranosyl-sn-glycerol (4), 1-O-caffeoyl-β-D-glucopyranoside   (5), N-trans-caffeoyltyramine (6), cannabisin B (7), cannabisin A (8), Ntrans-feruloyltyramine (9), N-cis-feruloyltyramine (10), and N-trans-sinapoyltyramine (11). (22)

Properties
- Pleasant tasting.
- Considered antiscorbutic, anticancerous.
- Juice of leaves and stems considered tonic, diuretic, laxative, depurative.
- Raw leaves as salad are digestive and cleansing of the GI tract; also calmative and appetizer.
- Some report the saponin is slightly poisonous but removed by boiling.
- Studies have suggested antioxidant, anti-inflammatory, skin whitening, anti-wrinkle, antimicrobial, anti-obesity, antidiabetic, immunomodulatory properties.
Parts utilized
Leaves, stems, tops and seeds.

Uses
Nutritional
- A common vegetable.
- Leaves and tops eaten as spinach.
- While eaten raw, cooking is recommended.
- Excellent source of calcium, phosphorus, iron, and vitamin B.
- In Japan and Korea, fresh leaves eaten in steamed rice.
Folkloric
- Used for pulmonary and intestinal afflictions.
- Gastrointestinal complaints and fatigue.
- Used for scurvy and anemia.
- Useful for suppressed menses, arthritis, intestinal catarrh, and diarrhea.
- Seeds in infusion are laxative in dose of 30 grams in 1 liter of water.
- In Brazil, used as an antiscorbutic and for treatment of pulmonary and intestinal afflictions.
- In Japan,used for stomach aches; in Korea, used for scorbutus and enteritis. (16)
Others
- Dyes: Crimson juice from berry used as ink. The inedible red berry yields a red dye.
Other possible benefits
Consumption of fresh leaves associated with decreased risk of stomach cancer.
Concerns !
- May have hypoglycemic effects.
- Formation of insoluble oxalate crystals of concern in patients with kidney damage.
- Contains vitamin K and might alter coagulation therapy.
Studies
• Anti-inflammatory: Of the 100 methanol extracts from spices studied, hop, stevia, cinnamon, tumeric, mate, mint, New Zealand spinach, watercress, tomato and radish seedling showed marked inhibition of inflammatory activity induced by TPA in mice.
• Microbial Contamination of Organic Vegetables: Study was an investigation on the microbiological quality of organic vegetables, and whether the use animal manure with liquid foliar biofertilizers resulted in microbial contamination. (2)
• Effects of Blanching, Freezing and Freeze-Storage on Shoots and Leaves: Study showed significant losses with blanching on total protein, L-ascorbic acid among others. Freezing for 3, 6, and 9 months did not have statistically significant effect on preservation of chemical components. (3)
• Tetragonin / Yeast Growth-Regulating: Study on Tetragonia expansia yielded a water soluble component, tetragonin, which showed activity upon Saccharomyces spp. (4)
• Antidiabetic: Study evaluated the anti-diabetic effect in vitro by crude extracts of T. tetragonioides. Results showed an antidiabetic potential with inhibition a-amylase and a-glucosidase, principal enzymes involved in carbohydrate metabolism, and aldose reductase, the key enzyme in the polyol pathway. (7)
• Alleviation of Menopause Symptoms: Study showed a 70% ethanol extract of TTK has the potential to treat menopause-associated symptoms and metabolic disturbances. TTK may be a useful intervention to alleviate menopausal symptoms similar to selective estrogen receptor modulators. (10)
• Effect on Androgen Production in Letrozole-Induced Polycystic Ovary Syndrome Model: TTK (Tetragonia tetragonioides) is a medicinal plant used in the treatment of diabetes, inflammation, and female-related disorders. Study evaluated the effects of a TTK extract on androgen generation and regulation of steroidogenic enzymes in vitro and in vivo. Human adrenocortical NCI-H295R cells and letrozole-induced PCOS rat model were used. Study showed TTK could be utilized for the prevention and treatment of hyperandrogenism and others types of PCOS. (11)
• Antibacterial Compounds of Peptide Nature / Leaves: One of the potential solutions to increasing number of microbial species resistant against antibiotics are antimicrobial peptides, synthesized in all organisms as part of innate immunity. The evaluated plant extracts of leaves of Brassica napus (canola), Solanum lycospersicum (tomato) and Tetragonic tetragonioides (New Zealand spinach). Mass spectrometry analysis of antimicrobial active fractions showed the presence of low molecular peptides with molecular masses and a partial amino acid sequence in the hydrophobic part of Tetragonia extract. (13)
• Effect on Immunoreactivity in Ovariectomized Mouse Model: Study sought to demonstrate the immunological efficacy of T. tetragonioides used ovariectomized animal models. Study sought to investigated the effects of TT on the levels of inflammation markers (IL-1ß, IL-6, IL-12, IL-17, and IFN-y) in ovariectomized mice. Results suggest potential to target modulation of inflammatory immune responses for the treatment of menopausal symptoms and related diseases. (14)
• Anti-Obesity Effects: Study evaluated the efficacy of ethanol and water soluble extracts of NZ spinach in preventing obesity by measures of weight change, feeding efficacy, tissue fat reduction, gene expression, and histological comparison. Results showed weight reduction, reduction of feeding efficacy rate, fat reduction in abdominal tissue, epipidymal and kidney adipose tissues, reduction in serum triglycerides, LDL-C, free fatty acid contents. There was not evidence of kidney and liver toxicity. Results were partly explained by lowered expression of adipogenesis genes and upregulated activation of AMP-kinase metabolism. (15)
• Ferulic Acid / Whitening and Anti-Wrinkle Activities: Ferulic acid isolated from T. tetragonioides was tested for skin whitening effect on B16F10 mouse melanoma cell line and anti-wrinkle activity on CCD-986sk human dermal fibroblast cell line. Ferulic acid showed no cytotoxicity at concentrations up to 20 µM. It inhibited melanin synthesis, tyrosinase expression, and micropththalmia transcription factor expression in B16F10 cells stimulated with α-melanocyte stimulating hormone. Feruli acid induced procollagen synthesis, hyaluronic acid synthesis, and inhibited MMP-1 and MMP-9 expression in CCD-986sk cells. Results suggest ferulic acid isolated from TT has potential for use as functional food, skin whitening and anti-wrinkle agent. (17)
• Inhibitory Activity on Diabetic Related Enzymes: Study evaluated the in-vitro anti-diabetic activity of crude extracts of T. tetragonioides against α-amylase and α-glucosidase, enzymes involved in carbohydrate metabolism, and aldose reductase, the key enzyme of the polyol pathway. Results showed antidiabetic potential as evidenced by effects of various fractions viz. inhibitory effect on salivary pancreatin α-amylase, inhibitory activity on yeast α-glucosidase. (18)
• Antioxidant / Phenolic Content / Cosmetic Benefits: Study evaluated water and ethanol extracts from Tetragonia tetragonioides for phenolic content, antioxidant activity, and cosmetic benefits. Phenolic compounds from water and 50% ethanol extracts were 3.29 mg/g and 4.14 mg/g, respectively. DPPH radical scavenging for water and ethanol extracts were 98.45% and 91.20%, respectively. Tyrosinase inhibitory activity, related to skin-whitening, was 34.96% for ethanol extracts at 200 µg/ml of phenolics. Elastase inhibitory activity and anti-wrinkle effects of 50% EE were 78.9% at 200 µg/ml of phenolics. Collagenase inhibitory activity was 61.29% at 200 µg/ml. Study results suggest potential as functional food material and beauty food with antioxidant effects. (19)
• Neuroprotective / Inhibition of LPS-Stimulated Neuro-Inflammatory Kuntze in BV-2 Migroglial Cell Mediators: Study evaluated the in vitro antioxidant and anti-neuroinflammatory effects of TT Kuntze extract in lipopolysaccharide (LPS)-stimulated BV-2 microglial cells. Results showed suppression of LPS-induced production of NO and expression of iNOS in BV-2 cells. the TKE also inhibited DPPH-generated free radicals. in a dose-dependent manner. Results suggest potential as a therapeutic agent for regulating microglial-mediated neuroinflammatory responses in several neurodegenerative diseases.   (20)
• Phenolics / Acyl Galactopyranosyl Glycerol / Lignan Amides / Aerial Parts: Study of aerial parts yielded eleven antioxidative compounds, including five lignin amides, using DPPH radical scavenging assay-guided purification. (see constituents above) (22)
• Anti-Inflammatory / LPS-Induced Raw 264.7 Cells: Study evaluated the anti-inflammatory activity of T. tetragonioides hydrosols (TTH) and its underlying mechanism in lipopolysaccharide (LPS)-induced RAW 264.7 cells. The TTH were composed mainly of tetratetracontane (29.5%), nonacosane (27.6%), and oleamide (17.1%). TTH significantly decreased the production of NO, PGE2, IL-6, and IL-1ß in LPS-stimulated RAW 264.7 cells, along with protein expression level of iNOS and COX-2. The molecular mechanism was associated with inhibition of NF-kB phosphorylation and nuclear translocation of NF-kB 65. The results suggest anti-inflammatory activity by inhibition of of NF-kB and MAPK signaling pathways in LPS-stimulated RAW 264.7 cells. (23)

Availability
- Cultivated.