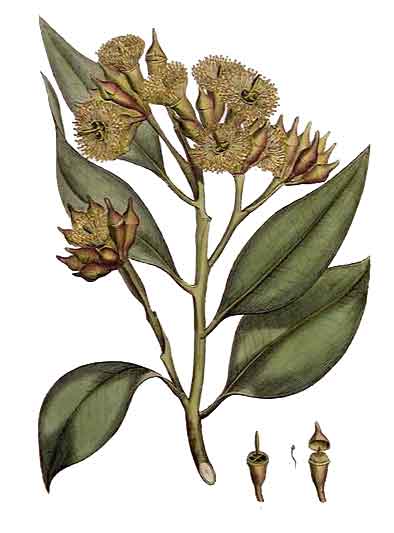 Botanical snippet
- Genus Eucalyptus was described and names in 1978 by French botanist I'Heritier.
- The genus Eucalyptus L'Heritier comprises about 900 species, of which more than 300 contain volatile essential oil in the leaves. (14)
- Eucalyptus comes form the flowers being protected by an operculum, derived from the Greek words 'eu' meaning 'well,' and 'calyptos' meaning 'covered.' The use of Latin word 'robustus' has an obscure reference. (2)
Botany
Eucalyptus robusta is a tree growing to a height of 20 to 30 meters, with a straight trunk up to 1 meter in diameter. Bark is coarse, stringy, dark-brown, and grooved. Branches are long, spreading, irregular, providing a dense canopy. Leaves are alternate, leathery, broadly lanceolate, 10 to 18 centimeters long, about 8 centimeters wide, and long pointed. Flowers are white or creamy white, in compound clusters of 7 to 13 flowers. Fruit is 1.5 centimeters long, becoming woody when dry.
Distribution
- In the Philippines, cultivated as an ornamental tree in Baguio City and other highland areas.
- Native to Australia.
- Planted as a timber tree.
- Exotic in Argentina, Brazil, Cameroon, Chile, China, Colombia, Comoros, Congo, Costa Rica, Democratic Republic of Congo, Ethiopia, Fiji, Honduras, Hong Kong, India, Kenya, Madagascar, Malawi, Malaysia, Mauritius, Mexico, Mozambique, Papua New Guinea, Paraguay, Philippines, Puerto Rico, South Africa, Sri Lanka, Taiwan, Province of China, Tanzania, Uganda, United States of America, Zanzibar. (2)

Constituents
• Gum contains about 30% tannin.
• Essential oil yield is 1.7%, with principal constituents of piperitone, rhocymene, linalool, 1,8,-cineole, terpinen-4-ol, citronellyl acetate and alpha-terpinol.
• Leaves and fruits yield flavonoids, sterols, and tannins. Bark yields 1.4% tannin, while the leaves may yield 12%. Leaves yield essential oil, with aromadendren (aromadendral) and pinene. (12)
• Study of essential oil for repellency yielded: α-pinene (28.74%) and 1,8-cineole (27.18%), spathulenol (6.63%), globulol (6.53%) and ρ-menth-1-en-8-ol (5.20%).


• Study of leaves yielded nine known compounds, 5-hydroxy-4′,7-dimethoxy-6,8-dimethylflavone, 4′,5-dihydroxy-7-methoxy-6,8-dimethylflavone, 3β-hydroxy-urs-11-ene-28-oic-13(28)-lactone, 3β-acetoxy-urs-11-ene-28-oic-13(28)-lactone, uvaol, β-sitosterol, 7β-O-glucoside of 5,7-dihydroxy-2-methylchromone, 1-triacontanol and 1-triacontanoic acid, and a new acylphloroglucinol named robustaol B 6, shown to be 4,6-dihydroxy-2-methoxy isobutyrophenone.
• Study of ethanol extract of leaves yielded three active compounds, Robustaol A, Robustadial A and Robustadial B.
• Study of essential oil of leaves yielded a total of 22 components. The principal compounds were α-pinene (28.74%) and 1,8-cineole (27.18%), spathulenol (6.63%), globulol (6.53%) and ρ-menth-1-en-8-ol (5.20%). Other constituents were cis-carveol, β-gurjunene, β-caryophyllene 1437 aromadendrene, α-humulene, allo-aromadendrene, eremophilene, spathulenol, globulol, epi-lobulol, viridiflorol, α-cadinol, monoterpenoids, and sesquiterpenoids. (see study below) (4)
• GC-MS analysis of water-distilled essential oil from leaves yielded 36 compounds, accounting for 96.21% of total oil. The main components were α-pinene (30.18%), 1,8-cineole (26.08%), and spathulenol (5.31%), followed by globulol (4.44%), and viridiflorol (3.97%). (see study below) (7)
Properties
• Leaves are aromatic when crushed.
• Studies have suggested antibacterial, repellent, antimalarial properties.

Parts used
Leaves, oil.

Uses
Folkloric
- No recorded folkloric medicinal use in the Philippines.
- In China, leaves are used for the treatment of malaria, dysentery, and bacterial diseases.
- In Gabon, infusion of leaves used for malaria.
- In Mauritius and Reunion, leaves used for baths, inhalations and infusions to treat fever, colds, cough and influenza.
- Inhalations used for asthma, sinusitis.
- Infusions used for diabetes.
- Decoction used for baths in rheumatism, epilepsy and stiffness.
- In Madagascar, buds are squeezed and the sap applied to the nostril to relieve headache.
- Reported use as folk remedy for abscesses, cellulitis, colds, dysentery, encephalitis, enteritis, erysipelas, flu, gangrene, mastitis, and sores. (12)
Other
- Extensively planted for pulp, plywood, and solid wood production.
- Apiculture: Flowers provide significant forage for bees and honey production. (2)
- Fuel: Used for firewood and charcoal.
- Timber: Heartwood is extremely durable and resistant to marine borers. Used for fencing and construction of wharves.
- Pulp: Can be used as complementary raw material for commercial scale pulp production. (2)
- Tannin / Dyestuff: Gum yields about 30% tannin. (2)
Studies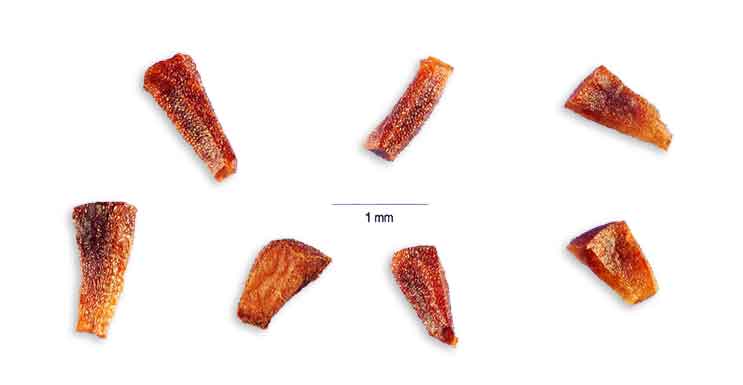 • Antibacterial / Robustaol B6 / Leaves: Study of leaves yielded a new acylphloroglucinol named robustaol B 6, plus 9 known compounds. Robustaol B6 showed inhibition against Staphylococcus aureus and Bacillus subtilis. (3)
• Cockroach Repellent Activity / Constituents: Study evaluated the repellent activity of 8 essential oils of Chinese medicinal herbs (Angelica sinensis, Curcuma aeruginosa, Cyperus rotundus, Eucalyptus robusta, Illicium verum, Lindera aggregate, Ocimum basilicum and Zanthozylum bungeanum. On a scale of Class I (weak repellency) to Class V (strong repellency), E. robusta showed Class IV repellency, using its essential oil plus the two compounds α-pinene and 1, 8-cineole, against nymphs of the German cockroach Blatella germanica. (4) Study of essential oil of leaves yielded a total of 22 components. Strong repellency (Class V) against German cockroaches was obtained from C. rotundus and E. robusta essential oils and α-pinene and 1,8-cineole after one hour exposure. (see constituents above) (4)
• Antimicrobial / Leaf Essential Oil: Study of leaves essential oil showed antimicrobial effect against E coli and Staphylococcus aureus. Monoterpene and oxygen-containing monoterpenes were the major constituents. (5)
• Insecticidal Against Cacopsylla chinensis / Essential Oil: Chinese pear psylla, Cacopsylla chinensis is one of the main pests of pear trees in China. The two main constituent compounds, α-pinene and 1,8-cineole, exhibited strong acute contact toxicity against overwintering Chinese pear psylla (Cacopsylla chinensis). The two main constituents, α-pinene and 1,8-cineole exhibited strong acute toxicity with LD50s of 1.34 µg/adult and 11.76 µg/adult, respectively. (see constituents above) (7)
• Flavonoids / Antibacterial: Crude extraction by polyamide yielded flavonoids (0.903%). The antibacterial activation to E. coli, S. aureus and B. cactus is much better than oxytetracycline. (8)
• Euglobal-IIIa / Cytotoxicity to Five Human Cancer Cell Lines: Leaves of Eucalyptus robusta yielded a novel acylphloroglucinol-sesquiterpene derivative, euglobal-IIIa, and a known analogue. Euglobal-IIIa exhibited cytotoxicity comparable with that of cisplatin against five human cancer cell lines. (9)
• ErPAL1 / Phenylalanine Ammonia-lyase (PAL): PAL is the first enzyme of the phenylpropanoid pathway that produces precursors of compounds which play essential roles during plant development and defense. (10)
• Antimalarial: Ethanol extract from Eucalyptus robusta leaves revealed a good antimalarial activity and Robustadial B was isolated from this plant. (Xu RS, Snyder JK, Nakanishi K. Robustadials A and B from Eucalyptus robusta. J Amer Chem Soc. 1984;106:734.) (13)
• Essential Oil / 1,8-Cineole: Of the more than 900 species, about 20 species have a high content of 1,8-cineole (more than 70%), commercially used in production of essential oils for the pharmaceutical and cosmetic industries. The leaf aromatic oil has incredible wide-ranging biologic activities, including antimicrobial, antiseptic, antioxidant, chemotherapeutic, wound healing, insecticidal, and use in the manufacture of perfumes, soap, and grease remover. (14)
• Phosphodiesterase Inhibitory Activity / Phloroglucinol Derivatives / Leaves: Study isolated two phloroglucinol derivatives from the leaves of E. robusta, used in the Chinese traditional medicine Da Ye An. Both compounds showed moderate phosphodiesterase inhibition. (15)
• Flavonids / Antibacterial / Leaves: Crude extraction by polyamide yielded flavonid content of 0.903% and extraction rate of 4.306%. The antibacterial activation of flavonids against E. coli and S. aureus was much better than oxytetracycline. Study on leaf of E. robusta showed potential for application and economic value as feed additive alternative to antibiotic. (16)

Availability
Wild-crafted.