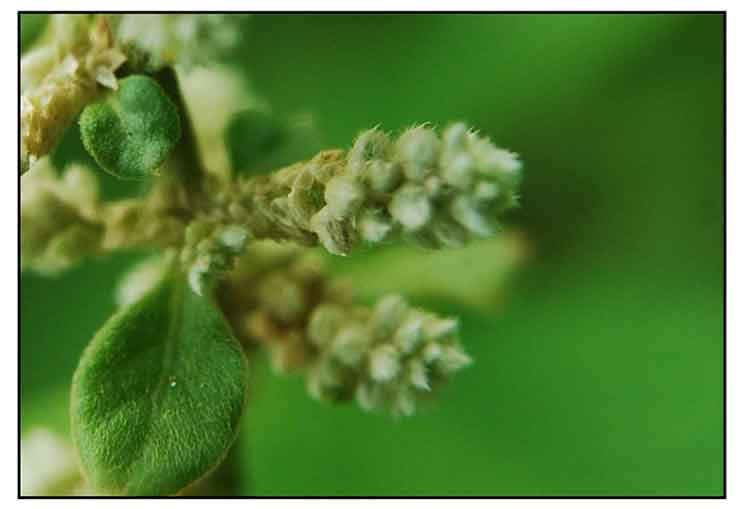 Botany
Taba-ahas is an ascending or prostrate, densely hairy herb, stems of which are 0.2 to 0.8 meter long. Leaves are alternate, elliptical to orbicular or obovate, 1 to 3.5 centimeters long. Flowers are numerous, borne on many white axillary spikes, 1 centimeter or less in length, solitary or crowded in the axils of the leaves.
Distribution
- In open dry waste places, at low and medium altitudes, and in regions subject to prolonged dry season.
- Commonly found in La Union to Batangas Provinces in Luzon; and in Mindoro; Marinduque; and Panay.
- Probably introduced.
- Also occurs in India to tropical Africa and Malaya (Sumatra, Java).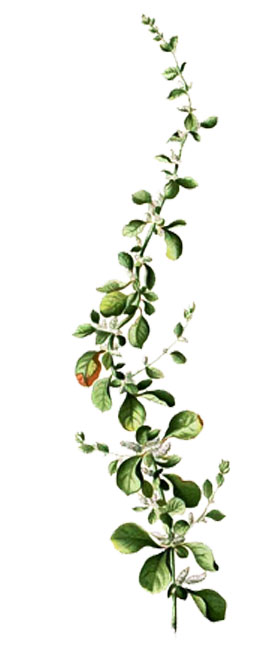 Constituents
- Phytochemical analysis yielded alkaloids (ervine, methylervine, ervoside, aervine, methylaervine, aervoside, ervolanine, and aervolanine), flavonoids (kaempferol, quercetin, isorhamnetic, persinol, persinosides A and B), methyl grevillate, lupeol, lupeol acetate benzoic acid, β-sitosteryl acetate and tannic acid. (11)
- Methanolic extract yielded steroids, terpenoids, flavonoids, alkaloids, glycosides, sugar, carbohydrate, proteins, ash content and amino acids. (12)
- Phytochemical analysis yielded flavonoid glycosides, aervitrin, aervolanine, aervoside, amyrin betulin, campesterol, canthin-6-one, 10-hydroxy-canthin-6-one, carboline-1 propionic acid, chrysin, β-ecdysone, daucosterol, hentriacontane, narcissin, β-sitosterol, syringic acid, feruloyl tyramine and vanillic acid. (14)
- Elemental analysis yielded essential trace elements such as calcium, magnesium, silicon, chloride, potassium and carbon.
- Methanolic extract of flowers yielded carbohydrates, triterpenoids, flavonoids, glycosides, and phenolic compounds. Total ash, acid insoluble ash, sulfated ash, water soluble ash, and moisture content were 12.66%, 1.64%, 9.12%, 4.52%, and 12%, respectively. (36)
- Plant yielded biologically active canthin-6-one alkaloids viz., 10-methoxy-canthin-6-one, 10-hydroxy-canthin-6-one, 10-O-β-D-glucopyranosyloxy-canthin-6-one, 10-hydroxycanthin- 6-one (ervine), 10-methoxycanthine-6-one (methylervine), 10-β-D-glucopyranosyloxycanthin- 6-one (ervoside), aervine (10-hydroxycanthin-6-one), methylaervine (10-methoxycanthin-6- one) and aervoside (10-β-D-glucopyranosyloxycanthin-6-one). (37)
- GC-MS analysis of methanol extracts of roots yielded 23 different compounds. Major compounds were Pyridine (21.74%) and 1,2-Benzenedicarboxylic acid dioctyl ester (7.83%), Hydroquinone monobenzyl ether (5.71%), 6-Trifluoroacetyl-7,11-methano-1,2,3,4,5- pentahydroazuleno[2,1-g]cycloundecene (4.39%), (5S,8S,9S)-1-Benzyl-10-methyl 8,9-bis(benzoyloxy)-4,7- dioxo-5-methyl-3,6-diazadecane dicarboxylate (4.33%), N(2)-Cumyl-5-(2,6-di-p-tolylphenyl)tetrazole (4.27%) and Pent-4-enal (4.13%). (38)
- Phytochemical screening of aerial parts yielded alkaloids, saponins flavonoids, carbohydrates, proteins, and tannins. (see study below) (46)
Properties
- Considered demulcent, anti-inflammatory, anti-lithiatic, anthelmintic, diuretic, febrifugal.
- Pharmacologic studies report diuretic, anti-inflammatory, hypoglycemic, anti-diabetic, antiparasitic, antimicrobial, hepatoprotective, anti-urolithiasis, antiasthmatic, antifertility and hypolipidemic properties.

Parts used
Roots.

Uses
Folkloric
- Considered an efficacious diuretic, and is said to be useful in catarrh of the bladder and gonorrhea.
- In India, roots are used to treat headaches.
- In the Malabar Coast, used as demulcent.
- Used for cough and as vermifuge for children.
- In Indian folk medicine, used as diuretic and for lithiasis. Also used for boils, cephalalgia, strangury, cough.
- In Ayurveda, recommended for all urinary diseases, spermatorrhea, leucorrhea.
- In Orissa, whole plant is used for herpes. In Trivandrum (Kerala) whole plant is used as uterine tonic. In West Bengal, juice used internally for measles. In Madya Pradesh, root is roasted, mixed with mustard oil and applied externally for skin diseases. (22) In Uttar Pradesh, root paste prepared from crushed fresh root and a little water rubbed on forehead to cure headache. (37)
- Plant used as anthelmintic.
Others
- Veterinary: In Madhya Pradesh, stems are tied around cattle's neck to get rid of wound worms. (22)

Studies
• Antihyperglycemic: Study of alcoholic extract of A. lanata leaves in alloxan-induced diabetic rats showed significant antihyperglycemic activity. (1)
• Hepatoprotective / Paracetamol Toxicity: Study showed hydroalcoholic extract of Aerva lanata possesses hepatoprotective activity against paracetamol-induced hepatotoxicity in rats. (2)
• Nephroprotective / Cisplatin and Gentamicin Toxicity: Study of the ethanol extract of the entire plant of Aerva lanata in cisplatin and gentamicin-induced acute renal injury in albino rats showed it possessed marked nephroprotective activity with minimal toxicity and offers a potential role in the treatment of acute renal injury caused by nephrotoxins like cisplatin and gentamicin. (3)
• Antihelmintic: Study showed the aqueous and alcoholic extracts from the leaf and stem of Aerva lanata possess good anthelmintic activity on testing against tapeworm and an earthworm. (4)
• Anti-Tumor: Study showed the partially TLC-purified fraction of petroleum ether extract to be cytotoxic to Dalton's lymphoma ascites (DLA), Ehrlich ascites (EA) and B16F10 cell lines in vitro. Results indicate that the PEF significantly reduced the development of solid tumor in mice. (5)
• Anti-Diabetic Activity: Study in alloxan-induced diabetic rats showed the alcoholic extract of A. lanata possess anti-diabetic activity and ameliorated biochemical damages in alloxan induced diabetic rats. (7)
• Anti-Urolithiasis / Calcium Oxalate: Study showed administration of AL aqueous suspension to CaOx urolithic rats reduced oxalate synthesizing enzymes, diminished the markers of crystal deposition in the kidney. Results confirm that A lanata can be used as a curative agent for urolithiasis. (6) Study evaluated the antioxidant potential of A. lanata on oxalate mediated free radical toxicity in ethylene glycol induced calcium urolithic rats.
• Anti-Urolithiasis / Gout: Study suggested Routula aquatica and Aerva lanata extracts exhibited good monosodium urate monohydrate crystal (MSMU) growth inhibition. Results suggest a potential use for formulation of gout treatment. (9)
• Antimicrobial: Study showed A. lanata showed considerable activity against P mirabilis, S paratyphi, B subtilis and Candida tropicalis. (8)
• Terpenoids: Phytochemical screening of methanol extract of stems, leaves, root, flower and seeds yielded 27 different types of terpenoids. Terpenoids, also called isoprenoids, constitute one of the largest families of natural products accounting for more than 40,000 individual compounds of primary and secondary metabolisms. Plant terpenoids are extensively used for their aromatic qualities and play a role in traditional herbal remedies. (12)
• Antidiarrheal: Study evaluated the antidiarrheal effect of an alcoholic extract using different experimental models i.e., castor oil-induced diarrhea, charcoal meal test and PGE2 induced diarrhea. Results showed significant protection against PGE2-induced enteropooling, which may be due to inhibition of prostaglandin synthesis that is responsible for the diarrhea. (13)
• Antihyperglycemic / Leaves: Study evaluated the antihyperglycemic effect of alcoholic extract of leaves in alloxan-induced diabetic mice. Results showed significant dose-dependent reduction in serum glucose level. The observed late onset of action and prolonged duration of action may be due to improved pancreatic cytoarchitecture. (14)
• Diuretic / Toxicity Study: Study evaluated the diuretic effects of a crude aqueous extract. Results showed a diuretic activity with marked increase in urine output, urine osmolality and urinary potassium excretion. Long term use showed no toxicological effects on the renal structure and function of rats. (also read study below: 40) (15)
• Antioxidative / Antimicrobial: Methanol and aqueous extracts showed promising antibacterial activity against Gram+ bacteria viz. B. subtilis and Staphylococcus aureus. Both extracts showed effective and concentration-dependent free radical scavenging activity, reducing power, and nitric oxide scavenging activity, possibly due to the presence of flavonoids and saponins. (16)
• Anthelmintic / Aerial Parts: Study evaluated methanol and aqueous extracts of aerial parts for anthelmintic activity against Indian earthworm Pheretima posthuma. Piperazine citrate was the reference drug. Results showed both extracts exhibited dose-dependent activity, the methanol extract more active than the aqueous extract. (17)
• Antiasthmatic / Aerial Parts: Study evaluated an ethanolic extract of aerial parts in-vitro in isolated goat tracheal chain preparation model and in-vivo model using clonidine-induced mast cell degranulation in mice. Results showed dose-dependent antiasthmatic activity. (18)
• Antilithiatic / Dried Flowers: Study evaluated an aqueous extract of dried flowers against ethylene glycol-induced renal calculi in albino wistar rats. Results showed the aqueous flower extract showed antiurolithiatic activity, better than cystone. (19)
• Inhibition of Melanoma-Induced Lung Metastasis via Induction of Apoptosis: Study evaluated the antimetastatic potential of an ethanolic extract of Aerva lanata using the B16F-10 melanoma-induced lung metastases model. A. lanata inhibited migration of tumor cells, cell invasion, and activation of matrix metalloproteinases. Treatment with A. lanata induced apoptotic response. (20)
• Antioxidant: Study evaluated the antioxidant activity of various extracts of A. lanata. Results showed high anti-lipid peroxidation against TBA. Stronger antioxidant activity was exhibited by aqueous ethanol extract compared to water and ethanol extracts. Standards were ascorbic acid and BHT. (21)
• Antiurolithiatic: Study evaluated various extracts of A. lanata for antiurolithiatic activity using ethylene glycol induced urolithiasis in male Wistar albino rats. Isolated compounds from n-butanol and EA fractions were identified as quercetin and betulin. In in silico testing, the two compounds produced significant antiurolithiatic results. (23) Study evaluated the effectiveness of A. lanata roots on renal calculus formation in vitro. Results showed an aqueous extract of root was good at controlling calcium phosphate crystallization. (28)
• Anti-HIV Activity / Cytotoxic / Roots: Study evaluated the anti-HIV activity and cytotoxic effects of Aerva lanata root extracts. All the extracts showed notable activity with the chloroform extract showing the highest (91%) HIV-RT inhibition at 2mg/mL concentration. AZT control showed 91.7% inhibition at 2 mg/ml concentration. (24)
• Nephroprotective / Gentamicin Induced Toxicity: Study evaluated a whole plant decoction for nephroprotective activity in Gentamicin model in Wistar albino rats. Results showed nephroprotective activity with significant reduction in BUN and S creatinine with histopathology exam showing reduction in degree of renal damage. (25)
• In Vitro Anti-Cancer Activity / Aerial Parts: Study evaluated the invitro anticancer potential of flowering aerial parts of A. lanata on 5 different human cell lines (lung, leukemia, prostate, colon, and cervix cancer) using Sulphorhodamine B (SRB) assay. A chloroform fraction showed significant inhibitory effect for leukemia, lung and colon cancer. An ethyl acetate fraction showed significant inhibitory effect for lung and cervix cancer. (26)
• Antidiabetic / Alkaloids / Roots:: Study isolated and evaluated the bioactive active compounds from the roots of A. lanata against STZ-nicotinamide induced elevated serum glucose in rats. Partially purified alkaloid basified toluene fraction (PPABTF) caused a significant (p<0.01) reduction in serum glucose level. The PPABTF was identified as canthin-6-one derivative which may be responsible for the hypoglycemic activity. (29)
• Diuretic: Study evaluated the diuretic activity of Aerva lanata and Ecbolium ligustrinum on make wistar strain albino rats using furosemide as standard. Results showed diuretic activity. EL showed a diuretic index of 1.70 and AL showed 1.49 compared to furosemide standard value of 1.80. (30)
• Nutraceutical Potential in Ameliorating Secondary Complications in Diabetes: Study evaluated the nutraceutical potential of A. lanata for its culinary and therapeutic potential in STZ-induced diabetic rats. The extract showed a significant decrease in blood glucose. Its therapeutic potential could be partly attributed to flavonoids, tannins, and terpenes (alpha amyrin, betulin, and ß-sitosterol) along with micronutrients potassium, magnesium, calcium, and zinc. (31)
• Protection Against Oxalate Mediated Free Radical Toxicity in Urolithiasis: Study evaluated the antioxidant potential of A. lanata on oxalate mediated free radical toxicity in ethylene glycol induced calcium urolithic rats. Results suggest A. lanata can prevent the free radical formation from calcium oxalate urolithiasis in rats and protect the renal cells from oxidative injury. (32)
• Antifertility Effects / Aerial Parts: Study evaluated the ethanolic extract of roots of Plumbago indica and aerial parts of Aerva lanata for antifertility activity using antiimplantation, abortifacient, and motility of rat spermatozoa (in-vivo) models. A. lanata showed pre-implantation loss of 20% and 30% against control at dose of 200 and 400 mg/kbw. Aerva lanata at 10% concentration showed no motility of rat spermatozoa within 60 seconds. (33)
• Anti-Inflammatory: Study evaluated the anti-inflammatory activity of Aerva lanata by HRBC lysis and protein denaturation. Results showed a concentration dependent inhibition of lysis of HRBC and protein (albumin) denaturation. The effect was possibly due to the presence of polyphenols and flavanoids in the extract. (34)
• Cardioprotective / Doxorubicin Induced Cardiomyopathy: Study evaluated the cardioprotective effect of aqueous, ethanol, and aqueous ethanol extracts of AL against doxorubicin induced cardiomyopathy in Wistar rats compared with allopathic drug aspirin. Results showed all three extracts showed cardioprotective activity (p<0.05) similar to that of aspirin. (35)
• Antihyperglycemic / Antihyperlipidemic / Aerial Parts: Study evaluated methanol and aqueous extracts of aerial parts of Aerva lanata for antihyperglycemic and hypolipidemic effects in streptozotocin induced diabetic rats. Results showed significant antihyperglycemic activities, along with improvement in lipid and biochemical parameters. The hypoglycemic activity may be due to protective action against STZ-mediated damage to the pancreatic beta cells and regeneration of damaged beta cells and increased insulin secretion. (39)
• Diuretic / Toxic Effect on EM: Study evaluated extracts prepared from fresh and dried forms of A. lanata for diuretic effects and possible long term toxic effects on urinary tract of rats. The crude extracts showed diuretic activity. Light microscopy (LM) study of kidneys, ureters and bladders were negative for toxic changes. However, EM (electron microscopy) of kidneys showed significant changes in the proximal convoluted tubular epithelial cells of rats in test groups. (also read study above:15) (40)
• Antidiabetic / Antioxidant / Leaves: Study evaluated the inhibitory effects of various extract of A. lanata leaves on activities of diabetic related enzymes viz., α-amylase and α-glucosidase diabetic and chemically induced free radicals. Results showed significant inhibition of both α-amylase and α-glucosidase with IC50 2.42 mg/mL and 0.23 mg/mL, respectively. The hydroethanol and aqueous extracts exhibited best DPPH and ABTS radical-scavenging activities, respectively. The enzyme inhibition was non-competitive, suggesting it may be due to free-radical scavenging properties and rich phenolic content. (41)
• Anthelmintic / Whole Plant: Study evaluated the anthelmintic activity of ethanolic extract of whole plant of Aerva lanata using graded extract doses in sheep with natural acute/sub-acute parasitic gastroenteritis due to mixed nematode species. Results showed significant reduction in faecal egg counts in infected animals, comparable to albendazole (5mg/kg). (42)
• Antibacterial / Antifungal / Leaves: In a search for new antimicrobials, study evaluated plant extracts of Aerva lanata. An ethanol extract showed increased antibacterial activities against E. coli. choroform and ethanol extracts showed activity against K. pneumonia. A chloroform extract showed activity against C. albicans similar to standard antifungal drugs. (43)
• Antitubercular / Leaves: Study of ethanolic and dichlormethane extracts of leaves of Aerva lanata showed antitbercular activity against Mycobacterium tuberculosis with MIC range of 0.8 to 100 µg/ml. The dichlormethane extract showed remarkable activity with MIC comparable to streptomycin. (44)
• Antiproliferative / Antioxidant / Human Breast Cancer (MCF-7) Cell Lines / Leaves and Callus: Study evaluated the in vivo and in vitro antiproliferative and antioxidant potential of leaf and callus extracts of A. lanata against human breast cancer (MCF-7) cell lines. MTT assay showed dose-dependent inhibition of cancer cell proliferation. Radical scavenging by ABTS cation assay showed promising inhibitory effects of the callus, in vivo and in vitro methanol leaf extracts. (45)
• Wound Healing / Antipyretic / Aerial Parts: Study evaluated aerial parts of A. lanata for antipyretic and wound healing activities in rats using yeast induced hyperthermia and excision wound models. Results showed significant antipyretic activity and showed significant decrease in time of epithelization. Activity was attributed to the quercetin in the tested extracts of aerial parts. (see constituents above)   (46)
• Nephroprotective / Cisplatin Toxicity / Aerial Parts: Study evaluated aerial parts of A. lanata on cisplatin induced nephrotoxicity in rats. A higher dose of 2800 mg/kg showed more pronounced inhibition in the rise of BUN, S creatinine and S uric acid, with histopathological exam showing marked inhibition of glomerular congestion, tubular casts, peritubular congestion, epithelial desquamation, interstitial edema, blood vessel congestion and inflammatory cells induced by cisplatin. (47)
• Antiplasmodial / Aerial Parts: In a study of methanol and acetate extracts of 17 medicinal plants, aerial parts of Aerva lanatus showed promising antiplasmodial activity (IC50 Pf3D7 ≤ 20 µg/ml). (48)
• Anti-HIV Activity / Phytosterol / Roots: Study evaluated the HIV-RT inhibitory activity of phytosterols from various extracts from roots of A. lanata. All extracts showed significant inhibitory activity, with the chloroform extract showing highest inhibition of recombinant HIV-RT (89/0%). (49)
• Antidiabetic / Stimulation of Alpha-Glucosidase, Protein Glycation and Stimulation of Adipogenesis: Study evaluated 70% ethanolic and ethyl acetate extracts of Aerva lanata. Results showed inhibition of alpha glucosidase, antiglycation, and adipogenic potential. In addition, insulin sensitization and antioxidant potential may enhance its therapeutic potential. (50)
Availability
Wild-crafted.