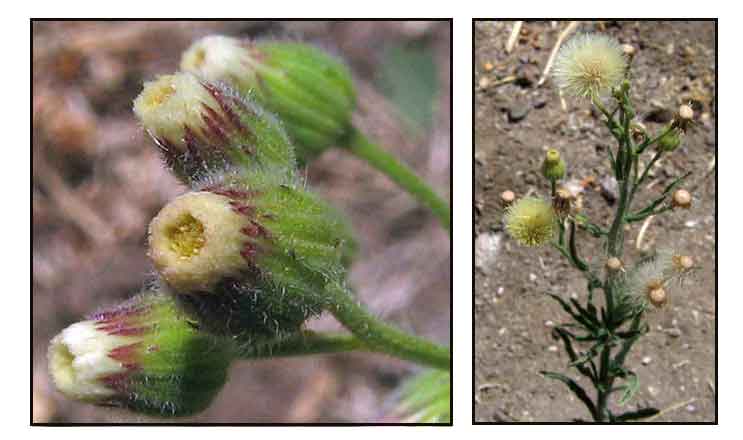 Botany
Tagabili is a stout, sometimes slender, erect, more or less hairy, branched annual 0.5 to 2 meters in height. Leaves are lanceolate to oblanceolate, 6 to 15 centimeters long, 1 to 4 centimeters wide, and coarsely toothed or sublobed in the margins. Panicles are terminal and ample, bearing numerous, peduncled, narrowly ovoid, flowering hears 6 to 7 millimeters long. Bracts are green. Flowers are many in each head, greenish-white.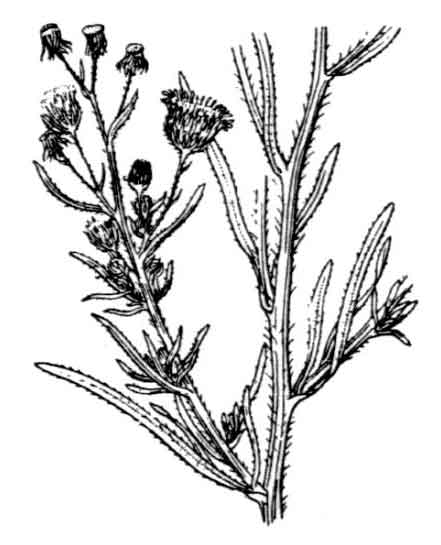 Distribution
- Abundant in open, waste places, old clearings, etc., from sea level to an altitude of 2,000 meters, throughout the Philippines.
- Occurs in all warm countries.
Constituents
- Study yielded a new (aromatic glycoside, erigoside G) and nine known compounds: stigmasterol (1), freideline (2), 1,3-dihydroxy-3R,5R-dicaffeoyloxy cyclohexane carboxylic acid methyl ester (3), 1R,3R-dihydroxy- 4S,5R-dicaffeoyloxycyclohexane carboxylic acid methyl ester (4), quercitrin (5), caffeic acid (6), 3-(3,4- dihydroxyphenyl)acrylic acid 1-(3,4-dihydroxyphenyl)-2-methoxycarbonylethyl ester (8), benzyl O-β-D-glucopyranoside (9), and 2-phenylethyl-β-D-glucopyranoside (10). The aromatic glycoside, erigoside G (7) was reported as the new natural compound. (1)
- GC/MS analysis of volatile fraction from Tunisian E. bonariensis yielded higher terpenes components (90.6%) compared to essential oil by traditional hydrodistillation (86.2%). (4)
- Essential oil of Tunisian essential showed higher content of caryophyllene oxide (18.7%), spathulenol (18.6%) and a-curcumene (10.2%) whereas Sardinian oil was richer in Cis-lanchnophyllum ester (14.2%) and (E)-ß-farnesene (12.0%). (4)
- GC-MS analysis of methanolic extract of leaves yielded 19 compounds. Main compounds were benzenepropanoic acid, 3,5-bis(1,1-dimethylethyl)-4-hydroxy- methyl ester (10.94%), palmitic acid (18.049%), 1-alpha-18O-1,25-dihydroxycholecalciferol (22.63%), stigmasterol (4.38%), verticellol (4.45%), ergosta-7,22-dien-3-ol, (3beta,5alpha,22E) (5.43%), methyl commate B (5,16), beta-sitosterol (4.21%). (5)

Properties
- Considered antioxidant, anti-inflammatory, antibacterial.
- Studies have suggested hepatoprotective. antibacterial, antifungal, gul-modulatory properties.
Parts used
Leaves, roots.

Uses
Folkloric
- In the Philippines, cataplasm of fresh plant is applied to wounds, contusions, and dislocations.
- Leaves used for rheumatism or lumbago, and to prevent too rapid conception.
- Decoction of roots reported as protective medicine after childbirth.
- In Pakistan, traditionally used for urine problems. (3) Whole plant used for treatment of hypertension. (14)
- In Madhya Pradesh, India, leaves used to relieve block nose (6)
- Used as pungent tonic, astringent to control bleeding, and as diuretic. (10) .

Studies
• Chemotaxonomic Significance: Previous studies have considered Erigeron bonariensis as synonym of Conyza bonariensis. The study suggests Erigeron and Conyza are two different genera. On basis of chemotaxonomy, study concludes the title species is Erigeron bonariensis. (1)
• Phytochemical Analysis: Study yielded a new compound, an aromatic glycoside, erigoside G, together with nine known compounds. (See Constituents above)
• Hepatoprotective / Paracetamol Induced Toxicity: Study evaluated an ethanol extract of C. bonariensis against paracetamol induced hepatotoxicity in Swiss albino mice. Results showed hepatoprotective activity as evidenced by a decline (p<0.05) in paracetamol induced liver marker enzymes and total bilirubin at 250 mg/kg and 500 mg/kg. 750 mg/kg showed a remarkable decline in ALTT, AST, ALP, and TB levels. Activity was attributed to the presence of quercetin. (7)
• Essential Oils / Leaves, Stem and Flower Heads: Study of essential oils at flowering stage of aerial and underground parts by GC and GC/MS analysis yielded 143 constituents, with 20 major constituents. Some of the main constituents were matricaria ester, (Z)-nerolidol, caryophyllene oxide, (E)-ß-farnesene, geranyl acetone, trans-a-bergamotene and limonene. Oils showed significant variation among the seasons. (8)
• Analgesic / Anti-Inflammatory: Study evaluated the analgesic and anti-inflammatory activities of C. bonariensis in animal models. Results showed analgesic effect using acetic acid and formalin-induced models of nociception and anti-inflammatory activity using carrageenan-induced rat paw edema model. (10)
• Antimicrobial / Synergism with Tribulus terresetris: Study evaluated the antimicrobial activity of various extracts of Conyza bonariensis and Tribulus terrestris. All extracts demonstrated antimicrobial activity against tested bacterial and fungal strains i.e., S. aureus, P. aeruginosa, S. typhimurium, S. typhi, and C. neoformans. The plant extracts also demonstrated synergistic effect of their chemical components against the test microbes. (11)
• Gut Modulator Effects / Basis for Use in Constipation and Diarrhea: Study evaluated the pharmacological basis of crude extracts for its use in constipation and diarrhea. The crude extract showed spasmogenic effect in isolated guinea-pig ileum preparation. The extract cause inhibition of high K+ induced contraction in isolated rabbit jejunum. Among various fractions, only hexane and ethyl acetate fractions showed spasmogenic effects. Results demonstrated the crude extract contains spasmogenic and spasmolytic constituents, which explains its use in constipation and diarrhea. (12)
• Inhibitory Activity Against Superficial Bacterial and Fungal Infections / Tincture / Leaves: Study evaluated the in vitro inhibitory activity of a tincture from C. bonariensis leaves against fungi and bacteria causing superficial infections. The tincture exhibited inhibitory activity against Staphylococcus aureus and fungi such as dermatophytes, Candida and Malassezia. (13)
Availability
Wild-crafted.