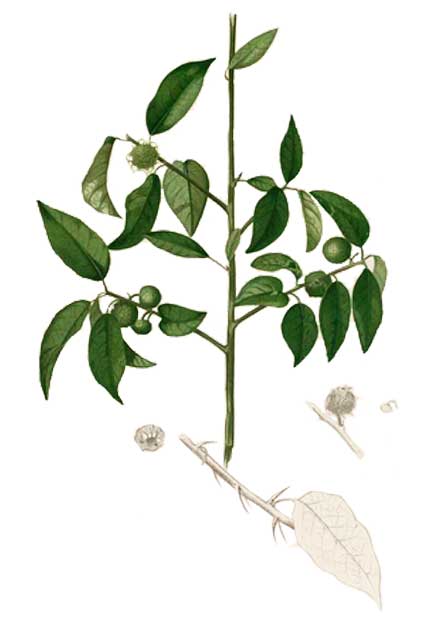 Botany
Tahid-labuyo is a scandent or strangling, smooth shrub, growing from 2 to 4 meters in length, with branches armed with stout, sharp, straight or somewhat recurved spines, 1 to 1.5 centimeters long. Leaves are elliptic-ovate to oblong-ovate or oblong-obovate, 3 to 8 centimeters long, shining, with tapering tips and rounded bases. Heads are solitary or in pairs, rounded, and short-peduncled. Female heads are 7 to 8 millimeters in diameter, yellowish, dense. Fruit is fleshy, up to 5 centimeters in diameter.
Distribution
- Found from northern Luzon to Mindanao from sea level to an altitude of 1,400 meters.
- Also occurs in India to East Africa, China, Malaya, and Australia.
Constituents
- Heartwood produces a yellow dye.
- Bark of the Cudrania javanensis yielded osajaxanthone, vanillic acid, monmethyl fumarate, p-hydroxybenzoic acid and (-)-(S)-stachydrine. (1)
• Study isolated an isoflavonoid – 5,7,4'-trihydroxy-6,3'-diprenylisoflavone. (2)
Properties
- Studies have reported anti-ulcer, antipyretic, antihepatitis, antihistamine, antispasmodic, antiviral, antifungal, antimycobacterial, anti-inflammatory properties.
Parts utilized
Bark, leaves.
Uses
Edibility
• In the Moluccas, the young leaves are eaten raw.
• In Japan, fruit of Cudrania javanensis considered edible.
Folkloric
• In the Philippines, decoction of roots used to alleviate coughing; also used for gastralgia.
• In Sarawak, plant used after childbirth.
• In the Moluccas, paste made from ground wood applied as a cooling agent for fevers.
• In Taiwan, used as analgesic and anti-inflammatory.
• In Thailand, traditionally used for chronic fever, skin infections, and abnormalities of the lymph nodes. (8)
Others
• Dye: The heartwood produces a yellow dye used in the Batik industry in Java; in Thailand for traditional fabric dyeing. Mixed with indigo, it produces a green dye.

Studies
• Antibacterial / Antidermatophytic: Study of crude chloroform extract of Maclura cochinchinensis wood showed strong antibacterial activity against S. aureus, S. epidermis, and B. subtilis and showed inhibition against all dermatophytes. (4)
• Anti-Herpes / Morin: Study evaluated the in vitro anti-herpes activity of Maclura cochinchinensis. Ethyl acetate and methanol extracts exhibited anti-HSV activity at E50 values of 38.5 and 50.8 microorganisms/ml, respectively. Study yielded morin which exhibited anti-HSV activity at an EC50 values of 53.5. (7)
Availability
Wild-crafted.