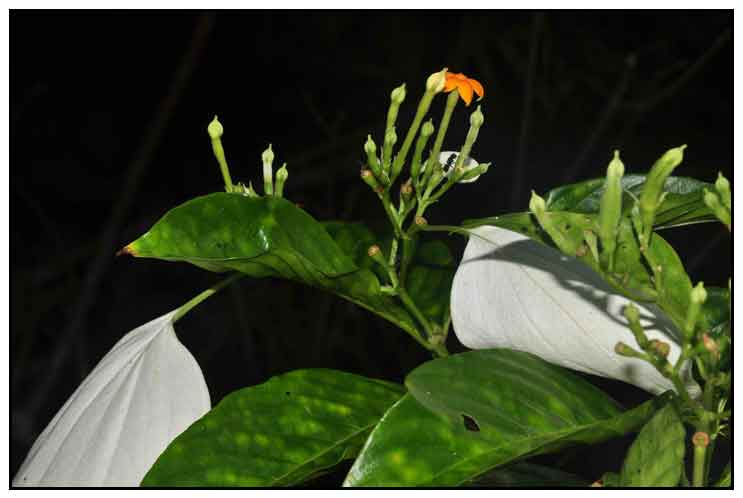 Botany
Talig-harap is a shrub growing 3 to 8 meters in height. Branchlets are rather lax and hairy, the older ones grayish-white and lenticelled. Pairs of leaves are diverse in either size or shape; oblong-ovate to subelliptic, the smaller ones 5 to 13 centimeters long, the larger ones 18 to 27 centimeters long; and softly hairy on both surfaces, but especially on the lower. Flowers are cymosely clustered on terminal, small, and spreading panicles. Calyx is covered with sharp-pointed, appressed, straight and stiff hairs; the outer sepal extends into a broad, slenderly pedicelled, persistent, whitish, ovate bract 4 to 5.5 centimeters long. Corolla is densely hairy, tubular, and yellow in the lobes. Fruit is ellipsoid, pale green, 1.5 to 2 centimeters long, smooth with age, and warty.
Distribution
- Endemic species found in forests at low and medium altitudes, ascending to 600 meters in Pangasinan, Bataan, Laguna, Quezon, and Albay Provinces in Luzon; and in Mindanao.
Constituents
- Study of ethanolic leaf extract yielded alkaloids, flavonoids ( leucoanthocyanin), glycosides, saponins, and tannins, with absence of steroids. (see study below)

Parts used
Leaves.

Uses
Folkloric
- In the Philippines, decoction of fresh leaves is given for asthma.
Studies
• Phytochemicals / Antioxidant / Antimicrobial Evaluation: .Study of ethanolic leaf extract for antimicrobial activity showed no activity against E. coli, S, aureus, P. aeruginosa, B. subtilis and C. albicans, with zones of inhibition less than 10mm. Radical scavenging activity by DPPH assay suggested antioxidant property. (see constituents above) (2)

Availability
Wild-crafted.