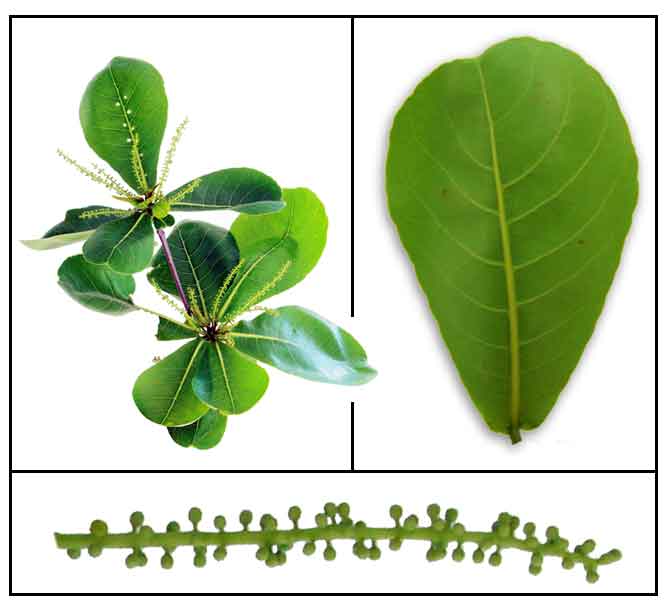 General info
- Combretaceae comprises about 20 genera and 600 species of trees, shrubs, and lianas. Terminalia is a genus of large trees in the Combretaceae family, comprising about 200 species. (41)
- Etymology: Genus Terminalia derives from the Latin word terminus, referring to the leaves appearing at the very tips of the shoots. (41)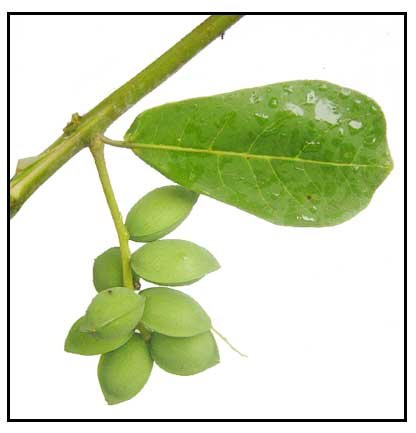 Botany
Talisay is a large, deciduous tree, reaching a height of 20 to 25 meters, smooth or nearly so. Branches are horizontally whorled. Leaves are shiny, obovate, 10 to 25 centimeters long, tapering below to a narrow and heart-shaped base with a expanded rounded apex. Leaf stalks are short and stout. Flowers are white, small, and borne on spikes in the axils of the leaves, 6 to 18 centimeters long. Fruit is smooth and ellipsoid, 3 to 6 centimeters long, and prominently bi-ridged or keeled down to the sides. Pericarp is fibrous and fleshy, the endocarp hard.
Distribution
- Native to the Philippines.
- Found throughout the Philippines along seashores.
- A common inland tree preferred for its umbrella-type shade.
- Occurs in the Old World Tropics.
- Introduced to the New World.
Constituents
- Seed contains 51.2 percent fixed oil, Catappa oil, with 54% olein, palmitin, and 46 % stearin.
- Phytochemical analysis yielded saponin, saponin glycosides, steroid, cardiac glycoside, tannins, volatile oils, phenols and balsam (gum).
- Phytochemical screening of aqueous and organic solvent leaf extracts yielded tannins, saponins, flavonoids, alkaloids, anthraquinones, steroids, saponin glycosides and cardiac glycosides. (see study below)   (22)
- Physiochemical analysis of sun dried mesocarp of fruits revealed about 12.65% ash, 84.93% carbohydrate, 0.37% oil, 316 mg/g glucose, 0.1% protein, 1.30 mg/g tannin, 1.95% moisture, with 3434.5 kcal/kg calorific value.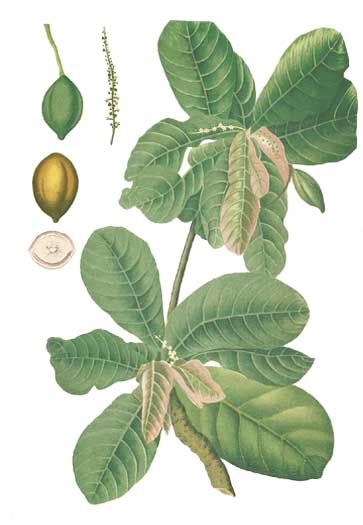 - Seeds yield 4.13% moisture, 23.78% crude protein, 4.27% ash, 4.94% crude fiber, 51.80% fat, 16.02% carbohydrate and 548.78 Kcal calorific value. (See study below) (16)
- Classified in the oleic-linoleic acid group, oil contains high levels of unsaturated fatty acids, especially oleic (up to 31.48%) and linoleic (up to 28.93%).
- Study of essential oil from leaves by GC-MS analysis yielded 66 compounds. Main constituents were (Z)-phytol (41.2%), palmitic acid (11.0%), and (E)-nerolidol (4.7%), heptadecane (3.0%), hexadecane (2.3%). Alkaline hydrocarbons (25.5%) made up a significant portion of the leaf composition. (29)
- Phytochemical screening of bark and leaves extracts yielded flavonoids, alkaloid, steroid, terpenoids, gallic tannins, and saponins, with the exception of aqueous extract for coumarins. (see study below) (35)
- Physiochemical analysis of concocted kernels yielded: ash (4.0 ±0.1%), proteins (40.9 ±1.3%), lipids (50.6 ±1.0%), total sugars (1.4 ±0.1%), reducing sugars (0.3 ±0.01%) and moisture content (3.8 ±0.4%). (see study below) (36)
- Hydroalcoholic extracts and fractions of leaves yielded phenols, tannins, flavones, xanthones and flavanols, flavonoids, and triterpene steroids. (see study below) (38)
- Methanolic extract of bark yielded steroids, triterpenes, triterpenoid saponins, alkaloids, carbohydrates, flavonoids, tannins, glycosides, and polyphenols. (see study below) (47)
- Proximate composition and mineral contents of raw T. catappa seeds yielded moisture 4.3 g/100 g, protein 23.3 g/10 g, oil 60.0 g/100 g, ash 4.2 g/100g, total carbohydrates 12.5 g/100g, crude fiber 8.5 g/100 g. Minerals analysis (mg/100g) yielded calcium 325.2, iron 5.4, phosphorus 889.9, potassium 731.1, magnesium 364.7, copper 2.5, and zinc 6.1. (source lists comparable values to almonds, peanuts, and cashews) (see study below) (48)
- Proximate composition analysis of mature leaves showed a moisture content 7.18%, ash 20.2%, crude fiber 20.47%, carbohydrate 187.4 mg/g, protein 86.73. mg/g. (61)
- Qualitative analysis of mature leaves yielded more phytochemicals content in ethanol (E) and hydro alcohol extract 1:1 (HA): tannins ++both, saponins ++ (HA), flavonoids ++both, quinones +++both, betacyanins ++both, steroids +++E++HA, alkaloids +both, glycosides +both, terpenoids ++both, phenols ++both, comarins ++E+HA, with absence of anthocyanins and cardiac glycosides. (61)
Properties
- Leaves are sudorific, anthelmintic.
- Bark and roots are astringent.
- Oil extracts exhibit good physiochemical properties and can be useful as edible oil and potential for industrial applications.
- Studies have shown antioxidant, anti-inflammatory, hepatoprotective, antimicrobial, antimetastatic, analgesic, antidiabetic, aphrodisiac, anthelmintic, antitumor properties.
Uses
Edibility / Nutrition
- Kernels are edible, with a sweet-acidic pericarp.
- Seeds are a good source of minerals; in descending order: potassium, calcium, magnesium, sodium.
Folkloric
- Red leaves are used to expel worms.
- Fruit is said to be purgative.
- Leaves mixed with oil are rubbed onto the breast to relieve mammary pain.
- Bark is used for gastric ailments, bilious diarrhea and dysentery.
- The sap of young leaves mixed with the kernel oil has been used for the treatment of leprosy.
- Bark decoction has been used for the treatment of gonorrhea and stomach cramps.
- Leaves are applied to rheumatic joints.
- Juice of young leaves used for scabies and other cutaneous diseases, headaches and colic.
- Leaves macerated in oil has been used for tonsillitis.
- Leaves used for treatment of hepatitis and dermatitis.
- In Sri Lankan folklore, juice of tender leaves used for pains, including headaches.
- In India, the bark is used as a diuretic and cardiotonic; leaves used for headache.
- In Nigeria, leaves macerated in palm oil used for tonsillitis; stems and bark used for sexual dysfunction.
- Seeds have been used for sexual dysfunction. (•) Dried fallen leaves used for management of sickle cell anemia. (54)
- In South-East Asia, leaved, fruit and bark and used to treat dysentery. In South America, young leaves used to treat colic. Red leaves used as vermifuge.( Leaves rubbed on breasts to relieve pain. Used as mild laxative and as galactagogue for women. (41)
Others
- Oil: Kernel contains a fixed oil, 51-63% called Indian Almond oil, oil of Badamier, or in the Philippines, as Talisay oil.
- Tannin / Dye: Fruits and roots used for tanning leather and provides an ink and black dye for dyeing cotton and rattan.
- Fodder: Foliage used as feed for silkworms; also as animal feed. (49)
- Wood: Tree provides red, cross-grained, good quality timber. Used for construction of boats, bridges, crates, planks, water troughs, etc. (49)
- Gum or resin: Trunk is a source of gum. (49)
Studies
• Antioxidant / Hepatoprotective: Study of leaf extracts of TC and an isolated antioxidant, corilagin, was found to provide hepatoprotection in experimentally induced liver injury through suppression of oxidative stress and apoptosis. (1)
• Anti-Inflammatory: Topical application of ethanol and chloroform extracts of leaves in induced acute and chronic ear edema in mice showed reduced inflammation.
• Antimicrobial / Leaves: Study of the methanolic extracts of leaves of Eucalyptus camaldulensis and Terminalia catappa showed inhibitory activity on B subtilis and S aureus. Phytochemical analysis yielded saponin, saponin glycosides, steroid, cardiac glycoside, tannins, volatile oils, phenols and balsam (gum). (2)
• Antimetastatic: Study showed extract of TC leaves exerted an inhibitory effect on invasion and motility of highly metastatic lung carcinoma cells. It suggests TCE could be a potential antimetastatic agent. (3)
• Antinociceptive: Study of the leaf extract of TC concludes that it is useful as an analgesic, supporting it folkloric use in Sri Lanka. (4)
• Squalene / Antioxidant / Seeds and Leaves: Squalene was identified from freeze-dried abscisic leaf extract of TC. The extract of leaves exhibited potent antioxidative and DPPH scavenging activities, which increased with increase of leaf maturity. The seeds only exhibited potent inhibition of CDHP formation and very low DPPH scavenging activity. (5)
• Anti-Diabetic: Study of petroleum ether, methanol and aqueous extracts of T catappa all produced significant antidiabetic activity at dose levels 1/5 of their lethal doses. Histological studies of the pancreas earlier necrosed by alloxan showed regeneration by methanolic and aqueous extracts. (•) Damage to pancreas in alloxan-treated diabetic control and regeneration of ß-cells by glibenclamide was observed. A comparable regeneration was noted with aqueous and cold extracts. (•)
• Aphrodisiac: Reports of Terminalia catappa seeds showing aphrodisiac activities in male rates.(6)
• Anti-inflammatory / Triterpenic Acids: Study of ethanolic extract of leaves yielded triterpenic acids responsible for the anti-inflammatory activity of T catappa leaves. (7)
• Antiparasitic / Antibacterial / Antifungal: Study looked into T catappa as an alternative to the use of chemicals and antibiotics in the aquaculture industry. Results showed eradication of Trichodina, fish ectoparasites, at 800 ppm. On going research is being done to isolate the active ingredients in the Indian almond for fish pathogen treatment. (9)
• Antibacterial / Ornamental Fish Culture: Study evaluated the concentration of tannin, an antimicrobial substance, in a water extract of leaves and its in vitro antibacterial activity against bacteria isolated from aquatic animals. Results indicated a potential for use as antibacterial alternative for ornamental fish culture. (10)
• Oil / Biodiesel Potential: Study of castanhola in Brazil showed the oil obtained from the fruit kernels to yield around 49% (%mass). The fatty acid composition was similar to other conventional oils. Study of physiochemical properties of the TC biodiesel showed to be in acceptable range for use as in diesel engines.
• Livestock Feed: The mesocarp of T catappa contain major nutrients of carbohydrate, oil and metal ions (Ca, Mg, Fe, Cu, and Zn) provide for biochemical activities required for livestock feed formulation. (11)
• Antidiabetic / Leaves: Study reports the leaf extracts exhibited significant blood glucose lowering in alloxan-induced hyperglycemic rats. Histological studies showed regeneration of the pancreas which were previously necrosed by alloxan. (12)
• Anthelmintic / Leaves: Study of TC leaves showed anthelmintic activity through inhibition of motility and survivability of larvae of T. colubriforis, C curticei and H. contortus. (13) Study of methanolic extract of T. catappa (red leaves) against Indian earthworm Pheretima posthuma showed concentration dependent anthelmintic activity. (53)
• Hepatoprotective / D-Galactosamine / Radical Scavenging: TC leaf extract showed hepatoprotective effect against D-Galactosamine (D-GalN)-induced liver injury. There was dose-dependent inhibition of mitrochondrial swelling with dose-dependent superoxide radicals scavenging activity. (15)
• Antimicrobial: Study demonstrated antimicrobial activity, more pronounced against bacteria than fungal strains. (14)
• Nutritional Properties of Seed and Oil: Seeds were found to be a good source of minerals. Oil contains high levels of unsaturated fatty acids, especially oleic and linoleic acids. Dominant saturated acids were palmitic and stearic acids. Oil extracts exhibited good physiochemical properties and a potential usefulness as edible oils and industrial applications. (See constituents above) (16)
• Erythropoiesis Enhancement: Study evaluated the potential of Terminalia catappa to induce erythropoiesis in adult Balb C mice. A methanolic extract of T. catappa exhibited erythropoietic potential, inducing production of hemoglobin higher than untreated control. (18)
• Toxicological Study / Leaves: Study evaluated three different doses of T. catappa crude aqueous extract in two stages of toxicity. Results showed no toxicological effects on Sprague-Dawley white rats in a 14-day experimental period. (19) Study evaluated an aqueous extract of T. catappa leaves for potential toxicity in rats. On acute toxicity testing, extract was found safe at doses of 2000 mg/kg body weight per OECD guidelines. In chronic toxicity, no significant changes were noted in hematological, hepatic, and renal parameters were noted at termination of a 6-week study. (28)
• Antinociceptive / Leaves: Study of an aqueous extract of leaves showed analgesic activity which may be mediated through both central and peripheral mechanisms. (20)
• Antifungal / Leaves: Study evaluated ethanol and methanol leaf extracts of T. catappa and T. arjuna for in-vitro antifungal activity against A. niger, A. alternata, C. lunata and T. tonsurans. Both showed antifungal activities, with T. arjuna showing better efficacy. Methanol extract showed best activity with Curvularia lunata. (21)
• Antifungal / Bark and Wood: Study evaluated aqueous, ethyl acetate, and hexane extracts of Terminalia catappa wood and bark against some fungal species. The hexane extract exhibited potent dose dependent antifungal activity against all selected fungal species. Activity was compared to standard Clotrimazole. (31)
• Antibacterial / Leaves: Study evaluated aqueous and organic solvent leaves extract of T. catappa for antibacterial activity. Hexane fractions and chloroform extract showed activity against P. aeruginosa, S. viridans, and S. aureus. (see constituents above) (22)
• Antibacterial / Leaves and Bark: Study evaluated various extracts of leaves and bark for antibacterial activity against clinical (sensitive and multidrug-resistant) and ATCC strains of E. coli, K. pneumonia, and S. aureus (MRSA). The bark extracts generally showed better activity compared to leaves extracts, and the methanolic extract of bark was the most active of all extracts, exhibiting broad spectrum activity. (see constituents above) (35)
• Hepatoprotective / Leaves / CCl4-Induced Toxicity / Triterpenoids: Study evaluated a chloroform extract of leaves on carbon tetrachloride-induced acute liver damage and D-galactosamine induced injury. The chloroform extract yielded ursolic acid and asiatic acid, which dose-dependently inhibited Ca2++-induced mitrochondrial swelling. The hepatoprotective activity attributed to protection of the liver mitrochondria and scavenging action of free radicals. (23)
• Natural Anti-solar Agent / Fruit: Study evaluated the UV absorption ability of a methanol extract of fruit of Terminalia catappa as an application as anti-solar agent. Results showed maximum absorbance at 200nm, good absorbance at 240nm to 300 nm, and moderate absorbance at 300-360nm. (24)
• Antitumor / Leaves: Study evaluated the effect of a methanolic extract of leaves of T. catappa against Ehrlich ascitic lymphoma (ELA) in Swiss albino mice. Results showed significant antitumor activity, with the extract bringing back the altered levels of hematological parameters and liver enzymes. (25)
• Attenuation of u-PA Expression / Inhibition of Cell Metastases: Study investigated the molecular mechanisms of urokinase-type plasminogen activator (u-PA) in hepatocellular carcinoma (HCC) metastases. Results showed TCE has an inhibitory effect on several crucial steps of metastasis, including cell invasion and migration, by regulating u-PA expression and ts natural inhibitor. The TCE anti-migration potential effect on HCC cells may lead to the development of specific mediation to inhibit cell metastases. (26)
• Antimetastatic on Hepatocellular Carcinoma: Study demonstrated that TC extract dose dependently inhibited human HCC migration/invasions. TCE inhibited the activities and expression of matrix metalloproteinase-9 (MMP-9). The inhibitory effects are associated with downregulation of binding activities of transcription factors NF-kB and AP-1. Results suggest a potential as chemotherapeutic agent. (27)
• Safety During Pregnancy / G6PD Effect: Study evaluated the effect of an aqueous extract of stem bark of T. catappa on pregnant wistar rats and brain glucose-6-phosphate dehydrogenase (G6PD) activity. The dose of 400 mg/kg body weight consumed during pregnancy was considered relatively safe, without any fetal abnormalities in foetus or changes in brain G6PD activity in adult rats. (30)
• Anti-Ulcer / Leaves: Study evaluated the antiulcer activity of a hydroalcoholic extract of T. catappa leaves against indomethacin-induced gastric ulcers in rats. Results showed all doses of leaf extracts had significant (p<0.05) effect against gastric damage induced by indomethacin. There was no significant difference (p<0.05) between TCLE (400mg/kg) and ranitidine. (32)
• Antioxidant / Leaves: Study evaluated various extracts of T. catappa for antioxidant effects. A methanol extract showed the highest phenol and flavonoid content of 121.9 ± 3.1 mg/g and 59.6 ± 1.5 mg/g respectively. On antioxidant assays, the methanol extract showed highest total antioxidant activity of 41.4 ± 0.45 µM Fe(II)/g. EC50 for lipid peroxidation inhibitory activity and DPPH radical scavenging activity was 0.1 and 0.5 mg/ml respectively. (33)
• Cytotoxic / Radical Scavenging / Leaves: Study evaluated various solvent leaf extracts of T. catappa for cytotoxic and radical scavenging potential. All extracts showed dose dependent response on brine shrimp assay; a chloroform extract showed 100% activity at highest dose of 200 µg/ml. On DPPH and FRAP assays, an acetone extract exhibited significant reduction of free radicals with IC50 value of 36.9 µg/ml. (34)
• Concocted Kernels / Sensory and Physiochemical Evaluation: Study evaluated the physiochemical and sensory qualities of appetizers concocted from T. catappa kernels: salted roasted kernels and unsalted roasted kernels. Results showed good nutritional value with high protein and lipid contents. The concocted appetizers were less preferred than Roasted Peanuts (salted or unsalted) and Roasted Salted Cashew nuts. (see constituents above) (36)
• Antidiabetic Potential / Leaves: Studies have shown that T. catappa possess anti-diabetic properties. Studies on alloxan-induced diabetic allbino rats subjected to aqueous and cold extracts of fresh tender leaves showed a significant decrease in glucose level and regeneration of necrotic beta cells of the pancreas. Further studies are suggested to discover the regenerating factor. (37)
• Antifungal Against Candida spp. / Leaves: Study showed T. catappa leaf extract, fractions, and subfractions have antifungal activity against Candida spp. Crude hydroalcoholic extracts (TcHE) and fractions inhibited the growth of all tested Candida strains with the n-butanol fraction showed the best activity. (see constituents above) (38)
• Anti-Helicobacter pylori / Antiulcer: Study evaluated the gastroprotective and healing effect of aqueous fraction of T. catappa leaves in experimental rodent model. Oral treatment with the FrAq significantly decreased the number of ulcerative lesions induced by ethanol and ischemia/reperfusion injury. The activity was mediated by the activation of defensive mucosa-protective factors i.e., increased mucus production, NO pathway and endogenous prostaglandins. The extract also exhibited significant activity against Helicobacter pylori. Fraction analysis yielded different phenolic compounds, including punicalagin, punicalin, and gallagic acid, among others. (39)
• Surface Water Treatment / Turbidity Removal / Leaves: The use of inorganic coagulants for preliminary water treatment present environmental hazards. Study evaluated the used of T. catappa as natural coagulant. Results showed a potential for Tc leaf extract as natural coagulant to remove turbidity in water. However, the leaf extract has no effect on basicity and acidity, and has no observable antibacterial effect on water. (40)
• Mutagenicity / Leaves: Study evaluated a hydroalcoholic extract of leaves by HPLC-PDA to quantify compounds and evaluate its mutagenic activity by Salmonella/microsome assay on several S. typhimurium strains (TA98, TA97a, TA100, and TA102). Mutagenicity was observed in TA100 and TA97a strains. The complex mixture of punicalagin (the most abundant polyphenol found in the leaves), its derivatives and other compounds found in the extract may explain its mutagenicity. While the mutagenicity was observed only in high concentrations, study advise caution for medicinal use. (42)
• Thermogravimetric / Food Supplement Potential / Fruit: Study evaluated the chemical composition, morphology, and thermogravimetric behavior of Tc pulp. Analysis showed considerable energy value based on lipid content, with a fiber content that enhances the functional properties of the fruit. Thermogravimetric qualities suggest the raw fruit material has great potential for industrial use as dietary complement or supplement ingredient in food products due to high absorption rate of water soluble and/or lipid-based compounds. (43)
• Antifungal / Synergistic Combinations: Study evaluated extracts and fractions of Terminalia catappa, Terminalia mantaly and Monodora tenuifolia, alone and in combinations for antiifungal activity against isolates of C. albicans, C. glabrata, C. parapsilosis and Cr. neoformans. Synergistic interactions were observed with combinations of subfractions of Mt, Tm, and Tc. (44)
• Safety Study in Pregnant Rats: Study evaluated the influence of aqueous stem bark extract of T. catappa on pregnant Wistar rats and brain glucose-6-phosphate dehydrogenase (G6PD) activity. Results of dose extract of 400 mg/kbw consumed during pregnancy showed relatively safety, and did not cause abnormalities in foetus or influence changes in G6PD. (45)
• Wound Healing / Bark: Study evaluated the wound healing activity of T. catappa on excision wound models in rats using an ointment formulation of a bark extract on excision wound model. Results showed significant wound healing. Animals treated with the ointment showed 97% reduction in wound area compared to control animals (81%). Treatment induced faster epithelization. (46)
• Antimicrobial / Antioxidant / Bark: Study evaluated a methanol bark extract for antimicrobial and invitro antioxidant activity. Results showed potent antimicrobial activity. Among all fungal strains, Aspergillus niger showed highest zone of inhibition, and among bacterial strains, Bacillus subtilis showed highest sensitivity. On DPPH assay, a methanol bark extract showed similar activity as that of standard ascorbic acid. (47)
• Seeds as Food Source: Study evaluated the potential use of seeds as a new dietary source, analyzed its nutritional and antinutritional properties and determined the effect of roasting. Results showed Tc seeds contain considerable amount of minerals comparable to other widely consumed nuts. Contents of phenolic compounds and phytates (IP4+IP5+IP6) in raw seeds were 64.9 g of GAE/g and 2,110 mg/100g, comparable to values in edible nuts. Roasting of the seed causes reduction of amino acid, IP6, trypsin inhibitor activity and phenolic compound value. (see constituents above) (48)
• Antihyperglycemic / Fruit: Study evaluated the anti-hyperglycemic effect of a fruit extract of T. catappa in a diabetic rat model. The hydroalcoholic fruit extract significantly decreased blood glucose, urine volume, and increase body weight in a dose-dependent manner. The effect of T. catappa at 30 mg/kg and 40 mg/kg dose was significantly more than glibenclamide. Extract treatment and glibenclamide brought back the level of HbA1c to normal levels. The addition of glibenclamide to Tc did not produce additional effects on blood glucose and HbA1c. (50)
• Effect on Fish Bacteria, Fungi, and Ectoparasites / Alternative to Chemicals and Antibiotics / Leaves: Study suggests the water extract of leaves of Indian almond has positive effects for the treatment of fungi, bacteria, and fish ectoparasite and can be used as alternative treatment to replace chemicals and antibiotics in treating fish pathogens. (52)
• Antisickling / Leaves: Study evaluated the effect of Tc extract of dried fallen leaves for antisickling activity. Bioactivity guided fractionation of methanolic extract showed the highest antisickling activity in the erythrocyte sickling model came from the triterpenoid components (F3, K=0.0037 min-1). The most active components were shown to be two triterpenic acids. Results show a scientific basis for the application of the extract in the management of sickle cell anemia in traditional medicine. (54)
• Antimycobacterial / Anticandidal / Antioxidant / Leaves: Study evaluated the antimycobacterial, anticandidal and antioxidant activities of T. catappa. Results showed good antimicrobial activity against both gram negative and gram positive bacteria, good antimycobacterial activity against M. smegmatis and M. tuberculosis, promising activity against Candida species, and good antioxidant activity using various assays i.e., DPPH radical scavenging, FRAP, with high phenolic and flavonoid content. (55)
• Biosorbent / Pb, Cd, and Cu Ions / Fruit Shell: Study reported on the use of fruit shell, an agricultural waste, as a low cost biosorbent for the removal of Pb (II), Cd (II), and Cu (II) ions in liquid waste. (56)
• Insecticidal: Study evaluated the aqueous extracts of four medicinal plants for their effects on Drosophila melanogaster larval mortality and pupation. Terminalia catappa was the only plant that raised mortality rates of D. melanogaster larvae and mimicked properties of commercial insecticide in pupation rates. (57)
• Hypoglycemic Effect / Leaves: An aqueous decoction of leaves of Terminalia catappa exhibited a dose-dependent hypoglycemic effect in rabbits. The dose of 40 mg/ml was the most effective among administered doses, reducing hyperglycemia to normal value of about 1.11 g/l after 90 minutes. The antidiabetic effect was attributed to alkaloids, sterols, and triterpenes. (58)
• Wound Healing / Leaves: Study evaluated the wound healing activity of ointment formulations from ethanolic extract of both green (GL) and brown (BL) Indian almond leave in mice (Mus musculus) with wounds inflicted under chloroform anesthesia. All groups of mice treated with ethanol extract of either GL or BL higher than 20% showed significant wound healing compared to mice treated with simple ointment, Pi (povidone iodine), or control. (59)
• Enzyme Inhibitory Activities / Antihypertensive / Leaf and Stem Bark: Study evaluated the acetylcholinestrase, arginase, phosphodiesterase-5 and angiotensin-1-converting enzyme inhibition and antioxidant properties of phenolic rich extracts from almond leaf and stem bark. The phenolic rich extracts showed remarkable enzyme inhibition activity in a concentration dependent manner, with high antioxidant activities. The stem bark extract showed higher inhibitory effect against ACE activity than leaf extract. Results suggest the leaf and stem bark can be potential natural source for development of novel antihypertensive agent. (60)
Availability
Wild crafted.