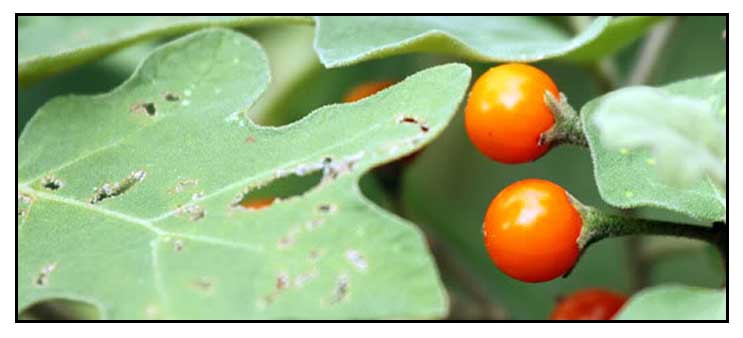 Botany
Talong-Siam is a half-woody shrub growing 0.5 to 1 meter high. Leaves are oblong-ovate, 5 to 9 centimeters long, 3.5 to 8 centimeters wide, blunt at the tip, heart-shaped, square-shaped or pointed at the base, lobed in the margins, and hairy underneath. Flowers are bluish, on 8- to 15-millimeter stalks, and borne on racemes. Calyx is oblong-triangular, about 4 millimeters long. Corolla lobes are oblong-lanceolate, about 8 millimeters long and 5 millimeters wide. Fruit is yellow or yellow-orange, becoming red when ripe, smooth, somewhat rounded, and up to 1 centimeter in diameter. Seeds are compressed, pale, copiously punctulate, and 2 millimeters in diameter.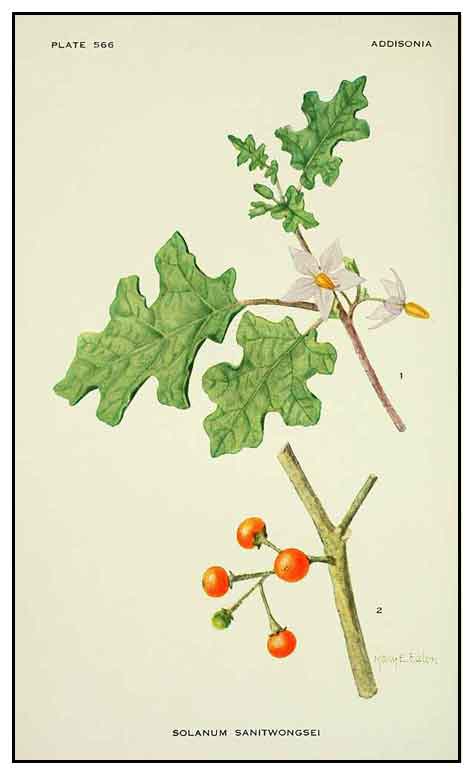 Distribution
- Limited cultivation in Manila.
- Seeds originated from Bangkok, Siam.
Constituents
- Phytochemical screening of crude drugs and ethanol extract yielded steroids/triterpenoids, alkaloids, flavonoids, tannins, glycosides and saponins. (see study below) (12)
Properties
- Fruits considered anti-diabetic, diuretic and expectorant.
- Studies have shown anti-hypertensive, diuretic, cytotoxic, apoptotic properties.

Parts used
Fruit.

Uses
Edibility
- In Bangkok, the berries are regular market produce fare.
Folkloric
- Used in Siam for diabetes. Ingestion of the berries with each meal used for both cure and prevention. The discovery of the use of the plant was made by the late Dr. Yai S. Sanitwongse. His early study suggested a correlation between the used of the fruit as condiment with meals in diabetics, with a marked effect in sugar lowering.
- Report made of benefits with ingesting 10 little fresh berries with each meal.
- Fruits used as folk medicine for cough and sore throat, five to six fruits are chewed for relief.
Studies
• No Diabetic Effect / 1930 Study: A 1930 study reported no striking influence of the use of the berries on diabetic states. (6)
• Antihypertensive /Fruit: Study evaluated an ethanol extract of fruit of Solanum saitwongsei for antihypertensive effect in male Wistar rats with hypertension-induced with sodium chloride and methylprednisolone. Results showed significant (p<0.05) decrease in blood pressure, with reduction in systolic, diastolic and mean arterial pressure. (9)
• Acute Toxicity Study / Fruit: Study evaluated the oral acute toxicity of ethanolic extract of Solanum sanitwongsei Craib fruits on male and female swiss albino mice. Results showed no significant toxic effect in mice. LD50 testing showed no mortality or changes at highest dose administered (1000 mg/kg bw). (10)
• Diuretic Effect / Fruit: Study evaluated the diuretic effect of ethanol extract of fruit of Solanum sanitwongsei. Results showed the ethanol extracts of fruits in doses of 50, 100, and 150 mg/kbw provided diuretic activity with increase of urine volume, sodium, and potassium levels of white male rats. (11)
• Cytotoxic & Apoptotic Against HeLa Cells: Cytotoxic assay obtained IC50 value of ethanol extract, fractions n-hexane, ethyl acetate and water to HeLa cells, respectively for 178 195 µg/ml; 812 954 µg/ml; 85 489 µg/ml and 241.58 µg/ml; and the ethyl acetate fraction was the most active fraction. EA fraction of S. sanitwongsei can stimulate apoptosis in HeLa cells. (12)

Availability
- Cultivated.
- Seeds in the cybermarket.