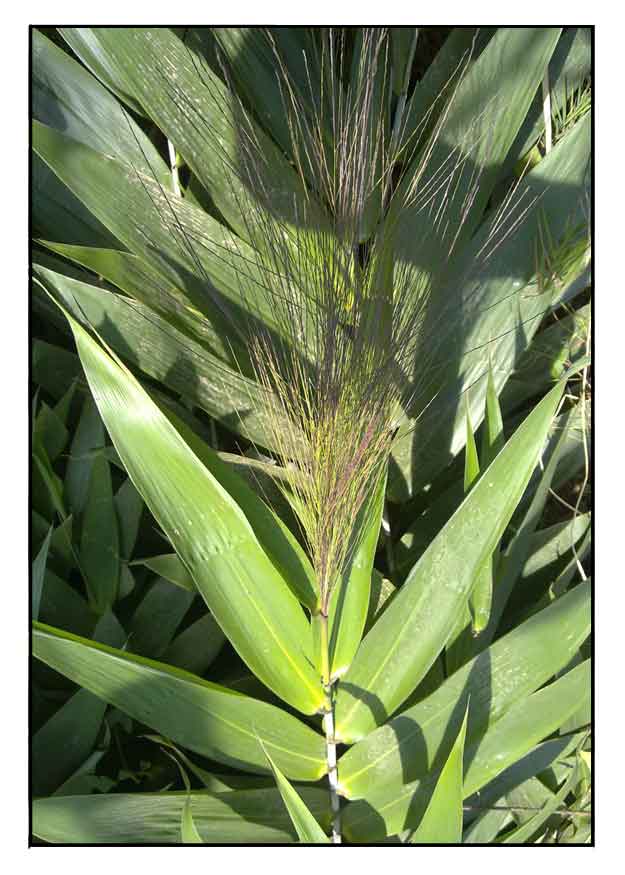 Gen info
- Thysanolaena is a genus of plants in the grass family, the only genus in the tribe Thysanolaeneae.
- Thysanolaena latifolia (Tiger grass) is the only recognized species in the genus.
Botany
Tiger grass is a strongly tufted, very robust perennial grass with erect or slightly spreading solid bamboo-like culms up to 3.5 m tall. Leaf-sheath hairy along outer margin; ligule a scarious membrane, 1-2 mm long; leaf-blade lanceolate-acuminate, 30-65 cm × 3-7.5 cm, base broad and rounded or subcordate, margins scaberulous, conspicuously glaucous beneath. Inflorescence a terminal huge and drooping panicle, up to 140 cm long, well exserted, branches divided and subdivided into many branchlets; spikelets awnless, short pedicelled, falling with part of the pedicel, often in pairs on a common peduncle, 2-flowered; lower glumes clasping. Caryopsis subglobose to ovoid, 0.6 mm long, reddish-brown. (18)
Thysanolaena latifolia, commonly known as Tiger Grass or Asian Broom Grass is the sole species in the Thysanolaeneae genus. Its stem is round and solid. The leaves are narrow, large, leathery, heart-shaped, and taper to a fine point. Flowers are brownish. Fruits are small grains. 
Distribution
- Native to the Philippines.
- Also native to Andaman Is., Assam, Bangladesh, Borneo, Cambodia, China, Hainan, Himalaya, India, Jawa, Laos, Lesser Sunda Is., Malaya, Maluku, Myanmar, Nepal, New Guinea, Nicobar Is., Pakistan,
Sri Lanka, Sulawesi, Sumatera, Taiwan, Thailand, Vietnam. (19)
- Grows from 150-2000 m altitude in valleys and lightly shaded slopes, in ravines and river bank. It grows solitary or in small groups, associated with other trees (often bamboo), and not in full sunlight.
- Cultivated as hedge or screen plant, and as ornamental. (18)

Constituents
- Study of florets of T. latifolia isolated a new compound 6"-O-acetylorientin-2"-O-α-L-rhamnopyranoside (1), named amrisoside, along with 34 known compounds. (4)
- Study of aerial parts isolated three phenolic compounds, 4-hydroxybenzaldehyde (1), 4-hydroxycinnamic acid (2), 4-hydroxybenzoic acid (3) and two steroids, stigmast-4-en-3-one (4) and ß-stigmasterol (5). (see study below)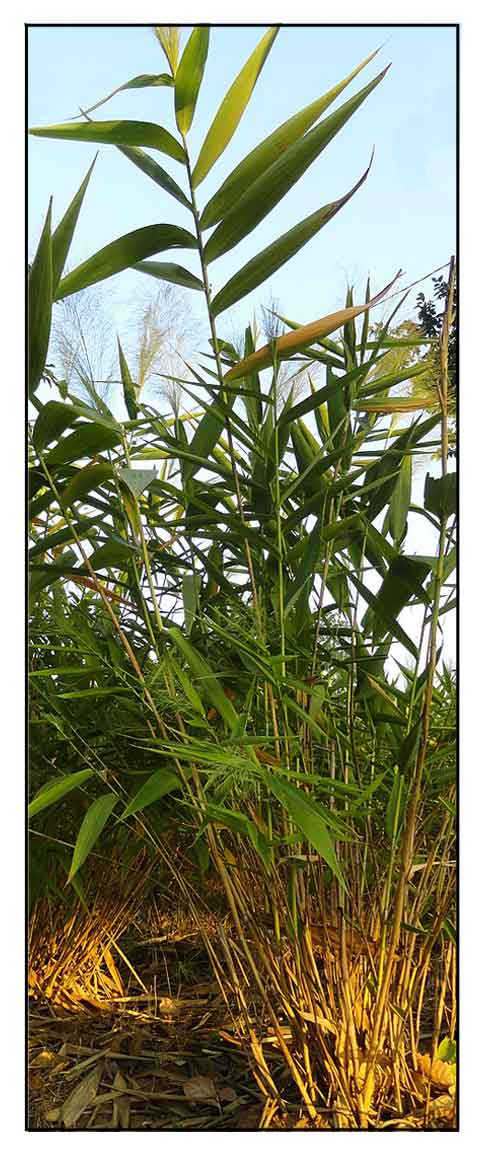 Properties
- Studies have suggested chemopreventive, hepatoprotective, antimicrobial, antioxidant, cytotoxic, analgesic, CNS depressant, phytoremediative properties.

Parts used
Roots, leaves, flowers.

Uses
Culinary / Edibility
- In China, leaves used to wrap glutinous rice dumplings or Zongzi, traditionally eaten during the Dragon Boat Festival. Leaves are believed to have antiseptic properties that help extend the shelf-life of rice dumplings in warm and humid conditions. (2)
- Fresh leaf buds are eaten. (18)
Folkloric
- No found folkloric medicinal use in the Philippines.
- In Bhutan, flower used as antiging and longevity plant.
- In India, root paste applied to cheek boils. (6) Used for treatment of boils, vomiting, stomach disorders, and infectious diseases like like tuberculosis. (7)
- In Nepal, root juice is used as anthelmintic. In India, inflorescence paste mixed with a pinch of slaked lime is applied locally for treatment of boils. Young stem juice used for red and dirty eyes. (9)
- Decoction of whole plant drunk as tonic in Thailand. (9)
- In Bangladesh, crushed flowers in water taken as antiemetic and for treatment of stomach trouble. Pill prepared from leaves taken twice daily for treatment of tuberculosis. (9)
- In India, soft part of young leaves and flower buds eaten raw to cure flatulence and as digestive. (9)
- In Nepal, root paste applied on bone fracture. (12) In western Nepal, roots used to treat boils, tonsillitis, and helpful in abortion. (16)
- In Tuensang district of Nagaland, northeast India, root decoction drunk for fever. (13)
- In India, the Kokni tribe of Maharashtra chew tubers for treatment and relief of tonsillitis pain. (15) In Manipur, poultice of pounded leaves applied to forehead for fever. (17)
Others
- Crafts: A valuable source of livelihood in the upland communities in the Philippines; the species used largely in making brooms for domestic household use. The broom is one of Baguio's pride, the essential 'pasalubong' for the lowlanders.
- Veterinary: Leaves of Thysanolaena latifolia are fed to cow and buffalo for retention of placenta after delivery. (10)
- Rituals: In the Nepali community of Darjeeling and Sikkim Himalayas, traditional healers used bundled leaves to sprinkle fresh water while chanting mantras to purify the surroundings. Leafy stems are erected around the worship place. (12)
Studies
• Hepatoprotective / Chemopreventive in CCl4-Induced Oxidative Stress: Study evaluated the chemopreventive effects of T. latifolia against carbon tetrachloride (CCl4)-induced oxidative stress in rats. CCl-4 induced significant elevation of lipid peroxidation ad decreased enzymatic and nonenzymatic antioxidants, with hepatic damage evidenced by sharp increased in serum transaminases and histopathological changes. Pretreatment with T. latifolia (150 and 300 mg/kg p.o.) showed significant and dose-dependent protection against CCl4-mmediated oxidative liver damage and toxicity in rats. T. latifolia possessed 20.3 mg/g total phenolic content as GAE and showed significant scavenging of DPPH radicals. The hepatoprotective effect against oxidative damage may be due to antioxidant and free radical scavenging effects. (3)
• Antioxidant / Antimicrobial / Essential Oil of Leaves: Leaves of Thysanolaena latifolia is used as packaging material by ethnic groups in China. GC-MS analysis of leaves for essential oil yielded 21 components representing 93.4% of essential oils. Major constituents were (Z)-3-hexen-1-ol (28.79%), phytol (12.30%) and (E)-ß-ionone (9.54%). The essential oil and ethanol extract showed antioxidant activity in DPPH, ABTS, and FRAP assays. The essential oil showed considerable antimicrobial activity against pathogenic bacteria and spoilage organisms. Results suggest a promising green preservative for packaging, medicinal, and food industry. (5)
• Cytotoxic Metabolites / Aerial Parts: Study of aerial parts isolated three phenolic compounds, 4-hydroxybenzaldehyde (1), 4-hydroxycinnamic acid (2), 4-hydroxybenzoic acid (3) and two steroids, stigmast-4-en-3-one (4) and ß-stigmasterol (5). Compound 4 showed highest cytotoxicity against Vero cell line (IC50 5.82 ± 0.66 µg/mL). Compounds 2 and 3 reduced cell viability with increased concentration but after certain concentration cell viability increased with higher concentration, which suggests activation of an additional pathway. Compound 4, stigmast-4-en-3-one, a derivative of stigmasterol, has shown potent hypoglycemic effect on alloxan induced diabetic rats in another study.   (8)
• Antioxidant / Antibacterial / Cytotoxicity: Study evaluated the in vitro bioactivities of petroleum ether, chloroform and methanol extracts of Thysanolaena maxima in Bangladesh. The methanol extract showed highest DPPHG radical scavenging activity (IC50 36.94 µg/mL) and highest phenolic content (74.39 mg/g GAE), Chloroform extract showed maximum flavonoid content (81 mg/g QE) and highest reducing power. All extracts showed mild to moderate in vitro antibacterial activity with zone of inhibitions ranging from 7 mm to 16 mm. On brine shrimp lethality bioassay, all extracts revealed weak cytotoxic potentials compared to positive control. (9)
• CNS Depressant / Analgesic / Aerial Parts: Study evaluated methanol extract of aerial parts for CNS depressant and analgesic activities in mice models. The extract showed dose dependent suppression of locomotion in open field and hole cross tests and exerted sedative action in thiopental induced sleeping time. The extract produced significant (p<0.05) analgesic activity by inhibiting writhing by 41.89% and 60.81% at doses of 200 and 400 mg/kbw, respectively, which was comparable to inhibition by diclofenac (73.64%). In Hot plat test, extract exhibited significant (p<0.05) increase in pain threshold in a dose dependent manner. (11)
• Phytoremediation / Pb-Contaminated Soil: Contamination of lead (Pb) is one of the main environmental problems on a global scale. Study assessed the phytoremediation potential of native metallophytes growing on the Song Tho Pb mine in Kanchanaburi province, Thailand. While total Pb concentrations of top soils varied from 4881 to 16,720 mg/kg, those in soil around the roots ranged from 421 to 48,883 mg/kg. Thysanolaena latifolia and Mimosa pudica with bioconcentration factor >1 and TF (translocation factor) < 1 could be useful in phytostabilization as excluders. Bidens pilosa is a candidate for Pb extraction. The three phytoremediators can be further evaluated using hydroponic and pot experiments. (14)
• Phytoremediation / Copper and Arsenic: Mining activities in the Lepanto Cu-Au mine within the Mankayan Mineral District in the Philippines have exposed the arsenic (As)-rich copper (Cu)-gold (Au) and polymetallic ores to surface conditions. Cu and As dispersal into nearly soil and water could pose health hazards to the natural ecosystems and human settlements. Thysanolaena latifolia was one of the metallophytes that tolerated the different Cu and As concentrations in the soil with potential for effective ecological restoration to post-mining rehabilitation. (17)

Availability
- Wild-crafted.
- Cultivated .