Botany
Tanghas is an upper canopy tree that can grow 5 to 40 meters high. Leaves are alternate, leathery, sulfur yellow on the lower surface when dry, smooth, oblong or ovate so, about 15 centimeters and 5 to 7 centimeters wide, with pointed tip, and rather obtuse base, upon 2-centimeter long petioles. Inflorescences are lateral or axillary, up to 3 centimeters long. Flowers are hairy, ovate elongated, borne upon 3-millimeter long pedicures, and clustered toward the distal ends. Fruit is subproblem, about 3 centimeters long, smooth when old, with a very blunt, apical point, usually creased longitudinally, with a relatively thin exocrine, which is yellow when mature. Seeds have yellow to red divided aril.
Distribution
- In forests at low and medium altitudes in Cayman, I locos Notre, La Union, Bataan, Laguna, Quezon and Ca-marines Provinces in Luzon; and in Saar, Late, and Mindanao.
- Also reported in Malaysia, Indonesia, Taiwan, Borneo, Celebes, Moluccas.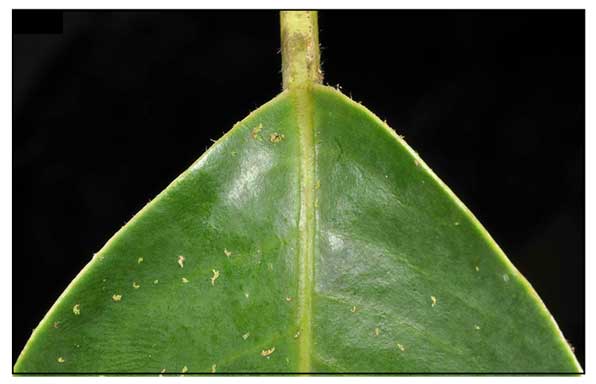 Constituents and properties
- Seeds yield an oil considered by Filipinos to be medicinal.

Parts used
Seeds, bark.

Uses
Folkloric
- Seed oil applied to itches and similar skin diseases.
- Pulp of bark also used for the same purpose.
- Bark used for treatment of internal pains. (2)
Others
- Dye: Bark of most species of the genus yields a red sap (chino or kino). Dye can provide a permanent brown stain. (2)
- Wood: Soft or moderately hard, not durable. Think stock tends to warp. Used for light construction work partitioning, flooring, wall paneling, moulding and making of tool handles, woodcraft, match boxes, and household utensils. (2)
Studies
• No studies found.

Availability
Wild-crafted.