Botany
Tarambulo is a small, suberect, prickly, hairy herb, 0.5 to 1.5 meters high. Leaves are broadly ovate, 15 to 20 centimeters long, 12 to 23 centimeters wide, lobed at the margins, and densely covered with stiff woolly hairs above and woolly hairs and prickly spines on the nerves beneath; the lobes are triangular and 2.5 to 4 centimeters deep. Flowers are borne on lateral racemes. Calyx is shortly funnel-shaped, with ovate-triangular lobes. Corolla is densely woolly outside, white, oblong-loved, 2 to 2.5 centimeters long. Fruit is a berry, yellow, globose, 2.5 to 3.5 centimeters in diameter, densely covered with needle-like hairs, and many-seeded.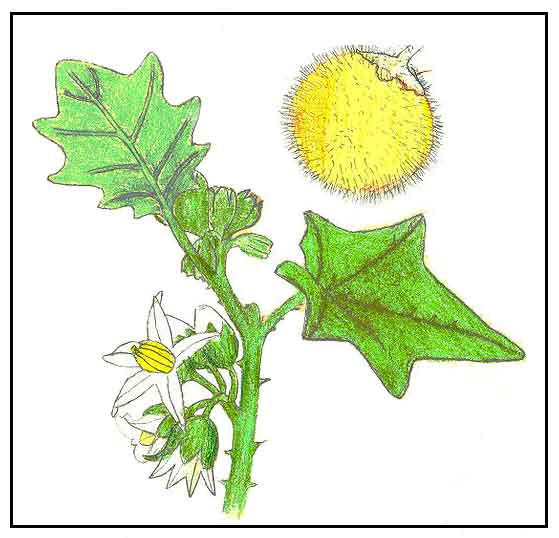 Distribution
- Throughout the Philippines, in waste places and old clearings, at low and medium altitudes, ascending to 2,000 meters.
- Also occurs in India to southern China and Malaya.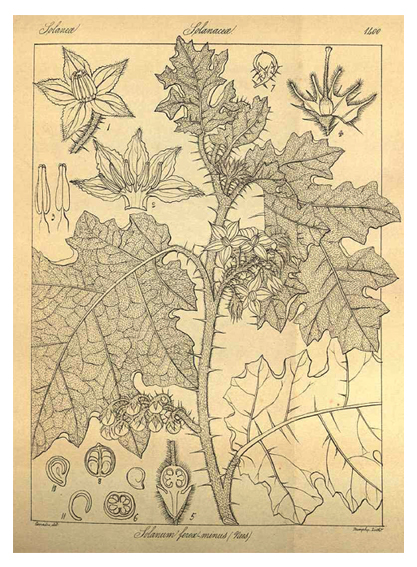 Constituents
- Seeds yield a yellow colored oil with a fatty acid composition of palmitic acid (12.5%), stearic acid (9.95%) oleic acid (39.83%) and linoleic acid (38.06%).
Properties
- Leaves considered diaphoretic, emetic, expectorant.
- Studies suggest antibacterial, repellent activities.
Distribution
- Throughout the Philippines

Uses
Culinary
- In India, Thailand and Malaysia, fruit widely used as a sour-relish in curries.
- In Thailand, a special kind of sauce called nam prek is made with the fruit.
Folkloric
- In the Philippines, leaves used as poultices for swellings.
- Decoction of roots used for body pains and discomfort after meals.
- Decoction used for syphilis.
- Roots used externally for baths for fevers and as poultice for itches, cuts, wounds and bruises.
- Seeds used for toothaches – burned and the fumes inhaled.
- In Bangladesh, used for coughs, asthma, fever, vomiting, sore throat and gonorrhea.
- In India, used for female sex disorders.
- In India, dried seeds and flowers are kept in mouths for tooth decay. (5)
- In Assam, India, burned seeds are taken to relieve chronic and bronchial cough; used in asthma. (6) Fruits are used as appetizer; root extracts used as antiasthmatic. (7)

Studies
• Seed Fat: Seeds yield a yellow colored oil, containing palmitic acid, stearic acid, oleic acid and linoleic acid. (1)
• Antibacterial: Study evaluated B. pandurata, Z. zerumbet, and S. ferox extracts against Aeromonas hydrophilia and Pseudomonas sp. in aquaculture. Results showed S. ferox at 400 and 900 inhibited Pseudomonas sp. growth whereas concentration of 600, 200, and 900 ppm reduced bacterial pathogen in fish body. (8)
• Repellent: Study evaluated the dose-mortality and repellent activity of various chloroform extracts of Solarium ferox against the red flour beetle Tribolium castaneum adults. Fruit and stem extracts showed repellent activity against T. castaneum adults at P<0.01 and leaf extract at P<0.05. The root extract did not show any repellency. (9)

Availability
Wild-crafted.