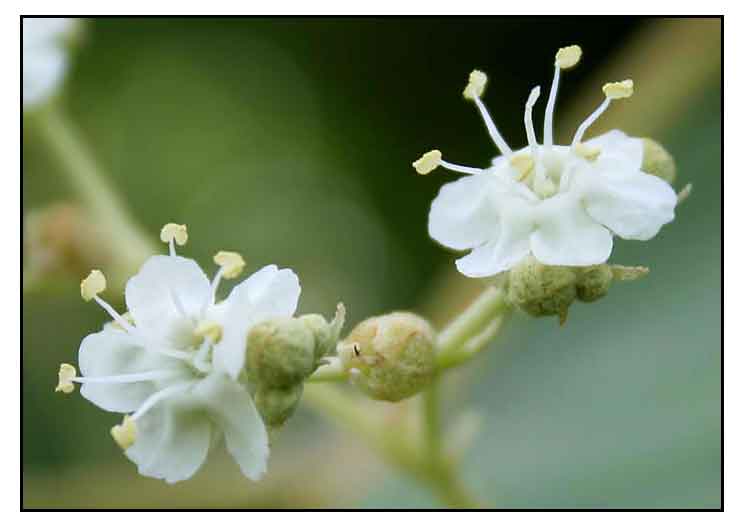 Botany
Tekla is an erect, large, deciduous tree growing up to 20 meters or more. Branchlets are 4-angled. Leaves are large, elliptic or obovate, 20 to 30 centimeters long, pointed at both ends, usually wedge-shaped at the base, with entire margins, the upper surface rough and without hairs and the lower surface densely covered with grey or yellowish hairs. Flowers are numerous, short-stalked, and arranged in large, terminal, much-branched panicles 30 to 80 centimeters long. Calyx is small, broad, bell-shaped, and covered with stellate hairs, with subequal and spreading lobes. Whole calyx is ultimately enlarged, up to 2.5 centimeters long and forming a membranous, blade-like covering to the fruit. Corolla is white, smooth, less than 1 centimeter across, with subequal and spreading lobes. Fruit is somewhat rounded, about 1.3 centimeters in diameter, somewhat 4-lobed, the soft pericarp densely clothed with felted, stellate hairs.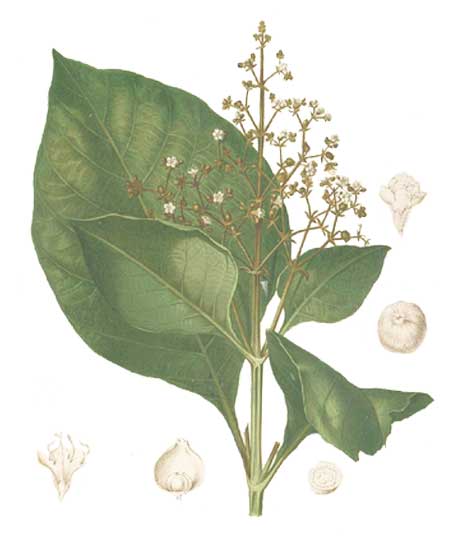 Distribution
- Planted in various parts of the Philippines, especially parts of Mindanao and the Sulu Archipelago.
- Now established in the southern part of the Archipelago.
Constituents
- Heartwood contains a resin, tectoquinone.
- Exhibits cracks and cavities lined with white crystalline deposit consisting of hydrocalcic orthophosphate with 11.4 % ammonio-magnesium phosphate.
- Contains a higher percentage of carbon and hydrogen, and together with its calcium, phosphate and silica content, may account for the hardness of the wood.
- Leaves contain 6% tannin, dry weight.
- Phytochemical screening of methanol and water extracts yielded carbohydrates, reducing sugars, alkaloids, glycosides, flavonoids, sterols, and saponins.
- Study of crude ethanolic extract of fruits yielded two quinones and one triterpene, identified as tectograndone (1), 6-methyl-1,4-dihydroxyanthraquinone (2), and 2ß-hydroxyursolic acid (3), respectively. (see study below) (21)
- Phytochemical screening of bark extracts yielded the presence of biologically active compounds, including flavonoids, phenols and polyphenols, and tannins. Total polyphenol values ranged from 270.5 µg EAG/mg to 284.61 µg EAG/mg. Flavonoid content ranged from 16.83 µg EQ/mg and 38.47 µg/ EQ/mg. (see study below) (27)
- Phytochemical analysis of various extracts of epicarp of fruit of P. granatum yielded flavonoids +++. tannins (gallic) +++. saponosides ++, anthocyanosides ++. anthracenosides +++. reducing compounds +++, with an absence of coumarins, heterosides, alkaloids, and starch. (27)
Properties
- Flowers and seeds considered diuretic.
- Bark considered astringent.
- In Ayurveda, considered cooling, laxative, sedative, expectorant, anthelmintic.
- In Indian medicine, considered anti-inflammatory, anti-bacterial, cytotoxic, anti-anemic, anti-ulcer, anti-viral, and vulnerary.
- Studies have shown antidiabetic, hypolipidemic, antifungal, antibacterial, antioxidant, anti-inflammatory, analgesic, wound healing, antipyretic, nephroprotective, tocolytic, cytotoxic, diuretic properties.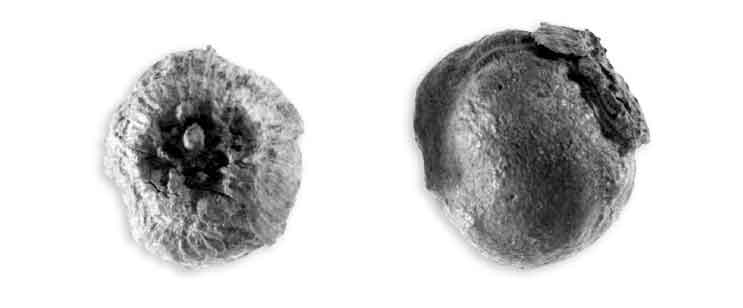 Parts used
Leaves, bark, fruit, roots.

Uses
Edibility
- In India, leaves are used in the preparation jackfruit dumpling.
- In Java, Indonesia, leaves are used in the preparation of gudeg, a dish of young jackfruit,
providing the dish with a dark brown color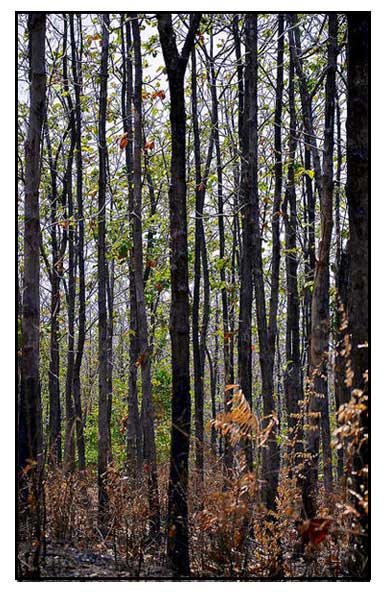 Folkloric
- In the Philippines, decoction of fresh or dried leaves used for menstrual disorders and hemorrhages in general.
- Decoction of leaves, fresh or dried, used for hemoptysis.
- Decoction of leaves, fresh or dried, used as a gargle for sore throat.
- Decoction of fallen yellow leaves used for anemia.
- Hindus used the plaster of powdered wood for bilious headaches and for dispersion of inflammatory swellings.
- Used for dyspepsia and burning of the stomach caused by bile overflow. Also, as vermifuge.
- The charred wood in poppy juice, reduced to a smooth paste, is used for eyelid swelling. Also, believed to strengthen the sight.
- Bark used as astringent.
- Paste of powdered wood applied for acute dermatitis; especially, that due to contact with caustic oleoresin of Anacardium occidentale.
- Wood powder paste also used for bilious headaches and swellings, and internally for dermatitis and as vermifuge.
- Oil of nuts applied to the scalp for hair growth; also, for soothing skin itching.
- Flowers and seeds used as diuretic. Two cases of marked diuresis reported following application of the epithem of the bruised fruit to the pubes.
- In Ayurveda, considered sedative to gravid uterus; a tocolytic agent used to prevent the occurrence of preterm births. Also used in the treatment of piles, leucoderma and dysentery.
- In Cameroon, used as laxative and in treatment of skin diseases and diarrhea. (21)
Others
- Wood: Known for its excellent wood. Used for ship-building, furniture-making, doors, window frames, outdoor furniture, boat decks and other fine wood works. Favored for its resistance to termites.
- Dye: Both the root-bark and young leaves yield a yellowish-brown or reddish coloring matter, which is used for paper, clothes and matting. In the West Indies, young leaves are similarly used for dyeing.
- Food plant: Used as food plant by the larvae of various genus of moths.
- Incense: Sawdust from teakwood used as incense in Java. However, the dust can be a skin irritant to some.
Contact dermatitis
• Reports of contact dermatitis from handling of sawdust of the tree lumber.
• Epidemiological study of occupational contact eczema in a furniture factory describes teak as a fairly potent sensitizer and contains primary irritants. Half of the employees heavily exposed to teak dusk suffered from eczema and/or severe itching; 8% with slight exposure manifested skin symptoms.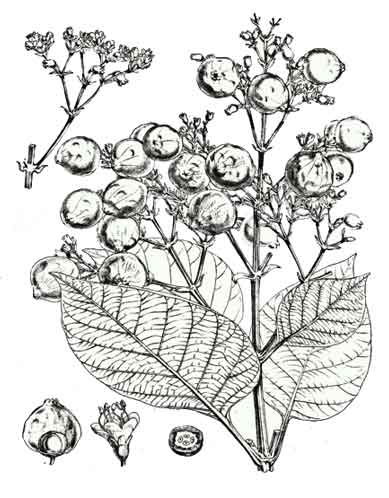 Studies
• Antifungal: The antifungal activity may be attributed to various phytochemical constituents in the crude extract. Study yielded active compounds – deoxylapachol and tectoquinine that indicated fungal wall stress. (1)
• Anti-Diabetes / Decrease Insulin Resistance / Antioxidant: Study showed TG significantly reduced plasma glucose and serum triglyceride levels and also stimulated glucose uptake in skeletal muscle. The levels of antioxidant enzymes GSH, SOD and catalase were also significantly increased. Results suggest type 2 DM benefits from its ability to decrease insulin resistance. (3)
• Antibacterial / Antibiotic Synergism / Leaves: Study on the synergistic activity of tetracycline with the methanol extract of Tectona grandis leaves showed the potentiality of plant in the treatment of various infectious diseases caused by bacteria. (6)
• Anti-Inflammatory / Leaves / Flowers and Fruit Rind: Study of the methanolic extract of the frontal leaves of Tectona grandis showed dose-dependent analgesic activity and significant anti-inflammatory activity using carrageenan-induced paw edema. (5) Study evaluated aqueous-ethanolic extract of fruit rind, flowers, and leaves for oral anti-inflammatory and analgesic activities. Highest activity was seen with the fruit rind
• Allelopathic Potential / Phytotoxicity: In a study of four forest species, the most active was T. grandis. Phytochemical study yielded a new compound, abeograndinoic acid, with 21 known terpenoids, including 4 sesquiterpenoids, 8 diterpenes and 9 triterpenes. The compounds with the highest phytotoxic activity were the diterpenes 9 and 12.
• Antibacterial / Cytotoxic / Antioxidant: Study showed good of crude extracts from leaf, bark and wood showed good activity against S. aureus and K. pneumonia. Also, study showed high toxicity against HEK293 and CEF cells. Ethyl acetate extract showed maximum activity against DPPH and ABTS. (7)
• Antifungal: Study provides new scientific information about T grandis, Shilajit and V. wallachi - their antifungal activity attributed to various phytochemical constituents in the crude extract.
• Anti-Tussive / Roots: Study of aqueous and methanol root extract showed dose-dependent anti-tussive effect. (9)
• Juglone / Antibacterial / Listeria and MRSA Inhibition:: Study of methanol extracts of teak bark showed inhibition of Listeria monocytogenes and MRSA (methicillin resistant Staphylococcal aureus). The inhibitory compound was identified as 5-hydroxy-1,4-naphthalenedione (Juglone). (10)
• Antipyretic: A methanolic extract of root of Tectona grandis was tested on yeast-induced pyrexia in Wistar albino rats. Results showed significant reduction of body temperature when compared to paracetamol standard. (11)
• Antidiabetic / Nephroprotective: A study of an ethanolic extract of bark of Tectona grandis in alloxan induced diabetes and associated renal complication showed reduction in proteinuria and albuminuria, with improvement in serum total protein and albumin level, with prevention of rise in serum creatinine levels and histopathological absence of renal sclerotic lesions in the treatment group. Results indicate TG attenuates the progression of renal damage in alloxan-induced diabetic rats. (12)
• Lapachol / Hypoglycemic: Study of a methanolic extract of roots of Tg in alloxan-induced diabetic albino rats showed significant hypoglycemic activity. The antihyperglycemic effect may be due to reported constituents, viz., lapachol, a naphthoquinone, lapachonone, deoxylapachl, and tectoquinone. (13)
• Antihyperglycemic / Antioxidant / Bark: Study of ethanol extract of bark showed potent in vitro antioxidant potential and marked antihyperglycemic activity, which may be due to flavonoids and quinones. (14) Study of T. grandis bark extract suspension for 30 days in alloxan-diabetic rats caused significant reduction in blood glucose from 250 ± 6.5 to 50 ± 2.5 mg/dL. (29)
• Diuretic: Study of an aqueous extract of leaves showed acute diuretic activity, with dose-dependent increase in urine volume and urine electrolyte excretion. (15)
• Anthraquinones / Antibacterial / Cytotoxicity: Study isolated anthraquinones from the leaves of Tectona grandis. Two compounds isolated from the chloroform extract showed activity against S. aureus and K. pneumoniae. Both compounds showed cytotoxicity against chick embryo fibroblast, HEK292, HCT119 and L929 cells. Antioxidant activity was low. (17)
• Tocolytic Effect / Stems: Study evaluated the effects of stem extract on the contractions of the uterine strips isolated from non-pregnant female Wistar rats injected with Estradiol benzoate, with contractions induced with Oxytocin. The results showed Tg stem extract possess the same tocolytic effect as the standard drugs: Magnesium sulfate, Nifedipine, and Isoxsuprine. (18) Previous study of Tectona grandis stem extract showed uterine tocolytic effect. Conventional tocolytic drugs are known to have cardiovascular and musculosystem effects. Study on Wistar rats showed tocolytic effect without causing any cardiac toxicity or neuromuscular blockage. (25)
• Blood Glucose Lowering Effect / Flowers: Study evaluated the blood glucose lowering effect of a methanol extract of T. grandis flowers in type 2 diabetic rats. Results showed a reduction of blood glucose lowering effect which was attributed to polyphenolic active constituents via an insulin sensitizing action, α-amylase and α- glucosidase inhibitory actions. (20)
• Antibacterial / Fruits: Study evaluated crude ethanol extract of fruits for antibacterial activity against four Gram-negative bacterial strains viz., E. coli, P. aeruginosa, K. pneumonia and E. aerogenes. Study isolated 3 compounds. The crude extract showed good activity against bacterial strains tested with MIC range of 64-256 µg/ml. Compound 2, 6-methyl-1,4-dihydroxyanthraquinone, exhibited strong activity against Escherichia aerogenes with MIC of 16 µg/ml. (see constituents above) (21)
• Wound Healing / Leaves / Leaf Oil: Study evaluated the wound healing activity of ointment formulation of Tectonia grandis leaf extracts on healthy albino rats using excision and incision wound models. Results showed significant wound healing activity in both wound models by measures of wound area reduction and increased tensile strength. (22) Study evaluated the wound healing activity of oil extract from frontal leaves of T. grandis by topical application on incision and excision wound models in rats. Results showed significant increase in breaking strength (p<0.001) in the incision wound model and decrease period of epithelisation (p<0.01) and increase in wound contraction rate (p<0.001) in the excision wound model. (23)
• Antibacterial / Burn Pathogens: Study evaluated crude chloroform extract of leaves of T. grandis
on pathogenic organisms isolated from infected burn patients. Results showed significant lysis against all studied pathogens. Results were comparable to conventional antibiotic Silver Sulphadiazine (SSD) cream. (24)
• Antifungal / Oral Candidiasis / Peel Extract: Study evaluated the in vivo antifungal efficacy of Punica granatum peel extract against oral Candida compared with clotrimazole. The antifungal efficacy of P. granatum group and clotrimazole group were statistically significant with p-value <0.05. Inhibitory efficacy increased with increase in concentration. MIC of peel extract approximated that of clotrimazole. (26)
• Antimicrobial / Bark: Study evaluated methanolic extracts of bark for antimicrobial activity against K. pneumonia, P. aeruginosa, S. aureus, S. intermedius, and E. coli. A methanolic extract showed best effect with largest zone of inhibition against Staphylococcus aureus at 34 ± 0.01 mm. (see study above) (27)
• Toxicity Studies / Fruit and Seeds: Study evaluated the acute and subacute toxicity profile of ethanolic extracts of P. granatum whole fruit (EPWF) and seeds (EPS) and synthetic ellagic acid (EA) in Swiss albino mice following OECD guidelines. Dose of 2000 mg/kbw was used for acute toxicity study and 2000 mg/kbw daily for 28 days for subacute toxicity study. LD50 was more than 2000 mg/kbw. There were no significant hematological and biochemical parameter changes, with no histoarchitectural changes in the liver and kidney. Results suggest EPWS, EPS, and synthetic ellagic acid are non toxic and safe up to 2000 mg/kbw by oral administration. (28)
• Acute Oral Toxicity / Seeds: Study evaluated methanolic seed extract in albino mice via oral route for adverse and hazardous effects using OECD guidelines 423. No mortality of significant physiological changes were noted up to 1000 mg/kbw. At single doses, mortality was found at 1250 mg/kg. Results showed that oral short term use of methanolic seed extract is safe at dose of 1000 mg/kbw. Higher doses on long-term administration can cause considerable toxicity. (30)
• Analgesic / Anti-Inflammatory / Stem Bark: Study evaluated aqueous and ethanol extracts of stem bark of Tectona grandis for analgesic and anti-inflammatory activities in Wistar rats using hot plate te4st and carrageenan-induced paw edema model. The aqueous extract showed significant and dose dependent analgesic and anti-inflammatory effects. No toxicity was seen up t 2000 mg/kg dose level. Activities were attributed to phytoconstituents such as flavonoids, alkaloids, tannins, anthraquinones and saponins. (31)
• Antidiabetic / Hypolipidemic / Bark: Study of ethanolic bark extract in alloxan induced diabetic rats showed antihyperglycemic and lipid lowering effect. Possible mechanism of activity may be due to lipid lowering effect of TG which may increase uptake and utilization of glucose leading to glycemic control and inhibition of lipolysis. (32)

Availability
Wild-crafted.