Botany
Tibig is an erect, spreading, dioecious perennial tree, growing to a height of 8-10 meters. Branchlets are hairy. Leaves oblong to elliptic-obovate, 15 to 35 centimeters long and 8 to 12 centimeters wide; soft and pubescent beneath, the margins irregular and distinctly toothed, the apex abruptly acute, and the base auriculate. Midrib of leaves is stout, with 7 to 9 pairs of ascending, curved nerves. Petiole is brown, tomentose, 3 to 5 centimeters long. Tubercles are mostly cauline, occasionally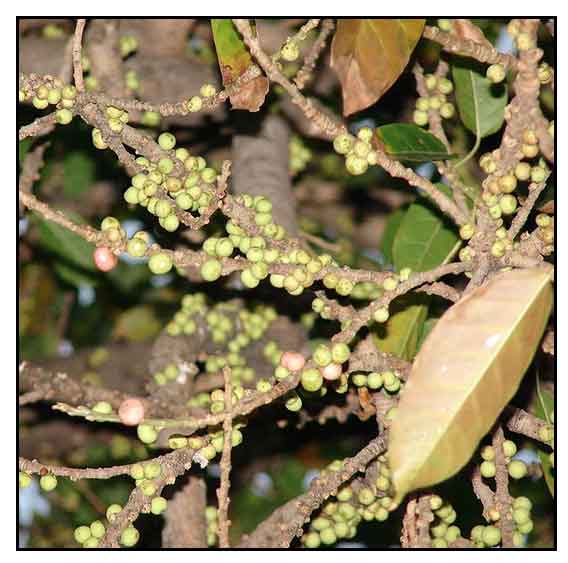 from larger branches, clustered, rebranched, rigid, 20 centimeters long, bracteate. Figs are subglobose, 2 to 3.5 centimeters in diameter, glabrous, fleshy, pedunculate, green, becoming yellowish-white at the base, the umbilical scales exerted. Peduncle is acute, 2 centimeters long, with three bracts.
Distribution
- In thickets and forests, especially in areas saturated with water, at low and medium altitudes.
- Used as live fence.
- Occurs in Batan Island, Polilio, Mindoro, Culion and Balabac regions of Palawan, Panay, Samar, Leyte.
- Also occurs in North Borneo.
Constituents
- Dichlormethane extract of unripe fruits yielded 4-(2-hydroxyethyl)- 2-methoxyphenol (1), a mixture of meso-2,3-butanediol (2a), (2R,3R)-2,3-butanediol (2b) and (2S,3S)-2,3- butanediol (2c) and β-sitosterol (3). (2)
- Phytochemical screening of ethanolic extract of fruit and leaves yielded alkaloids, tannins, flavonoids, saponins, and anthraquinones. (see study below) (6)
- Ethanolic leaf extract yielded alkaloids, flavonoids, phenols, terpenoids, saponins, and tannins. Total phenolic and flavonoid content were 348.3 ± 3.2 mg GAE/g and 2.64 ± 0.06 mg QE/g, respectively. (see study below) (9)
- Study of leaves isolated six diarylbutanoids, ficusnotins A-F. (10)
Parts used
Bark, fruit, leaves and seeds.
Uses
Edibility
- Ripe fruits are edible but rather tasteless; usually eaten with sugar.
- Young leaves eaten as vegetable.
Folkloric
- Water extracted from standing tree drunk three times daily for fever.
- Extracted water applied to relieve muscle pain.
- Decoction of roots and bark used for urinary tract inflections, hypertension, and diabetes.
- Water from cut branches used for urinary infections.
- The Mansaka tribe of the Compostela Valley used a bark decoction to treat asthma, cough, and other respiratory conditions. (4)
- The Ayta people of Porac, Pampanga use the stem of the plant species as repellent against hematophagous insects. (4) Used for toothache and stomachache. (5)
Other
- Wood: Used as firewood or charcoal.
Studies
• Constituents: Dichlormethane extract of unripe fruits yielded 4-(2-hydroxyethyl)- 2-methoxyphenol (1), a mixture of meso-2,3-butanediol (2a), (2R,3R)-2,3-butanediol (2b) and (2S,3S)-2,3- butanediol (2c) and β-sitosterol (3). (2)
• Cytotoxicity / Stems: Study evaluated the potential cytotoxicity of stems of Ficus nota in brine shrimp lethality assay. Water and absolute ethanol extracts of stems showed activity against the brine shrimp with LC50 of 991.00 ppm and 852.22 ppm, respectively. (4)
• Antibacterial / Fruit and Leaves: Study evaluated the antibacterial activities of ethanolic extract of Ficus nota fruit and leaves against pathogenic pathogens viz. Escherichia coli, Staphylococcus aureus, Klebsiella pneumonia, and Salmonella typhimurium. Results showed significant antibacterial activity when compared to standard Chloramphenicol. Cytotoxicity results showed higher toxicity with fruit compared with leaf extract. (see constituents above) (6)
• Antioxidant / Leaves: In a study of Philippine medicinal plants for antioxidant activity, a leaf decoction of Ficus nota showed 88.19% at 500 ppm against DPPH, 216.64 mg GAE, 55.52 AAE, and 77.05 BHTE. Results suggest potential of F. nota as an important source of natural antioxidants. (7)
• Antimicrobial / Cytotoxicity / Leaves: Study evaluated the antimicrobial and cytotoxic potential of various extracts of Ficus nota leaves. An aqueous extract showed active to very active levels of inhibition against three bacteria viz., B. subtilis, S. aureus and E. coli and activity against two fungi, S. cerevisiae and C. albicans. All plant extracts displayed toxicity (LC50 <1000 g/ml) against brine shrimp lethality assay, with the crude ethanol and chloroform extracts showing LC50 values of less than 250 g/ml. (8)
• Total Phenolic and Flavonoid Contents / Free Radical Scavenging Activity / Leaves: Study of ethanol leaf extract showed concentration dependent inhibitory effect on DPPH, ABTS, ad NO radical with EC50 of 970.6, 269.8 and >5000 ppm, respectively. It also showed high dose dependent reducing capacity (EC50=548.3 ppm) and metal chelating potential (EC50=27.53 ppm) towards iron. Results suggest a dual potential in biological and pharmaceutical applications beneficial for treatment and prevention of various diseases i.e., diabetes, cardiovascular, cancer, and aging. (see constituents above) (9)

Availability
Wild-crafted.