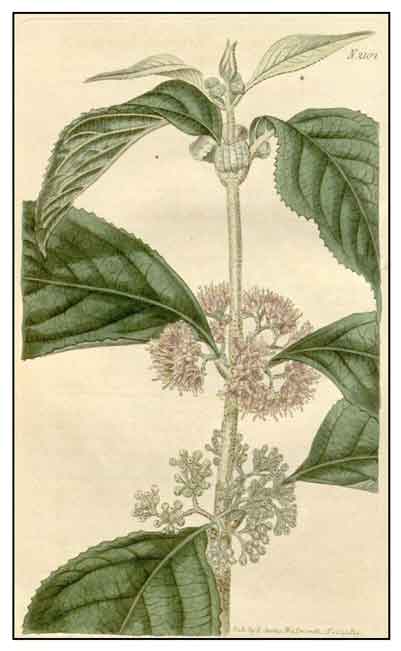 Etymology
- Callicarpa means "beautiful fruit" from the Greek words words kalios (beauty) and carpos (fruit), Candicans is Latin for "whitish." (7)
Botany
Tigau is a shrub, 2 to 4 meters high. Young branches, inflorescences, petioles, and lower surface of the leaves are densely covered with short, grayish or whitish, stellately arranged hairs. Leaves are oblong-ovate, 6 to 14 centimeters long, 2.5 to 5 centimeters wide, sharply toothed at the margin, and pointed at both ends. Cymes are short-stalked, borne in the axils of the leaves, and 2 to 4 centimeters long. Flowers are pale purplish or lavender, and about 3 millimeters long. Fruit is fleshy, pale lavender, rounded and 4 to 5 millimeters in diameter.
C. cana differs from C. americana in having stems and leaf undersides more tomentose, and especially in the racemes being more lax, the berries in the latter crowded together to look like one fruit.
Distribution
- In thickets and secondary forests at low altitudes from northern Luzon to Palawan and Mindanao, in most or all islands and provinces.
- Also occurs in the Malay Peninsula and Archipelago to the Bismarck Archipelago, and in the Marianne, Caroline, and Palau Islands.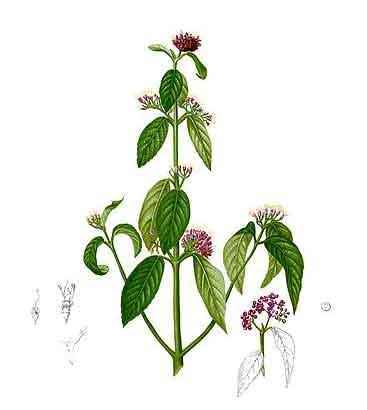 Properties
- Fruit is said to be poisonous to chickens. Also, used as poison for fishing.
- Leaves considered emmenagogue, depurative, and vulnerary.

Parts used
Leaves, roots.

Uses
Edibility
- Roots sometimes used to make herbal medicinal drinks.
- In Yap, fruits reportedly sometimes eaten raw. (9)
Folkloric
- In the Philippines, leaves are smoked to relieve asthma.
- Fresh leaves applied externally as plaster for gastralgia.
- In India, root decoction is given for fever and to remove hepatic obstruction. Also used for skin diseases and as a wash for aphthae in the mouth.
- In Malaya, leaf decoction used for abdominal problems.
- In Java, decoction of leaves used for bringing on menstruation. Leaves used for poulticing boils and wounds.
- In Indonesia, used for skin rash and skin inflammation caused by bacteria. (8)
- Infusion of leaves used as depurative.
- Use of the plants similar to those of Callicarpa americana (American beautyberry). C. americana is used as a folk remedy. As insect repellent, the leaf is rubbed on the skin to deter ticks, ants, and mosquitoes. Root bark is used as diuretic, and as treatment for dysentery and stomachaches. Decoction made from berries and roots used to treat colic.
- In Yap, flowers, bark, and leaves used as medicine. (9)
Others
- Fish poison: In the Philippines the leaves are pounded and used as to stupefy fish, particularly for mud fish (dalag). In Palau, also used to stupefy fish.
- Fruit is reported to be poisonous to chickens.
- Shoots used in arrow poisons.
- After drying, used as bait for prawns.
- Bark chewed as substitute for betel nut. (7)
Studies
• Callicarpone / Fish Killing Component / Leaves: Study isolated a fish-killing component, callicarpone, C20H28O4, from the leaf of Callicarpa candicans. The toxicity to fish was reported to be as strong as rotenone and ten times stronger than sodium pentachlorophenoxide. (5)
• Antibacterial / Leaves:Study showed the leaf extracts of C. candicans (kembu-kembu) showed antibacterial activity against Bacillus sp., Escherichia coli, Serratia marcescens, and Staphylococcus aureus. (8)

Availability
Wild-crafted.