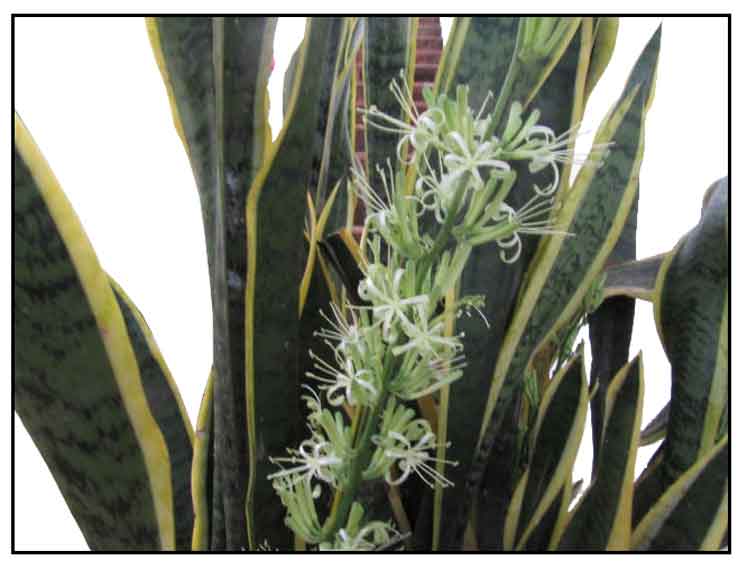 Botany
Sanseviera trifasciata is an herbaceous, succulent, perennial plant, growing to a height of 90 centimeters. Leaves form a basal rosette, are flat, thick, leathery, sword-shaped, and variegated with grayish white transverse markings Flowers are whitish green, up to 5 centimeters long.
Distribution
- Widely distributed in towns and cities throughout the Philippines.
- Introduced.
- Native to India.
- Mostly ornamental cultivation.
Constituents
- Yields sapogenin.
- Phytochemical screening of water and ethanol extracts yielded alkaloids, flavonoids, saponins, glycosides terpenoids, tannins, proteins, and carbohydrates.
- Phytochemical screening of leaves extract yielded flavonoids, tannins, alkaloids, phenols, steroids, and saponins. (see study below) (11)
- Phytochemical screening of ethanol extract of leaves and rhizomes yielded alkaloids, saponins, flavonoids, glycosides, tannins, sterols, and triterpenes
Properties
- Detoxifying, heat-clearing.
- Studies have shown insecticidal, analgesic, antipyretic, air-purifying, anti-algae, anti-allergic, antibacterial, anthelmintic, antidiabetic properties.



Parts used
Rhizomes, leaves.

Uses
Folkloric
- No recorded folkloric use in the Philippines.
- In China, decoction used for detoxification, as anti-inflammatory, and for treatment of sores and snake bites.
- Also used for boils, cough, bronchitis, traumatic injuries.
- In Sri Lanka, rhizomes used for coughs and colds; leaves used for snake bite.
Others
• Bowstring hemp: Yields bowstring hemp, a strong plant fibers once used to make bowstrings.

Studies
• Air-Purifying Plant: Sansevieria trifasciata is in NASA's list of air-purifying plants, improving indoor air quality by passively absorbing toxins (formaldehyde, formaldehyde, trichlorethylene, xylene and toluene). (4) (8)
• Analgesic / Antipyretic: Study of ethanol and water extracts of Sansevieria trifasciata leaves showed dose-dependent and significant (P<0.05) increase in pain threshold in the tail-immersion test. The water extract showed not significant effect on brewer's yeast-induced fever in rat; however the EtOH extract significant reversed yeast-induced pyrexia.(2)
• Insecticide: Study evaluated the efficacy of insecticides on the growth of string beans. Study showed that Sansevieria trifasciata insecticides are as effective as commercial ones. (3)
• Fiber Extraction: Study reports on the extraction of fiber from S. trifasciata plant using water retting method. Results showed a fiber with good strength and fineness with low elongation. Results suggest a fiber source of good strength, with cost-effective and renewable source, with a potential for use in the manufacture of products like sacks, ropes, handicrafts, mattresses and other textile applications. (6)
• Treatment of Callosities of Fingers and Toes: Study evaluated the use of ointment formulation of S. trifasciata in the treatment of corns. Results showed extract of S. trifasciata can be a good alternative for the treatment of callosities of the fingers and toes. Increasing concentration did not cause irritation and also reduced recovery time. (7)
• Anti-Diabetic / Leaves: Study evaluated the effects of Sansevieria trifasciata leaf decoction on blood glucose levels and pancreatic ß-cells in alloxan induced hyperglycemic rats. Results showed all test doses of the leaves decoction decreased the level of blood glucose and increased the granule density in the ß-cells of the islets of Langerhans of alloxan induced diabetic rats. (9)
• Carbon Dioxide Absorption in Offices: Study evaluated the application of snake plant to absorb carbon dioxide in offices. At control room, empty room, the percentages of carbon dioxide absorption were 27.28, 28.36, 27.31, and 23.51 respectively for snake plant 5, 4, 3, and 2. (10)
• Anthelmintic / Leaves: Study evaluated the in vitro anthelmintic activity of Sansevieria trifasciata leaves extract against Fasciola hepatica. In-vitro assay showed different doses of the extract resulted in the death of the parasites at different mean time. (see constituents above) (11)
• Indoor Air Pollutant Ozone Reduction: Study evaluated three common indoor houseplants viz., Sansevieria trifasciata (snake plant), Chlorophyllum comosum (spider plant) and Epipremnum aureum (golden pothos) for effectiveness in reducing ozone concentrations in a simulated indoor environment. Ozone depletion rates were higher within chambers that contained plants than within control chambers without plants, but there were no plant species differences. (12)
• Mechanistic Explorations / Antidiabetic Potential / Leaves and Rhizomes: Study evaluated the mechanistic anti-diabetic potential of leaves and rhizomes of S. trifasciata. Flow cytometric data revealed the beneficial role of plant extract in preventing apoptotic cell death under hyperglycemic conditions and results of WB analysis showed reduced expressions of vascular inflammation markers. (13)
• Antibacterial: Study evaluated the potency of S. trifasciata methanol extracts and fractions through antibacterial testing against Gram negative (E. coli) and Gram positive (S. aureus) bacterial. The methanol extract showed no activity against the tested bacteria. Of 10 fractions, two showed activity for both test bacteria, five against Gram positive bacteria and three showed no activity. (14)
• Potential to Inhibit Algae Bloom: Malaysia is one of the countries that have been affected by harmful algae bloom (HAB) causing human health problems like food poisoning and loss to aquaculture industries. Study evaluated crude extracts obtained from fresh and dried material for potential to inhibit growth of HAB species i.e. A. tamiyavanichi and A. tamarense. Results showed removal efficiencies and suggests S. trifasciata has potential in mitigating HAB. (15)
• Antiallergic / Anti-Anaphylactic / Leaves: Study evaluated the antiallergic anti-anaphylactic activity of ethanolic extract of S. trifasciata on various animal models viz. milk induced eosinophilia and leukocytosis,compound 48/80 induced mast cell degranulation, active and passive cutaneous anaphylaxis and histamine induced pedal edema. Results showed promising antiallergic and anti-anaphylactic activity of EEST, together with potent antioxidant activity. Activity may be due to inhibition of release of chemical mediators from mast cells by phytoconstituents like steroidal saponins, triterpenoids, and flavonoids. (16)
• Toxicity Testing of Leaf and Root Parts: Study evaluated the toxicity level of S. trifasciata roots and leaves using brine shrimp lethality assay and ten-fold serial dilution of powdered plant material in artificial seawater. The toxic potential of the plant extracts was greater than the recommended LC50 value, with a positive linear relationship between concentrations of extract to the mortality rate using nauplii. The more concentrated the treatment, the higher the mortality. (17)
• Insecticidal Potential: Study showed the leaves and rhizomes can be a source of organic insecticides, cheaper, safer, and more effective than carbamate. (see constituents above) (18)
Availability
Wild-crafted.