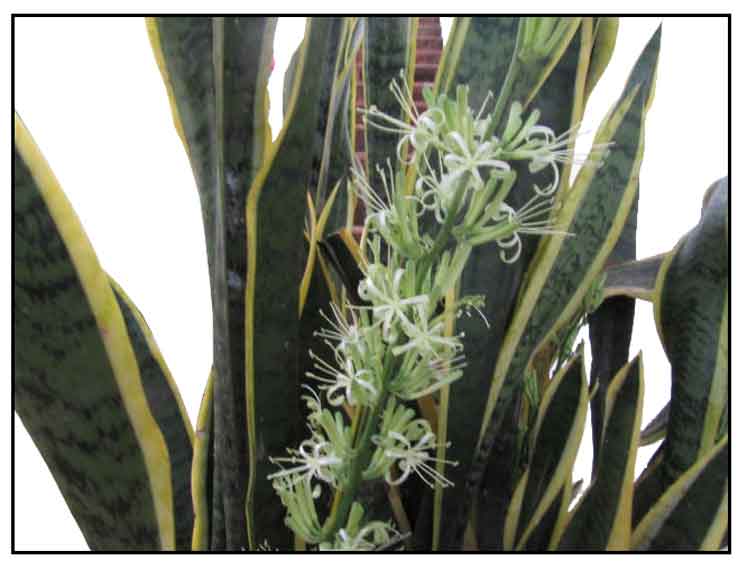 Botany
Sanseviera trifasciata is an herbaceous, succulent, perennial plant, growing to a height of 90 centimeters. Leaves form a basal rosette, are flat, thick, leathery, sword-shaped, and variegated with grayish white transverse markings Flowers are whitish green, up to 5 centimeters long.
Distribution
- Widely distributed in towns and cities throughout the Philippines.
- Introduced.
- Native to India.
- Mostly ornamental cultivation.
Constituents
- Yields sapogenin.
- Phytochemical screening of water and ethanol extracts yielded alkaloids, flavonoids, saponins, glycosides terpenoids, tannins, proteins, and carbohydrates.
Properties
- Detoxifying, heat-clearing.
- Analgesic, antipyretic.

Parts used
Rhizomes, leaves.

Uses
Folkloric
- No recorded folkloric use in the Philippines.
- In China, decoction used for detoxification, as anti-inflammatory, and for treatment of sores and snake bites.
- Also used for boils, cough, bronchitis, traumatic injuries.
- In Sri Lanka, rhizomes used for coughs and colds; leaves used for snake bite.
Others
• Bowstring hemp: Yields bowstring hemp, a strong plant fibers once used to make bowstrings.

Studies
• Air-Purifying Plant: Sansevieria trifasciata is in NASA's list of air-purifying plants, improving indoor air quality by passively absorbing toxins (formaldehyde, nitrogen oxides, and other indoor toxins).
• Analgesic / Antipyretic: Study of ethanol and water extracts of Sansevieria trifasciata leaves showed dose-dependent and significant (P<0.05) increase in pain threshold in the tail-immersion test. The water extract showed not significant effect on brewer's yeast-induced fever in rat; however the EtOH extract significant reversed yeast-induced pyrexia.(2)
• Insecticide / Antipyretic: Study evaluated the efficacy of insecticides on the growth of string beans. Study showed that Sansevieria trifasciata insecticides are as effective as commercial ones.(3)
Availability
Wild-crafted.