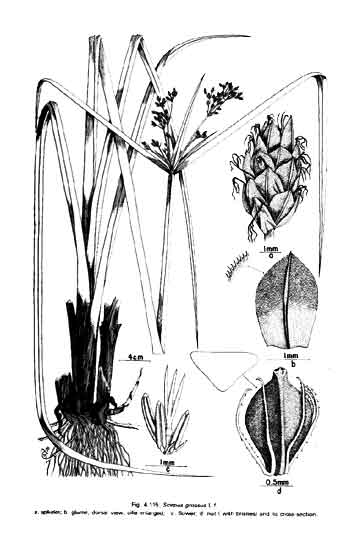 Botany
Tikiu is a very coarse, large, erect, glabrous, aquatic or marshy herb. Stems are triangular, 1.5 to 2 meters high or more. Leaves are few, basal, often half as long as the stem, 1 to 2 centimeters wide, the leaflike bracts subtending the inflorescence, spreading, broad, 30 to 60 centimeters long. Inflorescence is corymbose, and 10 to 18 centimeters long. Spikelets are very numerous, brown, ovoid, and 5 to 8 millimeters long. Nuts are obovoid, trigonous, dark brown or black, and shining.
Distribution
- In fresh-water swamps, edges of ponds, and in newly opened rice lands at low altitudes from central Luzon to Mindanao in most provinces and islands.
- Native to Southeast Asia.
- Naturalized in Australia, Borneo, Bhutan, Cambodia, China, Indochina, Indonesia, Laos, Malaysia, Myanmar, Pakistan, Sri Lanka, Thailand, and Vietnam.
Constituents
- Study on tubers for total starch, amylose and proximate analysis of starch (S), flour peeled (FP), and flour unpeeled (FU) (g/100 g dry sample) yielded: total starch 87.69 (S), 87.37 (FP), 80.43 (FU); amylose 32.33 (S), 30.44 (FP), 29.49 (FU); protein 0.17 (S), 0.32 (FP), 0.36 (FU); fat (0.06 (S), 0.12 (FP), ).10 (FU); crude fiber 0.08 (S), 1.43 (FP), 2.44 (FU); ash 0.09 (S), 0.34 (FP), 0.48 (FU). (see study below) (13)
Properties
- Root considered sweet, colling, laxative, tonic to the liver, astringent, antidiarrheal, antiemetic.
- Studies have shown antidiabetic, antihyperlipidemic, phytoremediative properties.

Parts used
Roots, leaves, and stems.

Uses
Folkloric
- Root is astringent, and is given to check diarrhea and vomiting.
- Roots used against infection, burning sensatives, fevers and gonorrhea.
- Used as diuretic.
Others
• Veterinary: In India, sap extracted from leaves and stem of S. grossus is mixed with garlic (Allium sativum), and the paste applied topically for cattle wounds. (5)
• Basketry: Stems, dried and flattened, are used for making mats, baskets, etc.
• Paper: Study suggests a potential for production of moderate quality paper pulp. (see study below)  (14)

Studies
• Radioactive Pollution Indicator: The sea weed (Scirpus grossus Linn ) was used as an experimental plant to indicate radioactive pollution in estuaries. The results showed that the accumulation of 137Cs, 65Zn, 60Co, 50Fe and 54Mn by Scirpus grossus was proportional to their concentration in the soil. (2)
• Domestic Wastewater Treatment: Study examined the ability of Scirpus grossus planted in a constructed wetland to treat domestic wastewater. Results showed S. grossus has great potential in removing pollutants in constructed wetlands in tropical regions. (3)
• Caloric Value Enhancement after Lead Phytotoxicity Test: Study showed the use of the plant as contaminant uptake in phytoremediation can enhance the caloric value of the plant. It presents a potential use as bioenergy alternative according to enhancement of its caloric value. (7)
• Phytotoxicity Test on Diesel-Contaminated Water: Study showed S. grossus and rhizobacteria in a subsurface flow system has potential in reclaiming hydrocarbon-contaminated water through enhancement of rhizobacteria by S. grossus in degrading hydrocarbon. (8)
• Phytoremediation of Wastewater / Lead: Study evaluated the effect of treatment of Pb contaminated wastewater by using phytoremediation technology. Fifty plants of S. grossus were grown in sand medium and spiked with various Pb concentration (10, 30, and 50 mg/ml). Results showed decrease in Pb concentration and suggest S. grossus is a hyperaccumulator. (11)
• Antidiabetic / Antihyperlipidemic / Leaves: Study evaluated the antidiabetic and antihyperlipidemic activities of aqueous and ethanol extracts of leaves of S. grossus in alloxan induced diabetic rats. Findings showed significant reduction in blood glucose and lipids when compared to the diabetic control group. (12)
• Potential As Starchy Food / Glycemic Index / Tubers: Study investigated the flour and starch isolated from tubers of Scirpus grossus for their physiochemical properties and starch digestibility using peeled and unpeeled processes. Proximate analysis showed the flours from both processes yield considerably high total starch (>80%) with a potential use as starchy food. In vitro starch digestion assay found all samples with estimated glycemic index of about 55 or less. (see constituents above) (13)
• Potential for Paper Pulp: Study suggests a potential for production of moderate quality paper pulp. or mixing with conventional materials for pulp amking such as straw, wood, or used papers in recycling or resuse processes. (14)
Availability
Wild-crafted.