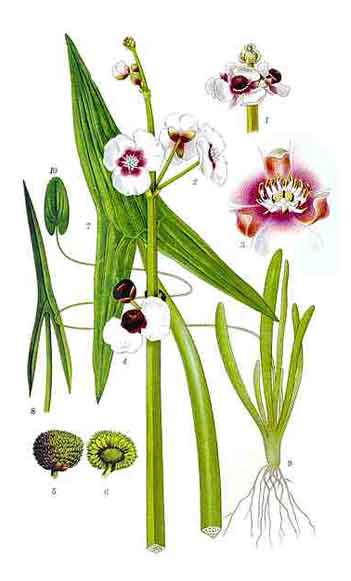 Snippet
- The U.S. listed Sagittaria sagittifolia as a Federal Noxious Weed in 1981, cited as "impeding flow of water irrigation, interfering with water access, and reducing yield of rice.
- In 1996, it was discovered the "arrowhead tubers" were approved in 1948 for importation as vegetables.
- After review of risk assessment, it was kept on the Federal noxious weed list, prohibiting importation for propagation while allowing importation of the vegetable for consumption only.
- Since 1996, permits for tuber importation have been issued in Hawaii, California, and New York for human consumption during Chinese New Year, allowing movements from the months of November through March. (13)
Botany
Tikog is an aquatic plant, erect, stemless and usually perennial. Leaves are arrow-shaped, 10 to 35 centimeters long; the petioles are long, often long than the leaves, with 3 to 5 whorls of 3 to 5 flowers, each 1 to 2 centimeters in diameter; the lower whorls are female, and the upper, male, with longer pedicels. Petals are white, with yellow center. Achenes are flat, obliquely obovate, apiculate, with broad wings.
Distribution
- An aquatic plant found in fresh-water swamps, rice paddies, etc., at low and medium altitudes In the Luzon Provinces of Pangasinan, Nueva Ecija, Tayabas, Camarines, Albay and Sorsogon; and in Catanduanes, Samar, Leyte, and Mindanao.
- Also occurs in Europe through Asia to Japan and southward to Java.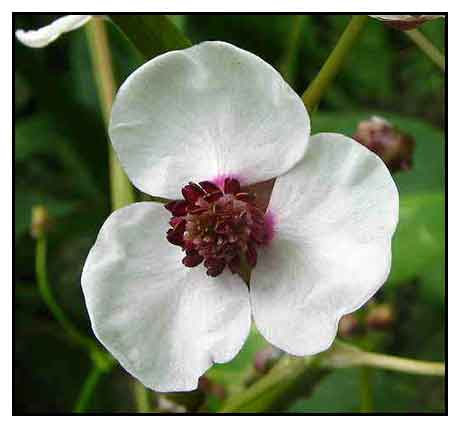 Constituents
- Study isolated a new diterpene, sagittariol, characterized as labda-7,14-dien-13(S,17-diol.
(3)
- Study of whole plant isolated seven new ent-rosane diterpenoids, sagittines A-G (1-7), along with one new labdane diterpene, 13-epi-manoyl oxide-19-O-α-L-2'-5'-diacetoxyarabinofuranoside (6). (see study below) (5)
- Study of methanol extract isolated one terpenoid and identified as sandaracopimaric acid. (see study below) (8)
- Phytochemical screening of tubers and leaf extracts and solvents yielded tannin, saponins, flavonoids, phenols, steroids, glycosides, protein, amino acids, starch, reducing sugars, and alkaloids. Phytochemicals were highest in the ethanol extract. (14)
Properties
- Acrid.
- Considered diuretic, antiscorbutic, galactagogue.
- Studies have suggested hepatoprotective, antibacterial, immunosuppressive and antioxidant properties.
Caution
- Ingestion of raw tubers may cause fluxes, diarrhea, weakness and hemorrhoids.
- Pregnant women should not eat them.

Parts used
Tubers, rhizomes, leaves.

Uses
Edibility
- Tubers are edible.
- In Japan and China, a variety with starchy tubers is cultivated in rice paddies along small streams. The same form is also cultivated in the Trinidad Valley.
- In Vietnam, young leaves and rhizomes used in soups.
- In northeastern India, roots are steamed with sugar or prepared pakora along with besan. (4)
Folkloric
- Tubers used for deficient lochia and retention of the placenta, as well as in gravel.
- Bruised leaves applied to foul sores, snakes and insect bites.
- Powdered leaves applied to relieve itching.
- Tubers used for skin diseases.
In Indo-China, rhizome is grated in vinegar and applied as a poultice for boils and abscesses.
- Decoction of rhizome used for dog and snake bites.
- Leaves mashed in molasses used for throat and tongue soreness and in breast inflammation.
- In northeastern India fresh root paste with a spoonful of honey used for coughs. (4) In India, leaf extract given with butter milk to treat skin diseases such as scabies and warts. (12)
- In Chinese medicine, bruised leaves are applied to foul sores, snake and insect bites. Powdered leaves applied to itchy diseases. (11) Use for treating gonorrhea and retention of placenta.

Studies
• Hepatoprotective: Study in Sprague-Dawley rats showed pretreatment with Sagittaria sagittifolia extract can militate cadmium-induced liver damage through decreasing the expression of TNF-a mRNA in the process of acute cadmium exposure. (2) Study showed S. sagittifolia pretreatment was more effective than vitamin E in protecting against cadmium-induced acute liver injury, possibly through enhancement of antioxidant and detoxification liver processes. (1)
• Antibacterial Against Oral Pathogens / ent-Rosane Diterpenoids: Study of the whole plant yielded seven new ent-rosane diterpenoids, sagittines A-G with one new labdane diterpene. Compounds 1-4 showed antibacterial activity against oral pathogens Streptococcus mutans and Actinomyces naeslundiis. Compound 5 was active only against A. naeslundiis. (5)
• C-fos Induction: Study results suggest c-fos induction is independent of oxidative stress or inflammation in the liver during the process of acute Cd exposure in rats. (6)
• Terpenoid / Sandaracopimaric Acid / Immunosuppressive: Study of methanol extract isolated a terpenoid, sandaracopimaric acid, showed to have good immunosuppressive action. (8)
• Antioxidant / Polysaccharide Extraction: Study reports on the optimal extraction process for Sagittaria sagittifolia polysaccharide. Under the optimized process, the S. sagittifolia polysaccharides content was 29.32%. In-vitro study for radical scavenging activities showed good antioxidant activity against DPPH, hydroxyl free radicals, and reducing power. (11)
Availability
Wild-crafted.