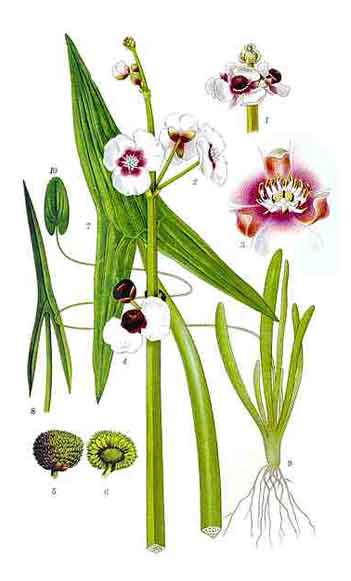 Botany
Tikog is an aquatic plant, erect, stemless and usually perennial. Leaves are arrow-shaped, 10 to 35 centimeters long; the petioles are long, often long than the leaves, with 3 to 5 whorls of 3 to 5 flowers, each 1 to 2 centimeters in diameter; the lower whorls are female, and the upper, male, with longer pedicels. Petals are white, with yellow center. Achenes are flat, obliquely obovate, apiculate, with broad wings.
Distribution
- An aquatic plant found in fresh-water swamps, rice paddies, etc., at low and medium altitudes In the Luzon Provinces of Pangasinan, Nueva Ecija, Tayabas, Camarines, Albay and Sorsogon; and in Catanduanes, Samar, Leyte, and Mindanao.
- Also occurs in Europe through Asia to Japan and southward to Java.
Constituents
- Study isolated a new diterpene, sagittariol, characterized as labda-7,14-dien-13(S,17-diol.
Properties
- Acrid.
Caution
- Ingestion of raw tubers may cause fluxes, diarrhea, weakness and hemorrhoids.
- Pregnant women should not eat them.

Parts used
Tubers, rhizomes, leaves.

Uses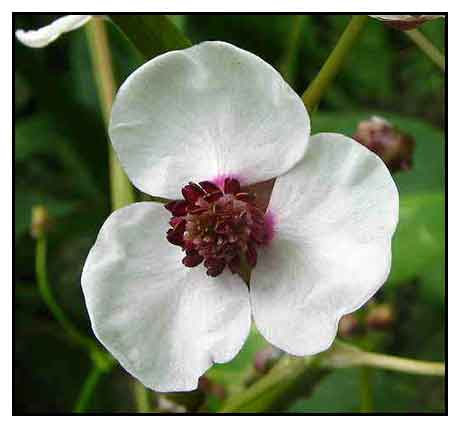 Edibility
- Tubers are edible.
- In Japan and China, a variety with starchy tubers is cultivated in rice paddies along small streams. The same form is also cultivated in the Trinidad Valley.
- In northeastern India, roots are steamed with sugar or prepared pakora along with besan.
Folkloric
- Tubers used for deficient lochia and retention of the placenta, as well as in gravel.
- Bruised leaves applied to foul sores, snakes and insect bites.
- Powdered leaves applied to relieve itching.
- Tubers used for skin diseases.
In Indo-China, rhizome is grated in vinegar and applied as a poultice for boils and abscesses.
- Decoction of rhizome used for dog and snake bites.
- Leaves mashed in molasses used for throat and tongue soreness and in breast inflammation.
- In northeastern India fresh root paste with a spoonful of honey used for coughs.

Studies
• Hepatoprotective: (1) Study in Sprague-Dawley rats showed pretreatment with Sagittaria sagittifolia extract can militate cadmium-induced liver damage through decreasing the expression of TNF-a mRNA in the process of acute cadmium exposure. (2) Study showed S. sagittifolia pretreatment was more effective than vitamin E in protecting against cadmium-induced acute liver injury, possibly through enhancement of antioxidant and detoxification liver processes.
• Antibacterial / Diterpenoids: Study of the whole plant yielded seven new ent-rosane diterpenoids, sagittines A-G with one new labdane diterpene. Compounds 1-4 showed antibacterial activity against oral pathogens Strep mutans and Actinomyces naeslundiis.
• c-fos Induction: Study results suggest c-fos induction is independent of oxidative stress or inflammation in the liver during the process of acute Cd exposure in rats.
• Terpenoid / Sandaracopimaric Acid / Immunosuppressive: Study of methanol extract isolated a terpenoid, sandaracopimaric acid, showed to have good immunosuppressive action.
Availability
Wild-crafted.