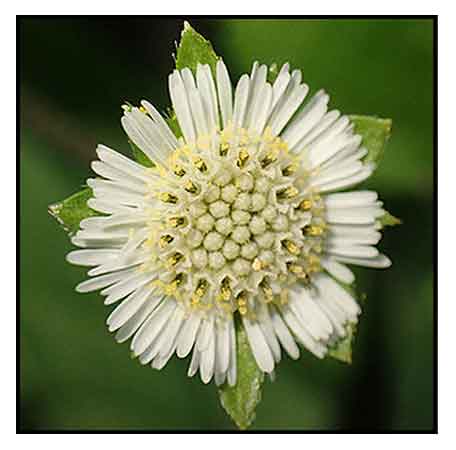 Gen info:
- Eclipta prostata is a species of plant in the family Asteraceae. It is widespread worldwide.
- Etymology: The genus Eclipta derives from Greek 'ekleipo' meaning "deficient", referring to the absence of pappuson the achenes or having few receptacular scales. The species epithet 'prostata' means 'prostrate'
- The genus was published in 1771 by Carl Linnaeus.
Botany:
Tinta-tintahan is a recumbent, spreading or sometimes sub erect, succulent annual herb with bristly hairs. Stems are rather slender, usually reddish and up to 30 centimeters or more in length. Leaves are linear-oblong to lanceolate, 1 to 5 centimeters long, without petioles, entire or slightly toothed, and pointed or blunt at the tip. Flower receptacles are scaly, bracts all similar, paleae (scale) of receptacle flat and narrow. Ray flowers female, 2-seriate, fertile or sterile, white, ligule small, narrow, entire or 2-toothed. Disk flowers very numerous, perfect, fertile, tubular, the limb 4- or 5-fid. Flowering heads white, 5 to 6 millimeters long and about 5 millimeters in diameter. Fruits are achenes, black, about 3 millimeters long and smooth or slightly hairy at the tip.

Distribution
- Introduced.
- Ubiquitous weed in settled areas in gardens, in open waste places, ditches, rice fields and low damp lands.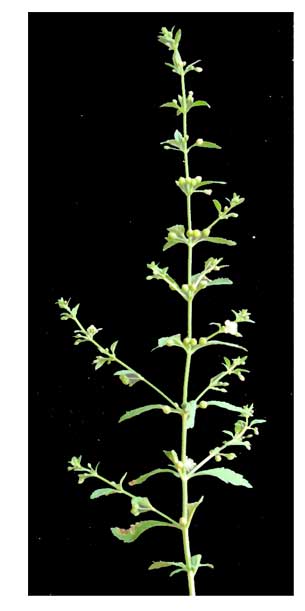 Constituents
- Plant contains a large amount of resin and an alkaloid ecliptine.
- Studies yielded coumestans, polypeptides, polyacetones, triterpenes and flavonoids.
- Methanol extract yielded flavonoids, terpenoids, tannins, and phenols; an aqueous extract yielded alkaloids, flavanoids, steroids, terpenoid, and phenols. (29)
- Yields a wide range of active principles, which includes alkaloids, flavonoids, coumestans, glycosides, polyacetylenes, triterpenoids. Leaves contain stigmasterol, α-terthienylmethanol, wedelolactone, demethylwedelolactone, and demethylwedelolactone-7-glucosde. Roots yielded hentriacontanol, heptacosanol, and polyacetyene substituted thiophenes. (30)
- Study for phytoconstituents yielded: Leaves-wedelolactone (1.6%), desmethylwedelolactone, desmethylwedelolactone-7-glucoside, stigmasterol; roots-hentriacontanol, heptacosanol & stigmasterol, ecliptal, eclalbatin; aerial parts - ß-amyrin & luteolin-7-0-glucoside, apigenin, cinnaroside, sulphur compounds, eclalbasaponins I-VI; stems- wedelolactone; seeds-sterols, ecliptabine (alkaloid); whole plant--resin, ecliptine, reducing sugar, nicotine, stigmasterol, triterpene saponin, eclalbatin, ursolic acid, oleanolic acid.   (31)
- GC/MS analysis of essential oil of leaves, stems, and flowers yielded 68 volatile flavor compounds, which make up 71.15% of total volatile composition of EO. It yielded 35 hydrocarbons (56.25%) with sesquiterpenes predominating, 12 alcohols (3.05%0, 8 ketones (3.83%), 9 aldehydes (1.86%), 2 oxides (6.03%), and 2 esters (0.13%). The major abundant aroma compounds were α-humulene, 6,9-heptadecadiene, (E)-ß-farnesene, and α-phellandred. (34)
- GC-MS study of aerial parts for volatile components yielded a total of 55 compounds. Main components were as follows: heptadecane (14.78%), 6,10,14-trimethyl-2-pentadecanone (12.80%), n-hexadecanoic acid (8.98%), pentadecane (8.68%), eudesma-4(14),11-diene (5.86%), phytol (3.77%), octadec-9-enoic acid (3.35%), 1,2-benzenedicarboxylic acid diisooctyl ester (2.74%), (Z,Z)-9,12-octadecadienoic acid (2.36%), (Z)-7,11-dimethyl-3-methylene-1,6,10-dodecatriene (2.08%) and (Z,Z,Z)-1,5,9,9-tetramethyl-1,4,7-cycloundecatriene (2.07%). (see study below) (36)
- GCMS analysis of leaf extract for bioactive constituents yielded 10-Octadeconic acid, methyl ester (43.85), c-Sitosterol (36.45%), Pentadecanic acid,14methyl,methyl ester (15.09%), Diethyl Phthalate (13.96%), Glycine, N[(3a,5a,12a]-3,12-dihydroxy 24-oxocholan-24-yl]- (13.82%), Ethanol,2-(9,12-octadecadienyloxy),(ZZ) (13.73%), Oleic acid, eicosyl ester (6.92%). (39)
- Phytoconstituents studies of leaf (L), stem (S) and root (R) showed the presence of alkaloids (LS), saponins (LSR), carbohydrates (LS), phytosterols (LSR), flavonoids (LSR), proteins and amino acids (LSR), phenols (LSR), tannins (LSR) and comestans (LSR). (55).
- Study of 95% EtOH extract yielded 22 compounds: ecliptalignin A (1), ecliptasaponin Ⅰ (2), ecliptasaponin Ⅱ (3), echinocystic acid (4), 3-oxo-16α-hydroxy-olean-12-en-28-oic acid (5), acacetin-7-O-rutinoside (6), luteoloside (7), apigenin (8), luteolin (9), acacetin (10), skullcapflavone Ⅱ (11), kaempferol (12), kaempferide (13), quercetin (14), 4′, 7-dihydroxyl-3′, 6 ′-dimethoxylisoflavone-7-O-glucoside (15), ecliptal (16), 5-hydroxymethyl-(2, 2′, 5′, 2′′)-terthienyl tiglate (17), psoralen (18), isopsoralen (19), wedelolactone (20), crinumaquine (21), and 2, 3, 9, 12-tetramethoxyprotoberberine (22). (58)
- Study of whole plant of Eclipta alba isolated a new triterpene saponin, eclalbatin, together with α-amyrin, ursolic acid and oleanolic acid. Structure was established as 3-0-β-D-glucopyranosyl-3-β-hydroxy-olean-12-en-28-oic acid, 28-0-β-D-arabino-pyranoside. (62)
- Bioassay guided study evaluated E. alba for α-glucosidase inhibitory constituents contributing to enzyme inhibition and antidiabetic activity. Four echinocystic acid glycosides were isolated, of which eclalbasaponin VI from the n-butanol fraction showed most potent activity (IC50 54.2 ± 1.3 µM. (66)
- Bioassay-guided fractionation of MeOH extract of E. alba using three yeast strains isolated eight bioactive steroidal alkaloids (1-8). The major alkaloid was identified as (20S)(25S)-22,26-imino-cholesta-5,22(N)-dien-3β-ol (verazine) (3), Others were 20-epi-3-dehydroxy-3-oxo-5,6-dihydro-4,5-dehydro-verazine (1), ecliptalbine [(20R)-20-pyridyl-cholesta-5-ene-3β,23-diol] (4), (20R)-4β-hydroxyverazine (5), 4β-hydroxyverazine (6), (20R)-25β-hydroxyverazine (7), and 25β-hydroxyverazine (8) and Ecliptalbine (4). (see study below) (67)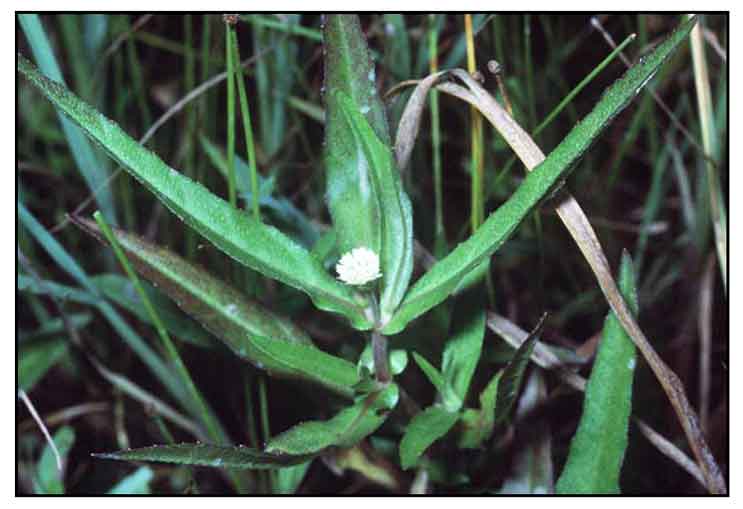 Properties
- The crushed leaves and broken surface of the vegetative parts produce a black stain.
- Cooling, anodyne, astringent, absorbent, coagulant.
- Root is purgative and emetic.
- Studies have shown hypoglycemic, hepatoprotective, diuretic, hypotensive, larvicidal, hypolipidemic, antioxidant, analgesic, anti-inflammatory, diuretic, memory enhancing, anti-depressant, memory-enhancing, hair-promoting properties.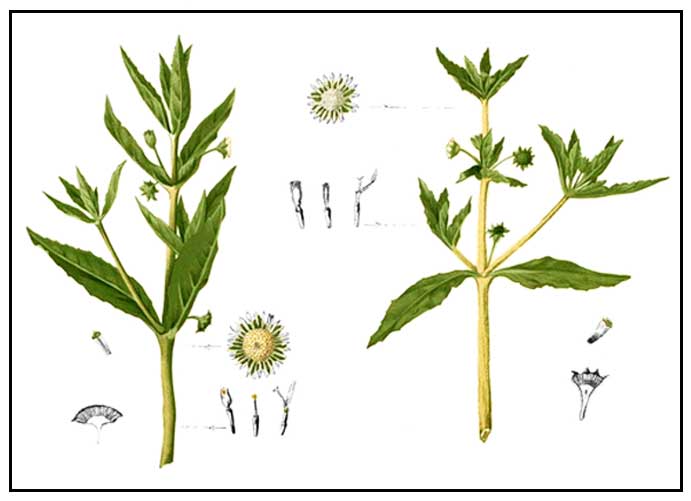 Parts utilized
- Whole plant.
- Collect when the vegetative parts are in full bloom. Sun-dry, either whole or cut into pieces.
Uses
Edibility
· Tender leaves and young shoots cooked and used as vegetable.
Folkloric
· In the Philippines, the leaves and tops brewed in decoction are used in cases of hepatitis. Pounded, they are employed for healing wounds.
· Decoction of Eclipta (15-30 g of dried material) with equal volume of Morus fruit: Used for weakness of the kidney and/or liver causing dizziness, blurring of vision, hematemisis and lumbar pains.
· Decoction of dried or fresh plant material: Used for internal hemorrhage especially bleeding in the respiratory and gastrointestinal tracts (eg, pulmonary tuberculosis, gastrointestinal hemorrhage, hematuria).
· For bleeding due associated with superficial injuries - get fresh plant, crush and use as an emollient over wound to aid in coagulation.
· For bloody stool and urine of any cause: boil 4 to 9 gms of dried drug to decoction and drink twice a day.
· External wash of decoction of 15-30 g dried material: Used for athlete's foot, eczema and dermatitis.
· Dysentery: boil dried drug 15 to 30 gms to decoction and smaller dosage for infants.
· For sprains, furuncle, dermatitis: 15 to 30 gms of dried material in decoction or use pounded fresh material as poultice.
· Fresh plant applied with sesamum oil in elephantiasis; expressed juice taken internally for affections of the liver and in dropsy.
· Poultice of leaves for wound healing.
· Flowers used in treating conjunctivitis.
· In Ayurveda used for epigastric pains, nausea and vomiting in ulcer patients. Also, used as a liver tonic, and in a variety of chronic skin ailments.
· In Malaya, decoction used for colic.
· In Taiwan, used for bleeding, hemoptysis, hematuria, itching, hepatitis, diphtheria and diarrhea.
· In China, leaf extract used as liver tonic. Also, used as astringent, and for checking hemorrhages and fluxes and fro strengthening the gums. Also, used as vulnerary.
· In China and Brazil, used as anti-venom against snakebites.
· In Brazil, leaves are used as remedy for diarrhea; also, as black stain for the hair.
· In the Gold Coast leaves are ground and mixed with water, and drunk for constipation.
· In India, used to treat hepatic diseases and hyperlipidemia. In Bombay, used as tonic and deobstruent in hepatic and splenic enlargements, and for various chronic skin diseases.
· In India, leaf extract drunk twice daily for alopecia. Whole plant taken orally for asthma. Leaf extract taken for body pains. Whole plant decoction with honey drunk for bronchitis and pneumonia. For burns, leaf paste is applied externally and whole plant extract drunk twice daily. Root powder taken orally for constipation. Whole plant decoction drunk for diarrhea and dysentery. Whole plant extract used for fever. Leaf extract used for gingivitis. (54)
· In the Guianas, whole plant used for cuts, bruises, and sores to stop bleeding and relieve pain. Stems and leaves used for anemia and dysentery. Ground leaves rubbed on infants head for convulsions; also to make pigmented blotches disappear. Juice of crushed leaves applied to the scalp to prevent hair loss. Crushed leaves are placed on a cloth and the juice squeezed into the ear to relieve a bad cold. (51)
· In Pakistan, leaf paste applied to treat allergy, athlete's foot and ringworm. (54)
· In Bangladesh, used for diabetes: Leaves mixed with leaves of Scoparia dulcis, leaves of Cynodon dactylon and boiled in an earthen vessel, the water is strained and decoction drunk morning and evening on an empty stomach. Whole plant used to treat indigestion. (54)
· In Eastern Cote d'Ivoire, Africa, Anyi-Ndenye pregnant women use the whole plant to ensure fetal development and facilitate childbirth. (54)
Others
· Dye: Used for tattooing and hair dyeing.
· Hair: Pounded leaves with coconut oil used for hair growth.
Studies
• Hypoglycemic: Study shows oral administration of a leaf suspension of E alba for 60 days resulted in significant reduction of blood glucose, HbA1c and other parameters. Results show the oral administration of E alba possess potent antihyperglycemic activity evidenced by significant reduction of liver enzymes and reduction in histopathological changes. (2)
• Hepatoprotective / Paracetamol-Induced Toxicity: Treatment with ethanol extract of EA partially protected mice from the hepatotoxic action of paracetamol. (3)
• Hepatoprotective: Study showed different extracts of E alba have different hepatoprotective effects on injured liver induced by acetaminophen in mice. The hepatoprotective activity of the ethyl acetate extract of E alba showed to be the best.
• Diuretic / Hypotensive / Hypocholesterolemic / Pilot Study / Leaves: A pilot study evaluated the combined effect of dried E. alba leaf powder on blood pressure, diuresis, and lipid profile of 60 male patients aged 40-55 with mild hypertension. Results Study EA is diuretic, hypotensive, and hypocholesterolemic and helps in alleviating oxidative stress-induced complications of hypertension. (6)
• Osteoporosis Benefit / Effect on Osteoblast Differentiation: Study isolated one flavonoid, diosmetin, and two isoflavonoids. All three significantly increased osteoblast DNA differentiation and suggests a possible therapeutic potential for the treatment of osteoporosis. (8)
• Lipid lowering: Study showed a dose-dependent activity in albino rats and supports its traditional use in the treatment of hyperlipidemia.
• Antibacterial / Antioxidant: Screening of antibacterial and antioxidant activities of leaves of Eclipta prostrata (L): Study showed EE showed antioxidant and antibacterial activity, and that EP could be used against Salmonella typhi. (4)
• Mosquito Larvicidal: Larvicidal effect of Hemidesmus indicus, Gymnema sylvestre, and Eclipta prostrata against Culex quinquefaciatus mosquito larvae: Study showed leaves of E prostata can be an environmental friendly and sustainable source of insecticide for mosquito control. (5)
• Wedelolactone / Antibacterial: Wedelolactone is a naturally occurring coumestan isolated from the aerial parts of E alba. The compound showed good activity against s epidermis and Salmonella typhimurium. Results suggest wedelolactone as a promising antimicrobial agent. (9)
• Antioxidant / Aerial Parts / Leaves: Ethanolic extract of the aerial parts of E alba showed significant free radical scavenging for DPPH and for hydroxyl radical and considerable inhibition of lipid peroxidation. (10) Study of a methanol extract of E. prostata exhibited good antioxidant property by DPPH free radical scavenging method. (29) Study of methanolic extract of leaves showed significant antioxidant activity by DPPH radical scavenging assay. (38)
• Analgesic: Study showed both the ethanol extract and the total alkaloids produced good analgesic activity in all the different models of analgesia. (11)
• Hypolipidemic / Antioxidant: Study showed the effects of E prostata on serum lipid and oxidative metabolism in rats. The health promoting effects demonstrated in rats may have implications for atherosclerosis and hypercholesterolemia in humans. (12)
• Anti-Inflammatory: Study of methanolic extract showed significant dose-dependent anti-inflammatory activity in carrageenan and egg white induced hind paw edema in rats, with effected comparable with standard drug indomethacin. Results support the traditional use of E prostata in the treatment of inflammatory diseases. (13)
• Learning and Memory: Traditionally used for its memory enhancing property, study of extract from shade-dried leaves revealed significant improvement of retrieval memory. Luteolins in the extract may be responsible for minimizing cognitive deficits dues to cholinergic dysfunction. The free radical scavenging activity might insulate neuronal tissues from degeneration. E Alba presents a potential as memory modulator. (14)
• Hepatoprotective: Study of E alba in rats for its hepatoprotective effects on subcellular levels showed the activity is achieved by regulating the levels of hepatic microsomal drug metabolizing enzymes. (15)
• Anthelmintic: Study showed anthelmintic potential of a methanolic extract of whole plant of Eclipta alba against Pheretima posthuma as a species of earthworm. (16) Study evaluated the anthelmintic activity of E. prostata using adult Haemonchus contortus worm as model. Results showed anthelmintic activity, which increased with extract concentration. (28)
• Antileptospirosis / Antioxidant: Study evaluated the antileptospiral and antioxidant activity of methanolic and aqueous extracts of Eclipta alba and Phyllanthus amarus. The methanol extracts of both plants showed good antioxidant activity on DPPH free radical scavenging assay. Extracts were also found to be very effective against leptospirosis. (18)
• Hair-Growth Promoting Activity: Study investigated the efficacy of methanol extract of E. alba has hair growth promoter. Results showed potential hair growth promoting effect with dose dependent activity in C57BL6 mice, using melanogenesis in resected skin, follicle count, skin thickness parameters. (19)
• Corrosion Inhibition: Study investigated the inhibitive action of extracts of Adathoda vasica, E. alba, and Centella asiatica on the corrosion of mild steel in 1N HCl. Of the three plants, the maximum inhibition efficacy was found in Eclipta alba, with 99.6% inhibition efficiency at 8.0% v/v concentration of the extract. (20)
• Antidepressant / Leaves: Study evaluated the possible antidepressant activity of E. alba leaf extract using Tail suspension test and Forced swim test in albino rats. Results showed significant antidepressant like effect at dose of 200 and 400 mg/kg, comparable to that of fluoxetine and imipramine. (21)
• Anticancer Potential: Study evaluated E. alba as anti-cancer agent using HepG2, glioma, and A498 cell lines as model systems. Results showed anti-proliferative, DNA-damaging and anti-metastasis properties of E. alba hydroalcoholic extract. (22)
• Anticonvulsant Potential: Study evaluated the anticonvulsant activity of methanol extract of E. alba using pentylenetetrazole- and picrotoxin-induced seizure models. Results showed potent anticonvulsant activity attributed to its positive modulatory effect on GABAA receptors. (23)
• Antigenotoxicity: Study evaluated the antigenotoxic effect of E. alba against genotoxic effect induced by ethinylestradiol in the presence of metabolic activation. Results showed the plant per se does not have genotoxic potential, but can modulate the genotoxicity of ethinylestradiol in cultured human lymphocytes. (24)
• Hepatoprotective / Leaves and Roots / Carbon Tetrachloride Induced Toxicity: Triterpenoidal saponin fraction of leaves and coumestan fraction and triterpenoidal saponin fraction from chloroform extracts of roots produced significant reduction of CCl4-induced lysosomal enzyme levels in the blood. (25)
• Effect on 11ß-Hydroxysteroid Dehydrogenase: 11ß-HSD catalyzes the interconversion of prednisone to active prednisolone. Study investigated the effects of EP on activity and expression of 11ß-hydroxysteroid dehydrogenase (11ß-HSD) in rat liver and kidney. Results showed increased activity of 11ß-HSD 1 in the liver and 11ß-HSDII in the kidney. The effects of EP on 11ß-HSD may be related to the mechanism by which EP improves efficacy and reduces adverse drug reactions of glucocorticoid in patients undergoing combinational therapy. (27)
• Larvicidal and Ovicidal Against Chikungunya Vector / Aedes aegypti: Study investigated the larvicidal and ovicidal activities of various leaf extracts of Eclipta alba against dengue vector, Aedes aegypti. The LD50 values of benzene, hexane, ethyl acetate, methanol, and chloroform extracts against early third instar larvae of Ae. aegypti were 151.38, 165.10, 154.88, 127.64, and 146.28 ppm, respectively. The methanol extract showed the most effective ovicidal activity against Ae. aegypti. (32)
• Anti-Diabetic / Leaves: Oral administration of a leaf suspension of E. alba (2 and 4 g/kg body weight) for 60 days showed potent antihyperglycemic activity as evidenced by a significant reduction in blood glucose, glycosylated hemoglobin (HbA1c). The extract decreased the activities of glucose-6-phophaaatase and fructose-1,6-biphosphates, and increased the activity of liver hexokinase. (33)
• Leshmanicidal / Saponin C / Dasyscyphin C / Leaves: Dasyscyphin C isolated from E. prostata showed good leishmanicidal activity at 1000 µg/ml concentration, with IC50 value of 450 µg/ml against L. major promastigote, with73% parasitic death. (35)
• Effect of Volatile Components on Proliferation and Differentiation of Primary Osteoblasts: An ethanol extract and volatile compounds isolated from aerial parts significantly (p<0.01) stimulated the proliferation and increased the ALP activity of primary osteoblasts. Results suggest a potential role in osteoblastic bone formation and the development of bone-forming drugs. (see constituents above) (36)
• Anti-Tumor / Inhibitory on Skin Carcinogenesis: Study investigated the anti-tumor promoting activity of Eclipta alba at pre-, peri-, and post-initiational stages on the shaven backs of Swiss albino mice. Results showed decrease in tumor incidence. There was also significant reduction of cumulative number of papillomas, tumor yield, and tumor burden. Histopathology showed significant reduction in tumor size. Results suggest a chemopreventive property against DMBA induced skin papillomagenesis. (37)
• Antibacterial / Aerial Parts: Study confirmed the antibacterial potential of various solvents of aerial parts of Eclipta alba. Selected plant extracts were effective against bacterial spp. tested. A hexane extract showed high antibacterial activity against S. aureus, B. cereus, E. coli, S. typhi, K. pneumonia, S. pyogenes and P. aeruginosa. Inhibitory activities of all extracts. (40)
• Enhancement of Skin Anti-Inflammatory Activity from Ultrasonic Extraction Process: Study showed that the skin anti-inflammatory activity of Eclipta prostata can be increased through an ultrasonic extraction process. The product from the ultrasound extract contained 378.6 mg/100 g of wedelolactone, a major bioactive substance in E. prostata. The high antioxidant activity correlated well the enhancement of skin anti-inflammatory activities by suppression of production of tumor necrosis factor-alpha and interleukin-6 from macrophages, along with reduction of prostaglandin E2 from human skin cells. (41)
• Effect on Hematological Parameters in Acetaminophen-Induced Hepatotoxicity: Study evaluated the effect of E. alba on hematological parameters in acetaminophen induced hepatotoxic rats. Simultaneous treatment with E. alba extracts significantly increased Hg levels and decreased MCV and MCH. Activity may be due to the presence of hematinic factors in Eclipta alba. (42)
• Antimicrobial and Wound Healing / Herbal Gel Formulation: Study reports on the development and characterization of E. alba medicinal herbal hydrogel preparation using leaf, carbopol 940, methyl paraben, propylene glycol 400, and triethanolamine. The gel formulations were subjected to various studies i.e., pH, viscosity, rheological, spreadability drug content uniformity, extrudability, and skin irritation test. Results conclude E. alba medicinal herbal hydrogel may be used for wound healing, antibacterial and antifungal activity. (43)
• Copper Nanoparticles / Antioxidant / Cytotoxicity against HepG2 Cells / Leaves: Study reports on the green synthesis of copper nanoparticles using leaf extract of E. alba as reducing agent. The biosynthesized CuNPs exhibited considerable antioxidant capacity. The CuNPs also demonstrated cytotoxicity against tested HepG2 cells. (44)
• Bioprotective / Anticancer: Study evaluated the biological properties of various extracts of whole plant of Eclipta alba i.e., antimicrobial, antioxidant, cytotoxic. Results showed the extracts cause growth arrest and apoptosis in lung cancer cells with significant growth inhibitory effects. GC-MS analysis yielded compounds like naphthoquinone and hydrazine carboxamide. (45)
• Anti-Breast Tumor Activity: Bio-guided fractionation of Eclipta alba extracts revealed the choloroform extract to selectively induce cytotoxicity to breast cancer cells over non-tumorigenic breast epithelial cells. The CFEA activates the intrinsic apoptotic pathway through disruption of the mitochondrial membrane potential, up-regulation of Hsp6) and down regulation of the expression of anti-apoptotic protein X2AP. Besides potential anti-breast cancer effects, the CFEA also mitigates tumor induced hepato-renal toxicity. (46)
• Hair Matrix Keratinocyte Proliferation / Potential for Alopecia Treatment: Study sought to identify the agent that may be beneficial for restoration of human hair loss as an alternative to synthetic drugs. The effects of a petroleum ether extract and different solvent fractions were investigated on hair follicles of nude mice. Results suggest PEE of E. alba acts as an exogenous mediator that stimulates follicular keratinocyte proliferation and delays terminal differentiation by down-regulating TGF-ß1 expression. Study suggests the potential used of PEE of E. alba for the treatment of certain types of alopecia. (47)
• Antibacterial / Leaf Alkaloids: Study evaluated susceptibility of five human pathogenic bacterial species to an alkaloids isolated from the leaves of the Eclipta alba. The inhibitory action of the alkaloid increase with increase in concentration against all the tested bacterial strains. S. aureus and E. coli were more susceptible than the other selected human pathogenic bacteria. (49)
• Anticancer / Antioxidant / No Toxicological Effects: Study evaluated the antioxidant, nontoxic, and anticancer potential of an alcoholic extract of E. alba. The AEEA was active in most of the cancer cell lines tested but it significantly induced apoptosis in human breast cancer cell line by disrupting mitochondrial membrane potential and DNA damage. It also inhibited migration in both MCF7 and MDA-MD-231 cells in a dose-dependent manner. The AEEA showed robust in vitro antioxidant activity along with high phenolic and flavonoids content. Oral administration produced no toxicity on different doses up to 2000 mg/kg. (50)
• Anticonvulsant / Muscle Relaxant / Leaves: Study evaluated E. alba leaf extract for anticonvulsant and muscle relaxant activities in animal models using MES (maximum electro shock) seizures, rota rod and traction test. Results showed a decrease in seizures induced by MES and decreased during of tonic hind limb extension (THLE) and decreased motor coordination. (52)
• Antiangiogenic Activity / Inhibition of Cell Migration / Juice: Study evaluated the effects of Eclipta prostata on invasion, migration and adhesion of cancer cells and in vivo antiangiogenic activity using chick chorioallantoic membrane (CAM) assay. Results showed inhibition cancer invasion and migration without affecting cell adhesion. Fifty percent inhibition of angiogenesis by E. alba was observed at 200 µg/egg. (53)
• Antihepatotoxic / Wedelolactone: Study of methanolic extract of E. prostata confirmed the plants good antihepatotoxic potential which was attributed to the presence of wedelolactone, luteolin, ad coumarin. (see constituents above) (55)
• Anticancer / HepG2 Cell Line: Study evaluated the anticancer activity of ethanolic extract of E. alba against HepG2 cell line. Results showed average percentage growth inhibition of 79.33%. Cell viability arb assay also showed significant growth inhibition. Phytochemical analysis of ethanolic extract revealed phenols, tannins, quinones and coumarins, with absence of carbohydrate, flavonoids, alkaloids, steroids, saponins, glycosides and quinones. (56) (related study 61)
• Antimetastaic Effects on Oral Cancer Cells: Study evaluated the effects of E. prostata extracts (EPE) on metastasis promoting proteins in oral cancer. The EPE attenuated SCC-9, HSC-3, and TW2.6 cell migration and invasiveness by reducing matrix metalloproteinase (MMP)-2 enzyme activities. Results showed the EPE could inhibit oral cancer metastasis through the inhibition of MMP-2 expression. (57)
• Effects on on Gut Microbiota of Mice with Osteoporosis: There is growing evidence that gut microbiota (GM) is related to osteoporosis. Study evaluated the GM (gut microbiota)-dependent function and mechanism of E.. prostata for preventing osteoporosis in mice. Results showed E. prostata significantly improved bone micro-structure with possible mechanism of osteoclast inhibition, increasing the number of osteoblasts and regulating the dynamic balance of bone absorption and formation. Sequencing results indicated E. prostata altered the bacterial community. E. prostata could promote Lactobacillus and lactococcus growth in vitro. Gut microbiota was altered and bone condition was improved via bacterial feeding in vivo. Results suggest a potent novel therapy for osteoporosis prevention by targeting gut microbiota. (59)
• Antimicrobial / Flowers and Leaves: Study evaluated aqueous extract of E. alba leaves, stem, and flowers for antimicrobial activity. The leaves extract was effective against E. cloacae and K. pnuemonia; stem extract was effective against E. cloacae, E. faecalis, K. pneumonia and S. saprophyticus; extract of flower showed good ZOI against P. vulgaris, S. aureus, and Saprophyticuls. (60)
• Eclalbatin / Triterpene Saponin / Whole Plant: Study of whole plant of Eclipta alba isolated a new triterpene saponin, eclalbatin, together with α-amyrin, ursolic acid and oleanolic acid. (62)
• Antidiabetic / Alpha-Glucosidase and Aldose Reductase Inhibitory Activity: Study of evaluated the antidiabetic effect of an ethanolic extract of Eclipta alba on hyperglycemia and diabetic nephropathy in STZ-induced diabetic rats. Results showed reduction of blood glucose, %HbA1c, urea, uric acid, creatinine, along with a significant increase in depressed serum insulin level. Extract exhibited significant inhibitory effect on alpha-glucosidase in a non-competitive manner (IC50 54 µg/ml), and eye lends aldose reductase inhibition (IC50 4.5 µg/mL). (63)
• Antidandruff Activity: Study of evaluated the antidandruff activity of ethanolic extract and isolated compounds of Eclipta alba and Lippia nodiflora against dandruff-causing organism Malassezia furfur. Clotrimazole was used as standard drug. Results showed antidandruff activity which was attributed to the presence of flavonoids, terpenoids, sesquiterpenoids, phenolic acid, alkaloids and other components. (64)
• Antidiabetic / Wound Healing / Leaves: Study in rats evaluated the antidiabetic and wound healing activities of leaves extract of E. prostata in STZ-induced diabetes. Results showed significant decrease in peak glycemia. In wound healing study, ointment formulations with added vaselin significantly reduced wound diameters with complete healing after 14 days. (65)
• Alpha-Glucosidase Inhibitory Constituents: Eclipta alba is traditionally used in India for treatment of diabetes. Bioassay guided study evaluated E. alba for α-glucosidase inhibitory constituents contributing to enzyme inhibition and antidiabetic activity. Four echinocystic acid glycosides were isolated, of which eclalbasaponin VI from the n-butanol fraction showed most potent activity (IC50 54.2 ± 1.3 µM. The compound was an uncompetitive type of inhibitor. (66)
• Steroidal Alkaloids / Antifungal / Weak Cytotoxicity to M-109 Cell Line: Bioassay-guided fractionation of MeOH extract of E. alba using three yeast strains isolated eight bioactive steroidal alkaloids (1-8). The major alkaloids was verazine, compound 3. Alkaloids 8 showed good activity against Candida albicans. All alkaloids showed weak cytotoxicity against the MN-109 cell line. (67)
• Molluscicidal: Study evaluated the molluscicidal property of E. alba, B. aegyptica, C. quadrangularis against snails Lymnaea acuminata. While all three plant species showed enhanced molluscicidal activity compared to expensive synthetic molluscicides, E. alba showed best mortality rate which was attributed to the presence of wedelolactone. (68)
• Effect on Scalp Health and Prevention of Hair Loss: Study evaluated the scalp health and hair loss preventive effects of E. prostata and microneedle therapy system (MTS) on office workers in their 20s and 30s suffering from hair loss. Results showed increase in hair density and thickness and a decrease in frontal hairline distance at both hairlines 10 weeks after the experiment. The Eclipta group also showed a significant increase in hair thickness.. A majority showed clean scalps with new hair growth. Results suggest co-treatment with MTS and E. prostata extract had more effect on hair density,, hair thickness and hairline distance. (69)

Availability
- Wild-crafted.
- Capsules, tinctures and supplements in the cybermarket.