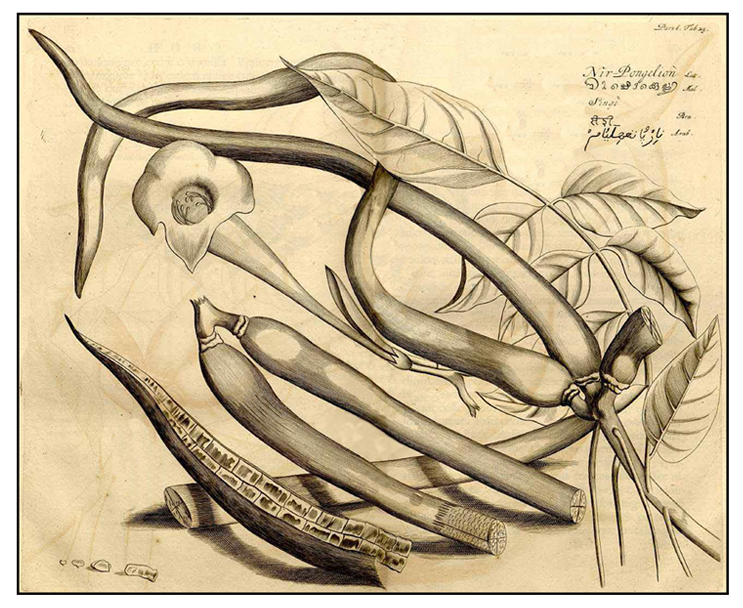 Botany
Tiwi is a smooth tree, growing 5 to 15 meters high. Leaves are opposite, 30 to 40 centimeters long, pinnately compound with seven to nine leaflets. Leaflets are ovate to ovate-lanceolate or ovate-elliptic, 7 to 15 centimeters long, unequal at the base and pointed at the tip. Flowers are borne on short, terminal, few-flowered racemes. Calyx is 4 to 5 centimeters long, spathelike, and split down one side to the base. Corolla is white, with a rather slender, cylindrical tube 9 to 11 centimeters long, becoming funnel-shaped or bell-shaped above, 5 to 7 centimeters in diameter. Fruit is a capsule, somewhat cylindrical or slightly compressed, 30 to 40 centimeters long, 2 to 2.5 centimeters thick, with numerous, rectangular, winged seeds.

Distribution
- Along the seashore and tidal streams from La Union to Palawan, Mindanao and the Sulu Archipelago.
- Also occurs in India through Malaya to New Guinea.
Constituents
Phytochemical screening yielded triterpene and saponin compounds.
Parts utilized
Bark, leaves, seeds.
Uses
Folkloric
• In the Philippines, poultice of fresh leaves and bark is applied against flatulence to women after childbirth.
• Seeds are powdered, and taken for nervous complaints.
• In Java, leaves are used for making mouthwash for thrush.
• Also, has a reputation as abortifacient.
• In Palau, for yaws (frambesia), bark is squeezed together with young stem and flower stalk of Croton sp., and the sap is poured in heated coconut oil; when cooled, applied to affected part of the body.
Others
• Fish poison: The bark used as fish poison. Some reports that a decoction of bark in dogs have no ill effects.
Studies
• Antibacterial / Methicillin-Resistant Staphylococcus aureus: Study of methanol extracts of stems and leaf showed inhibitory activity against MRSA clinical isolates. Stem extracts showed better inhibitory activity which was attributed to triterpene and saponin compounds. (2)
• Antioxidant: In a study of 52 traditionally used Thai medicinal plants, Dolichandrone spathacea leaves was one of six plant species that showed effective DPPH radical scavenging activity. (4)

Availability
Wild-crafted.