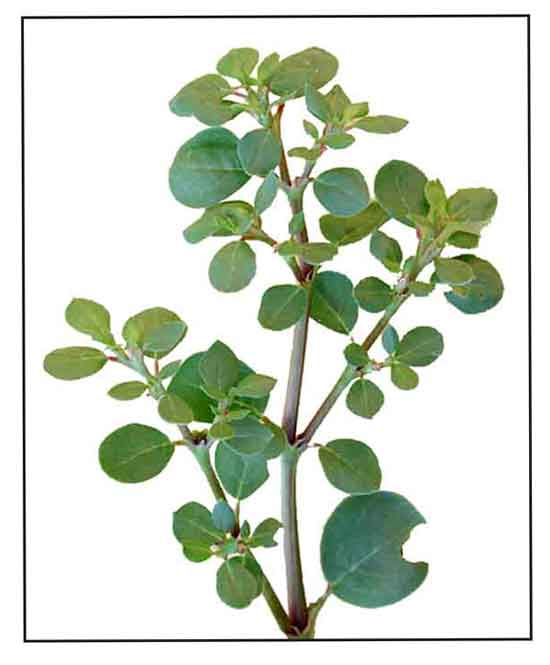 Botany
Toston is a weed; a smooth or nearly smooth, prostrate, somewhat succulent herb, with branches up to 60 centimeters in length, with a rounded, tapering base and apiculate apex. Flowers are axillary, solitary, and stalkless, with pink, overlapping, oblong, mucronate calyx-lobes, 4 to 5 millimeters long. Capsule is truncate, 5 to 6 millimeters long. Seeds are about 10, small, black and kidney-shaped.
Distribution
- Common weed throughout the Philippines at low and medium altitudes.
- Abundant in recently disturbed soil.
- Pantropic.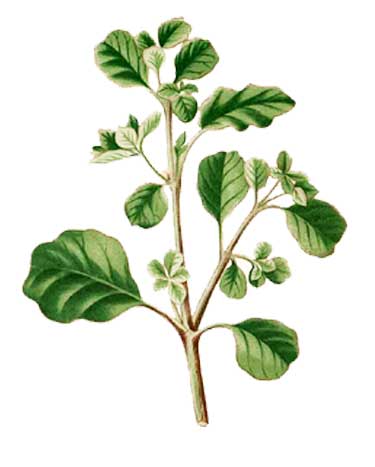 Constituents
• Root contains a glucoside with saponin-like properties.
• Methanolic extract of leaves yielded carbohydrates, protein, volatile oils, glycosides, saponins, flavonoids, and alkaloids. (11)
• The principal constituent is ecdysterone; other constituents are trianthenol, 3-acetylaleuritolic acid, 5,2'-dihydroxy-7-methoxy-6,8-dimethylflavone, leptorumol, 3,4-dimethoxy cinnamic acid, 5-hydroxy-2-methoxybenzaldehyde, p-methoxybenzoic acid, and beta cyanin. (15)
- Mineral compositional study yielded 0.45 ppm Na, 2.05% K, 3.87% Ca, 30.31 ppm Mn, 1.60% Mg, 129.92 ppm Fe, 6.68 ppm Zn, and 103.88 ppm P. (34)
- Anti-nutrient composition (mg/100g) yielded 1.86 tannins, 2.39 phytate, 3.76 oxalate, and 0.04 cyaninde. (34)
Properties
• Roots considered lithotriptic, diuretic, analgesic, stomachic, laxative and alterative; emmenagogue and cathartic in large doses.
• Roots are sweet when fresh. Others report it as bitter and nauseous.
• Studies have suggested antioxidant, diuretic, analgesic, hepatoprotective, anthelmintic, anti-diabetic properties.
Parts utilized
Roots, leaves, whole plant

Uses
Edibility
• Eaten as a leafy vegetable.
• Good source of iron and calcium; an excellent source of phosphorus.
• Valued as a green vegetable by poor people in the Indian sub-continent.
Folkloric
• Roots used as emmenagogue in amenorrhoea; abortive in large doses.
• Powdered roots with ginger is cathartic and irritant.
• Infusion used for constipation, jaundice, strangury, dropsy, asthma.
• Root applied to the eye to treat corneal itching, inflammation and decreasing vision.
• Herb decoction used as vermifuge and for rheumatism.
• Herb decoction used as vermifuge and for rheumatism. Also used as antidote for alcoholic poisoning.
• In Nigeria, leaves are considered diuretic; used for treatment of edema, strangury, and dropsy. Old leaves are used in treatment of gonorrhea.
• In the Gold Coast, plant applied as wound dressing or as poultice.
• In India, used for edema of the liver and spleen, uteralgia and cough. Plant is considered lithotriptic for the kidney and bladder. Also used as diuretic.
• In Andhra Pradesh, India, leaves used for snake bites and rheumatism. (23)
• In Unani medicine, extensively used as a diuretic. Herb decoction used as antidote in alcohol poisoning. Used in rheumatism and as vermifuge. Leaves used as diuretic, emmenagogue, detergent, aphrodisiac, calorific; also used in colitis, jaundice and ascites. Juice used for corneal ulcers, night blindness and urinary dribbling. (27)
• In Tamil Nadu, India, leaf decoction drunk for 3-5 days to cure rheumatism. (35)

Studies
• Hepatoprotective / Paracetamol and Thiocetamide Induced Hepatotoxicity: Study of ethanolic extract of Trianthema portulacastrum showed a significant dose-dependent protective effect against paracetamol and thiocetamide-induced hepatotoxicity in albino rats. (1)
• Hepatoprotective / Aflatoxin Toxicity: Study of ethanolic extract of T portulacastrum showed histopathological studies that supported hepatoprotective activity against aflatoxin-induced hepatotoxicity.
• Anti-Cancer: Trianthema portulacastrum was tested in a chemical rat hepatocarcinogenesis model in male Sprague-Dawley rats. A decrease in the percentage of liver parenchyma occupied by foci seems to suggest the anticarcinogenic potential of the plant extract in DENA-induced hepatocarcinogenesis. (2)
• Antioxidant / Hepatoprotective / Leaves: Study evaluated the antioxidant activities of T. portulacastrum alcohol leaf extract in relation to paracetamol and thioacetamide intoxication in male Wistar rats. Study suggests the hepatoprotective effect of T portulacastrum appears to be related to the inhibition of lipid peroxidative processes and prevention of GSH depletion. (3)
• Hypoglycemic / Antihyperglycemic / Hypolipidemic: Study of the methanol extract of Trianthema portulacastrum produced dose-dependent hypoglycemic, antihyperglycemic and hypolipidemic activity in rats, comparable with glibenclamide. (5)
• Anti-Atherosclerotic Hepatorenal Protection: Study investigated the protective effect of a methanolic extract of T. portulacastrum plant in an atherosclerotic diet induced renal and hepatic changes in rats. Treatment produced a marked reduction in elevated serum lipid levels and protected against the glomerulosclerosis or fatty changes in hepatocytes induced by the atherosclerotic diet. (7)
• Anthelmintic: Study evaluating the anthelmintic effects of T. portulacastrum (whole plant) and M. paradisiaca (leaves) against gastrointestinal worms of sheep showed both possess strong anthelmintic activity in vitro and in vivo, thus, justifying their traditional use in Pakistan. (8)
• Antifertility: Study evaluated the potential antifertility activity of chloroform, alcohol, and aqueous extracts of stem, leaves, and roots of T. portulacastrum in female albino rats. Results showed significant antifertility activity, most effective with the alcoholic extract. (12)
• Antidiabetic: Study of methanolic extract showed significant antihyperglycemic activity in STZ-induced diabetic rats which is comparable to standard reference drug Glibenclamide. (13)
• Hypoglycemic / Hypolipidemic: Study evaluated a methanolic extract of whole plant for hypoglycemic and hypolipidemic activity in normal ad alloxan-induced diabetic rats. Results showed dose-dependent hypoglycemic, antihyperglycemic and hypolipidemic effect activity in rats comparable to glibenclamide. (14)
• Anti-Inflammatory in Chemically Induced Rat Mammary Tumorigenesis: Study suggests TP extract prevents DMBA-induced breast neoplasia by anti-inflammatory mechanisms mediated through simultaneous and differential modulation of two interconnected molecular circuits, namely NF-kB and Nrf2 signaling pathways. (16)
• Diuretic Activity: Study evaluated the diuretic effect and acute toxicity of crude aqueous extract of TP in a rat model. Results showed significant dose-dependent diuretic and natriuretic effects. No signs of toxicity in doses used with no lethal effects even at high dose of 3000 mg/kg. (17)
• Gastroprotective / Antisecretory / Gastric Ulcers: Study evaluated the antiulcer activity of a methanolic extract of whole plant in pylorus ligated and aspirin induced gastric ulcer in rats. Results showed a significant dose dependent decrease in ulcer index. The antiulcer activity in pylorus ligated ulcer was attributed to antisecretory activity, while the mechanism for gastroprotection against aspirin induced ulcers was attributed to 5-lipoxygenase pathway. (18)
• Hepatoprotective / Paracetamol and Rifampicin Toxicity / Aerial Parts: Study on aerial parts of T. portulacastrum showed significant hepatoprotective activity in rats intoxicated with paracetamol and rifampicin. (19)
• Antilithiatic / Ethylene Glycol Induced Urolithiasis / Leaves: Study evaluated ethanol extract of leaves of T. protulacastrum and G. sylvestre on experimentally induced urolithiasis. Both extracts showed antilithiatic activity; however, EEGS showed more potent activity compared to EETP. The antilithiatic effect of T. portulacastrum was attributed probably to the presence of alkaloids, phenols, flavonoids, saponins, tannins and terpenes. (20)
• Renal and Hepatic Protection Against Atherosclerotic Diet: Study evaluated the protective effect of a methanolic extract of Trianthema protulacastrum in atherosclerotic diet induced renal and hepatic changes in rats. METP treatment produced a marked reduction in serum lipids and protected against the glomerulosclerosis or fatty changes in the hepatocytes induced by the diet. (21)
• Chemoprevention / DMBA-induced Mammary Tumorigenesis: Dietary administration of ethanolic extract of aerial parts of T. portulacastrum showed a striking chemopreventive effect in an experimentally induced animal model of breast cancer. The mammary tumor inhibitory effect may be partly due to intervention on abnormal cell proliferation and evasion of apoptosis. (also see study above /16) (22)
• Phytoremediation / Cadmium:In a study of three weed species for cadmium (Cd) and mercury (Hg) phytoremediation, Ipomoea cornea and Trianthema portulacastrum accumulated Cd in higher concentrations. (24)
• Beneficial Effect in Adriamycin Induced Nephrotic Syndrome / Leaves: Biskhapra (T. portulacastrum) is a drug often used in Unani medicine for various kidney ailments. Study evaluated the effect of Biskhapra in animal models with adriamycin-induced nephrotic syndrome. Extract treatment reduced cholesterol, creatinine, and BUN, and increased serum albumin and protein levels, along with correction of histopathological changes. (26)
• Antihepatotoxic / CCl4-Induced Toxicity: Study evaluated the hepatoprotective activity of Trianthema portulacstrum against carbon tetrachloride-induced chronic liver injury in mice. Enzyme abnormalities i.e., plasma membrane enzymes and lysosomal enzymes and acid ribonuclease following CCl4 treatments were restored towards normalization. Extract exhibited marked liver protection comparable to that of silymarin, the standard hepatoprotective drug. (28)
• Antimicrobial / Leaves: Study evaluated the antibacterial and antifungal activity of leaves of Tianthema portulacastrum. Methanol extract of leaves showed more effective activity against bacterial and fungal strains than aqueous chloroform extracts. Results were attributed to the presence of flavonoids, leptorumol and C-methylflavone. (29)
• Nephroprotective / Cardioprotective : Study discussed the nephroprotective and cardioprotective and antioxidant effects of T. portulacastrum in experimental animals. TP exhibited significant cardiac remodeling activity against isoproterenol induced rat's heart disease as evidenced by normal cardiac architecture, arrangement of myofibrils, and absence of interfibrillar necrosis. In gentamicin-induced kidney changes, treatment significantly reduce lesions of necrosis, inflammation, and glomerular congestion. (30)
• ZnO Nanoparticles / Green Synthesized Nano-Ointment / Ameliorative Effect on Dermal Wounds: Study investigated the curative efficacy of green synthesized T. protulacastrum zinc oxide nanoparticles for wound healing potential in rodents. Results showed significant (p<0.05) wound contraction rate, epithelization and histopathology of healed tissues of rats. Wound healing potential was further confirmed by by inflammatory markers, hydoxyproline content of granulation tissue, and antioxidant enzyme profile. (31)
• Ecdysterone Biogenesis in Tissue Culture: Ecdysterone and its analogues are used as chemosterilants. Study evaluated various phytohormones and different sucrose levels on growth and ecdysterone production by callus tissue culture. Results suggested the feasibility for increased ecdysterone production in callus cultures compared to the intact plant. (32)
• Anti-Inflammatory: Study evaluated whole plant ethanolic extract of T. portulacastrum for anti-inflammatory activity in Wistar albino rats using rexin pellet induced granuloma as chronic model of inflammation. Indomethacin was used as standard. Results showed significant reduction in the dry weight of granulomas after rexin pellet implantation. (33)
• Abortifacient Activity: Study showed significant abortifacient activity as evidenced by significant increases in uterine weight, diameter of uterus, and thickness of endometrium which indicates anti-estrogenic activity. (Pare S, Zade V and Dabhadkar D: Evaluation of potential antifertility activity of plant Trianthema portulacastrum in female albino rat. Int.J.A.PS.BMS. 2013; 2:007-011.) (36)
• Silver Nanoparticles / Anticancer / Antibacterial: Study reports on silver nanoparticles synthesized using an aqueous extract of T. portulacastrm and silver ions. Study showed antibacterial activity against different pathogenic bacteria, with significant zones of inhibition of 8.66 mm and 12.0 mm for the aqueous plant extract and synthesized AgNPs. The AgNPs showed dose dependent toxicity against HepG2 and NIH/3T3 cell line. It decreased cell viability of HepG2 to 50% (IC50) at concentration of 173.8 ± 0.84 µg/ml. (37)

Availability
Wild-crafted.