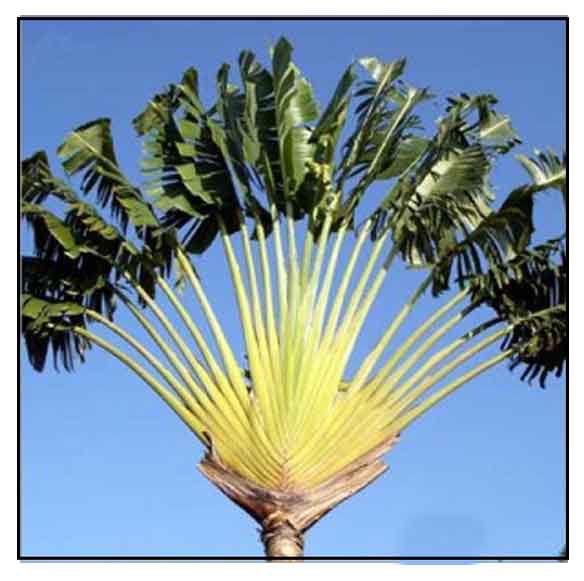 Gen info
- The iconic symbol of the island of Madagascar.
- Ravenala is a genus of flowering plants with a single species, Ravenala madagascariensis.
- It is not a true palm. In part it resembles a banana plant with long leaf stalks and deep green leaves.
- The scientific name derives from Malagasy ravinala meaning "forest leaves." (4)
- The common name Traveler's Tree derives from the botanical design of the bracts and leaf folds where rainwater is collected; water that can be consumed by thirsty travelers, hence, the name Traveler's Palm.  (3)
- The water is often rendered undrinkable by mosquito larvae infestation and contamination. (3)
Botany
Traveler's tree is an evergreen tree with an open, fan-like crown, growing to a height of 20 meters Young palms have no visible trunk, which is underground. In adult plants the trunk emerges above ground, raising the symmetrical leaf fan. Green trunk grows up to 1 foot in diameter with distinctive trunk leaf scar rings. Leaves are large, banana-like, deep green, 2.5 to 4 meters long and 80 to 150 centimeters wide, on a stout petiole 3 to 6 meters long, Leaves extend out symmetrically in a fan-shaped formation of 20 or more leaves. Flowers are small, in foot-long inflorescence held in bracts; every 2 or 3 days, a new flower opens in an inflorescence, normally opening at night. Fruits are brown with blue seeds.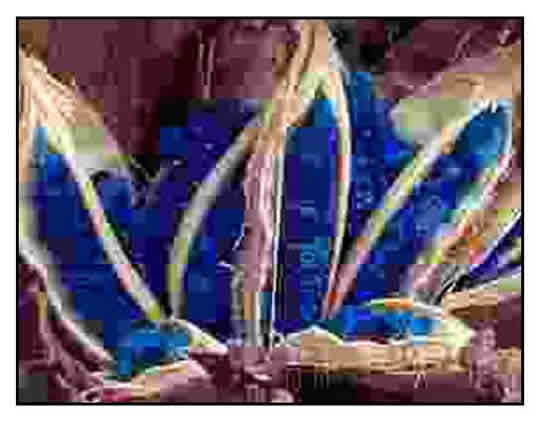 Distribution
- Introduced,
- Ornamental cultivation..
- Endemic to island of Madagascar.
- Four forms identified in the wild: (1) Malama: rare, in understorey of undisturbed rain forest, (2) Hiranirana: more abundant, in forest gaps and disturbed primary forest, (3) Bemavo, the most common form, on deforested slopes, forming the Ravenala forests; growing to a height of 30 meters, and (4) Horonorona: grows in deforested lowland sites, small and develops many suckers, most common as ornamental cultivation. (3) (4)

Constituents
- Study of hexane extract of leaves isolated two new compounds: (2E, 7R, 11R) phytyl-3, 7, 11, 15-tetramethylhexadec-2-enyl pentadecanoate (1) and (24S, 31S)-cycloartan-31, 32-diol (2) together with the known cycloartanol triterpene (3) which was isolated for the first time from this plant. (5)
- Phytochemical screening of leaves yielded carbohydrates, flavonoids, glycosides, alkaloids, phenols, tannins, saponins, proteins, and steroids, with absence of terpenoids, quinones, and furans. (6)
- Metabolic profiling yielded 19 phenolic compounds from different classes viz., flavone glycosides flavonol, glycosides, and flavanol aglycones. Bioassay guided purification of leaf n-BuOH partition isolated seven compounds viz., narcissin, rutin, epiafzelechin, epicatechin, isorhamnetin 7-O-glucoside, kaempferol, and isorhamnetin-7-O-rutinoside. (see study below) (11)
- A computer analysis of ground and powdered palm dissolved in solution using N-ezane yielded organic compounds with cellulose 46.82%, hemi-cellulose 25.70%, lignin 22.46%, and extractives 5.02%. (12)

Properties
- Copious nectar production.
- Seed oil considered antiseptic.
- Studies have suggested antioxidant, antidiabetic, hypolipidemic, renoprotective, hyaluronidase properties.
-
Parts used
Leaves, seed oil.

Uses
Edibility
- Seed is edible.
- Fruit, raw. Edible blue arils are tasteless..
- Among the local people in Ambalabe, Madagascar, the heart is cooked and eaten as vegetable.
- Of the different varieties, the heart of Bemavo is widely preferred because it is sweeter. (4)
Folkloric
- No reported medicinal use in the Philippines.
- Seed oil used as antiseptic.
- In the Ambalabe communities of Madagascar, young leaves used for dizziness and stomachaches. (4)
- Used for the treatment of diabetes and kidney stone problems. (5) (6)
- Islanders of the Indian Ocean drink tea made for young leaves for treatment of diabetes. Seeds used as antiseptic. Leaves also used for diarrhea. (13)
Others
- Seed oil: Yields a seed oil sometimes used for cooking. Oil content of seeds and arils is 4% ad 68% respectively.
- Sugar: Can be extracted from the sap of the trunk.
- Leaves: Used a roofing and as packing material. (3)
- Construction: Stems, bark, petioles used in house construction for walls, floors, posts and rafters.     (3) For floors, Bemavo is preferred because it has the biggest trunk. For roofs, Horonorona is preferred because of its longevity. (4)
- Fodder: Heart used as fodder by domestics.
- Crafts: (s) Construction: Floor, trunk; roofs, leaves; wall petioles and trunk; beehives, trunk; chicken coops, leaves; gable, trunk; doors, petioles; medicine young leaves and heart; crafts.
Studies
• Cycloartanol / Antidiabetic: Study of hexane extract of leaves yielded two new compounds (1 and 2), together with the known cycloartanol triterpene (3) which was isolated for the first time from this plant. The presence of cycloartanol justifies its use in traditional medicine in the treatment of diabetes. (see constituents above) (5)
• Antioxidant / Leaves: Study evaluated the antioxidant activity of leaf extracts of R. madagascariensis against oxidative stress in RBCs of alloxan induced diabetic rats. Chronic administration of ethanol extract at 400 mg/kbw showed significant reduction (p<0.001) in lipid peroxidation level. Reduced GSH content and catalase activity were significantly increased (p<0.001) on treatment in a dose dependent manner. (7)
• Antidiabetic / Leaves: Study evaluated n-hexane, ethylacetate, ethanol and aqueous leaf extracts of Ravenala madagascariensis for antidiabetic activity. Ethanolic and aqueous extracts showed significant inhibitory effect on glucose diffusion in vitro. in in vivo evaluation, on alloxan induced diabetic rats, both extracts showed significant antidiabetic activity, with the ethanolic extract showing more effective reduction in blood glucose (p<0.001) during acute and prolonged treatment, comparable to standard glibenclamide. (8)
• Hypolipidemic / Renoprotective / Leaves: Study evaluated the effect of ethanolic and aqueous leaf extract of RM on cardiovascular and renal complications on alloxan induced diabetes. Results showed significant improvement in the altered lipid profile of diabetic animals exhibiting impaired metabolic functions. There was significant decrease in TC, TG, LDL and VLDL with a significant increase in HDL (p<0.001) by both extracts in a dose dependent manner. The ethanol extract was more effective than the aqueous extract. Histological examination of kidneys supported the results of hematological evaluation. (9)
• Insulin Secretagogue Effect / Roots: Study evaluated the cytotoxicity profile and insulin secretagogue effect of ethanolic extract of roots of R. madagascariensis. The extract showed negligible cytotoxicity at 20-40 µg/ml. On insulin secretion assay the extract significantly (p<0.05) stimulated insulin release in a dose dependent manner even at the presence of glucose at lower and higher concentrations (5 and 10 mM). (10)
• Hyaluronidase Inhibitors: Hyaluronidase enzyme (HAase) play an important role in the dissolution or disintegration of hyaluronic acid (HA) and in maintaining a healthy state of skin. Study reports on bioassay-guided isolation, metabolic profiling and docking studies of hyaluronidase inhibitors from Ravenala madagascarienis. A crude hydroalcoholic (70%) extract of leaves and its n-butanol partition showed higher HAase activity with 64.3% inhibition. Docking study showed narcissin, rutin, and quercetin 3-O-glucoside all interact with HAase through hydrogen bonding. Results highlight the plant and its flavonoids as promising hyaluronidase inhibitors in natural cosmetology preparations for skin care. (see constituents above) (11)
• Antithrombolytic Activity / Membrane Stabilizing Activity / Leaves: Study evaluated R. madagascariensis for antithrombolytic and membrane stabilizing activities. Methanolic crude leaf extract and aqueous soluble fraction exhibited percentage clot lysis activity of 45.32 ± 0.82 and 32.67 ± 0.74%, respectively (Chowdhury et al, 2013). (14)

Availability
- Ornamental cultivation.
- Seeds in the cybermarket.