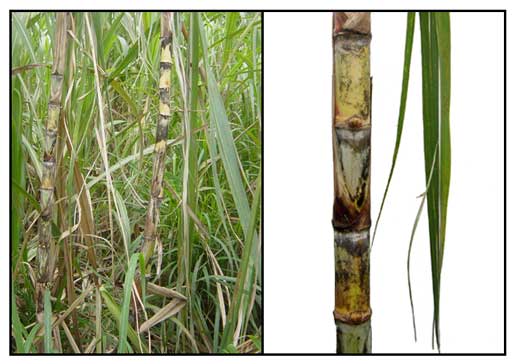 Botany
Tubo is a large, coarse and erect grass. Stems are solid, polished, green, yellow or purplish, attaining a height of 1.5 to 4 meters, 2 to 5 centimeters thick, with long and short internodes. Leaves are very large and broad, with blades 0.9 to 1.25 meters long and 4 to 5 centimeters wide. Panicles are very large, white, drooping and terminal, 40 to 80 centimeters long; branches up to 35 centimeters long. Spikelets are very numerous, 1-flowered, about 3 millimeters long, with surrounding white villous hairs about twice as long as the spikelets.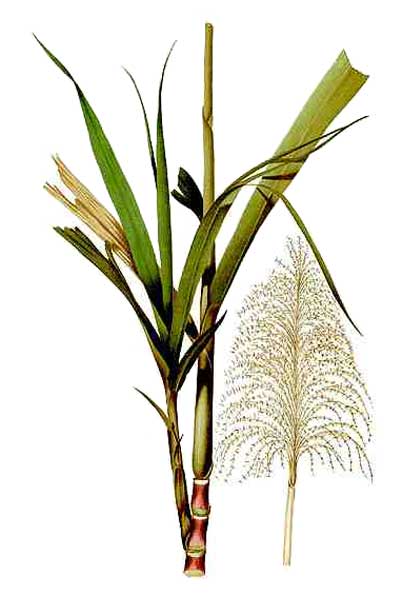 Distribution
- Cultivated throughout the Philippines, very extensively in some islands and provinces.
- One of the major crops of the Archipelago.
- Introduced.

Constituents
Sucrose is the product of the sugar cane juice.

Properties
- Crystals are odorless and sweet.
- Considered antidote, antiseptic, antivinous, bactericidal, cardiotonic, demulcent, diuretic, emollient, cooling, laxative, stimulant.

Parts used
Roots, sugar.

Uses
Edibility / Nutritional
- Nutritious.
- Largely used for preserving meat and fruit.
Folkloric
- Refined sugar has been used for fevers, lack of secretion, dry coughs.
- Molasses is used as a laxative.
- Sugar is applied to wounds, ulcers, boils, and inflamed eyes.
- Pulped sugar used to dress wounds; the cane used for splinting broken bones.
- In Mexico used to relieve coughs.
- Malay women use it in childbirth.
- Decoction of root used for whooping cough.
- In India, plant juices used for abdominal tumors.
- In Cote-d'-Ivoire, leaf decoction used for hypertension.
Others
Refined
Studies
• Immunostimulating Effect: The phagocytic activity of peripheral blood leucocytes in chickens increased significantly when orally administered sugar cane extracts, with higher antibody responses and delayed type hypersensitivity responses.
• Prokinetic Effect: S officinarum was one of seven known herbs in a polyherbal formulation. Study showed increased gastric emptying and suggests a potential for use as a gastrointestinal prokinetic to improve gastrointestinal motility.
• Hypoglycemic Effect: Study reports the hypoglycemic effect of juice from sugar cane stalks. The isolated constituent, saccharin, provided a transient reduction of blood glucose. The transient hypoglycemic effect of complex polysaccharides is suggested to be possibly from increased glucose utilization in the liver and peripheral tissues.
• Phytochemicals / Antioxidant: Study of sugarcane leaves yielded luteolin-8-C (rhamnosylglucoside), with radical scavenging activity. The juice yielded flavones diosmetin-8-C-glucoside, vitrexin, schaftoside, isoschaftoside and 4',5'-dimethyl-luteolin-8-C glucoside. Its content of flavonoids suggest a potential for sugarcane as a dietary source of natural antioxidants.
• Steroidogenesis / Testosterone Effect: Study investigated the effect of sugar cane (S. officinarum) molasses on steroidogenesis in testis cell culture. Results showed low concentrations of molasses increase testosterone secretion. Study suggests molasses may be a potential diet supplement to increase testosterone levels.
• Optimization of Cytochrome C Production: Comparative study of Manihot Esculenta and Saccharum officinarum showed S. officinarum to be a better optimizer for cytochrome C production. Sugarcane had the higher rate of carbohydrate yield compared to Cassava in terms of inoculum volume with a difference of 5.57%.
Toxicity concerns !
Sugarcane contains hydrocyanic. Sugar cane is a known teratogen. Molasses in excess amounts, alone or mixed with feeds, may cause diarrhea, colic, urticaria, kidney irritation, sweating and paralysis in domestic stock; horses seem more susceptible, and toxicity could prove fatal.

Availability
Cultivated.