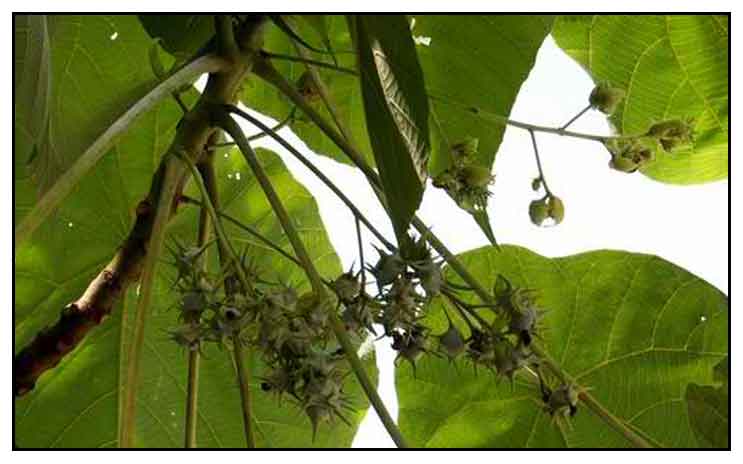 Botany
Tula-tula is a tree that attains a height of 10 meters or less. Leaves are alternate, peltate orbicular or suborbicular-ovate, 7 to 16 centimeters long, 5 to 15 centimeters wide; the apex is pointed, smooth above but glaucous beneath, with hairy glands on the axils of the base. Flowers are small. Male flowers are borne on spikes 7.5 to 10 centimeters long; the female ones occur on elongated racemes. Capsules are about 2 centimeters in diameter, nearly spherical, with thickly crustaceous and hairy cocci.
Distribution
- In forests at low and medium altitudes.
- Also occurs in Tenasserim through Malaya to Celebes.

Parts used
Flowers, roots.

Uses
Folkloric
- No reported folkloric medicinal use in the Philippines.
- In Java, the aromatic flowers are mixed with rice flour in making face-powders and for scenting medicinal powders. Also, used for making toilet powder.
- In the Malay Peninsula, root decoction used after childbirth; also, for fevers, stomachaches and cholera.
- Decoction of plants used as lotion for yaws.
Others
Wood: In Sumatra, the tough wood used for making small objects.

Studies
• Antioxidant: Study showed the leaves to be highly antioxidant on DPPH radical scavenging testing. (2)
• Antioxidant: Of 39 Mallotus samples from at least 17 different species, M. floribundus was one of nine that showed high antioxidant activity. (4)
Availability
Wild-crafted.